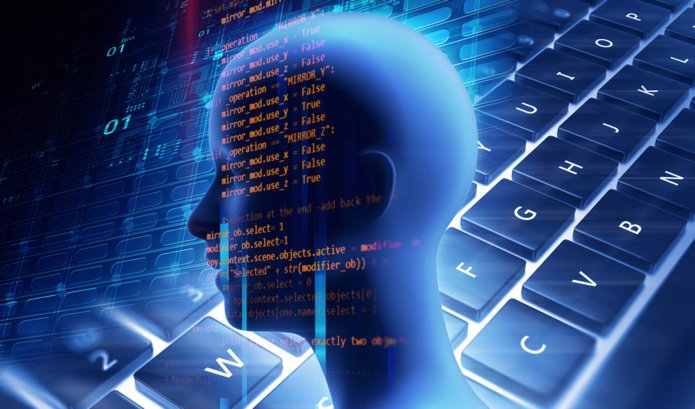 Our VitalPBX adventure resumes today with one of the most requested PBX features regardless of platform. VoiceMail Transcription simply means that recorded voicemail messages are transcribed using a speech-to-text (STT) engine before being delivered in both written and recorded formats via email. The good news is we'll show you how to harness IBM Watson's STT to do the heavy lifting. Their platform is hands-down the best in the industry. And today we'll walk you through the 5-minute setup procedure for your VitalPBX server.
IBM Watson's STT solution is a real game-changer for one simple reason. Their STT API performs more accurately than any speech recognition engine in the world. As an added bonus, you won't have to worry about Google breaking our middleware every month. 1,000 free minutes a month translates into roughly 30 minutes a day. If you have more than a half hour of voicemails every day, then you probably should consider hiring a secretary. Short of that, you can pay IBM 1.3¢ per minute and let your customers yack all they like. That works out to less than $1 an hour, still pretty cheap secretarial help. It's worth noting that IBM doesn't round up minutes. Transcribing two 30-second messages counts as one minute.
Obtaining IBM Watson STT Credentials
If you've already installed the Incredible PBX add-on for VitalPBX, then IBM Watson STT already is in place. All you need is your STT (not TTS) credentials. If you haven't installed the Incredible PBX add-on, you have two choices to get started. You can either install the Incredible PBX Custom Context now, or you can skip Incredible PBX and set up an IBM Watson account and obtain STT credentials. So start there and write down your STT credentials. You'll need them in a minute.
Outgoing SMTP Email Setup
You obviously can't receive voicemail messages by email if your server can't send emails. So the next step is to configure VitalPBX to assure reliable delivery of outbound email. We strongly recommend using a Gmail account for email relay for the simple reason that many ISPs (such as Comcast) block downstream SMTP mail messages. By using Gmail as a relay host for messages sent from VitalPBX, you avoid the problem. Here's a simple test to determine whether your server can send emails reliably. Just substitute your email address for yourname@your-email-domain.com.

echo "test" | mail -s testmessage yourname@your-email-domain.com

To configure Gmail as an SMTP relay on your VitalPBX server, login to the GUI and go to Admin:System Settings:Email Settings. Click Use External Mail Server in the Server options. Choose Gmail as the Provider. Insert the From Address to match your Gmail account name. And then enter your Gmail credentials. If you use two-step authentication with your Gmail account, you'll first need to Obtain an Application Password to use in lieu of your regular Gmail password. Once you've completed all of the entries, Save your settings and Reload the Dialplan when prompted. Then send yourself a test email using the fields provided. Don't proceed until you get this working reliably.
Installing VitalPBX Voice Recognition Engine
1. After logging into your VitalPBX server as root using SSH/Putty:

cd /
wget http://incrediblepbx.com/sendmailibm-vitalpbx.tar.gz
tar zxvf sendmailibm-vitalpbx.tar.gz
rm -f sendmailibm-vitalpbx.tar.gz

2. Now restart Asterisk core services: asterisk -rx "core reload"
3. Edit /usr/sbin/sendmailibm and insert your IBM Watson STT credentials on lines 30 and 31. Change the language on line 34 if you don't want en-US. Then save the file.
4. Log back into the VitalPBX GUI and configure the extensions desired for email delivery of voicemail. In PBX:Extensions:General, enter an Email Address for each extension. In PBX:Extensions:Voicemail, enter the following data using the password and timezone for each extension. Don't enable the Delete tab until you have first tested things out.


5. If you're using Google Voice trunks with an inbound route connecting to one or more extensions, you'll also need to adjust the Ring Time for incoming calls, or Google Voice's voicemail may pick up the calls before VitalPBX does. You'll find the Ring Time setting in PBX:Extensions:Advanced for each extension. We've found that 20 seconds works reliably.
Originally published: Monday, April 23, 2018
---
Got Friends? 7 Countries Have Never Visited Nerd Vittles. 2018 Is Calling! https://t.co/wMfmlhAr16 #asterisk #freepbx #wazo #issabel #IncrediblePBX #3CX pic.twitter.com/kAmAEnwVIw

— Ward Mundy (@NerdUno) January 9, 2018
---

Need help with VitalPBX? Visit the VitalPBX Forum.

---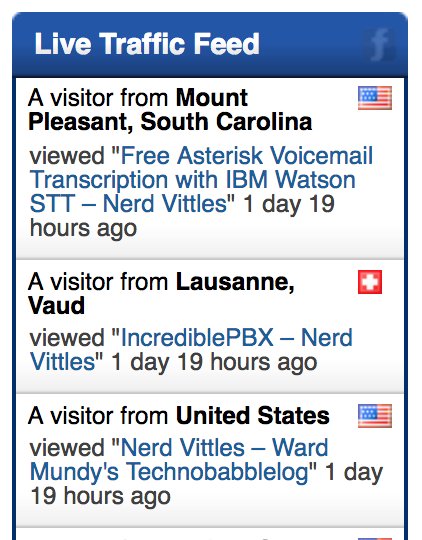 Sad Day.
Today we say goodbye to an old friend.
Feedjit
has been an informative piece in the Nerd Vittles landscape for many years providing a real-time snapshot of the location of our site's visitors and what they were reading. The following was posted on their web site today: "Due to emerging cyber risks and regulatory requirements, it is not possible to continue to operate Feedjit as a not-for-profit fun service without incurring significant costs. For this reason we are regrettably shutting down the service." We want to join the multitudes who have thanked Mark Maunder and his partner, Kerry, for their tireless efforts in providing this incredible service. We, of course, hope they will reconsider even if it means converting the site into a commercial endeavor. It was a one-of-a-kind offering that will be sorely missed in the blogosphere.
---
Special Thanks to Our Generous Sponsors
FULL DISCLOSURE: RentPBX, Amazon, Vitelity, DigitalOcean, Vultr, Digium, Sangoma, 3CX, TelecomsXchange and others have provided financial support to Nerd Vittles and our open source projects through advertising, referral revenue, and/or merchandise. We've chosen these providers not the other way around. Our decisions are based upon their corporate reputation and the quality of their offerings and their pricing. Our recommendations regarding technology are reached without regard to financial compensation except in situations in which comparable products at comparable pricing are available from multiple sources. In this limited case, we support our sponsors because our sponsors support us.


Awesome Vitelity Special. Vitelity has generously offered a terrific discount for Nerd Vittles readers. You now can get an almost half-price DID from our special Vitelity sign-up link. If you're seeking the best flexibility in choosing an area code and phone number plus the lowest entry level pricing plus high quality calls, then Vitelity is the hands-down winner. Vitelity provides Tier A DID inbound service in over 3,000 rate centers throughout the US and Canada. When you use our special link to sign up, Nerd Vittles gets a few shekels down the road to support our open source development efforts while you get an incredible signup deal as well. The going rate for Vitelity's DID service is $7.95 a month which includes up to 4,000 incoming minutes on two simultaneous channels with terminations priced at 1.45¢ per minute. Not any more! For our users, here's a deal you can't (and shouldn't) refuse! Sign up now, and you can purchase a Tier A DID with unlimited incoming calls and four simultaneous channels for just $3.99 a month. To check availability of local numbers and tiers of service from Vitelity, click here. NOTE: You can only use the Nerd Vittles sign-up link to order your DIDs, or you won't get the special pricing! Vitelity's rate is just 1.44¢ per minute for outbound calls in the U.S. There is a $35 prepay when you sign up. This covers future usage. Any balance is refundable if you decide to discontinue service with Vitelity.
---
RentPBX, a long-time partner and supporter of PIAF project, is offering generous discounts for Nerd Vittles readers. For all of your Incredible PBX hosting needs, sign up at www.RentPBX.com and use code NOGOTCHAS to get the special pricing. The code will lower the price to $14.99/month, originally $24.99/month. It's less than 50¢/day.
---