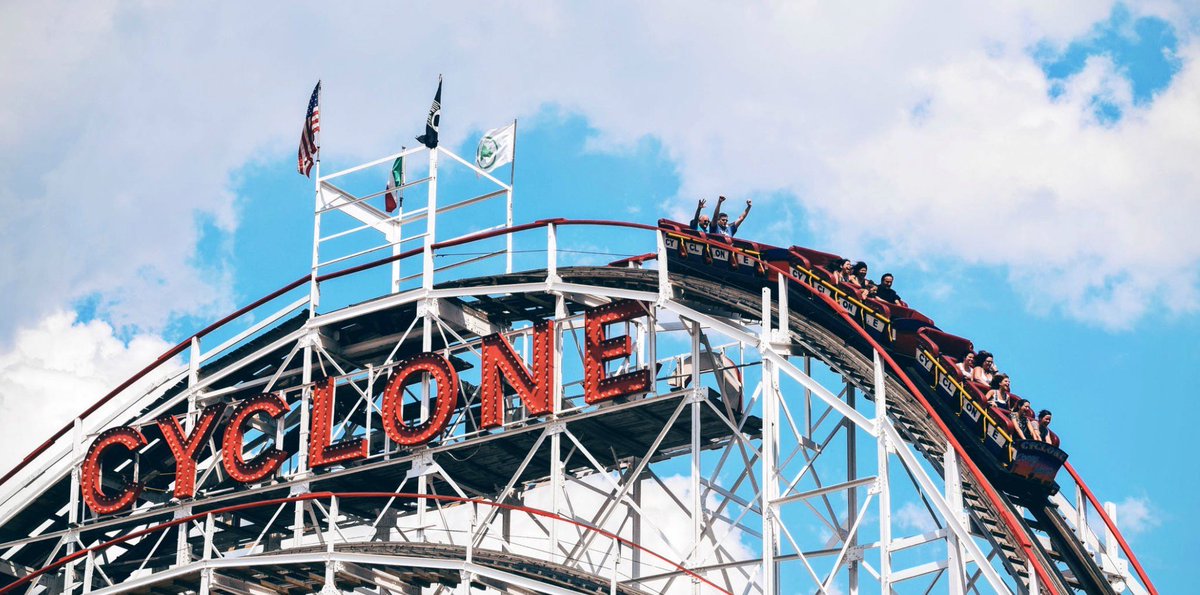 December was a bit of a roller coaster in the VoIP community. But the world didn't end after all. In fact, we've got lots to celebrate as we break out the 2019 calendar. The demise of HiFormance left many of us in the lurch because it was a nearly perfect VoIP platform for Incredible PBX. Well, not to worry. So long as you have a backup of your settings, the transition to our latest discovery will be painless. And making a backup may still be possible. As we write this the Atlanta, Buffalo, and Los Angeles servers still appear to be operational and accessible. We'll pause here to repeat our warnings about using what we call "sandbox platforms." These are dirt-cheap, cloud-based offerings that provide adequate VoIP performance for experimentation. But they may not be around when you wake up tomorrow. Then again they may keep chugging along for years. The point is don't stake your business on resources like this and, if you can't afford to lose one day's lunch money, don't sign up at all.
We find most of these providers on the LowEndBox web site. They have a symbiotic relationship with ColoCrossing although we're not quite sure how it works other than to note that they advertise specials from a number of new companies that apparently take advantage of ColoCrossing's rental program which gets you a cloud-based server platform for under $50 a month with all the tools to set up your own hosting business. Some obviously oversubscribe their available resources, and you can typically spot these after about 5 minutes of aggravation attempting to log in. Almost all provide a 24-hour refund policy so it's a good idea to sign up using a credit card provider that will go to bat for you if things go south.
Having said all of that, we got at least 18 months of excellent service out of HiFormance in numerous locations. If you do that well on an investment of $10-$15 a year, you've done a good day's work. HiFormance quickly became our development platform of choice because we could spin up servers in minutes, and they agreed to host the Incredible PBX® image for others that wanted to experiment. As we said above, this sort of platform isn't for everybody and it isn't suitable for production use. But, if you're just learning about VoIP, it's a perfect sandbox and the cost is less than you'd spend for electricity hosting a server in your home.
Our first find for today is a new company called Hosting73. Their server(s) are hosted by ColoCrossing in Atlanta. The performance is nothing short of spectacular with download AND upload speeds approaching one gigabit. Our latest results showed a download speed of 930.74 Mbit/s and an upload speed of 805.02 Mbit/s. Once you set up an Incredible PBX platform, you can test it yourself:


wget -O speedtest-cli https://raw.githubusercontent.com/sivel/speedtest-cli/master/speedtest.py
chmod +x speedtest-cli
./speedtest-cli

Today's Hosting73 offering provides a cloud platform with 1.5GB RAM, 25GB of SSD storage, and 2TB of monthly bandwidth for $14 a year. If you open a ticket after you sign up, they will double the monthly bandwidth at no additional cost. Ours was reconfigured in under an hour, and the initial setup took less than 5 minutes. All you really need to provide is a hostname and your name, address, and email.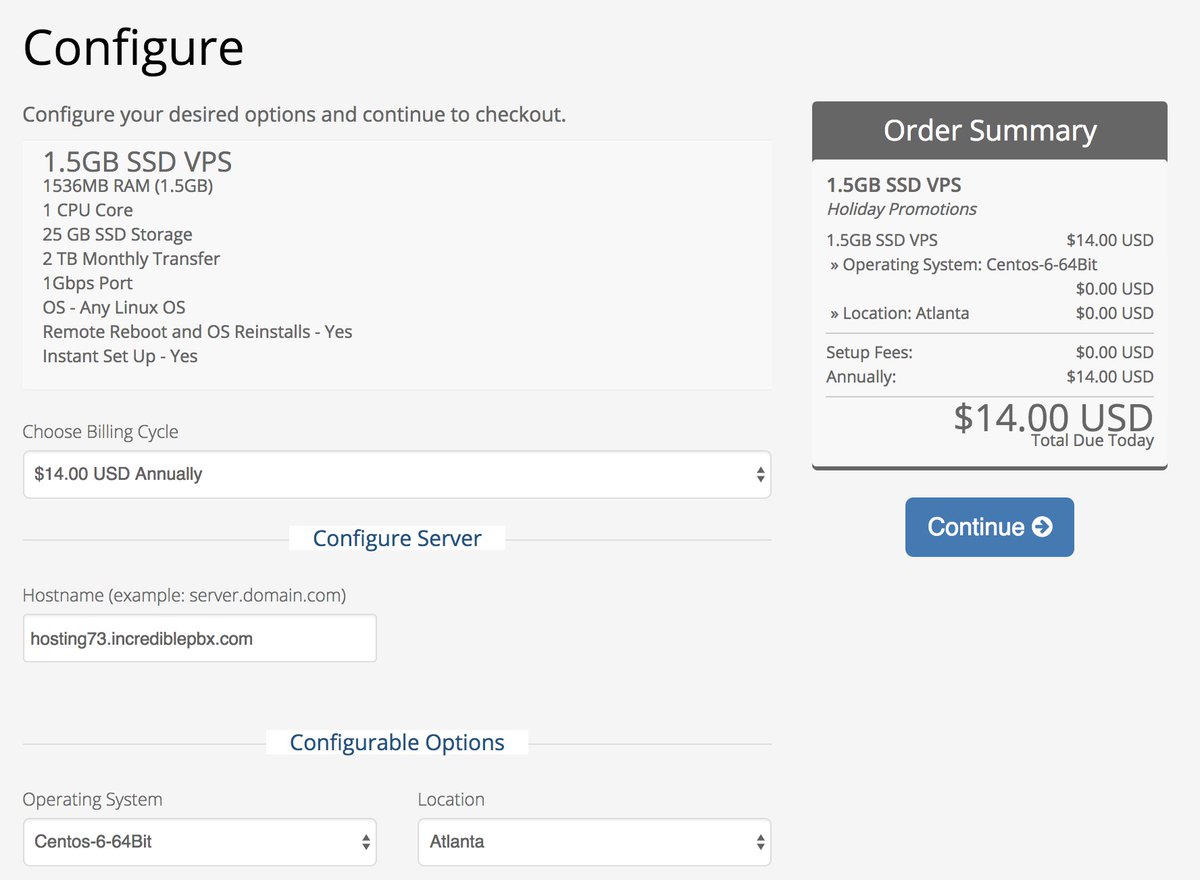 Once your server is configured, your credentials will arrive by email. Log in to your server as root and immediately change your root password. Then complete the Incredible PBX 13-13 two stage install which takes about 15 minutes. Complete Incredible PBX tutorial is available here and Skyetel setup is here. For those that hate reading, here are all the required steps:

passwd
yum -y update
yum -y install net-tools nano wget tar
wget http://incrediblepbx.com/incrediblepbx-13-13-LEAN.tar.gz
tar zxvf incrediblepbx-13-13-LEAN.tar.gz
rm -f incrediblepbx-13-13-LEAN.tar.gz
# kick off Phase I install
./IncrediblePBX-13-13.sh
# after reboot, kick off Phase II install
./IncrediblePBX-13-13.sh
# add Full Enchilada apps if desired
./Enchilada-upgrade.sh
# add HylaFax/AvantFax if desired
./incrediblefax13.sh
# set passwords
./update-passwords
# set desired timezone
./timezone-setup
# add Skyetel trunks
wget http://incrediblepbx.com/add-skyetel
chmod +x add-skyetel
sed -i 's|from-trunk|from-pstn-e164-us|' add-skyetel
./add-skyetel
chmod -x add-skyetel
# remember to first enable TUN/TAP in VPS Control Panel
# then reconfigure PortKnocker for OpenVZ platform
echo 'OPTIONS="-i venet0:0"' >> /etc/sysconfig/knockd
service knockd restart
# add SIP URI dialing support
cd /tmp
wget http://incrediblepbx.com/sipuri-mod.tar.gz
tar zxvf sipuri-mod.tar.gz
rm -f sipuri-mod.tar.gz
./install-sip-uri-mod.sh
# fix pbxstatus for NeoRouter IP support if desired
cd /usr/local/sbin
sed -i "s|cat /etc/hostip|cat /etc/hostip \| cut -f 3 -d ' ' |" pbxstatus
nrclientcmd

Once you get this far, you do need to read the two tutorials linked above. Happy New Year!

UPDATE: We've been advised that SolvedByData now is blocking SIP traffic on UDP 5060 so we no longer recommend them as a provider.
We're updating this article with two new providers that now have passed our testing with flying colors. Above all else, a second provider gives you redundancy and considerable peace of mind. HostedSimply offers $15/year VPS servers in your choice of Buffalo, NY and Los Angeles for even better redundancy. Their pricing is slightly higher, but the performance is excellent. Open a ticket for a free upgrade to a 1Gbps Port pursuant to LowEndBox offer.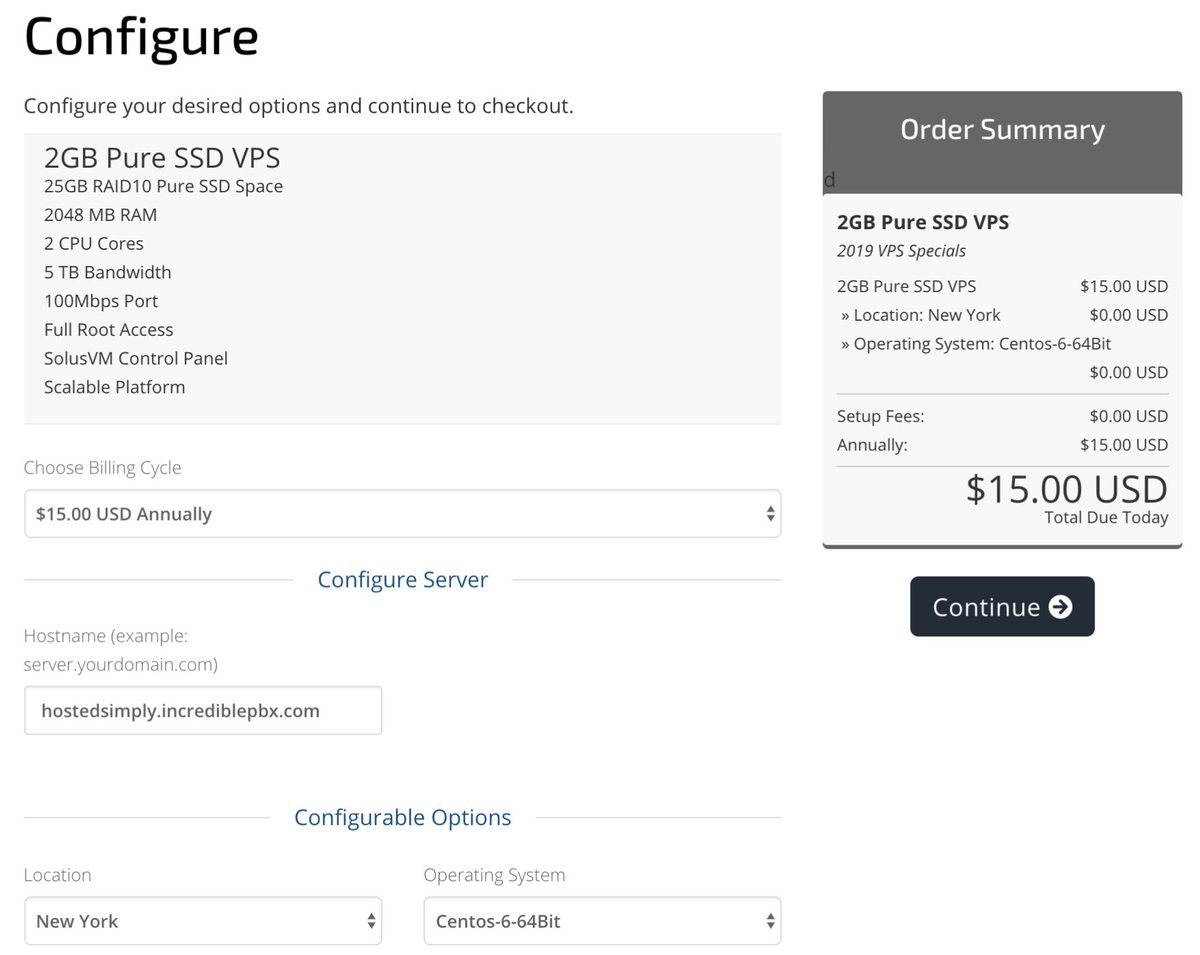 Our third provider, AlphaRacks, is a company with whom we had excellent results originally using their $22/year KVM offering. And now they've announced a $9/year OpenVZ platform with 1GB RAM, 20GB disk storage, and 1.5TB/mo. bandwidth. Their 1Gbit port upgrade adds $1.50/year. In order to add (recommended) swap space to your VPS, you'll need to open a ticket. There's no cost.
Jan. 31 Update: We've now tested another provider, SnowVPS, that passes with flying colors. In the 1GB RAM space, they have both a $12/yr. OpenVZ offering with 15GB of SSD storage and a $15/yr. KVM offering with 10GB of SSD storage. Both include 2TB per month of bandwidth over a 1Gbps network connection. Their servers are based in Chicago. They support Debian 9 in addition to the other usual operating systems.
Apr. 24 Update: We're pleased to introduce another great provider, HostFlyte. In the 1GB RAM space, they also offer a $15/yr. OpenVZ platform using coupon: 20OFF. It features 30GB of SSD Storage, 2TB of monthly bandwidth, and a 1Gbit port. And you have a choice of four locations: New York, LA, Dallas, and Chicago. Our Dallas speedtest showed 727 Mbit/sec. download and 778.85 Mbit/sec.
Apr. 21 Update: We're pleased to introduce another VPS provider with admirable performance, HostBRZ. They offer 1GB RAM with 20GB SSD storage, 3TB of monthly bandwidth, and a 1Gbit port for $15/year in your choice of four locations: New York, LA, Dallas, and Chicago.
May 17 Update: If you've got a little money to burn and really prefer KVM servers as opposed to OpenVZ platforms, then you'll be hard-pressed to ever beat this deal from SparkVPS. You can build not one but up to 5 KVM servers for $49/year with the same flexibility as the other offerings above. You get a bundle of 5 IPv4 addresses, 8 CPU cores, 6GB of RAM, 100GB of SSD storage, and 1Gbit port speed with 10TB of monthly bandwidth in your choice of Dallas or New York locations. Open a ticket after you sign up for an extra month of service at no additional cost. That makes the monthly cost of each of the 5 KVM servers considerably less than $1/mo.
Originally published: Saturday, December 29, 2018 Updated: Friday, May 17, 2019
---
Support Issues. With any application as sophisticated as this one, you're bound to have questions. Blog comments are a difficult place to address support issues although we welcome general comments about our articles and software. If you have particular support issues, we encourage you to get actively involved in the PBX in a Flash Forum. It's the best Asterisk tech support site in the business, and it's all free! Please have a look and post your support questions there. Unlike some forums, the PIAF Forum is extremely friendly and is supported by literally hundreds of Asterisk gurus and thousands of users just like you. You won't have to wait long for an answer to your question.
---

Need help with Asterisk? Visit the PBX in a Flash Forum.

---
Special Thanks to Our Generous Sponsors

FULL DISCLOSURE: RentPBX, Amazon, Skyetel, Vitelity, DigitalOcean, Vultr, Digium, 3CX, Sangoma, TelecomsXchange and VitalPBX have provided financial support to Nerd Vittles and our open source projects through advertising, referral revenue, and/or merchandise. We've chosen these providers not the other way around. Our decisions are based upon their corporate reputation and the quality of their offerings and pricing. Our recommendations regarding technology are reached without regard to financial compensation except in situations in which comparable products at comparable pricing are available from multiple sources. In this limited case, we support our sponsors because our sponsors support us.


BOGO Bonaza: Enjoy state-of-the-art VoIP service with a $10 credit and half-price SIP service on up to $500 of Skyetel trunking with free number porting when you fund your Skyetel account. No limits on number of simultaneous calls plus quadruple data center redundancy assures that you'll never have a failed call. Tutorial and sign up details are here.


VitalPBX is perhaps the fastest-growing PBX offering based upon Asterisk with an installed presence in more than 100 countries worldwide. VitalPBX has generously provided a customized White Label version of Incredible PBX tailored for use with all Incredible PBX and VitalPBX custom applications. Follow this link for a free test drive!



Special Thanks to Vitelity. Vitelity is now Voyant Communications and has halted new registrations for the time being. Our special thanks to Vitelity for their unwavering financial support over many years and to the many Nerd Vittles readers who continue to enjoy the benefits of their service offerings. We will keep everyone posted on further developments.

---
---