UPDATE: Following a week of almost daily new disclosures, we are republishing our original article with some additional observations from us and others who have been following what will almost certainly turn out to be one of the most shocking and important revelations in the history of our republic. Much of this story has unfolded on Twitter, one of the few companies that stood up to the government and refused to participate in the PRISM data collection enterprise. So it seemed only fitting to retell the events of the last few weeks through the tweets that have brought this story to life and fleshed out many of the details pertaining to Mr. Snowden's original revelations. –Ward Mundy

#FISA 4th Amendment: Seize Everything, Search When You Want To, Then Tell Us What You Found Next Month. Really? #NSA pic.twitter.com/ne6Q2dyijB

— Ward Mundy (@NerdUno) June 20, 2013
As the cellphone and NSA scandals continue to unfold, we've wrestled with a number of emotions probably much as many of you have. This isn't so much a liberal versus conservative controversy as it is a question about what type of society we all want for our families and for those that will come after us. Having grown up in a military family, I came in contact with individuals from literally all walks of life, commanding generals to sergeants and privates. Most did their jobs very well and took pride in their accomplishments and those of others. After high school, I attended Auburn University and then went on to law school at the University of Alabama, two schools known more for their football teams than their academic credentials. Even though the country was in the midst of the George Wallace era of states' rights, I actually got a well-balanced legal education at Alabama. Much to the chagrin of the governor, many of my law professors were Yankees from the most liberal bastions in our country including Harvard and Yale. So it was probably not surprising that more than half of my law class of 130 became card-carrying liberals. In fact, I only remember one ultra-conservative classmate, and we never were sure whether he believed all the things he was saying or was just doing it for attention and to establish his pedigree for future political races.
We were up to our eyeballs in Vietnam when I graduated so my career path was chosen for me. Those with political connections and those from well to do families got to join the National Guard and stay home. The rest of us got drafted. If you were a lawyer, you had the choice of serving two years as an infantry officer or four years as a lawyer. That was an easy choice at least for me because I owed the military four years anyway because of a college scholarship. There was a great book at the time, Military Justice is to Justice as Military Music is to Music. You really didn't have to read the book to figure out the message. As an appellate lawyer, I got to witness it up close and personal. Military courts have special rules. Military commanders decide who gets tried and then they hand-pick the military juries who also happen to be soldiers working for the same commander. If a criminal case went to trial, your odds of not being convicted were about the same as being struck by lightening or winning the lottery. The same held true for the criminal appeals. All of my clients were already serving time in Fort Leavenworth while I "represented" them in Washington. A handful saw their sentences reduced on appeal while one or two actually had their cases reversed. Despite the odds favoring the military, I actually worked for an appellate judge that would hide problematic cases in a bottom drawer until the soldier had served all his jail time. Then the case would magically reappear, and justice would be done by reversing the errors in the trial proceedings. Several of us finally filed a complaint against the judge, and he was "retired." This was my first exposure to the "Rewards System." Many folks are promoted into prestigious jobs in the government not to do future good work but as a reward for past service. In short, it's treated more like a medal than a job. Suffice it to say, you don't see a lot of boat rocking from the honorees.
At the time, I chalked this up as yet another military anomaly. It was reinforced by the decade I spent at all levels of the military justice system including a stint as the Court Executive of the U.S. Court of Military Appeals, the civilian court that oversaw the whole process. What was surprising to me were the extremes to which many individuals in the most important legal positions in the military were willing to go in order to rig the system in favor of what they perceived to be the desires of the military commanders. My dad had been a military commander. He and all of the commanding generals I have known would never have tolerated such a setup had they known about it. While the President technically appointed judges to the Court of Military Appeals, in actuality the judges were selected by members of the Senate Armed Services Committee. Because the Court had become too liberal for some of the senior people in Donald Rumsfeld's Defense Department, they decided to change the name of the court to make it sound more like a real federal court. While they were at it, they expanded the number of judgeships in order to get rid of the "liberal problem." Killing two birds with one stone wasn't hard with the enthusiastic support of Strom Thurmond and the armed services committees. They "promoted" the most liberal judge to a district judgeship with life tenure to get him out of town.
When the court packing began, I left and joined the staff of the newly created U.S. Court of Appeals in Atlanta. There I served for more than 20 years as the technology guru. During my tenure, we introduced personal computers, networks, VPNs, video conferencing, cellphones, automated case management systems, and the 20th century to many judges and lawyers that still were deciding cases in much the same way they had been handled since the founding of our country.
Unlike the military system, the federal courts were different. These judges weren't wearing medals. They took their jobs seriously. All were appointed for life by the President, and most had come from cream of the crop positions in the most prestigious law firms and law schools in the country. Many that I worked for had single-handedly desegregated the South: its schools, its lunch counters, its water fountains, and even its bathrooms. No small feat considering there were still Ku Klux Klan signs announcing evening meetings when I would drive back to school on Sunday afternoons.
I had almost daily contact with these judges because our courts in the southeastern United States were handling caseloads at least 10 times what other courts across the country were experiencing. And, without the very best technology, these courts would literally have been buried by the paperwork associated with these legal proceedings. It began with civil rights cases, then voting rights, then drugs, then bankruptcies, then death penalties, and on and on.
But something changed at about the time Ronald Reagan became president. Many of the new judges that were appointed had come from prior government jobs. Some had been magistrates. Others had been state court judges. Many had been former federal or state prosecutors or lawyers in the Department of Justice. Some were small town lawyers who happened to serve as a community campaign manager for the president or a staff assistant to a U.S. Senator. There was even a former nun. What was different was that many of them came with an agenda. And many of the selections were more about ideology than legal accomplishment. We've now seen that process play out for more than 30 years. With some notable exceptions, many "medalists" have crept into the federal judiciary at all levels. Free resort junkets for judges sponsored by organizations with their own agenda are all too common. As we saw in the military setting, the perks of the office and living the country club life style started mattering more than doing the job. Keep in mind that these judges serve for life with almost no outside scrutiny. When you then add secret tribunals to the mix, it makes for a dangerous concoction with no checks and balances.

Secret Court and Secret Opinions emasculate the lynchpin of U.S. legal system: precedent. No Checks + No Balance = No Rule of Law #NSA #FISA

— Ward Mundy (@NerdUno) June 14, 2013
There also was a metamorphosis underway in Congress. Southern Democrats became Republicans largely because of the civil rights statutes championed by Lyndon Johnson. Southern Democrats had always held their nose and gone along with the agenda of the Democratic Party as long as separate-but-equal was left in place. When "the deal" changed, they bolted. Big business was getting a very different foothold in Congress. A law school classmate of mine who became a very prominent lobbyist on Capitol Hill once told me that there was no bill he couldn't get passed if his client had deep enough pockets.
Retired judge blows whistle, implores Americans to not believe #NSA being subjected to judicial oversight http://t.co/wAYZflgU3V @GGreenwald

— David Sirota (@davidsirota) June 14, 2013
The Oligopoly Revolution was also underway. Virtually every American industry now has less than a handful of players which has led to skyrocketing prices: Big Oil, Big Banks, Automobiles, Airplane Manufacturers, Airlines, Technology, Communications, Hospitals, Drug Manufacturers, Health Care Providers, Fast Food, Grocery Stores, Hardware Stores, and Drug Stores to name just a few. There really is no space left for the little guy and the entrepreneur. Price fixing by manufacturers now is perfectly legal. Software patents appeared out of thin air and have essentially killed off independent software development unless you work for the handful of leading technology companies that can afford a patent portfolio.
I totally misunderstood when AT&T and Verizon said they were moving to shared data plans.

— Ina Fried (@inafried) June 7, 2013
And then there was 9/11. In response to the threat of terrorism and under the convenient umbrella of national security, Congress has all but repealed the constitutional protections laid out in the Bill of Rights while establishing a National Security Agency that would have been the envy of Adolph Hitler and Joseph Stalin. The "new" federal courts have routinely rubber-stamped every piece of this legislation. And then came the secret FISA court with secret proceedings and secret decisions and secret court orders and no public appeals. If you read nothing else, read this article in
The Verge
. Here's an excerpt: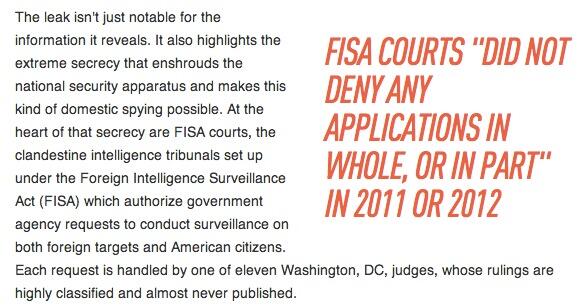 The 9/11 terrorists should be proud. They have single-handedly changed our entire security apparatus (not to mention our judicial system) to one that looks frighteningly similar to what you would find in Pakistan, China, or North Korea. And the response from the President and Congress… "Gosh, we're all so much more secure when we can identify the calling history of every single cellphone user and can intercept every email communication in the universe." And the American Technology Oligopoly appears to have gone right along with it while lying their asses off about what has happened. Who needs the keys to your house? They've already got access to every piece of personal data you create!

We obviously hope some of this story turns out not to be true, but then there's this:

News Flash: Everything Snowden said about analyst listening to phone calls turns out to be true after all http://t.co/aZjxxYyM4i #NSA #PRISM

— Ward Mundy (@NerdUno) June 16, 2013
The problem is that Congress and some within the judiciary have so tilted the playing field that it's hard to have much faith in any of our public institutions any more. Just to reemphasize, this has nothing to do with Democrats or Republicans. It has to do with almost all of our national politicians who have sold themselves out to the highest bidder.
Recomano: "Privacy Isn't All We're Losing. The surveillance state threatens Americans' love of country" > http://t.co/Cr8fAGjRa6 #nsa

— Toni Piqué (@ampique) June 14, 2013
So how do we fix this mess? For the short term, stop using browsers to generate or read email. Encrypt your email and stop using Gmail, HotMail, and Yahoo. Use VPNs for communications whenever possible. And Silicon Valley needs to take a careful look in the mirror. They are a major
part of the problem
.
Add a #VPN Layer of Protection Between YeaLink and the #NSA: Here's How http://t.co/syT4musew3 #asterisk #voip pic.twitter.com/xKEgdMuHLj

— Ward Mundy (@NerdUno) June 20, 2013
Then it's time to take our country back. Those of us that continue to sit on the sidelines deserve what we get.
What we really need is a new Constitution that actually has some meaning. Every person in the United States should get to vote on it, and it shouldn't be based on gerrymandered political districts that favor a particular political party. As part of the process, throw all of these bums out. Every one of them regardless of political party! Then dismantle their retirement benefits and healthcare perks.
Limit future elected officials to six years in office with no special benefits of any kind. It's service to your country, not a career or mutual admiration society. Promulgate strict laws outlawing all lobbying of Congress by paid individuals. Force congressmen to write their own legislation rather than relying upon the work of corporate America. Pass laws that severely penalize companies that ship American jobs and corporate revenue overseas. Corporations are not people. Nor are they U.S. citizens. Stop pretending they are. Establish minimum tax rates for every person and every company doing business in the United States. Everybody who lives here should have to pay their fair share of the costs. Get rid of all the tax loopholes that have rigged the system in favor of special interest groups that literally have bought Congress. The rest of the problems will fix themselves hopefully in time for our kids to once again enjoy living and prospering in
our
great country.
We share the sentiments and recommendations of Hendrik Herzberg in The New Yorker:
Calling for a national commission can be the last refuge of the high-mindedly perplexed, but this is one instance when such a commission—independent, amply funded, possessing subpoena power, and with a membership and a staff deeply versed in both national security and civil liberties—may be precisely what is needed. The N.S.A. programs represent a troubling increase in state power, even if—so far, and so far as we know—they have not occasioned a troubling increase in state wrongdoing. Obama's "difficult questions" have a new urgency. Are the programs truly efficacious? Do they truly provide an extra margin of safety sufficient to justify the resources poured into them, to say nothing of the domestic and international anxieties they inevitably provoke? Is it wise to entrust so many of their activities to the employees of private companies, which are ultimately answerable not to the United States and its Constitution but to corporate stockholders? Did it make sense to construct an intelligence behemoth that apparently cannot operate without giving an enormous number of people—more than a million—top-secret security clearances? And in what ways, exactly, might an ill-intentioned yet formally law-abiding Administration use its powers for nefarious purposes? From what we know so far—well, we know far too little, still.
Finally, let us close by pointing you to Steve Wozniak's commentary on this mess. We couldn't have said it better…

Woz, post-#NSA revelations: This is not my America anymore. http://t.co/F676jFxtuf via @CNET

— Declan McCullagh (@declanm) June 17, 2013
Tweet
Originally published: Sunday, June 9, 2013
10 Responses to "Amerika the Beautiful: An Insider's View of What Went Wrong and How To Fix It"