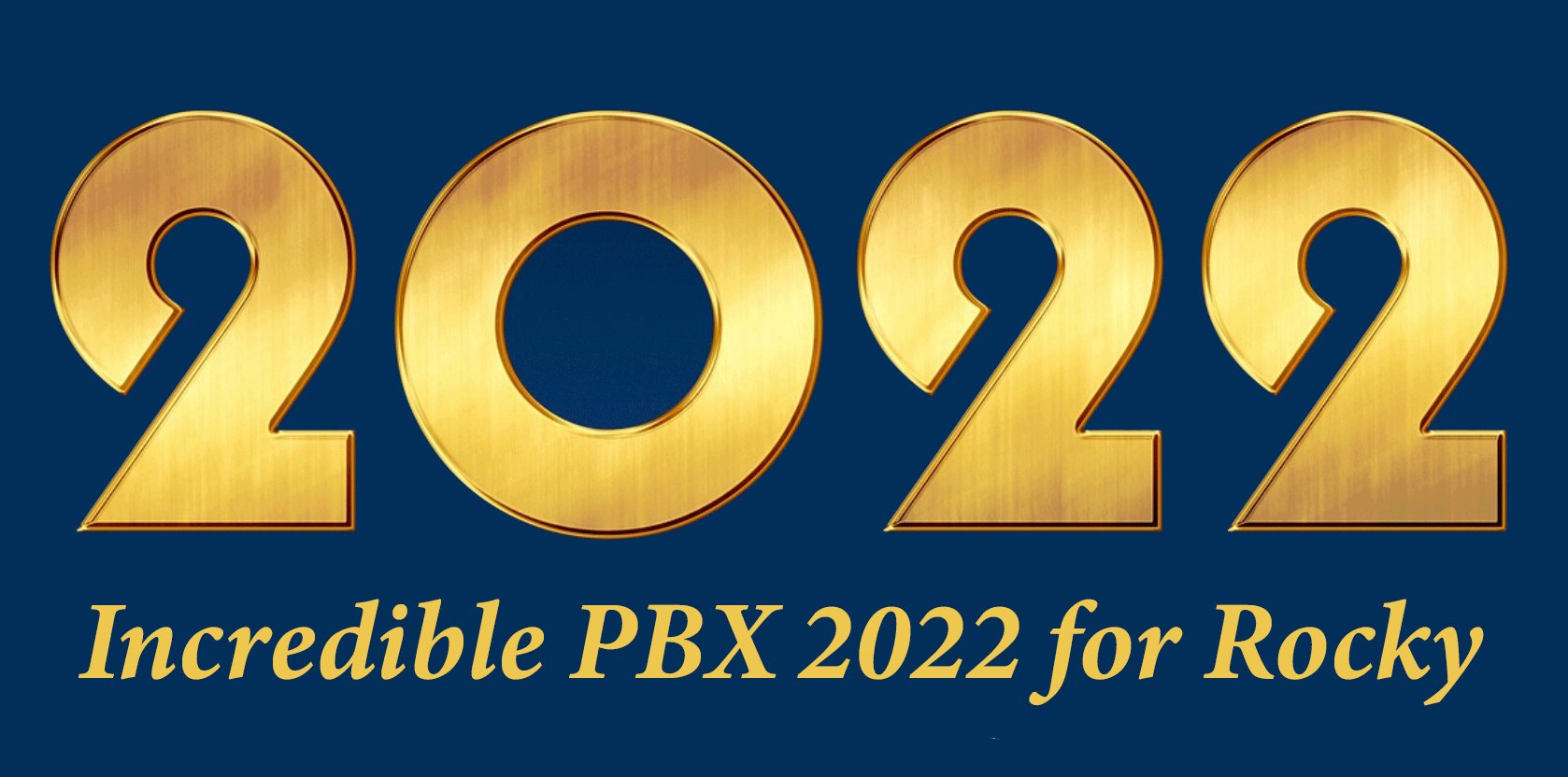 As we celebrate the 17th birthday of Nerd Vittles this week, it seemed only fitting to introduce a new version of Incredible PBX 2022 which will carry telephony forward until the end of this decade. For history buffs, you may recall that CentOS used to be a perfect clone of Red Hat Enterprise Linux… until it wasn't when RedHat decided to morph CentOS into a development sandbox known as CentOS Stream. And then along came Gregory Kurtzer, the original developer of CentOS, to work his magic once again with the Rocky 8 reincarnation. Until Rocky 8 rose from the ashes, we had all but decided to end our CentOS distribution and focus on Debian, Raspbian, and Ubuntu. But the appeal of a new operating system with an
end of life slated for May 2029
was hard to resist. So here we are.
Our roadmap for Incredible PBX 2022 for Rocky 8 goes like this. Today we are introducing this beta featuring Asterisk® 16 and the GPL modules from FreePBX® 15. Once we get the kinks out of this release, we will add two additional versions, one featuring Asterisk 18 and FreePBX 15 plus a second one featuring Asterisk 19 and FreePBX 16. The PHP platform to support all three versions is already in place. It supports both PHP 5.6 and PHP 7.4 running concurrently. We needed PHP 5.6 to preserve the legacy AvantFax application which provides free faxing.
We hope you'll download and install Rocky 8 as well as Incredible PBX 2022 and help us move this platform forward. Begin by downloading and installing Rocky 8 Minimal. If you prefer a cloud-based platform, consider our Platinum sponsor, Vultr. They host a Rocky 8 image in addition to other operating systems so platform setup takes only a minute.
Once you have your Rocky 8 platform up and running, login as root and issue the following commands to kick off the Incredible PBX 2022 install:

cd /root
yum -y install wget
wget http://incrediblepbx.com/IncrediblePBX2022.16.15-4.sh
chmod +x IncrediblePBX2022.16.15-4.sh
./IncrediblePBX2022.16.15-4.sh

Once the Phase I install finishes, your server will reboot. Log back in as root and run the installer a second time:

cd /root
./IncrediblePBX2022.16.15-4.sh

1/31/2022 UPDATE: We've now released the second iteration of Incredible PBX 2022 for Rocky8 featuring Asterisk 18 and the FreePBX GPL modules. You can install this version as an alternative to the Asterisk 16 release if you would prefer:

cd /root
yum -y install wget
wget http://incrediblepbx.com/IncrediblePBX2022.18.15-1.sh
chmod +x IncrediblePBX2022.18.15-1.sh
./IncrediblePBX2022.18.15-1.sh

Once the Phase I install finishes, your server will reboot. Log back in as root and run the new installer a second time:

cd /root
./IncrediblePBX2022.18.15-1.sh

As with all Incredible PBX builds, a preconfigured Linux firewall is included which blocks all access except from whitelisted IP addresses. To activate it, simply press the ENTER key when the install completes. To load the latest updates to the platform using the Automatic Update Utility, simply log out of your server and log back in as root. You're now ready to explore the Incredible PBX feature set using the tutorials available on the Incredible PBX Wiki. Start by walking through the setup steps covered in the existing CentOS 7 tutorial. Enjoy!
Originally published: Monday, January 17, 2022 Updated: Monday, January 31, 2022
---

Need help with Asterisk? Visit the VoIP-info Forum.

---
Special Thanks to Our Generous Sponsors

FULL DISCLOSURE: ClearlyIP, Skyetel, Vitelity, DigitalOcean, Vultr, VoIP.ms, 3CX, Sangoma, TelecomsXchange and VitalPBX have provided financial support to Nerd Vittles and our open source projects through advertising, referral revenue, and/or merchandise. As an Amazon Associate and Best Buy Affiliate, we also earn from qualifying purchases. We've chosen these providers not the other way around. Our decisions are based upon their corporate reputation and the quality of their offerings and pricing. Our recommendations regarding technology are reached without regard to financial compensation except in situations in which comparable products at comparable pricing are available from multiple sources. In this limited case, we support our sponsors because our sponsors support us.


BOGO Bonaza: Enjoy state-of-the-art VoIP service with a $10 credit and half-price SIP service on up to $500 of Skyetel trunking with free number porting when you fund your Skyetel account. No limits on number of simultaneous calls plus quadruple data center redundancy assures that you'll never have a failed call. Tutorial and sign up details are here.


The lynchpin of Incredible PBX 2020 and beyond is ClearlyIP components which bring management of FreePBX modules and SIP phone integration to a level never before available with any other Asterisk distribution. And now you can configure and reconfigure your new Incredible PBX phones from the convenience of the Incredible PBX GUI.


VitalPBX is perhaps the fastest-growing PBX offering based upon Asterisk with an installed presence in more than 100 countries worldwide. VitalPBX has generously provided a customized White Label version of Incredible PBX tailored for use with all Incredible PBX and VitalPBX custom applications. Follow this link for a free test drive!



Special Thanks to Vitelity. Vitelity is now Voyant Communications and has halted new registrations for the time being. Our special thanks to Vitelity for their unwavering financial support over many years and to the many Nerd Vittles readers who continue to enjoy the benefits of their service offerings. We will keep everyone posted on further developments.

---
---