XiVO uses traditional Asterisk extension patterns to define how calls dialed from inside your PBX should be routed. If there is no defined Outgoing Call match on the dial string entered by the caller, XiVO assumes the call is local and will search for a matching extension number. If that search fails, the caller will get either a busy signal or an error message from Allison.
Some thought needs to go into your Outgoing Call Routing patterns once you have set up service with one or more Trunk providers to handle outbound calls. The general rule is that you must have a unique extension routing pattern for every outgoing call rule on your PBX. A single rule can be used to route calls to multiple providers, and XiVO will attempt to place the call to the Trunks in the order in which you have specified them. If you want callers to be able to choose the Outbound Trunk for every call that they place, then you'll need a unique extension pattern for every provider. This is typically handled by XiVO using dialing prefixes. For example, 8NXXNXXXXXX might be used with Stripnum set to 1 to tell XiVO to send calls in this format to Vitelity after stripping off the first digit.
For providers such as Vitelity and VoIP.ms that support CallerID spoofing, Outgoing Call specifications have another function. They tell the provider which CallerID number to send to the called party when completing the call.
To create an Outgoing Call route, choose IPBX:Call Management:Outgoing Calls and click + Add. With each Outgoing Call route created, you at least must complete the information in the first two tabs: General and Exten.
Sample Vitelity Outgoing Call Template
With Vitelity, we've chosen to let callers route calls out through the Vitelity trunk by dialing 10-digit numbers with an 8 prefix. Vitelity also was chosen to handle 911 calls.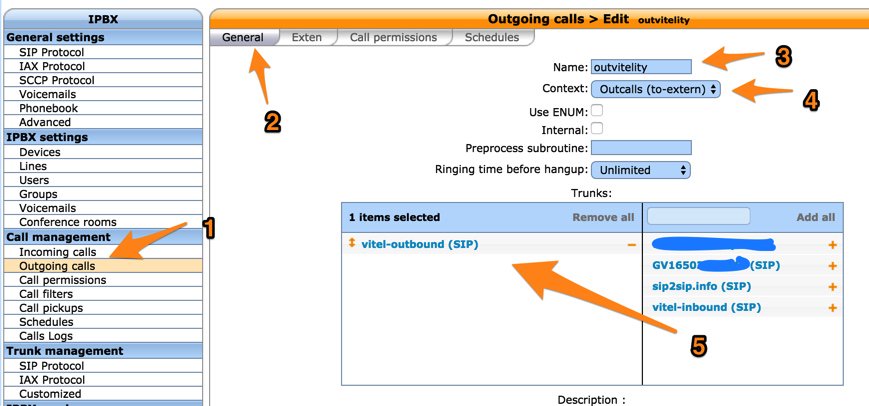 Sample Google Voice Outgoing Call Template Using Simonics SIP Gateway
With traditional 10-digit calls, we've chosen to use our Google Voice trunk to process the calls since those calls are free in the U.S. and Canada. This also protects against some NANPA calls that have extremely high tariffs for the calls since Google blocks them. Note that the Simonics gateway and Google Voice expect calls to be delivered in 11-digit format so we add the 1 prefix as part of the Outgoing Call processing.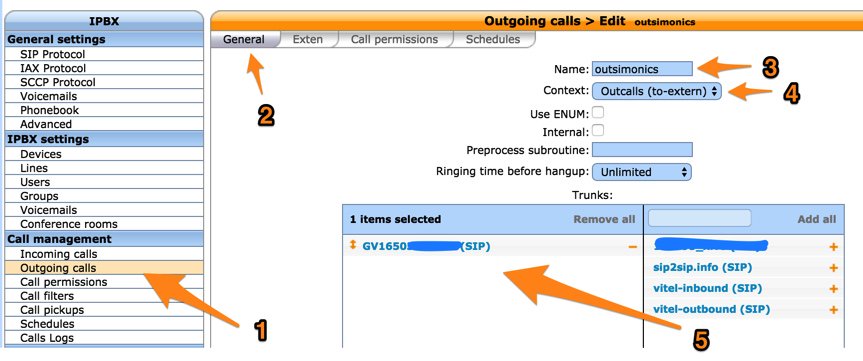 Sample RingPlus Outgoing Call Template
With RingPlus, we've chosen to let callers dial out through our RingPlus cellular number using a 77 (RP) prefix. It's important to note that a CallerID number is required in the Exten tab, or outbound calls to RingPlus will fail. The good news is RingPlus currently supports CallerID spoofing as long as the number you choose is also a RingPlus number. NOTE: You must own the CallerID number to use it under federal law!