UPDATE: The first release of Incredible PBX for XiVO is now available here. Please consider this article superseded by the new release which includes the Telephone and Web Reminders applications.
We're back in the saddle today after a terrific two-week break in Hawaii. Thanks for your patience while we recharged our batteries. Today we're pleased to introduce Incredible PBX Telephone Reminders for the XiVO platform. It's a 15-second installation on any XiVO server.
How It Works. The original functionality of the application has been preserved. Dial 1-2-3 on a phone connected to your XiVO system and enter the password you assigned during installation. Then you can record a reminder message, specify the phone number to which the reminder should be delivered, schedule the date and time for delivery, and decide whether to enable recurring reminders of one of the flavors supported: single reminder, weekday reminder, daily reminder, monthly reminder, or annual reminder. There also a web interface to schedule reminders using the Festival TTS engine. Simply visit http://XiVO-ipaddress/reminders for access. If you were a pioneer and installed Telephone Reminders before the web component was available, just download the latest tarball below and run the installer again. As with all Nerd Vittles software, Telephone Reminders is pure (and free) GPL code with No Gotchas!
Installing Telephone Reminders for XiVO. As mentioned, installation is as simple as downloading and running a script. Log into your XiVO server as root and issue the following commands to put everything in place:

cd /root
wget http://incrediblepbx.com/reminders-xivo.tar.gz
tar zxvf reminders-xivo.tar.gz
./reminders-xivo.sh

Scheduling Reminders by Phone with XiVO. Once you complete the install, pick up any telephone connected to your XiVO server and dial 1-2-3. When prompted, enter the numeric password that you assigned during installation. If you ever want to change it, just download the latest version and run the installation script again. Doesn't get any easier than that to stay current. Keep in mind that anyone with access to extension 123 on your XiVO server can schedule reminders, and the reminders can be sent to any telephone number in the world that is supported by your dialplan and trunks. So use a secure password! It's your phone bill.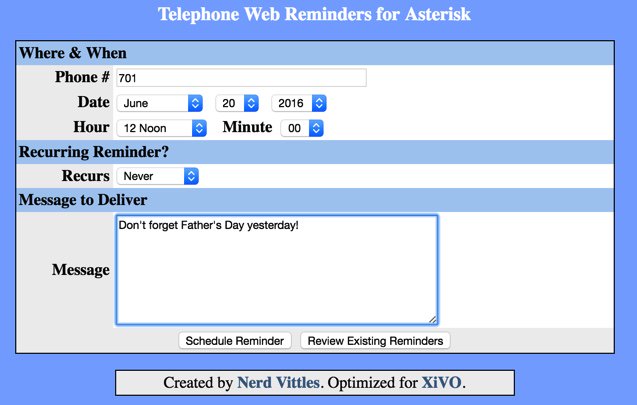 Scheduling Reminders via the Web with XiVO. As noted, there's also a web interface to Telephone Reminders. Make certain you have first installed the Incredible PBX Firewall WhiteList so that the bad guys don't schedule costly phone calls on your dime! To access Telephone Web Reminders, point your browser to the IP address of your server using standard http, e.g. http://12.34.56.78/reminders. The web component uses the Festival TTS engine to transcribe your reminders for delivery by phone.
Firewall Installation on XiVO Platform. If you didn't install XiVO using one of our tutorials, please add the Travelin' Man 3 IPtables Firewall now!

apt-get -y install dnsutils
echo "*/10 5-22 * * * root /root/ipchecker > /dev/null 2>&1" >> /etc/crontab
wget http://incrediblepbx.com/firewall-xivo.tar.gz
tar zxvf firewall-xivo.tar.gz
rm -f firewall-xivo.tar.gz
./tm3-xivo.sh

Historical Overview and Tweaking. For the big picture of the Telephone Reminders project and to learn some of the additional settings you can configure, visit the Best of Nerd Vittles page. Enjoy!
Published: Monday, June 20, 2016
---
9 Countries Have Never Visited Nerd Vittles. Got a Friend in Any of Them https://t.co/wMfmlhiQ9y #asterisk #freepbx pic.twitter.com/TPFGZbqWB6

— Ward Mundy (@NerdUno) April 22, 2016
---

Need help with Asterisk? Visit the PBX in a Flash Forum.

---
Special Thanks to Our Generous Sponsors
FULL DISCLOSURE: RentPBX, Amazon, Vitelity, DigitalOcean, Vultr, Digium, Sangoma, 3CX, TelecomsXchange and others have provided financial support to Nerd Vittles and our open source projects through advertising, referral revenue, and/or merchandise. We've chosen these providers not the other way around. Our decisions are based upon their corporate reputation and the quality of their offerings and their pricing. Our recommendations regarding technology are reached without regard to financial compensation except in situations in which comparable products at comparable pricing are available from multiple sources. In this limited case, we support our sponsors because our sponsors support us.


Awesome Vitelity Special. Vitelity has generously offered a terrific discount for Nerd Vittles readers. You now can get an almost half-price DID from our special Vitelity sign-up link. If you're seeking the best flexibility in choosing an area code and phone number plus the lowest entry level pricing plus high quality calls, then Vitelity is the hands-down winner. Vitelity provides Tier A DID inbound service in over 3,000 rate centers throughout the US and Canada. When you use our special link to sign up, Nerd Vittles gets a few shekels down the road to support our open source development efforts while you get an incredible signup deal as well. The going rate for Vitelity's DID service is $7.95 a month which includes up to 4,000 incoming minutes on two simultaneous channels with terminations priced at 1.45¢ per minute. Not any more! For our users, here's a deal you can't (and shouldn't) refuse! Sign up now, and you can purchase a Tier A DID with unlimited incoming calls and four simultaneous channels for just $3.99 a month. To check availability of local numbers and tiers of service from Vitelity, click here. NOTE: You can only use the Nerd Vittles sign-up link to order your DIDs, or you won't get the special pricing! Vitelity's rate is just 1.44¢ per minute for outbound calls in the U.S. There is a $35 prepay when you sign up. This covers future usage. Any balance is refundable if you decide to discontinue service with Vitelity.
---
RentPBX, a long-time partner and supporter of PIAF project, is offering generous discounts for Nerd Vittles readers. For all of your Incredible PBX hosting needs, sign up at www.RentPBX.com and use code NOGOTCHAS to get the special pricing. The code will lower the price to $14.99/month, originally $24.99/month. It's less than 50¢/day.
---
Some Recent Nerd Vittles Articles of Interest…