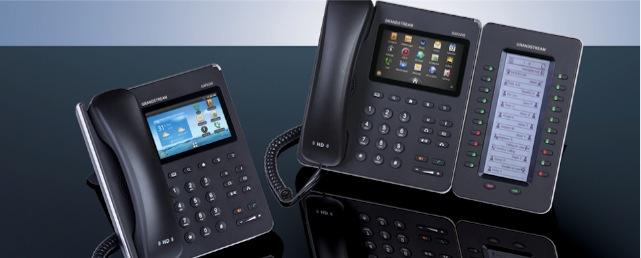 One of the long-term goals of the PBX in a Flash™ Project has always been the desire to integrate a full-featured PBX directly into a desktop phone. For those that travel or support small branch offices, this would be the best of all possible worlds. We never quite achieved it with PBX in a Flash, but thanks to the Raspberry Pi™, Grandstream's new GXP2200, a couple of screws, and a power drill, we've found the perfect couple. Imagine managing a virtual private network with your branch office PBX whirring away beneath your desktop phone and nothing more than a touchscreen browser built into your phone. And now you can appreciate what a milestone this is for the VoIP telephony community.
We introduced the GXP2200 in our Black Friday roundup last week, but here are the highlights for those of you that may have missed it. While there have been other VoIP phones built around Android, this is the first affordable unit (under $200)1 that also includes access to Google's Play Store thanks to Grandstream's firmware update released last week. This is significant because proprietary app stores mean the phone manufacturer keeps total control of what you can install on your phone while access to Google's Play Store makes available virtually all of the Android software in the commercial (and free) marketplace.
Why Android Matters with a VoIP Phone
Using Android as the underlying operating system for a VoIP phone provides the best of all worlds with SIP access to your favorite Asterisk® server or Incredible PBX™ for the Raspberry Pi plus Skype, Google Voice, Microsoft Lync, YouTube, Pandora, Facebook, Twitter, and Angry Birds without leaving your chair. The GXP2200 supports six SIP lines, five-way conference calls, HD audio, Bluetooth, integrated PoE, and VPNs of many flavors. You also can add four 20-button sidecar expansion modules. GrooVe IP can be installed from the Google Play Store for plug-and-play Google Voice calling. That gives you the "VoIP Big Three" on a single desktop phone: SIP, Skype, and Google Voice. Plug in an SD card with your favorite tunes and videos, and they'll play back flawlessly on the GXP2200. The PBX in a Flash RSS Security Feed can also be installed on the desktop of this phone. With the $5 IP Cam Viewer app, you can use your phone to monitor dozens of IP cameras in your organization or anyone else anywhere in the world. AsteriDex also can be used from the phone's browser to provide click-to-dial calling with any SIP trunk you've set up on the phone. And, as we noted, the touchscreen browser lets you access FreePBX® to configure and manage Incredible PBX and your Asterisk server directly from your phone. Did we mention the 1,000-client phone directory and Google Calendar plus dedicated voicemail, call transfer, and conferencing buttons right on the phone? All of them work flawlessly with Asterisk as well as PBX in a Flash and Incredible PBX. While the version of Android is a bit long in the tooth, we haven't found that to be a distraction when paired with a desktop phone. One of the consultants on the PIAF Forum mentioned that he had taken this phone to a customer site last week. The employees were so impressed with the GXP2200 that they told the boss they would subsidize the cost of the phones if he would purchase them for the office. When is the last time you had that conversation with your boss?
Hooking Up the Raspberry Pi with a GXP2200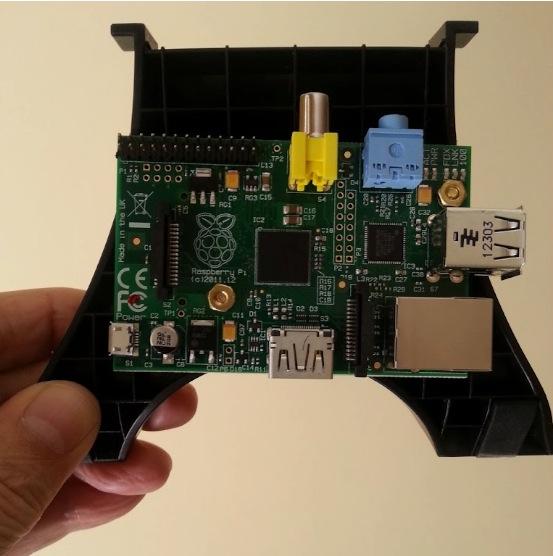 The Raspberry Pi integration is accomplished easily because of the new design of the 512MB Raspberry Pi boards with two mounting holes (covered by the two brass-colored nuts above) plus the unique phone stand that is provided with Grandstream's GXP2200. A quick trip to the hardware store for two one-inch screws and a couple minutes with a power drill, and it was easy enough for any fifth grader to mount the Raspberry Pi on the inner side of the plastic phone stand. Once you slide the stand into place on the phone, the Raspberry Pi is completely hidden inside the phone stand with plenty of ventilation to operate unobtrusively for years. A 6-inch CAT5 cable will let you take advantage of the spare network jack on the back of the phone to add network connectivity for the Raspberry Pi. Insert your SD card with Incredible PBX, power up the Raspberry Pi with a 5-volt adapter, and your branch office PBX comes to life. Fire up your phone's browser, log in to http://incrediblepbx.local, and your entire PBX is quite literally at your fingertips: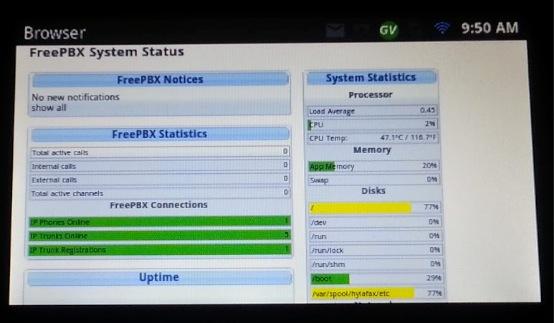 By the time your GXP2200 is delivered, Incredible PBX 3.6 for the Raspberry Pi will be on the street featuring Incredible Fax.2 Then you'll have everything any remote office could ever ask for, and it'll all be neatly tucked away beneath your telephone with management convenience like you've never experienced. Enjoy!
Tweet
Originally published: Monday, November 26, 2012
---

Need help with Asterisk? Visit the PBX in a Flash Forum.

---
Special Thanks to Our Generous Sponsors

FULL DISCLOSURE: ClearlyIP, Skyetel, Vitelity, DigitalOcean, Vultr, VoIP.ms, 3CX, Sangoma, TelecomsXchange and VitalPBX have provided financial support to Nerd Vittles and our open source projects through advertising, referral revenue, and/or merchandise. As an Amazon Associate and Best Buy Affiliate, we also earn from qualifying purchases. We've chosen these providers not the other way around. Our decisions are based upon their corporate reputation and the quality of their offerings and pricing. Our recommendations regarding technology are reached without regard to financial compensation except in situations in which comparable products at comparable pricing are available from multiple sources. In this limited case, we support our sponsors because our sponsors support us.


BOGO Bonaza: Enjoy state-of-the-art VoIP service with a $10 credit and half-price SIP service on up to $500 of Skyetel trunking with free number porting when you fund your Skyetel account. No limits on number of simultaneous calls. Quadruple data center redundancy. $25 monthly minimum spend required. Tutorial and sign up details are here.


The lynchpin of Incredible PBX 2020 and beyond is ClearlyIP components which bring management of FreePBX modules and SIP phone integration to a level never before available with any other Asterisk distribution. And now you can configure and reconfigure your new Incredible PBX phones from the convenience of the Incredible PBX GUI.


VitalPBX is perhaps the fastest-growing PBX offering based upon Asterisk with an installed presence in more than 100 countries worldwide. VitalPBX has generously provided a customized White Label version of Incredible PBX tailored for use with all Incredible PBX and VitalPBX custom applications. Follow this link for a free test drive!



Special Thanks to Vitelity. Vitelity is now Voyant Communications and has halted new registrations for the time being. Our special thanks to Vitelity for their unwavering financial support over many years and to the many Nerd Vittles readers who continue to enjoy the benefits of their service offerings. We will keep everyone posted on further developments.

---
---
Some Recent Nerd Vittles Articles of Interest…
Some of our purchase links refer users to Amazon when we find their prices are competitive for the recommended products. Nerd Vittles receives a small referral fee from Amazon to help cover the costs of our blog. We never recommend particular products solely to generate Amazon commissions. However, when pricing is comparable or availability is favorable, we support Amazon because Amazon supports us. [↩]
If you have that pioneering spirit, you can take the Preview Edition of Incredible PBX 3.6 for a spin today. [↩]