Last week we introduced the new (free) version of PIAF5 powered by 3CX v15.5 supporting four simultaneous calls, unlimited trunks, 10 extensions, and 10-user conference calls. And today we're torture-testing our new 3CX server in the Bahamas aboard one of Carnival's 3,000-passenger floating cities. Somebody's gotta do it, right? What makes this such a challenging test for any PBX are several things. First, we're using a free Google Voice trunk on a free 3CX PBX that we configured in under 10 minutes at CloudAtCost for a one-time cloud server charge of $17.50. Second, we're sharing a satellite Internet connection with 3,000 other people in the middle of the Caribbean. The weekly charge is about $100 so every Internet junkie subscribes. Third, we're using a 3CX Client on an iPhone in Airplane Mode. And, finally, we're sitting behind the most Draconian firewall you can imagine because Carnival assumes everyone is a bad guy trying to bring their Internet service to its knees.
For those coming from the Asterisk® world, I don't have to remind you how challenging this NAT-based setup would be even assuming you had a flawless Internet connection. Believe me. We don't. And the secret sauce that makes all of this seem like child's play is the latest collection of 3CX Clients for PCs, Macs, Android devices, and iPhones/iPads. Simply download the client for your platform, log into your 3CX portal and send the welcome email from a configured extension to your phone, open the email on your phone and double-click on the attachment, and boom. Your 3CX Client is automatically configured in seconds and ready to make your first call. A monkey could do it. It's that easy!

So our torture-test for today looks more like a final exam in VoIP telephony. We'll be using Carnival's WiFi connection from our iPhone with its iOS 3CX Client. We'll dial into the Incredible PBX™ at our office in Charleston. The office number is configured with a Stealth AutoAttendant which we'll use to make an outbound call to our Demo IVR in Marbella, Spain using DISA and a FreeVoipDeal trunk. For the techies, it's the NAT Trifecta with DTMF hurdles that are virtually impossible to traverse using Asterisk and any SIP client.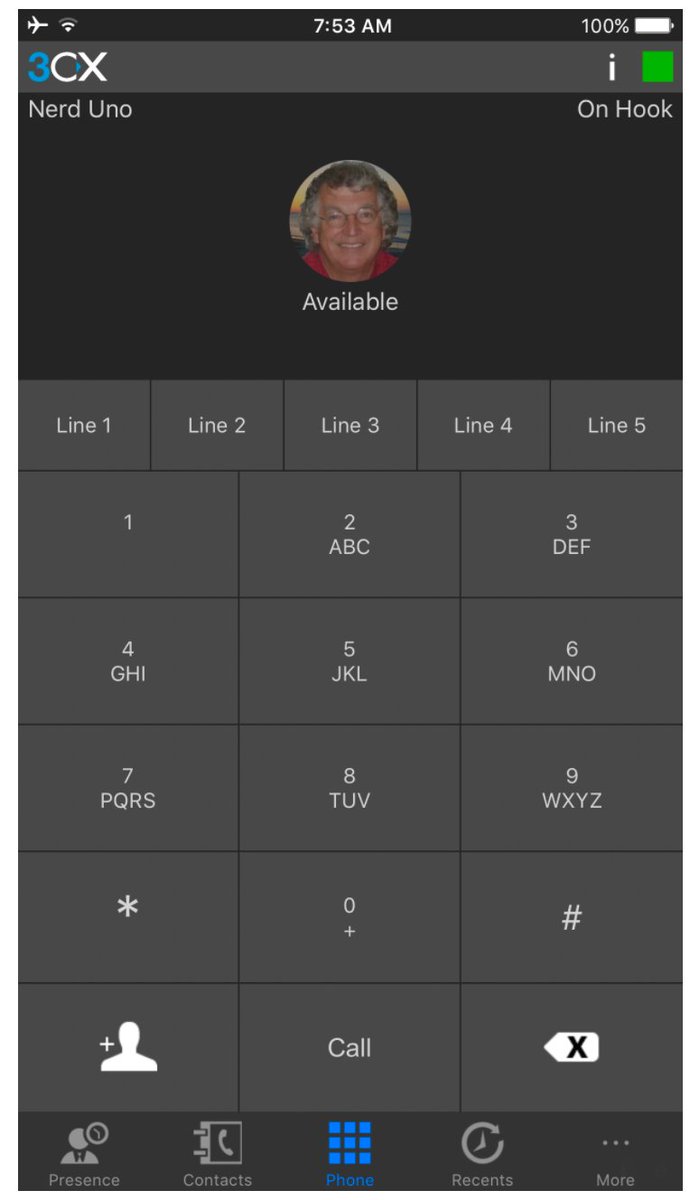 Guess what? It not only works, but it sounds like you're sitting in the adjoining office. No echo, no DTMF problems, no missing audio, and no detectable problems in voice quality with either the Charleston IVR or the Marbella IVR. If cost matters and traveling is a key component in your telephony requirements, you owe it to yourself to set up a free 3CX PBX and take it for a spin. Whether you use it to supplement an existing Asterisk setup or as a standalone PBX, we think you'll be thrilled with the results.
Continue reading about the new, free PIAF5 server powered by 3CX v.15.5…
Originally published: Monday, June 12, 2017
---

Need help with 3CX or VoIP? Visit the PBX in a Flash Forum.

---
Special Thanks to Our Generous Sponsors
FULL DISCLOSURE: RentPBX, Amazon, Vitelity, DigitalOcean, Vultr, TelecomsXchange, 3CX and others have provided financial support to Nerd Vittles and our open source projects through advertising or referral revenue. We've chosen these providers not the other way around. Our decisions were based upon their corporate reputation and the quality of their offerings and their pricing. Our technology recommendations are reached independently of financial considerations except in situations in which comparable products at comparable pricing are available from multiple sources. In this limited case, we support our sponsors because our sponsors support us.


Awesome Vitelity Special. Vitelity has generously offered a terrific discount for Nerd Vittles readers. You now can get an almost half-price DID from our special Vitelity sign-up link. If you're seeking the best flexibility in choosing an area code and phone number plus the lowest entry level pricing plus high quality calls, then Vitelity is the hands-down winner. Vitelity provides Tier A DID inbound service in over 3,000 rate centers throughout the US and Canada. When you use our special link to sign up, Nerd Vittles gets a few shekels down the road to support our open source development efforts while you get an incredible signup deal as well. The going rate for Vitelity's DID service is $7.95 a month which includes up to 4,000 incoming minutes on two simultaneous channels with terminations priced at 1.45¢ per minute. Not any more! For our users, here's a deal you can't (and shouldn't) refuse! Sign up now, and you can purchase a Tier A DID with unlimited incoming calls and four simultaneous channels for just $3.99 a month. To check availability of local numbers and tiers of service from Vitelity, click here. NOTE: You can only use the Nerd Vittles sign-up link to order your DIDs, or you won't get the special pricing! Vitelity's rate is just 1.44¢ per minute for outbound calls in the U.S. There is a $35 prepay when you sign up. This covers future usage. Any balance is refundable if you decide to discontinue service with Vitelity.
---
​​3CX is a software PBX that's easy to install & manage. It includes integrated softphones, WebRTC conferencing and essential add-ons out of the box, at no additional cost. Try the free edition at www.3cx.com. Better yet, download the PIAF5 ISO powered by 3CX. Free version includes support for 16 simultaneous calls and unlimited SIP trunks.
Run on Premise or in the Cloud, on Windows and now on Linux
Softphones for iOS, Android, Win & Mac
Easy install, backup & restore, version upgrades
Automatically configures IP Phones, SIP Trunks & Gateways
---
RentPBX
, a long-time partner and supporter of PIAF project, is offering generous discounts for Nerd Vittles readers. For all of your Incredible PBX hosting needs, sign up at
www.RentPBX.com
and use code
NOGOTCHAS
to get the special pricing. The code will lower the price to $14.99/month, originally $24.99/month. It's less than 50¢/day.
---
Some Recent Nerd Vittles Articles of Interest…