Last week we introduced the new (free) version of PIAF5 powered by 3CX v15.5 supporting four simultaneous calls, unlimited trunks, 10 extensions, and 10-user conference calls. And today we're torture-testing our new 3CX server in the Bahamas aboard one of Carnival's 3,000-passenger floating cities. Somebody's gotta do it, right? What makes this such a challenging test for any PBX are several things. First, we're using a free Google Voice trunk on a free 3CX PBX that we configured in under 10 minutes at CloudAtCost for a one-time cloud server charge of $17.50. Second, we're sharing a satellite Internet connection with 3,000 other people in the middle of the Caribbean. The weekly charge is about $100 so every Internet junkie subscribes. Third, we're using a 3CX Client on an iPhone in Airplane Mode. And, finally, we're sitting behind the most Draconian firewall you can imagine because Carnival assumes everyone is a bad guy trying to bring their Internet service to its knees.
For those coming from the Asterisk® world, I don't have to remind you how challenging this NAT-based setup would be even assuming you had a flawless Internet connection. Believe me. We don't. And the secret sauce that makes all of this seem like child's play is the latest collection of 3CX Clients for PCs, Macs, Android devices, and iPhones/iPads. Simply download the client for your platform, log into your 3CX portal and send the welcome email from a configured extension to your phone, open the email on your phone and double-click on the attachment, and boom. Your 3CX Client is automatically configured in seconds and ready to make your first call. A monkey could do it. It's that easy!

So our torture-test for today looks more like a final exam in VoIP telephony. We'll be using Carnival's WiFi connection from our iPhone with its iOS 3CX Client. We'll dial into the Incredible PBX™ at our office in Charleston. The office number is configured with a Stealth AutoAttendant which we'll use to make an outbound call to our Demo IVR in Marbella, Spain using DISA and a FreeVoipDeal trunk. For the techies, it's the NAT Trifecta with DTMF hurdles that are virtually impossible to traverse using Asterisk and any SIP client.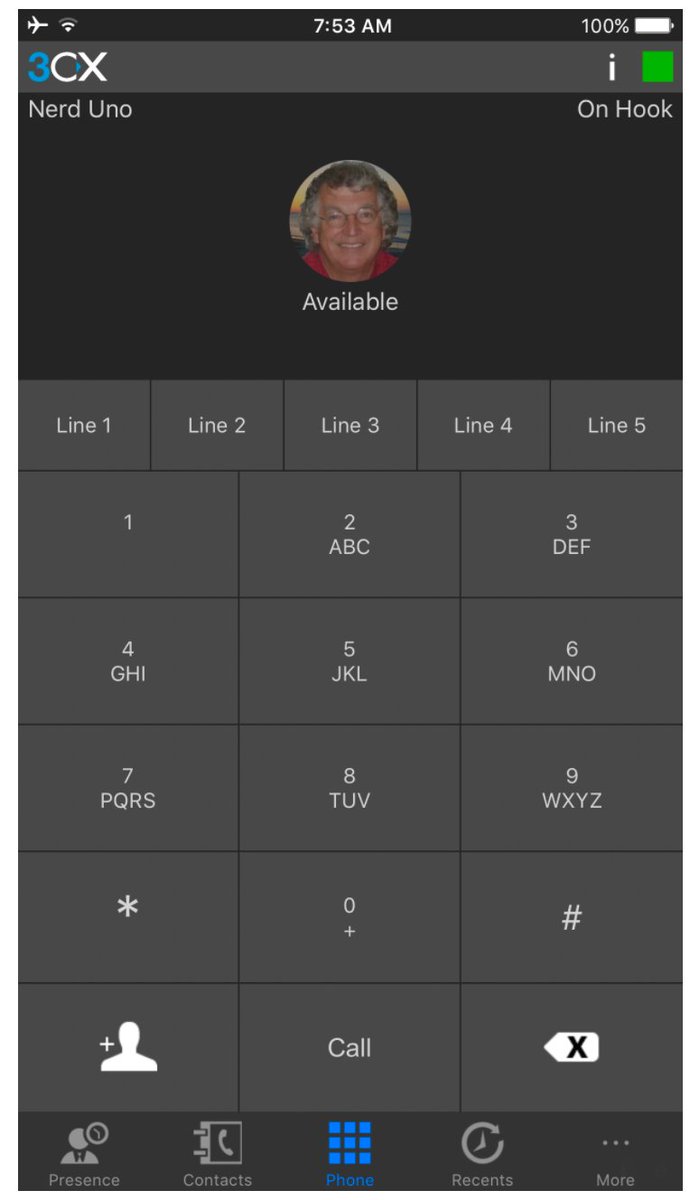 Guess what? It not only works, but it sounds like you're sitting in the adjoining office. No echo, no DTMF problems, no missing audio, and no detectable problems in voice quality with either the Charleston IVR or the Marbella IVR. If cost matters and traveling is a key component in your telephony requirements, you owe it to yourself to set up a free 3CX PBX and take it for a spin. Whether you use it to supplement an existing Asterisk setup or as a standalone PBX, we think you'll be thrilled with the results.
Continue reading about the new, free PIAF5 server powered by 3CX v.15.5…
Originally published: Monday, June 12, 2017
---

Need help with 3CX or VoIP? Visit the PBX in a Flash Forum.

---
Special Thanks to Our Generous Sponsors

FULL DISCLOSURE: ClearlyIP, Skyetel, Vitelity, DigitalOcean, Vultr, VoIP.ms, 3CX, Sangoma, TelecomsXchange and VitalPBX have provided financial support to Nerd Vittles and our open source projects through advertising, referral revenue, and/or merchandise. As an Amazon Associate and Best Buy Affiliate, we also earn from qualifying purchases. We've chosen these providers not the other way around. Our decisions are based upon their corporate reputation and the quality of their offerings and pricing. Our recommendations regarding technology are reached without regard to financial compensation except in situations in which comparable products at comparable pricing are available from multiple sources. In this limited case, we support our sponsors because our sponsors support us.


BOGO Bonaza: Enjoy state-of-the-art VoIP service with a $10 credit and half-price SIP service on up to $500 of Skyetel trunking with free number porting when you fund your Skyetel account. No limits on number of simultaneous calls. Quadruple data center redundancy. $25 monthly minimum spend required. Tutorial and sign up details are here.


The lynchpin of Incredible PBX 2020 and beyond is ClearlyIP components which bring management of FreePBX modules and SIP phone integration to a level never before available with any other Asterisk distribution. And now you can configure and reconfigure your new Incredible PBX phones from the convenience of the Incredible PBX GUI.


VitalPBX is perhaps the fastest-growing PBX offering based upon Asterisk with an installed presence in more than 100 countries worldwide. VitalPBX has generously provided a customized White Label version of Incredible PBX tailored for use with all Incredible PBX and VitalPBX custom applications. Follow this link for a free test drive!



Special Thanks to Vitelity. Vitelity is now Voyant Communications and has halted new registrations for the time being. Our special thanks to Vitelity for their unwavering financial support over many years and to the many Nerd Vittles readers who continue to enjoy the benefits of their service offerings. We will keep everyone posted on further developments.

---
---
Some Recent Nerd Vittles Articles of Interest…