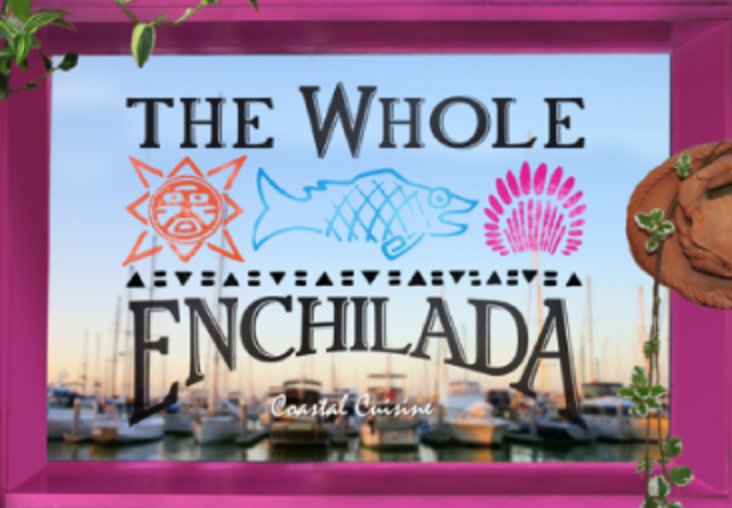 We're delighted to introduce the bells and whistles for Incredible PBX® 13-13. We've taken a slightly different approach with this release. Instead of getting the Whole Enchilada out of the box, you now have a choice. You start with Incredible PBX 13-13 LEAN on either the CentOS® 6 or 7 platform. This gets you a fully-functioning PBX with the latest Asterisk® 13 and most of the FreePBX® 13 GPL modules.1 From there, you can customize your PBX in any way you like. Or you can upgrade to the Full Enchilada and take advantage of the entire feature set that Incredible PBX has traditionally offered. Last but not least, you can add Incredible Fax for flawless faxing with HylaFax® and AvantFax® including fax detection on specified inbound routes. So the choice is totally up to you. We have a lot to cover. For today, we'll get all the Incredible PBX pieces installed. Next week, we'll tackle the Whole Enchilada feature set.
Here's a sneak peek at what's included in Incredible PBX 13-13 Whole Enchilada: 25 Trunks from our favorite providers, Voice Dialing (411) with IBM STT or Google, Headline News (951), Weather by ZIP Code (947), Today in History (86329), IBM TTS, ODBC Lookups (222), ODBC Calling with AsteriDex (223), Telephone Reminders (123), AsteriDex (Web GUI), Reminders (Web GUI), PortKnocker, Travelin' Man 4, Time of Day (*61), SMS Dictator (767), Wolfram Alpha (4747), Hotel-Style Wakeup Calls (*68), Allison's Demo IVR (3366), Lenny (53669), Call Parking (**70), Call Pickup (71), Blacklist Add (*30), Blacklist Remove (*31), Blacklist Last Caller (*32), Call Forward Activate (*72), Call Forward DeActivate (*73), Conferencing (C-O-N-F), Call Pickup (*8), Dictation (*34), Email Dictation (*35), DND Activate (*78), DND DeActivate (*79), SpeedDial with AsteriDex (000NNN), Email Delivery of Voicemails, NeoRouter VPN, and more. With a little luck, this will light a fire under some of you to roll up your sleeves and participate in the open source development community.
Installing a Base CentOS Operating System
You can install Incredible PBX 13-13 Lean on a dedicated server, on a virtual machine platform such as VirtualBox, or a Cloud-based server such as Vultr. We recommend a minimum 1GB of RAM although you can get away with 512MB of RAM if you also create a swapfile. We've provided a script to do it for you. Depending upon the number of users your server will be supporting, we recommend a disk capacity of 10-30 GB. Last but not least, you need a reliable Internet connection.
Before you can install Incredible PBX 13-13 Lean, you'll need a basic Linux platform. For this build, you can start by deploying a minimal install of CentOS 6 or 7. The Incredible PBX installer will load all of the necessary components to support Asterisk and FreePBX as well as the Incredible PBX application suite.
Begin by installing 64-bit CentOS 6.9 or 7 on your favorite hardware or Desktop. Or you may prefer to use a Cloud provider2 that already offers a preconfigured CentOS image. Two reasons we prefer Vultr are (1) Incredible PBX runs fine on their least costly $2.50/mo. platform and (2) for an extra 50 cents a month, you can add automatic backups to your server platform. In you're using a Cloud platform, you can skip the rest of this section. Just choose CentOS 6 or 7 as the default operating system for your cloud-based server.
WARNING: The Incredible PBX platform has network issues on virtual machines running SolusVM/OpenVZ including WootHosting and HiFormance. Stick with CentOS 6.9 for SolusVM/OpenVZ deployments until SolusVM resolves the CentOS 7 bugs.
For those using a dedicated hardware platform or wishing to install CentOS as a virtual machine, the drill is the same. Start by downloading the 64-bit CentOS 6.9 minimal ISO or the CentOS 7 minimal ISO. Burn the ISO to a DVD unless you'll be booting from the ISO on a virtual machine platform such as VirtualBox. On virtual platforms, we recommend at least 1GB RAM and a 20GB dedicated drive. For VirtualBox, here are the settings:
Type: Linux
Version: RedHat 64-bit
RAM: 1024MB
Default Drive Options with 10GB+ space
Create
Settings->System: Enable IO APIC and Disable HW Clock (leave rest alone)
Settings->Audio: Enable
Settings->Network: Enable, Bridged
Settings->Storage: Far right CD icon (choose your ISO)
Start
Boot your server with the ISO, and start the CentOS install. Here are the simplest installation steps:
Choose Language and Click Continue
Click: Install Destination (do not change anything!)
Click: Done
Click: Network & Hostname
Click: ON
Click: Done
Click: Begin Installation
Click: Root Password: password, password, Click Done twice
Wait for Minimal Software Install and Setup to finish
Click: Reboot
Installing Incredible PBX 13-13 LEAN
Once you have CentOS up and running, log into your server as root and issue the following commands to kick off the Incredible PBX install. It's a two-step process. First, the installer will bring your version of CentOS up to current specs and load the necessary packages to support Asterisk and FreePBX. The first stage setup takes about 10-15 minutes.

cd /root
yum -y update
yum -y install net-tools nano wget tar
wget http://incrediblepbx.com/incrediblepbx-13-13-LEAN.tar.gz
tar zxvf incrediblepbx-13-13-LEAN.tar.gz
rm -f incrediblepbx-13-13-LEAN.tar.gz
./create-swapfile-DO
./IncrediblePBX-13-13.sh

When the base install finishes, your server will reboot. Simply log back in as root and run the installer a second time using an SSH terminal or Putty. You'll be prompted whether to implement Google Voice plain text or OAuth 2 passwords.3 OAuth is strongly recommended. In fact, OAuth is required if you wish to install the Whole Enchilada. Make your selection, and the installer will work its magic. Come back in 15 minutes.

./IncrediblePBX-13-13.sh

Reboot one final time when the installer finishes the setup, and Incredible PBX LEAN will be ready to go. Log back in as root. This will kick off the Automatic Update Utility to load any last minute additions, bug fixes, and security patches. After the status menu displays, run the following apps to set a very secure admin password for web access to the GUI and to choose your default time zone:

/root/admin-pw-change
/root/timezone-setup

WebMin is also installed and configured as part of the base install. The root password for access is the same as your Linux root password. We strongly recommend that you not use WebMin to make configuration changes to your server. You may inadvertently damage the operation of your PBX beyond repair. WebMin is an excellent tool to LOOK at how your server is configured. When used for that purpose, we highly recommend WebMin as a way to become familiar with your Linux configuration.
Using the Incredible PBX 13-13 Web GUI
NOTE: If you plan to upgrade to the Whole Enchilada, you can skip this section. It's for those that wish to roll their own PBX from the ground up.
Most of the configuration of your PBX will be performed using the web-based Incredible PBX GUI with its FreePBX 13 GPL modules. Use a browser pointed to the IP address of your server and choose Incredible PBX Admin. Log in as admin with the password you configured in the previous step. HINT: You can always change it if you happen to forget it.

To get a basic system set up so that you can make and receive calls, you'll need to add a VoIP trunk, create one or more extensions, set up an inbound route to send incoming calls to an extension, and set up an outbound route to send calls placed from your extension to a VoIP trunk that connects to telephones in the real world. You'll also need a SIP phone or softphone to use as an extension on your PBX. Our previous tutorial will walk you through this setup procedure. Over the years, we've built a number of command line utilities including a script to preconfigure SIP trunks for more than a dozen providers in seconds. You'll find links to all of them here.
Continue Reading: Configuring Extensions, Trunks & Routes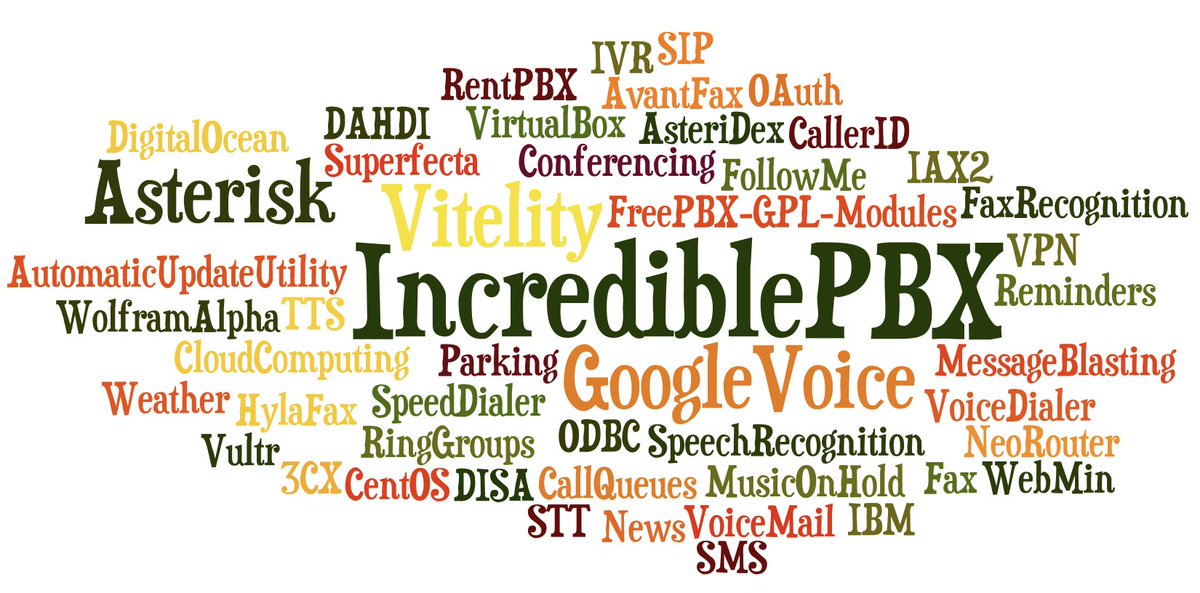 Upgrading to Incredible PBX Whole Enchilada
There now are two more pieces to put in place. The sequence matters! Be sure to upgrade to the Whole Enchilada before you install Incredible Fax. If you perform the steps backwards, you may irreparably damage your fax setup by overwriting parts of it.
The Whole Enchilada upgrade script now is included in the Incredible PBX LEAN tarball. If you have an earlier release, you may need to download the Whole Enchilada tarball as documented below. Upgrading to the Whole Enchilada is simple. Log into your server as root and issue the following commands. Try issuing just the last command first to see if the enchilada upgrade script already is in place. Otherwise, execute all of the commands below. Be advised that the upgrade will overwrite all of your existing Incredible PBX setup including any extensions, trunks, and routes you may have created previously. You also will be prompted to reset all of your passwords as part of the upgrade.

cd /root
wget http://incrediblepbx.com/enchilada-upgrade.tar.gz
tar zxvf enchilada-upgrade.tar.gz
rm enchilada-upgrade.tar.gz
./Enchilada*

If you accidentally installed Incredible Fax before upgrading to the Whole Enchilada, you may be able to recover your Incredible Fax setup by executing the following commands. It's worth a try anyway.

amportal a ma install avantfax
amportal a r

Installing Incredible Fax with HylaFax/AvantFax
You don't need to upgrade to the Whole Enchilada in order to use Incredible Fax; however, you may forfeit the opportunity to later upgrade to the Whole Enchilada if you install Incredible Fax first. But the choice is completely up to you. To install Incredible Fax, log into your server as root and issue the following commands:

cd /root
./incrediblefax13.sh

After entering your email address to receive incoming faxes, you'll be prompted about two dozen times to choose options as part of the install. Simple press the ENTER key at each prompt and accept all of the defaults. When the install finishes, make certain that you reboot your server to bring Incredible Fax on line. There will be a new AvantFax option in the Incredible PBX GUI. The default credentials for AvantFax GUI are admin:password; however, you first will be prompted for your Apache admin credentials which were set when you installed Incredible PBX 13-13 LEAN or the Whole Enchilada. Then you'll be asked to change your AvantFax password.


Upgrading to IBM Speech Engines
If you've endured Google's Death by a Thousand Cuts with text-to-speech (TTS) and voice recognition (STT) over the years, then we don't have to tell you what a welcome addition IBM's new speech utilities are. We can't say enough good things about the new IBM Watson TTS and STT offerings. While IBM's services are not free, that's really theoretical for most of our readers. Your first month on the platform is entirely free. And, after that, you get 1,000 minutes a month of free STT voice recognition services. And the first million characters of text-to-speech synthesis are FREE every month as well. So let's put the pieces in place so you'll be ready to play with the Whole Enchilada.
Getting Started with IBM Bluemix TTS Service
You can start your free, 30-day trial of IBM Bluemix services without providing a credit card. Just sign up here. Once your account is activated, here's how to obtain credentials for the TTS service to use with Incredible PBX. Start by logging in to your IBM Bluemix account. Once you're logged in, click on your account name (1) in the upper right corner of your web page to reveal the pull-down to select your Region, Organization, and Space. Follow the blue links at the bottom of the pull-down menu to create an Organization and Space for your TTS service.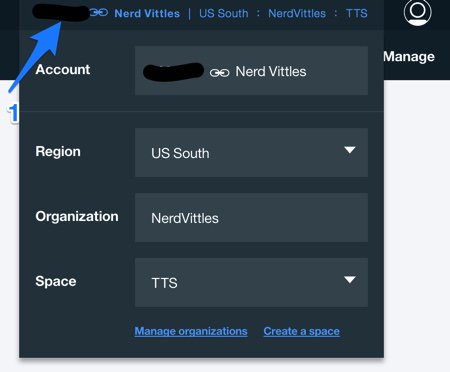 Next, click the Menu icon which is displayed as three horizontal bars on the left side of the web page. Choose Watson. Click Create Watson Service and select Text to Speech from the applications listing. Watson will generate a new TTS service template and display it. Make certain that your Region, Organization, and Space are shown correctly. Then verify that the Standard Pricing Plan is selected. When everything is correct, click the Create button.
When your Text to Speech application displays, click Service Credentials and then click New Credential (+). When the Add New Credential dialog appears, leave the default settings as they are and click Add. Your Credentials Listing then will appear. Click View Credentials beside the new entry you just created. Write down your URL, username, and password. You'll need these to configure the IBM Bluemix TTS service. Logout of the IBM Cloud by clicking on the little face in the upper right corner of your browser window and choose Log Out. Confirm that you do, indeed, wish to log out.
Finally, login to your Incredible PBX server and issue these commands to update your Asterisk dialplan and edit ibmtts.php:

cd /var/lib/asterisk/agi-bin
./install-ibmtts-dialplan.sh
nano -w ibmtts.php

Insert your credentials in $IBM_username and $IBM_password. Verify that $IBM_url matches the entry provided when you registered with IBM. Then save the file: Ctrl-X, Y, then ENTER. Now reload the Asterisk dialplan: asterisk -rx "dialplan reload". Try things out by dialing 951 (news) or 947 (Weather) from an extension registered on your PBX.
Getting Started with IBM Bluemix STT Service
Now let's get IBM's Speech to Text service activated. Log back in to the IBM Cloud. Click on the Speech to Text app. Choose a Region to deploy in, choose your Organization from the pull-down menu, and select STT as your Space. Choose the Standard Pricing Plan. Then click Create. When Speech to Text Portal opens, click the Service Credentials tab. In the Actions column, click View Credentials and copy down your STT username and password.
Finally, login to your Incredible PBX server and issue these commands to edit getnumber.sh:

cd /var/lib/asterisk/agi-bin
nano -w getnumber.sh

Insert your API_USERNAME and API_PASSWORD in the fields provided. Then save the file: Ctrl-X, Y, then ENTER. Update your Voice Dialer (411) to use the new IBM STT service:


sed -i '\:// BEGIN Call by Name:,\:// END Call by Name:d' /etc/asterisk/extensions_custom.conf
sed -i '/\[from-internal-custom]/r ibm-411.txt' /etc/asterisk/extensions_custom.conf
asterisk -rx "dialplan reload"

Now try out the Incredible PBX Voice Dialer with AsteriDex by dialing 411 and saying "Delta Airlines." Check back next week for the Whole Enchilada apps tutorial. Enjoy!
Continue Reading: Configuring Extensions, Trunks & Routes
Don't Miss: Incredible PBX Application User's Guide covering the 31 Whole Enchilada apps
Originally published: Monday, November 13, 2017
---
Support Issues. With any application as sophisticated as this one, you're bound to have questions. Blog comments are a difficult place to address support issues although we welcome general comments about our articles and software. If you have particular support issues, we encourage you to get actively involved in the PBX in a Flash Forum. It's the best Asterisk tech support site in the business, and it's all free! Please have a look and post your support questions there. Unlike some forums, the PIAF Forum is extremely friendly and is supported by literally hundreds of Asterisk gurus and thousands of users just like you. You won't have to wait long for an answer to your question.
---

Need help with Asterisk? Visit the PBX in a Flash Forum.

---
Special Thanks to Our Generous Sponsors
FULL DISCLOSURE: 3CX, RentPBX, Amazon, Vitelity, DigitalOcean, Vultr and others provide financial support to Nerd Vittles and our open source projects through advertising or referral revenue. We've chosen these providers not the other way around. Our decisions were based upon their corporate reputation and the quality of their offerings and their pricing. Our technology recommendations are reached independently of financial considerations except in situations in which comparable products at comparable pricing are available from multiple sources. In this limited case, we support our sponsors because our sponsors support us.


Awesome Vitelity Special. Vitelity has generously offered a terrific discount for Nerd Vittles readers. You now can get an almost half-price DID from our special Vitelity sign-up link. If you're seeking the best flexibility in choosing an area code and phone number plus the lowest entry level pricing plus high quality calls, then Vitelity is the hands-down winner. Vitelity provides Tier A DID inbound service in over 3,000 rate centers throughout the US and Canada. When you use our special link to sign up, Nerd Vittles gets a few shekels down the road to support our open source development efforts while you get an incredible signup deal as well. The going rate for Vitelity's DID service is $7.95 a month which includes up to 4,000 incoming minutes on two simultaneous channels with terminations priced at 1.45¢ per minute. Not any more! For our users, here's a deal you can't (and shouldn't) refuse! Sign up now, and you can purchase a Tier A DID with unlimited incoming calls and four simultaneous channels for just $3.99 a month. To check availability of local numbers and tiers of service from Vitelity, click here. NOTE: You can only use the Nerd Vittles sign-up link to order your DIDs, or you won't get the special pricing! Vitelity's rate is just 1.44¢ per minute for outbound calls in the U.S. There is a $35 prepay when you sign up. This covers future usage. Any balance is refundable if you decide to discontinue service with Vitelity.
---
​​3CX is a software PBX that's easy to install & manage. It includes integrated softphones, WebRTC conferencing and essential add-ons out of the box, at no additional cost. Try the free edition at www.3cx.com. Better yet, download the PIAF5 ISO powered by 3CX. Free version includes support for 8 simultaneous calls with a SIP trunk.
Run on Premise or in the Cloud, on Windows and now on Linux
Softphones for iOS, Android, Win & Mac
Easy install, backup & restore, version upgrades
Automatically configures IP Phones, SIP Trunks & Gateways
---
RentPBX
, a long-time partner and supporter of PIAF project, is offering generous discounts for Nerd Vittles readers. For all of your Incredible PBX hosting needs, sign up at
www.RentPBX.com
and use code
NOGOTCHAS
to get the special pricing. The code will lower the price to $14.99/month, originally $24.99/month. It's less than 50¢/day.
---
Some Recent Nerd Vittles Articles of Interest…
WARNING: Do NOT update core, framework, dashboard, or firewall packages or you may destroy your server. Before using Module Admin, ALWAYS make a backup first!! [↩]
Some of our links refer users to Amazon or other service providers when we find their prices are competitive for the recommended products. Nerd Vittles receives a small referral fee from these providers to help cover the costs of our blog. We never recommend particular products solely to generate commissions. However, when pricing is comparable or availability is favorable, we support these providers because they support us. [↩]