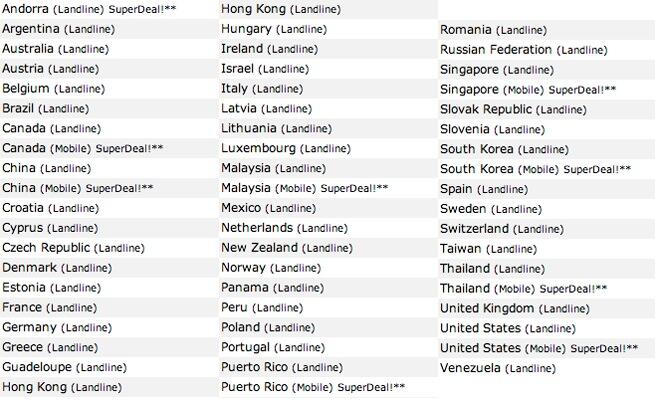 With the impending implosion of Google Voice, it seemed appropriate to begin our quest for alternative termination providers. One of the real beauties of VoIP technology is you don't have to put all of your eggs in one basket particularly in the termination department. It costs almost nothing to set up accounts with multiple providers for outbound calling. In addition to redundancy, the other clear advantage in using multiple providers for outbound calls is that you can take advantage of special rates to different destinations. So here's the bargain of the week. If you have loved ones traveling to South America, Europe or Asia this summer, now's your chance to sign up for VoIP service with FreeVoipDeal and enjoy four months of free calling to more than 50 countries around the world for every $15 of credits you purchase on their web site. Please note the fine print: "FreeVoipDeal reserves the right after a certain amount of calls to start charging the default rate." There is no mention of what that "certain amount" happens to be. When your free calling finally ends, you can either purchase $15 of additional credits for 120 more "free" days or continue to call all of the previously free destinations for about 2¢ a minute.
The company behind FreeVoIPDeal is betamax which hosts over 30 sites offering varying deals to different countries. BEWARE: The prices change regularly. So a country that's free today may suddenly cost money tomorrow. How does a mere mortal keep track? Well, betamax probably hopes that you won't. But an enterprising individual named Robert Siemer has done the work for you. His backsla.sh/betamax web site automatically updates the pricing for all betamax sites every day! If this sounds like a lot of work to save a few cents a minute, you'd be right. And Vitelity which sponsors both the Nerd Vittles and PBX in a Flash projects offers consistently low rates to all of these countries. You'll find a DID special at the end of this article, and their excellent international rate table is available at this link.
Setting Up an Account. Before you can set up a trunk in PBX in a Flash, you'll first need to create a FreeVoipDeal account. In the "old days" this required use of their Windows client to obtain your credentials. Now you can simply create an account on the web site at this link. You'll need either a regular land line or a cell phone number to verify your registration. Once you're set up and you've deposited at least 10 euros (about $15) in your account, it's time to set up a SIP trunk and outbound route in PBX in a Flash.
Configuring a Trunk with PBX in a Flash. Assuming you already have a phone registered to an extension in PBX in a Flash, it's a one-minute drill to configure a trunk and outbound route to support FreeVoipDeal. Using a browser, log into FreePBX® using your maint username and password. Choose Connectivity -> Trunks -> Add SIP Trunk. Name the trunk: FreeVoipDeal. For the Dialed Number Manipulation Rules, enter Prepend: 1 and Match Pattern: NXXNXXXXXX. Clear out all of the default entries in Outgoing and Incoming Settings. Then, in Outgoing Settings, enter Trunk Name: freevoipdeal. For the PEER Details, enter the following using your actual account USERNAME and PASSWORD. Then SAVE your settings and reload FreePBX.
username=USERNAME
authuser=USERNAME
secret=PASSWORD
type=peer
qualify=yes
nat=yes
insecure=port,invite
host=sip.freevoipdeal.com
fromdomain=sip.freevoipdeal.com
dtmfmode=auto
disallow=all
canreinvite=no
allow=ulaw

There's no need to enter a CallerID number. All of the outgoing calls will be delivered as ANONYMOUS. You also won't need to register with the provider since Asterisk® can handle this on the fly using your credentials entered above.
Configuring an Outbound Route with PBX in a Flash. One more step, and you'll be ready to start making calls. Choose Connectivity -> Outbound Routes. For the Route Name, enter: FreeVoIPDeal. For the Dial Pattern to make U.S. calls, enter: NXXNXXXXXX. If you want to force callers to dial a prefix to use the FreeVoipDeal trunk, then enter a 9 or some other number in the Prefix field. For Trunk Sequence 0, choose: FreeVoipDeal. Click Submit Changes and restart FreePBX when prompted. You're done!
Making Your First Call. Using a phone or softphone logged into your server, dial the prefix (if any) plus the 10-digit number of someone in the United States. When the called party answers, make sure you can hear the called party and vice versa. If not, open Settings -> SIP Settings in FreePBX and add your External IP and Local Network settings. Also make certain the NAT entry is set to YES.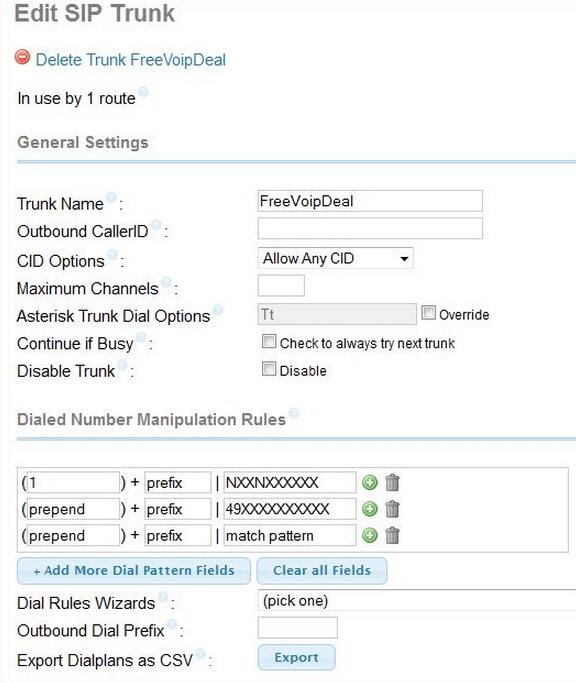 Configuring Your Server for International Calls. We do not recommend configuring your server to permit international calls to everywhere. The reason is simple. If strangers manage to access one of your extensions, they can run up your phone bill in a hurry. For this reason, we also strongly recommend that you do not configure automatic credit card replenishment with any VoIP provider!
For international calling, we recommend you add a separate Dial Pattern to both your FreeVoipDeal trunk AND the outbound route for each country code you wish to enable. Here is the complete list of codes. For example, to allow calls to Germany from another country, you'd add 49XXXXXXXXXX, save your changes, and reload FreePBX.
Spoofing Your CallerID. If you first verify that you own a number by using the web portal, you then can spoof the outbound CallerID using the number you verified. Just add the following entries to your trunk settings replacing 9991234567 with your verified CallerID number. Special thanks to @hillclimber on the PIAF Forum for the tip.
fromuser=0019991234567
sendrpid=yes

Tweet
Originally published: Friday, April 25, 2014
---

Need help with Asterisk? Visit the PBX in a Flash Forum.

---
Special Thanks to Our Generous Sponsors

FULL DISCLOSURE: ClearlyIP, Skyetel, Vitelity, DigitalOcean, Vultr, VoIP.ms, 3CX, Sangoma, TelecomsXchange and VitalPBX have provided financial support to Nerd Vittles and our open source projects through advertising, referral revenue, and/or merchandise. As an Amazon Associate and Best Buy Affiliate, we also earn from qualifying purchases. We've chosen these providers not the other way around. Our decisions are based upon their corporate reputation and the quality of their offerings and pricing. Our recommendations regarding technology are reached without regard to financial compensation except in situations in which comparable products at comparable pricing are available from multiple sources. In this limited case, we support our sponsors because our sponsors support us.


BOGO Bonaza: Enjoy state-of-the-art VoIP service with a $10 credit and half-price SIP service on up to $500 of Skyetel trunking with free number porting when you fund your Skyetel account. No limits on number of simultaneous calls. Quadruple data center redundancy. $25 monthly minimum spend required. Tutorial and sign up details are here.


The lynchpin of Incredible PBX 2020 and beyond is ClearlyIP components which bring management of FreePBX modules and SIP phone integration to a level never before available with any other Asterisk distribution. And now you can configure and reconfigure your new Incredible PBX phones from the convenience of the Incredible PBX GUI.


VitalPBX is perhaps the fastest-growing PBX offering based upon Asterisk with an installed presence in more than 100 countries worldwide. VitalPBX has generously provided a customized White Label version of Incredible PBX tailored for use with all Incredible PBX and VitalPBX custom applications. Follow this link for a free test drive!



Special Thanks to Vitelity. Vitelity is now Voyant Communications and has halted new registrations for the time being. Our special thanks to Vitelity for their unwavering financial support over many years and to the many Nerd Vittles readers who continue to enjoy the benefits of their service offerings. We will keep everyone posted on further developments.

---
---
Some Recent Nerd Vittles Articles of Interest…