We've been big fans of Google Voice since the outset. But, with the exception of one brief week, the piece Google has always refused to put in place is a SIP gateway to make connections from VoIP devices a no-brainer. You'd think they'd do it for no other reason than economics. SIP calls are free. PSTN calls are not. Well, never mind Google. Bill Simon has done it for you, and he leveraged the same Yate toolkit that Google originally deployed. Today, we'll show you how to spend five minutes and take advantage of the Simon Telephonics gateway to interconnect a dedicated Google Voice account with any SIP device you'd like, whether it's an Asterisk® server, a smartphone with a free SIP client from GrooVe IP or Zoiper, a free softphone from Zoiper or X-Lite 4, or any SIP telephone. Once we're finished today, you can use any SIP client to call your 10-digit Google Voice number through the Simon Telephonics gateway: SIP/9991234567@gvgw1.simonics.com. And you can make and receive calls throughout the U.S. and Canada using your new Google Voice number the old fashioned way, using a Plain Old Telephone. Did we mention that everything is free: the Google Voice number, the Simon Telephonics gateway connection, all of the inbound calls, and outbound calls throughout the U.S. and Canada… at least in 2012. If you take advantage of Bill's gateway, we would encourage you to at least donate one day's lunch money to Bill's site to help pay the light bill.
Getting Started. The drill for today goes like this. First, you'll create a new Google Voice account with a new phone number at google.com/voice. Next, you'll make a test call from that number using the Gmail account associated with that same account. Then, you'll register the Google Voice number on the Simon Telephonics gateway. Next, we'll set up a SIP trunk on your Asterisk server for this new DID. Finally, configure any SIP client with an extension number from your Asterisk PBX, and you can start making and receiving calls using your new Google Voice number.
A Word About Security. Google doesn't (yet) support OAuth authentication for Google Voice accounts. What this means is that you'll have to use your actual Google Voice credentials to set up your account on the Simon Telephonics gateway. Could Bill steal your credentials? Absolutely. Will he? Absolutely not. Why? First, there's no money in your Google Voice account so all he could do is make free calls on Google's nickel, the same thing he could do using his own Google Voice accounts. Second, Bill is better off setting up his own accounts where you don't share his password and the Google Voice call logs won't tell you who he's calling. If you're paranoid, don't put money in your calling account, make the account name something that could not be associated with you, and then check your call logs several times every day. Better yet, spend $50 and use an OBi110 device to set up your own private gateway where Obihai knows your credentials instead of Bill. 😉
Configuring Google Voice. As we mentioned, you'll need a dedicated Google Voice account for this. The more obscure the username (with some embedded numbers), the better off you will be. This will keep folks from bombarding you with unsolicited Gtalk chat messages, and who knows what nefarious scheme will be discovered using Google messaging six months from now.
We've tested this extensively using an existing Gmail account, and inbound calling is just not reliable. The reason seems to be that Google always chooses Gmail chat as the inbound call destination if there are multiple registrations from the same IP address. So, be reasonable. Do it our way! Set up a dedicated Gmail and Google Voice account, and use it exclusively for this new SIP gateway. Head over to the Google Voice site and register. If you're living on another continent, see MisterQ's posting for some tips on getting set up.
You must choose a telephone number (aka DID) for your new account, or Google Voice calling will not work… in either direction. You also have to tie your Google Voice account to at least one working phone number as part of the initial setup process. Your cellphone number will work just fine. Don't skip this step either. Just enter the provided 2-digit confirmation code when you tell Google to place the test call to the phone number you entered. Once the number is registered, you can disable it if you'd like in Settings, Voice Setting, Phones. But…
IMPORTANT: Be sure to enable the Google Chat option as one of your phone destinations in Settings, Voice Setting, Phones. That's the destination we need for the SIP gateway to work its magic! Otherwise, all inbound and outbound calls will fail. If you don't see this option, you may need to call up Gmail and enable Google Chat there first. Then go back to the Google Voice Settings.
While you're still in Google Voice Settings, click on the Calls tab. Make sure your settings match these:
Call Screening – OFF
Call Presentation – OFF
Caller ID (In) – Display Caller's Number
Caller ID (Out) – Don't Change Anything
Do Not Disturb – OFF
Call Options (Enable Recording) – OFF
Global Spam Filtering – ON
Click Save Changes once you adjust your settings. Under the Voicemail tab, plug in your email address so you get notified of new voicemails. Down the road, receipt of a Google Voice voicemail will be a big hint that something has come unglued.
Finally, go into Gmail for this same account and place a test call using your new Google Voice number. You'll find the Call Phone icon in the Chat and SMS section of Gmail in the left column. Once you complete this step, be sure to log out of both Gmail and Google Voice for this account, or inbound calling will never work.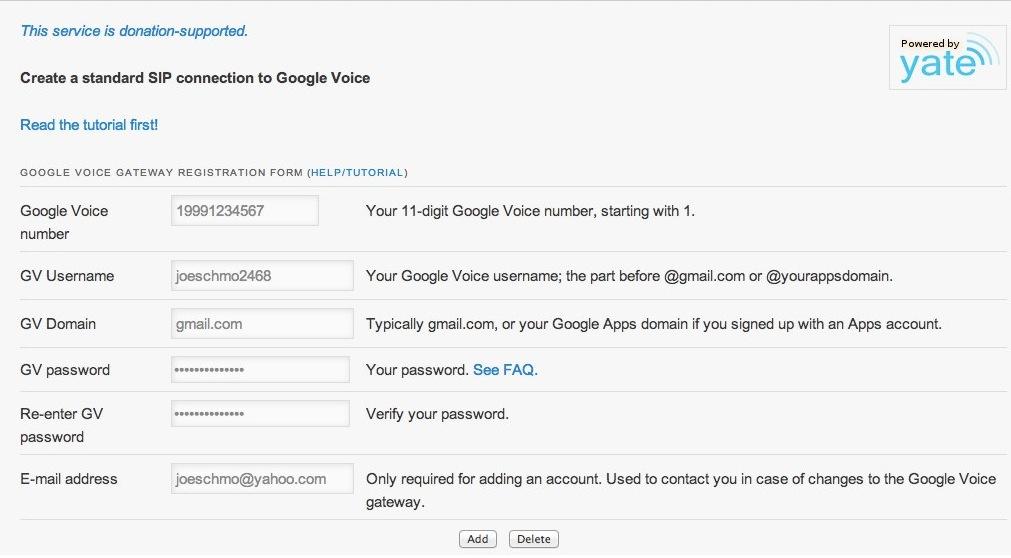 Registering on the Simon Telephonics Gateway. Now we're ready to register your Google Voice account on the Simon Telephonics Gateway. Click on the link and fill in the blanks with your Google Voice account credentials and phone number. Be sure to include a 1 at the beginning of your Google Voice number! You'll note that Google Apps email domains are supported as well as gmail.com addresses.
Google Voice Number – 19991234567
GV Username – joeschmo2468
GV Domain – gmail.com
GV Password – mightysecret
GV Password again – mightysecret
Email Address – joeschmo@yahoo.com
Check your entries carefully and then click the Add button. The only way to make changes if you screw things up is to delete the existing account by entering your original credentials to Delete the original account and then you Add a new one. So type carefully and check your work. Once your account is successfully registered, the Simon Telephonics Gateway will spit back your new SIP credentials. Write them down or take a screenshot and put them in a safe place. You'll need them to set up your Asterisk SIP trunk. The Username will be your 11-digit Google Voice number with a GV prefix. The Secret will be a randomized string. The Registration String will be used in setting up your Asterisk SIP trunk and is in the proper format. The DID for your Inbound Route in FreePBX® will be your 11-digit Google Voice number.
Server – gvgw1.simonics.com
Username – GV19991234567
Secret – Xyzkk
Registration String – GV19991234567:Xyzkk@gvgw1.simonics.com/19991234567
Dialing Format – E.164 without + (for US calls, 11 digits starting with 1)
NOTE: Newer users may be provided an alternate gateway, e.g. gvgw2.simonics.com. You would obviously need to use whichever gateway FQDN is provided in all of the settings shown here.

Creating FreePBX SIP Trunk. Now we're ready to create your new SIP trunk in FreePBX. Choose Add SIP Trunk and fill in the blanks as shown below with your new credentials. The Trunk Name can be any name you like. Don't forget the 1 in Prepend for the Dialed Number Manipulation Rules! Leave the Incoming Settings blank. Be sure to add your Registration String from the credentials that were provided as part of the Simon Telephonics registration. Then Save Your Settings.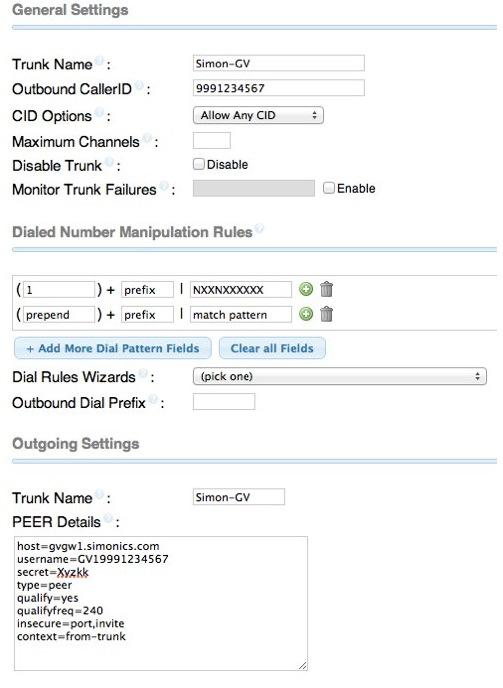 Creating FreePBX Inbound Route. Now you'll need to add an Inbound Route to process incoming calls from the Simon Telephonics Gateway. The DID entry will be your 11-digit Google Voice number. The Destination for the incoming calls can be whatever you like: an extension, a ring group, an IVR, or any of the other available options on your server.
Creating FreePBX Outbound Route. If you want to send outbound calls out through your new Google Voice trunk, then you'll need to add the SIP trunk to your outbound dialing rules. Just add the SIP Trunk Name you've defined to the Trunk Sequence for calls with the NXXNXXXXXX Dial Pattern, and you're all set. Enjoy!
Tweet
Originally published: Monday, June 11, 2012
---

Need help with Asterisk? Visit the PBX in a Flash Forum.

---
whos.amung.us If you're wondering what your fellow man is reading on Nerd Vittles these days, wonder no more. Visit our new whos.amung.us statistical web site and check out what's happening. It's a terrific resource both for us and for you.
---
Special Thanks to Our Generous Sponsors

FULL DISCLOSURE: ClearlyIP, Skyetel, Vitelity, DigitalOcean, Vultr, VoIP.ms, 3CX, Sangoma, TelecomsXchange and VitalPBX have provided financial support to Nerd Vittles and our open source projects through advertising, referral revenue, and/or merchandise. As an Amazon Associate and Best Buy Affiliate, we also earn from qualifying purchases. We've chosen these providers not the other way around. Our decisions are based upon their corporate reputation and the quality of their offerings and pricing. Our recommendations regarding technology are reached without regard to financial compensation except in situations in which comparable products at comparable pricing are available from multiple sources. In this limited case, we support our sponsors because our sponsors support us.


BOGO Bonaza: Enjoy state-of-the-art VoIP service with a $10 credit and half-price SIP service on up to $500 of Skyetel trunking with free number porting when you fund your Skyetel account. No limits on number of simultaneous calls. Quadruple data center redundancy. $25 monthly minimum spend required. Tutorial and sign up details are here.


The lynchpin of Incredible PBX 2020 and beyond is ClearlyIP components which bring management of FreePBX modules and SIP phone integration to a level never before available with any other Asterisk distribution. And now you can configure and reconfigure your new Incredible PBX phones from the convenience of the Incredible PBX GUI.


VitalPBX is perhaps the fastest-growing PBX offering based upon Asterisk with an installed presence in more than 100 countries worldwide. VitalPBX has generously provided a customized White Label version of Incredible PBX tailored for use with all Incredible PBX and VitalPBX custom applications. Follow this link for a free test drive!



Special Thanks to Vitelity. Vitelity is now Voyant Communications and has halted new registrations for the time being. Our special thanks to Vitelity for their unwavering financial support over many years and to the many Nerd Vittles readers who continue to enjoy the benefits of their service offerings. We will keep everyone posted on further developments.

---
---
Some Recent Nerd Vittles Articles of Interest…