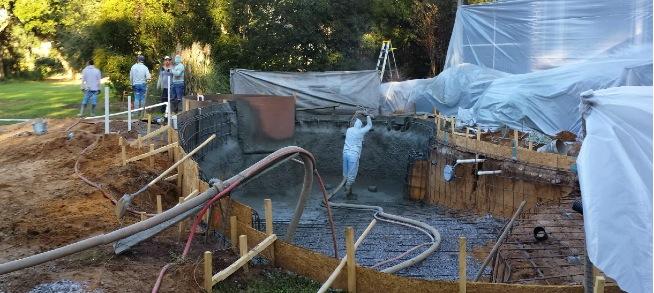 One of the exciting challenges of building a swimming pool is knowing that it's just a matter of time until your Internet connection dies. As you might imagine, swimming pools are major construction and involve a lot of digging. And digging usually means some oops moments when cables get cut. In our case, we had watched the folks digging the trenches for all of the pool plumbing to be sure they didn't accidentally whack one of three coax cables coming into our house. And, when it came time to cover up the trenches, we pointed out the orange cables to the Bobcat driver knowing we were finally home free. Not so fast! Two minutes later, Mario had driven the Bobcat right over the primary Internet cable leaving the shredded remains sticking up through the dirt. Oops. Sorry. Shit happens!
Looking on the positive side, we chuckled, "What a perfect opportunity to test our backup Asterisk® system!" Our backup system is pretty clever if we do say so. It relies upon a Verizon WiFi HotSpot running on our Galaxy smartphone and a duplicate of our Asterisk-based PBX in a Flash™ server running as a virtual machine under VirtualBox on an iMac desktop. The entire setup takes less than a minute to activate. Well, that was the plan anyway.
It turns out that Verizon does SIP a little differently with a SIP ALG in the path so Asterisk couldn't register with all but one of our dozen SIP providers. Congratulations, CallCentric! The workaround is to enable STUN. That is now possible with Asterisk 11. Short of that, you're left with CallCentric. Unfortunately for us, we don't do much SIP trunking with CallCentric, and none of our primary DIDs are connected through them. The other option is to add port=5080 to your trunk setup with any SIP trunks you register with VoIP.ms using a username and password. Our attention span was too short to tackle STUN in the middle of this crisis. But there's good news. Verizon doesn't mess with IAX network traffic at all. Since a couple of our primary DIDs are registered with VoIP.ms using IAX trunks, restoring these IAX trunks to full functionality took less than a minute. That is step one of a three-step process. You need inbound trunks, phones, and outbound trunks to get your redundant VoIP server back in business.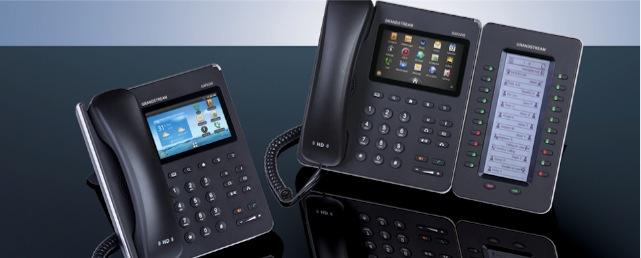 Getting phones to function on what is now a purely WiFi network (through the Verizon HotSpot) can be problematic unless you've done your homework and sprinkled a few WiFi-capable SIP phones around your home or office. In our case, we still have Grandstream's GXP2200 Android phones scattered everywhere so it was just a matter of plugging in the WiFI adapters and rebooting. The newer GXV3240 would work just as well.1
All that remained was enabling several trunks for outbound calls. Since VoIP.ms IAX trunks support both incoming and outgoing calls, we were home free. And, with Google Voice trunks, it was simply a matter of jumping through Google's security hoops to reenable the connections on a new IP address.
Lessons Learned. Here's a quick checklist for those of you that think about disaster recovery for your home or for clients and businesses. Nothing beats some advance planning. If money is no object, then WiFi tethering from a smartphone with one of the major providers whose service works well in your home or office environment is the way to go. 4G is a must!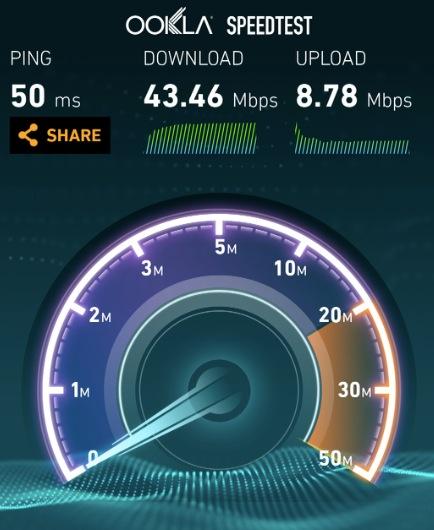 In our case, money was an object so we had the foresight to acquire a Verizon SIM card from eBay that included an unlimited data plan. With this setup, it costs only $1 a day extra to add WiFi tethering, and you can turn it off and on as often as you like without any additional fees or surcharges. There also are no additional charges for using boatloads of data! We're actually writing this column with a tethered connection from a hotel in Washington (results above). To give you some idea of why an unlimited data plan is important, our home operation burned through 4 gigs of data in less than 24 hours once we activated WiFi tethering. Of course, there were people doing things other than making phones calls, but tethering enables 5 connections to function just about like the cable modem service you originally had in place. So expect the data usage to be substantial. Everybody likes 24/7 Internet service.
Loss of phone calls through a PBX is more of an annoyance than a crisis these days because almost everyone also has a smartphone. Even so, the SIP gotcha with Verizon Wireless was a surprise because we hadn't really tested our super-duper emergency system in advance. That wasn't too smart obviously. The old adage applies. Do as we say, not as we do. Unplug your cable modem or DSL connection and actually test your backup system before D-Day arrives.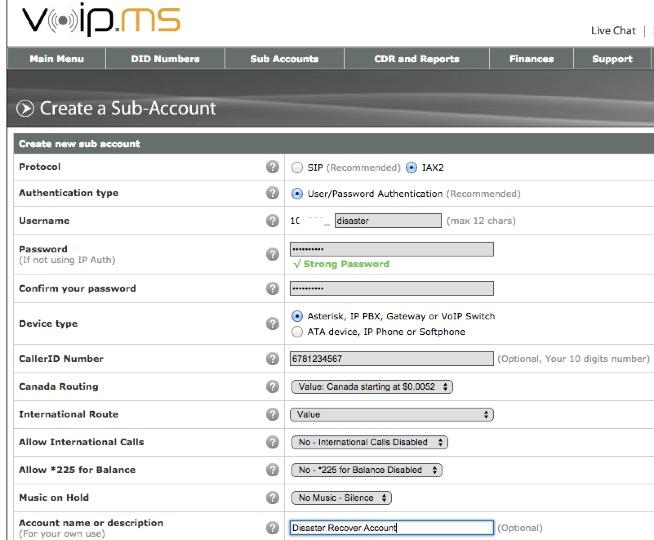 On the VoIP provider end, now is the time to set up an account with a provider that offers both SIP and IAX connectivity. Step 2 is to actually configure an IAX trunk (as a subaccount to use VoIP.ms parlance) and test it. IAX trunks actually have fewer headaches with NAT, but there are only a handful of providers that still provide the service. Find one now and make certain that your primary DIDs will roll over to the IAX trunk in case of an outage. I'm always reminded that we have Mark Spencer to thank for IAX. It was his brainchild. Thank you, Mark! With VoIP.ms, you also can spoof your CallerID so that calls will still appear to originate from your primary Asterisk PBX.
Keep in mind that a VirtualBox-based Asterisk virtual machine and a Desktop computer both need an IP address and will have to be started on WLAN0 rather than ETH0. Remember, your wired connection is now dead.
You're also going to want to acquire at least a couple of WiFi-capable SIP phones that can be connected with your Asterisk server using your WiFi HotSpot. Also make certain that you have a preconfigured IPtables firewall on your backup system. Remember, your hardware-based firewall connected to your cable modem won't provide any protection once you switch to HotSpot operation. Lucky for you, Incredible PBX™ servers come preconfigured with a locked-down IPtables firewall and a WhiteList. Just add the new IP addresses of your server and phones, and you're secure on the public Internet.
Finally, let's do the HotSpot connection math. You'll need an IP address for your desktop computer running VirtualBox. You'll need a second IP address for the Asterisk virtual machine. Then you'll need an IP address for every WiFi-enabled SIP phone. If the maximum number of connections is five on your HotSpot, that means you've got the necessary capacity for at most 3 WiFi SIP phones assuming you don't enable a WiFi printer and if nobody else wants to use a computer during the outage. The other option is to add an inexpensive travel router with bridge mode to your mix of 5 devices. We always keep one handy for extended trips. A properly configured travel router provides an additional WiFi network with some extra WiFi connections. Good luck!
---
Security Alerts. Serious SSL and FreePBX security vulnerabilities have been discovered AND patched during the past week. If you have not patched your server and Asterisk, FreePBX, Apache, and/or WebMin are exposed to the public Internet, you have a serious problem on your hands. See this thread for details on the FreePBX vulnerability. And see this thread for the steps necessary to patch SSL in Asterisk, Apache, and Webmin. While Incredible PBX servers were automatically patched for the FreePBX vulnerability, the SSL issues require manual patching and an Asterisk upgrade. A script for upgrading Asterisk 11 servers is included in the message thread linked above. ALWAYS run your VoIP server behind a firewall with no Internet port exposure to Asterisk, FreePBX, SSH, or the Apache and Webmin web servers! And, if you think all of this security stuff is just a silly waste of your time, then read about the latest lucky recipient of a $166,000 phone bill.
Tweet
Originally published: Monday, October 20, 2014
---

Need help with Asterisk? Visit the PBX in a Flash Forum.

---
Special Thanks to Our Generous Sponsors

FULL DISCLOSURE: ClearlyIP, Skyetel, Vitelity, DigitalOcean, Vultr, VoIP.ms, 3CX, Sangoma, TelecomsXchange and VitalPBX have provided financial support to Nerd Vittles and our open source projects through advertising, referral revenue, and/or merchandise. As an Amazon Associate and Best Buy Affiliate, we also earn from qualifying purchases. We've chosen these providers not the other way around. Our decisions are based upon their corporate reputation and the quality of their offerings and pricing. Our recommendations regarding technology are reached without regard to financial compensation except in situations in which comparable products at comparable pricing are available from multiple sources. In this limited case, we support our sponsors because our sponsors support us.


BOGO Bonaza: Enjoy state-of-the-art VoIP service with a $10 credit and half-price SIP service on up to $500 of Skyetel trunking with free number porting when you fund your Skyetel account. No limits on number of simultaneous calls. Quadruple data center redundancy. $25 monthly minimum spend required. Tutorial and sign up details are here.


The lynchpin of Incredible PBX 2020 and beyond is ClearlyIP components which bring management of FreePBX modules and SIP phone integration to a level never before available with any other Asterisk distribution. And now you can configure and reconfigure your new Incredible PBX phones from the convenience of the Incredible PBX GUI.


VitalPBX is perhaps the fastest-growing PBX offering based upon Asterisk with an installed presence in more than 100 countries worldwide. VitalPBX has generously provided a customized White Label version of Incredible PBX tailored for use with all Incredible PBX and VitalPBX custom applications. Follow this link for a free test drive!



Special Thanks to Vitelity. Vitelity is now Voyant Communications and has halted new registrations for the time being. Our special thanks to Vitelity for their unwavering financial support over many years and to the many Nerd Vittles readers who continue to enjoy the benefits of their service offerings. We will keep everyone posted on further developments.

---
---
Some Recent Nerd Vittles Articles of Interest…
Some of our links refer users to Amazon or other service providers when we find their prices are competitive for the recommended products. Nerd Vittles receives a small referral fee from these providers to help cover the costs of our blog. We never recommend particular products solely to generate commissions. However, when pricing is comparable or availability is favorable, we support these providers because they support us. [↩]