Now that we're up and running in 2021 with new releases of Incredible PBX 2021 for both Debian and Ubuntu, it seemed like a fitting time to take a fresh look at VoIP cloud offerings to host your new PBX. The short story is that a cloud-based PBX is the hands-down winner over on-premise hardware these days. It's cheaper. It's more reliable. It's more powerful. And it's more flexible. The question you're probably wanting answered is how much does it cost. The good news is it no longer will cost you an arm and a leg. In fact, it's less expensive than the cost of electricity to run any on-premise hardware except perhaps a Raspberry Pi.
Keeping in mind the old adage that you get what you pay for, let us tick off our favorite cloud offerings together with their pricing. And, remember, you can always find a current list of recommendations on the Incredible PBX Wiki.
We like to separate cloud platforms into two main groups: those that provide periodic backups or snapshots and those that don't. Fortunately, there are excellent backup utilities for Incredible PBX that lessen the need for provider backups, but they all entail some extra work on your part to get off-site backups configured or maintained.
Let's begin with the elephants in the room: Amazon, Google, IBM, Microsoft, and Oracle. They all have cloud offerings, and our recommendation is don't go there. Their services are EXPENSIVE. And they offer less functionality at significantly higher cost than some of the smaller, well-established companies such as Vultr, Digital Ocean, and OVH. If $5 to $6 a month for a cloud platform is not too rich for your blood, you can't go wrong with any of these three. And all of them provide backups or snapshots in the pricing we've outlined. So they are perfect for a family or SOHO PBX. All three can also scale up to support hundreds or even thousands of users. There's more good news. Using our referral links that support our open source projects, Vultr and Digital Ocean will give you $100 in free credits to begin your cloud journey. And, coming soon, you'll be able to create an Incredible PBX 2021 VPS from the Vultr Marketplace in less than a minute. Here's a sneak peek.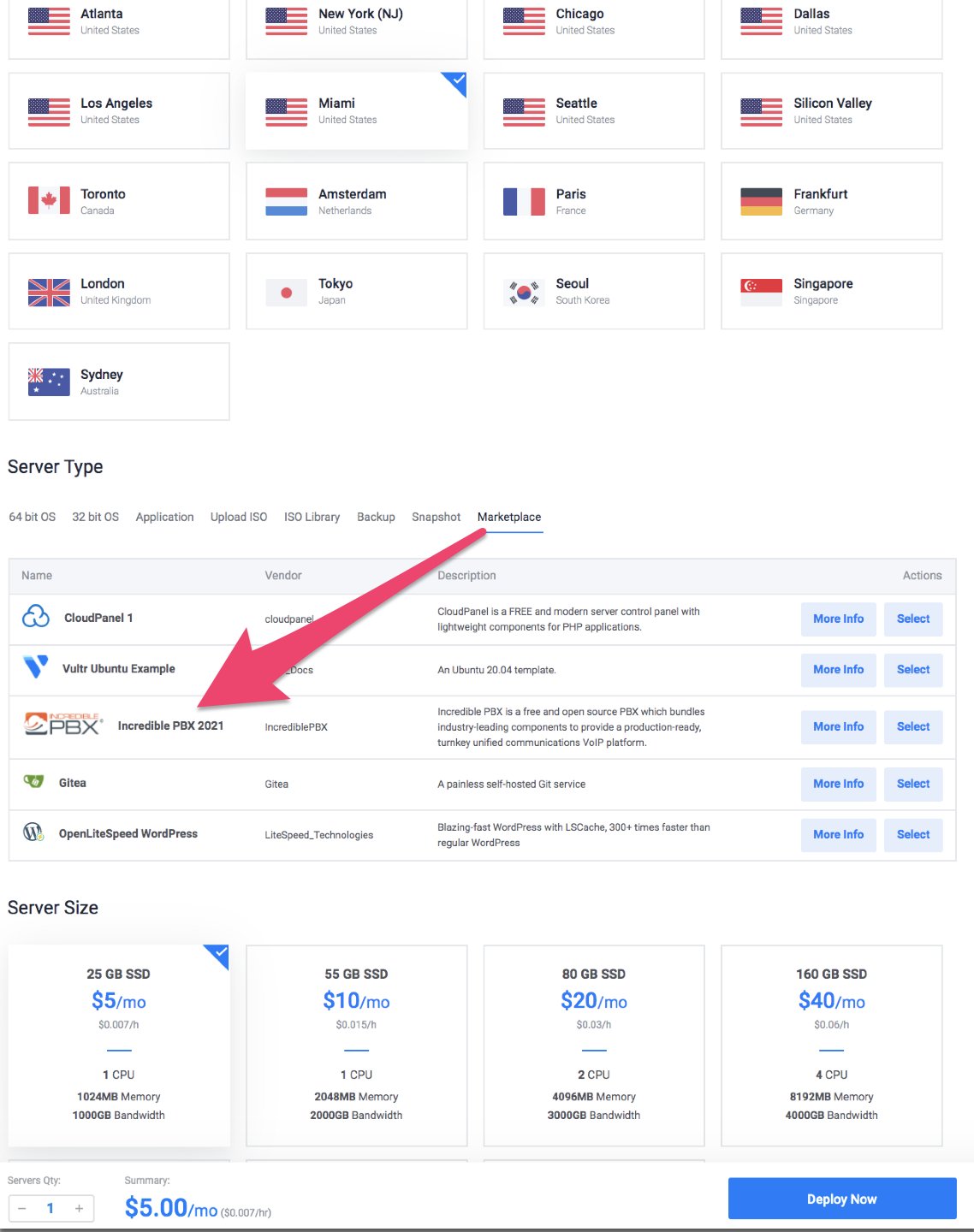 Also worth a careful look are a couple of other cloud providers offering either off-site backups in the case of HotLineServers at $3.80 per month or a free snapshot in the case of CrownCloud at $25 a year. CrownCloud is our personal favorite because they also offer Incredible PBX 2021 images for Debian and Ubuntu that install in a couple minutes. Simply open a ticket and ask.
If you're just getting started with your VoIP adventure and want to keep the cost to an absolute minimum, we have a few additional recommendations, all of which we've tested. Keep in mind that these providers have not been in business for decades so the risk of a company failure is always there. And, yes, many have failed before. Also, none of these providers offer backups or snapshots so backups become your responsibility. But for experimentation, you can't beat the pricing. The least costly provider is RackNerd at less than a dollar a month or $11.97 a year to be precise. This gets you a KVM platform with 1GB of RAM, 17GB of SSD storage, and 3TB of monthly bandwidth. And it's screaming fast clocking in with 900+ Mbit/second downloads AND uploads on their Atlanta node. There are a few other low-cost providers that are worth a careful look. See the Incredible PBX Wiki for current options.
Finally, a word about backups. Moving from one VPS provider to another can be a painful experience. Typically, the Incredible Backup and Restore route is not your best bet because of possible differences in VPS design. This becomes even more tedious if you elect to switch operating systems, for example moving from CentOS to Debian or Ubuntu. Our recommendation is to stick with a FreePBX® backup in these situations. The FreePBX Wiki will walk you through the setup process. What that means is that, if your server fails or you wish to switch VPS platforms, you then would create a new VPS on the new platform using the traditional Incredible PBX installer. Once it is fully operational, you then can restore your FreePBX backup from the old platform.
Originally published: Monday, February 8, 2021

---

Need help with Asterisk? Visit the VoIP-info Forum.

---
Special Thanks to Our Generous Sponsors

FULL DISCLOSURE: ClearlyIP, Skyetel, Vitelity, DigitalOcean, Vultr, VoIP.ms, 3CX, Sangoma, TelecomsXchange and VitalPBX have provided financial support to Nerd Vittles and our open source projects through advertising, referral revenue, and/or merchandise. As an Amazon Associate and Best Buy Affiliate, we also earn from qualifying purchases. We've chosen these providers not the other way around. Our decisions are based upon their corporate reputation and the quality of their offerings and pricing. Our recommendations regarding technology are reached without regard to financial compensation except in situations in which comparable products at comparable pricing are available from multiple sources. In this limited case, we support our sponsors because our sponsors support us.


BOGO Bonaza: Enjoy state-of-the-art VoIP service with a $10 credit and half-price SIP service on up to $500 of Skyetel trunking with free number porting when you fund your Skyetel account. No limits on number of simultaneous calls. Quadruple data center redundancy. $25 monthly minimum spend required. Tutorial and sign up details are here.


The lynchpin of Incredible PBX 2020 and beyond is ClearlyIP components which bring management of FreePBX modules and SIP phone integration to a level never before available with any other Asterisk distribution. And now you can configure and reconfigure your new Incredible PBX phones from the convenience of the Incredible PBX GUI.


VitalPBX is perhaps the fastest-growing PBX offering based upon Asterisk with an installed presence in more than 100 countries worldwide. VitalPBX has generously provided a customized White Label version of Incredible PBX tailored for use with all Incredible PBX and VitalPBX custom applications. Follow this link for a free test drive!



Special Thanks to Vitelity. Vitelity is now Voyant Communications and has halted new registrations for the time being. Our special thanks to Vitelity for their unwavering financial support over many years and to the many Nerd Vittles readers who continue to enjoy the benefits of their service offerings. We will keep everyone posted on further developments.

---
---