What a difference a couple months make! For those that are keeping an eye on the UCM6100 Asterisk® PBX from Grandstream, we wanted to provide some additional insights based upon two firmware updates that Grandstream has released since the PBX was first introduced earlier this summer. The short version of this story is Grandstream has addressed most of the open source issues and they've resolved well over a hundred bugs. In addition, they've published excellent documentation on the PBX in addition to a tutorial on how to interconnect the UCM6100 with other devices including FreePBX®-based Asterisk servers such as PBX in a Flash. So we are pleasantly surprised by Grandstream's efforts to address many of the concerns that were raised by some of us in the open source community.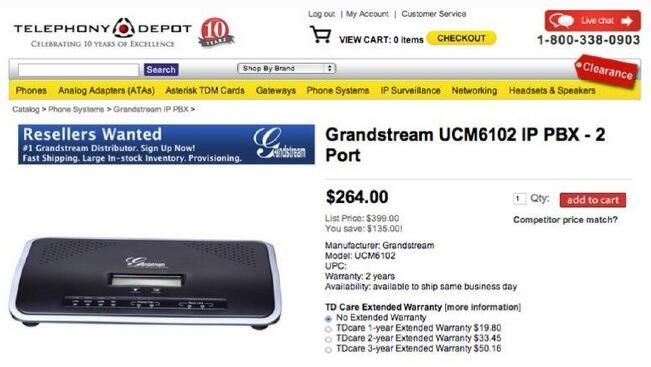 UPDATE: Here's a newer Asterisk appliance for under $30.
Let's talk about functionality. While the system is still closed in the sense that you can't add your own Asterisk dialplan code, there's a lot to like about an under $300 turnkey PBX platform that offers 2 FXO and 2 FXS ports plus most of the feature set you'd find in a $5,000 to $10,000 PBX. And, yes, it even does faxing. The device is especially appealing for organizations that have numerous satellite offices with minimal technical expertise on site. Did we mention you also can backup and restore or even clone multiple units in a matter of minutes using the web-based GUI and an SD card.

We've saved the best for last. The silver lining may very well be the functionality boost you'll get from the addition of a $100 OBi202 device with a Bluetooth adapter.1 This dynamic duo provides turnkey Google Voice support plus Bluetooth cellphone integration which means your cellphone becomes a transparent component in your PBX. When you're in the office, calls to your cellphone can be managed through the PBX. When the Internet dies, outbound calls from users of the PBX can be routed out through your cellphone. And there's support for up to three more SIP trunks from many of your favorite providers. Here's a quick tutorial on how to integrate sip2sip.info and free SIP URIs.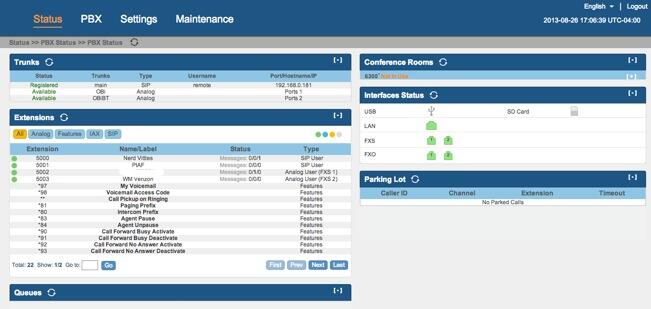 If you glance up at the status screen shot, you'll see that we have a SIP trunk registered to our primary PBX in a Flash server for transparent calling between extensions on both systems, a Google Voice trunk registered with the OBi202 for free calling in the U.S. and Canada, a second analog trunk registered to the Bluetooth port on the OBi202 to handle cellphone connectivity, a SIP extension registered to a Yealink T46G desktop SIP phone, and an analog extension registered to a collection of Panasonic analog (DECT) cordless phones. We have a Conference Room preconfigured and a Parking Lot to support 5 calls. In addition, there's voicemail for each extension and an IVR setup (shown below) with virtually the same options you'd have with FreePBX. This is not some half-baked, crippled PBX. Mark Spencer & Co. developed the Asterisk-GUI which is what lies under the UCM6100 covers… and it shows.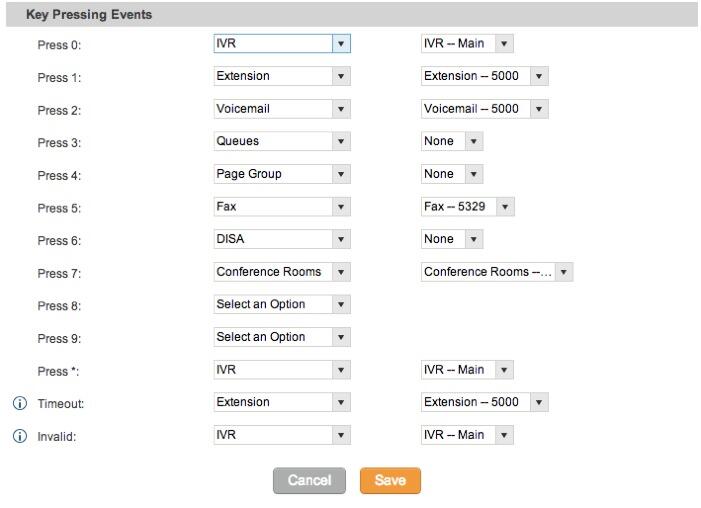 Are we switching and dumping PBX in a Flash, Incredible PBX, and FreePBX? Of course not. But, having supported dozens of remote sites staffed with a handful of employees and no technical staff in a prior life, all I can say is this device would have been a godsend. It's worth a careful look as a supplement to a full-featured central office Asterisk PBX.
Some SIP Surprises to Celebrate the End of Summer
Cloak & Dapper. If you like the clothes, then you'll love this addition for your PBX. We've been exploring SIP URIs and free calling recently, and the one addition that many were clamoring for was an easy way to translate a SIP URI from sip2sip.info or voip.ms into an address using your own domain. By cloaking the address, your email and your "phone address" actually can match. So you can use joe@schmo.com for your email address and joe@schmo.com for your SIP URI as well. Unfortunately, DNS doesn't speak SIP directly so it takes a little data manipulation to make this work. @w1ve, one of the PIAF resident gurus, actually discovered the sipcloak.org service in New Zealand. But, because of geographical limitations and the fact that it's not open source, we preferred a home-grown solution. Thanks to the genius of Bill Simon, the magic of YATE, and the hosting generosity of RentPBX2, we now have redundant SIP cloaking servers on the east and west coasts of the United States. To use the service, just add the following records to DNS substituting your own domain and user entries. Once installed, you can receive SIP URI calls using bert@schmo.com or ernie@schmo.com. The PHP source code customized for YATE is available on GitHub. Our extra special thanks to Bill, Diana, and Iman who made this possible!
_sip._udp.schmo.com. IN SRV 10 10 5060 east.pbxinaflash.com.
_sip._udp.schmo.com. IN SRV 10 10 5060 west.pbxinaflash.com.
sip-bert.schmo.com. IN TXT "123@sip2sip.info"
sip-ernie.schmo.com. IN TXT "456@sip2sip.info"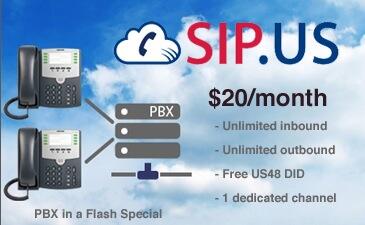 Introducing SIP.US. We're delighted to introduce a new SIP trunking provider and supporter for the PBX in a Flash project. While Vitelity3 remains the perfect choice for those wanting stellar reliability and pay-as-you-go convenience at rock-bottom pricing, there are organizations that actually need dedicated SIP trunks with an unlimited calling option. And, of course, in the VoIP world, redundancy is a good thing. With today's special offer for PBX in a Flash users, SIP.US finally hits the $20 magic price point that many of us have clamored for. They also have an incredibly simple and secure module for FreePBX that makes setup a breeze. Here are some of the other advantages the SIP.US service offers: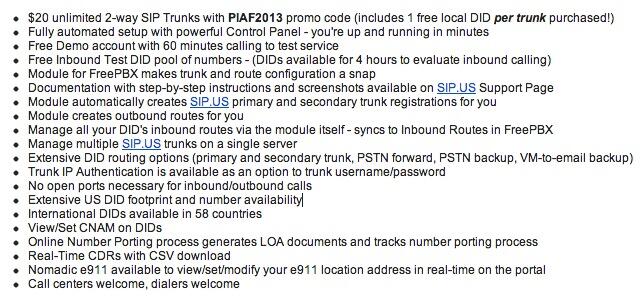 The signup process couldn't be easier. Sign up at our link using the PIAF promo code. Choose a free DID and obtain your security PIN for the FreePBX module from SIP.US. Finally, download the SIP.US module for FreePBX to your desktop and install it using Module Admin. Activate the module and enter your security PIN when prompted. That's it! SIP.US handles the rest of the FreePBX setup process automagically. Give them a try. We think you'll be delighted.
---
Deals of the Week. There are a couple amazing deals on the street, but you'd better hurry. ObiHai has all of their telephone adapters on sale at Amazon this week. Click on the Obi110 link in the sidebar to check out the latest pricing. A new company called Copy.com is offering 20GB of free cloud storage with no restrictions on file size uploads (which are all too common with other free offers). Copy.com has free sync apps for Windows, Macs, and Linux systems. To take advantage of the offer, just click on our referral link here. We get 5GB of extra storage which will help avoid another PIAF Forum disaster.
Tweet
Originally published: Tuesday, August 27, 2013
---

Need help with Asterisk? Visit the PBX in a Flash Forum.

---

We are pleased to once again be able to offer Nerd Vittles' readers a 20% discount on registration to attend this year's
10th Anniversary AstriCon
in Atlanta. Here's the Nerd Vittles Discount Code:
AC13NERD
.
---
Special Thanks to Our Generous Sponsors

FULL DISCLOSURE: ClearlyIP, Skyetel, Vitelity, DigitalOcean, Vultr, VoIP.ms, 3CX, Sangoma, TelecomsXchange and VitalPBX have provided financial support to Nerd Vittles and our open source projects through advertising, referral revenue, and/or merchandise. As an Amazon Associate and Best Buy Affiliate, we also earn from qualifying purchases. We've chosen these providers not the other way around. Our decisions are based upon their corporate reputation and the quality of their offerings and pricing. Our recommendations regarding technology are reached without regard to financial compensation except in situations in which comparable products at comparable pricing are available from multiple sources. In this limited case, we support our sponsors because our sponsors support us.


BOGO Bonaza: Enjoy state-of-the-art VoIP service with a $10 credit and half-price SIP service on up to $500 of Skyetel trunking with free number porting when you fund your Skyetel account. No limits on number of simultaneous calls. Quadruple data center redundancy. $25 monthly minimum spend required. Tutorial and sign up details are here.


The lynchpin of Incredible PBX 2020 and beyond is ClearlyIP components which bring management of FreePBX modules and SIP phone integration to a level never before available with any other Asterisk distribution. And now you can configure and reconfigure your new Incredible PBX phones from the convenience of the Incredible PBX GUI.


VitalPBX is perhaps the fastest-growing PBX offering based upon Asterisk with an installed presence in more than 100 countries worldwide. VitalPBX has generously provided a customized White Label version of Incredible PBX tailored for use with all Incredible PBX and VitalPBX custom applications. Follow this link for a free test drive!



Special Thanks to Vitelity. Vitelity is now Voyant Communications and has halted new registrations for the time being. Our special thanks to Vitelity for their unwavering financial support over many years and to the many Nerd Vittles readers who continue to enjoy the benefits of their service offerings. We will keep everyone posted on further developments.

---
---
Some Recent Nerd Vittles Articles of Interest…
Some of our purchase links refer users to Amazon when we find their prices are competitive for the recommended products. Nerd Vittles receives a small referral fee from Amazon to help cover the costs of our blog. We never recommend particular products solely to generate Amazon commissions. However, when pricing is comparable or availability is favorable, we support Amazon because Amazon supports us. [↩]
The $15 a month RentPBX hosting special for PBX in a Flash servers in the Cloud is still available through the link in the right sidebar of Nerd Vittles. Better hurry! [↩]
Vitelity has been and remains a loyal financial backer of the Nerd Vittles and PBX in a Flash projects. We appreciate Vitelity's continuing support and encourage all of our readers to try out their service with the special pricing included toward the end of this article. [↩]