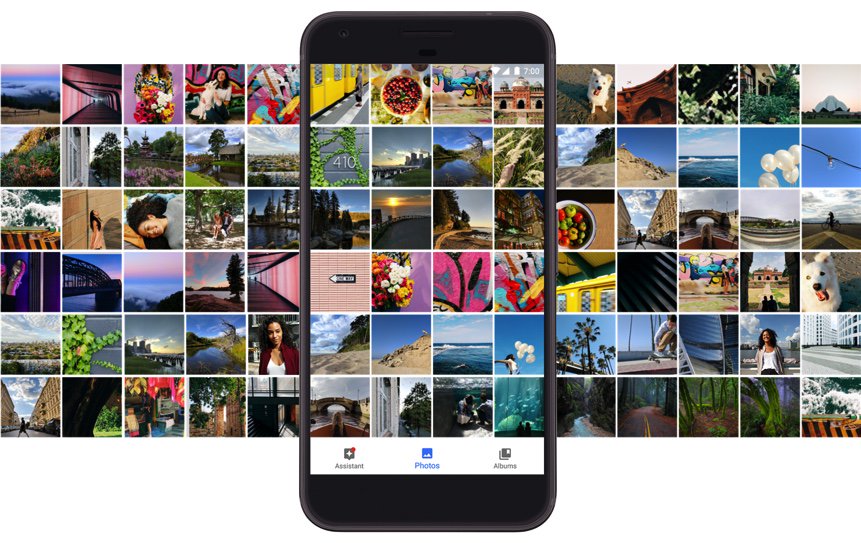 Perhaps the single most important component in the VoIP toolbox for any PBX deployment that includes traveling users is the softphone whether it's deployed on notebook computers or smartphones. We're kicking off football season with reviews of some of our favorite SIP softphones for mobile users. We've previously written about Linphone and Zoiper and Telephone. We've also sung the praises of earlier releases of Google's Pixel smartphone which makes a perfect VoIP companion even without a cellphone provider. Today we're passing along an Android tip from @w1ve on the VoIP-Info.org Forum for anyone needing PBX connectivity while away from the home or office. And it won't cost you a dime so long as you already have an Android smartphone with either a Wi-Fi connection or a data plan with any cellphone carrier.
You may be unaware that Android has been shipping with a native SIP phone since as far back as Android Marshmallow which will be five years old next month. Some phone manufacturers such as Chinese-owned Lenovo/Moto disable the SIP functionality, but many do not including Google, Samsung, and OnePlus. If you've deployed an Incredible PBX 2020 PUBLIC server in the Cloud with a PJsip extension, the beauty of this discovery is that you'll always have VoIP connectivity through your PBX with only a WiFi connection. No SIM is required!
To determine if your Android smartphone includes the SIP dialer, simply open the native Phone app and tap the three vertical bar icon at the top of the dialer menu. From the pull-down menu, choose Settings, Calls, and Calling Accounts. If your Android smartphone includes support for the native SIP dialer, there will be a SIP Accounts option in the menu.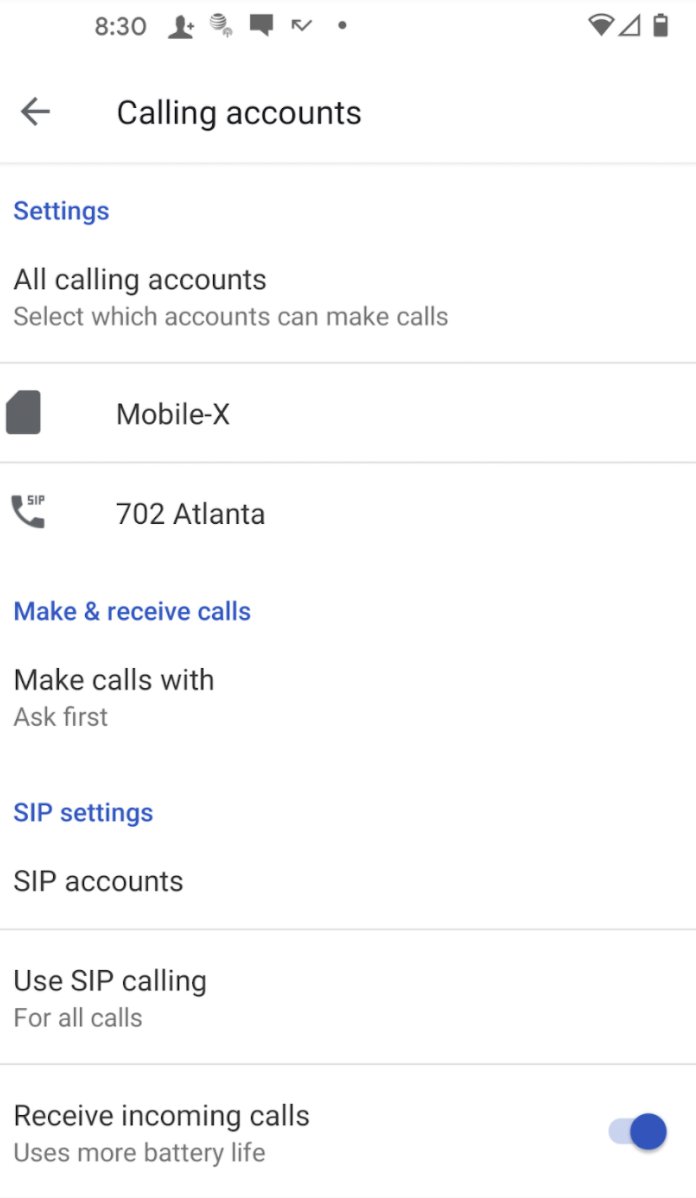 TIP: Even if the SIP Menu doesn't appear on your smartphone, it may be that the manufacturer simply disabled the menu without actually trashing the SIP functionality as Lenovo has done. To determine whether the menu has simply been hidden, install QuickShortcutMaker from the Play Store. Run the app and scroll down and tap the SIP Settings option and click Test. It should bring up the SIP Accounts menu shown below.
Tapping SIP Accounts and then + icon will open a dialog to add a SIP account to your phone.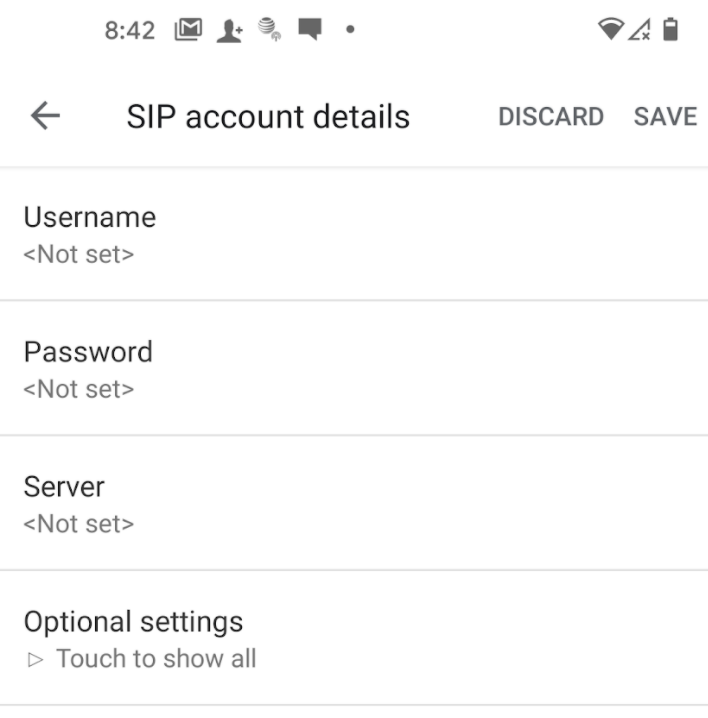 With an Incredible PBX 2020 PUBLIC server, the entries should look like the following:
Username: Your PJsip extension
Password: Your PJsip password
Server: FQDN of Your PBX
Optional Settings -> Port: 5061
Keep in mind that an FQDN for the Server address is required with an Incredible PBX 2020 PUBLIC server. If your server is using a dynamic IP address, you also would want to configure the FQDN using a Dynamic DNS service and refresh that FQDN periodically on your PBX using a cron job. Once you've entered your credentials, tap SAVE to activate the SIP account on your smartphone. It should then appear in the SIP Accounts window as shown above.
Next, you have some choices to make as to how the SIP account is actually used. As you can see from our setup (shown above), we allow outbound calls using either the SIM card or the SIP phone, and the phone will prompt for a choice whenever you make a call. We also have activated Inbound SIP calling which, as the dialog explains, uses some battery life. Finally, if you elect to use a chan_SIP extension on your PBX, make certain that you have enabled NAT Mode in the Advanced tab, or you will experience one-way or no audio on calls. This is not required with PJsip extensions. One of the other beauties of PJsip extensions is that you can assign this extension to multiple SIP devices including softphones and desktop phones so long as you increase the Max Contacts entry in the Advanced tab for the PJsip extension. In this way, you can answer incoming calls on your desktop phone when you're at home or in the office and answer the same calls on your smartphone when you're out and about. Enjoy!

Originally published: Tuesday, September 1, 2020

---

Need help with Asterisk? Visit the VoIP-info Forum.

---
Special Thanks to Our Generous Sponsors

FULL DISCLOSURE: ClearlyIP, Skyetel, Vitelity, DigitalOcean, Vultr, VoIP.ms, 3CX, Sangoma, TelecomsXchange and VitalPBX have provided financial support to Nerd Vittles and our open source projects through advertising, referral revenue, and/or merchandise. As an Amazon Associate and Best Buy Affiliate, we also earn from qualifying purchases. We've chosen these providers not the other way around. Our decisions are based upon their corporate reputation and the quality of their offerings and pricing. Our recommendations regarding technology are reached without regard to financial compensation except in situations in which comparable products at comparable pricing are available from multiple sources. In this limited case, we support our sponsors because our sponsors support us.


BOGO Bonaza: Enjoy state-of-the-art VoIP service with a $10 credit and half-price SIP service on up to $500 of Skyetel trunking with free number porting when you fund your Skyetel account. No limits on number of simultaneous calls. Quadruple data center redundancy. $25 monthly minimum spend required. Tutorial and sign up details are here.


The lynchpin of Incredible PBX 2020 and beyond is ClearlyIP components which bring management of FreePBX modules and SIP phone integration to a level never before available with any other Asterisk distribution. And now you can configure and reconfigure your new Incredible PBX phones from the convenience of the Incredible PBX GUI.


VitalPBX is perhaps the fastest-growing PBX offering based upon Asterisk with an installed presence in more than 100 countries worldwide. VitalPBX has generously provided a customized White Label version of Incredible PBX tailored for use with all Incredible PBX and VitalPBX custom applications. Follow this link for a free test drive!



Special Thanks to Vitelity. Vitelity is now Voyant Communications and has halted new registrations for the time being. Our special thanks to Vitelity for their unwavering financial support over many years and to the many Nerd Vittles readers who continue to enjoy the benefits of their service offerings. We will keep everyone posted on further developments.

---
---