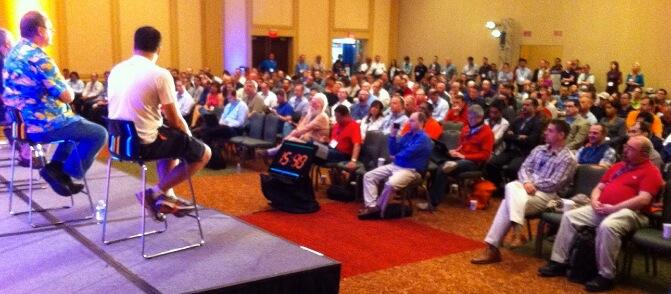 It was the tenth anniversary of AstriCon in Atlanta this week with an SRO crowd, and what a week it was. Comparing Asterisk® 12 to Asterisk 11 and previous iterations would be much like comparing Windows 8 to Windows 3.1. Facelift doesn't begin to describe the metamorphosis. There's a brand new (robust) SIP implementation featuring PJSIP, and a new restful interface known as ARI that lets you get at all of the Asterisk internals with a simple web command. You can transfer calls, play sound files, set up conferences and move participants with the click of a button. Here's the complete slideshow on Asterisk 12. That's just the tip of iceberg. Features still are being added almost weekly. Unlike previous releases, there's no feature freeze in Asterisk 12 so long as the additions are germane to the new functionality already incorporated into Asterisk 12. See the Wiki link for details. And the work under the hood really shines. Here's another shocker. There's actually documentation. In fact, you can no longer add code to the project without also providing documentation for your code. Yes, this is truly a WOW moment! Think of it more as the Second Coming of Asterisk. Most importantly, the alpha release was relatively stable! And now there's a beta.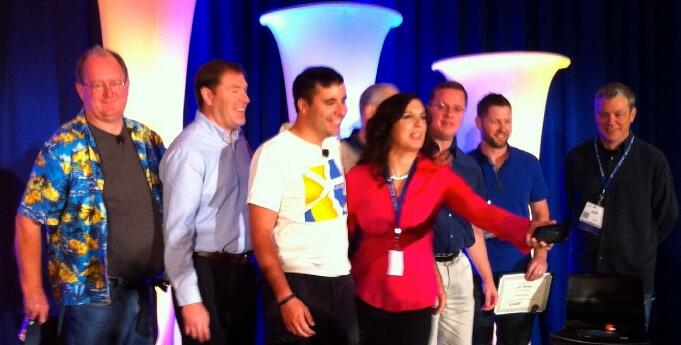 We were so excited by our preliminary look at Asterisk 12-alpha and the new PIAF-Black (we're running out of colors) preview that we actually set up our Incredible PBX IVR with news, weather, stocks, reminders, and conferencing in our car for the 5-hour trip to Atlanta. Speech to text works. Text to speech works. In fact, with the exception of CDRs, everything worked with the existing FreePBX® 2.11 dialplan code. The CDR transformation will get sorted out in coming weeks/months with the introduction of FreePBX 2.12. Back to our story, with the help of Verizon Wireless 4G LTE tethering, close to a hundred people called into the demo IVR to try things out for themselves. No crashes, no stuttering, high quality VoIP calls. In short, just pure Allison IVR goodness. See if you can find her in the snapshot of your favorite hams.
Monday and Tuesday of AstriCon are primarily devoted to future development goals and objectives. Known as AstriDevCon, the forum is by invitation only to about 50 developers. We were fortunate to be included this year, but the work of the group is no secret. You can review exactly what was said and where we're headed in this Wiki posting of the meeting. The good news is there will be more meat on the bones of Asterisk 12. And our security recommendations regarding incorporation of Fail2Ban-like functionality directly into Asterisk made the list. This means attacks and vulnerabilities can be identified in real time rather than delaying a response until Fail2Ban has had time to scan your logs for nefarious activity. We also were heartened to see almost a third of AstriCon presentations devoted to beefing up security on Asterisk systems. We'll have more to say about those discussions as well as some recommendations in coming weeks.

WebRTC also was a big hit at AstriCon 10. This provides the functionality to make and receive phone calls to Asterisk-based systems using nothing more than a web browser. A WebRTC implementation for FreePBX-based systems including PBX in a Flash is just around the corner. Some of you may recall that we released a WebRTC appliance based upon PBX in a Flash last winter. It will run on any Windows, Mac, or Linux desktop so
read the tutorial and download away
for a quick preview of what's coming.
We were especially pleased to review Steve Murphy's new SayScript proposal for Asterisk 13. In a nutshell, this would transform all "say" commands with prerecorded sound files into pluggable modules with translation to any language on the fly. "Language packs" would be developed that include script files, prompts, and SayScript logic to handle almost any speech chore in Asterisk. Think of it as Text-to-Speech on Steroids. Here's a complete copy of Steve's presentation in PDF format if you'd like more details.

Last but not least, Schmooze introduced a new fault-tolerant, high availability commercial module for FreePBX that brings complete redundancy to the Asterisk platform for the first time. Until October 15, you can purchase the two-node system for half-price, just $1,500. Be sure to let them know your friends at Nerd Vittles referred you so that we can keep the lights on for another year. And keep us posted during your deployment.
Tweet
Originally published: Friday, October 11, 2013
---

Need help with Asterisk? Visit the PBX in a Flash Forum.

---
Special Thanks to Our Generous Sponsors

FULL DISCLOSURE: ClearlyIP, Skyetel, Vitelity, DigitalOcean, Vultr, VoIP.ms, 3CX, Sangoma, TelecomsXchange and VitalPBX have provided financial support to Nerd Vittles and our open source projects through advertising, referral revenue, and/or merchandise. As an Amazon Associate and Best Buy Affiliate, we also earn from qualifying purchases. We've chosen these providers not the other way around. Our decisions are based upon their corporate reputation and the quality of their offerings and pricing. Our recommendations regarding technology are reached without regard to financial compensation except in situations in which comparable products at comparable pricing are available from multiple sources. In this limited case, we support our sponsors because our sponsors support us.


BOGO Bonaza: Enjoy state-of-the-art VoIP service with a $10 credit and half-price SIP service on up to $500 of Skyetel trunking with free number porting when you fund your Skyetel account. No limits on number of simultaneous calls. Quadruple data center redundancy. $25 monthly minimum spend required. Tutorial and sign up details are here.


The lynchpin of Incredible PBX 2020 and beyond is ClearlyIP components which bring management of FreePBX modules and SIP phone integration to a level never before available with any other Asterisk distribution. And now you can configure and reconfigure your new Incredible PBX phones from the convenience of the Incredible PBX GUI.


VitalPBX is perhaps the fastest-growing PBX offering based upon Asterisk with an installed presence in more than 100 countries worldwide. VitalPBX has generously provided a customized White Label version of Incredible PBX tailored for use with all Incredible PBX and VitalPBX custom applications. Follow this link for a free test drive!



Special Thanks to Vitelity. Vitelity is now Voyant Communications and has halted new registrations for the time being. Our special thanks to Vitelity for their unwavering financial support over many years and to the many Nerd Vittles readers who continue to enjoy the benefits of their service offerings. We will keep everyone posted on further developments.

---
---
Some Recent Nerd Vittles Articles of Interest…