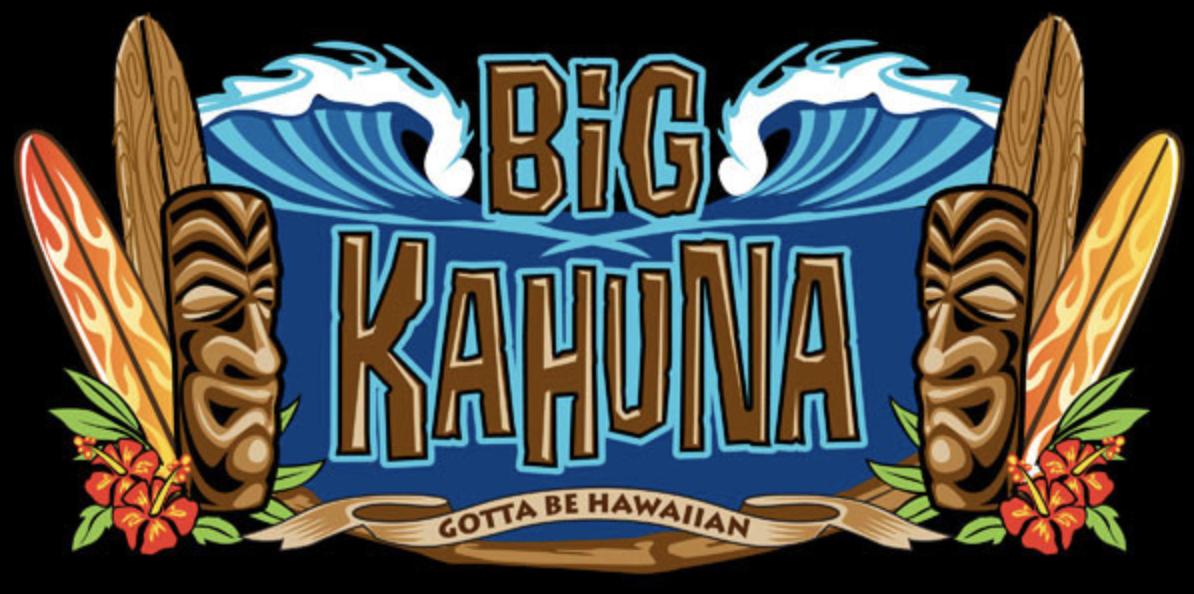 We don't change the mix of FreePBX® GPL modules in Incredible PBX® 13-13 often although you can easily add or update any of particular interest at any time using the gpl-install scripts included in the distribution. So we're excited to introduce the 2019 collection of 70 FreePBX GPL modules for those that want to keep their Asterisk® PBX platform loaded with the latest and greatest. We've included a batch installer which means ALL of the existing modules get updated with the latest releases from GitHub. Depending upon the speed of your Internet connection, it's a 5 or 10-minute procedure. Schedule it for a time when the PBX is idle.
Upgrading the FreePBX GPL Modules
The upgrade procedure couldn't be easier. Log into your server as root. We recommend you make a backup first using the incrediblebackup script in /root. Next, make sure you have at least 50MB of free disk space: df -h. Then issue these commands and have a cup of coffee:

cd /tmp
wget http://incrediblepbx.com/modules13.tar.gz
tar zxvf modules13.tar.gz
rm -f modules13.tar.gz
cd modules13
./update-modules.sh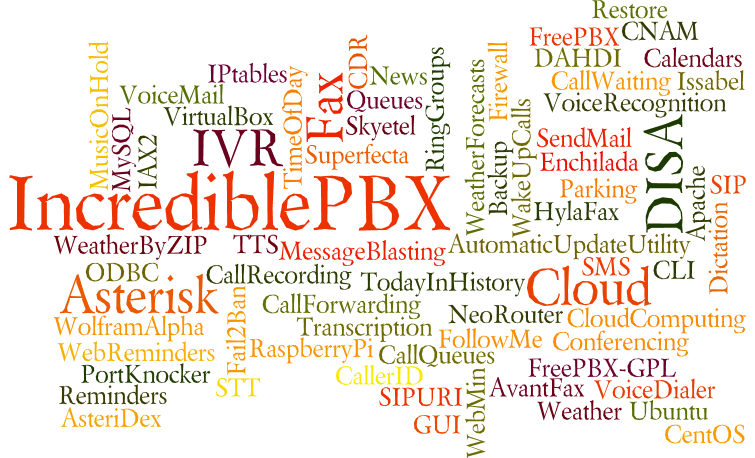 When you return, your Incredible PBX 13-13 server will be all shiny and new. You can review the license terms for each module by referencing the table below and calling up the GPL license provisions with a browser pointed to
http://server-IP/admin/licenses
.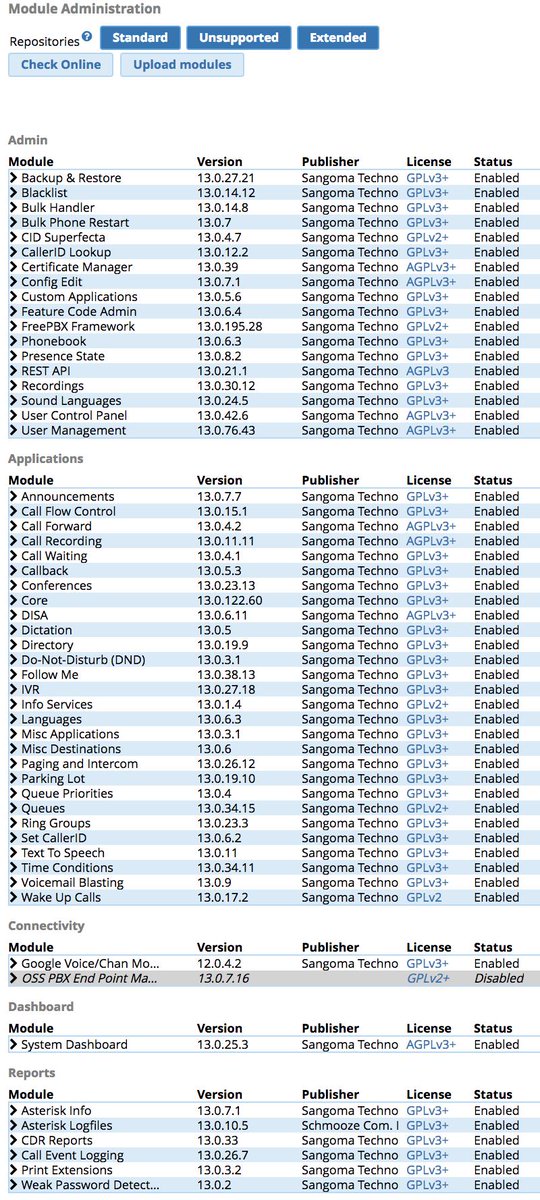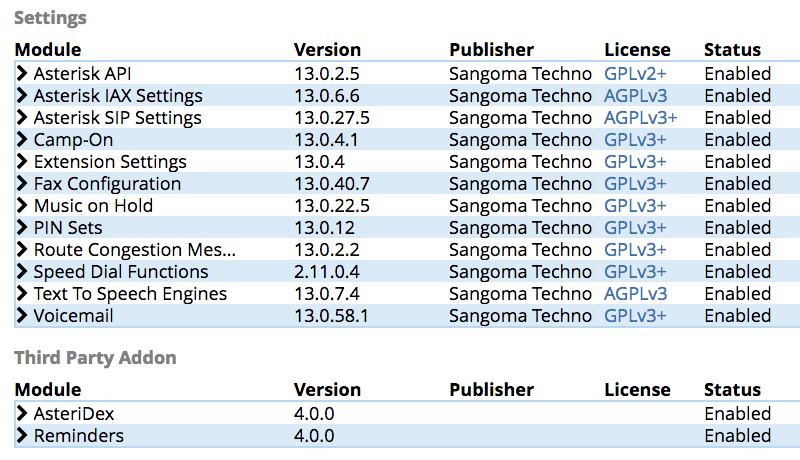 FreePBX GPL Modules Documentation
The FreePBX Dev Team has generously provided excellent documentation for all of the modules. We have arranged them in the same order as the GUI's menus for ease of use.

Admin Modules
Administrators Module
Asterisk CLI Module
Asterisk Phonebook Module
Backup and Restore Module
Blacklist Module
Bulk Handler
CID Superfecta
CallerID Lookup Sources
Certificate Management Module
Config Edit
Custom Destinations Module
Custom Extensions Module
Feature Codes Module
Module Admin Module
Phone Restart Module
Presence State Module
REST API
Sound Languages
System Recordings Module
User Management Module
Applications Modules
Announcements Module
Call Flow Control Module
Call Recording Module
Callback Module
Conferences Module
DISA Module
Directory Module
Extensions Module
Follow Me Module
IVR Module
Languages Module
Misc Applications Module
Misc Destinations Module
Paging and Intercom Module
Parking Module
Queue Priorities Module
Queues Module
Ring Groups Module
Set CallerID Module
Text to Speech Module
Time Conditions Module
Time Groups Module
Voicemail Blasting Module
Wakeup Calls Module
Connectivity Modules
DAHDI Channel DIDs
Inbound Routes Module
OSS End Point Manager (Disabled)
Outbound Routes Module
Trunks Module
Dashboard
Reports Modules
Asterisk Info Module
Asterisk Logfiles
CDR Reports Module
Call Event Logging (CEL) Module
Print Extensions
Rest API Report
Weak Password Detection
Settings Modules
Advanced Settings
Asterisk IAX Settings
Asterisk Logfile Settings
Asterisk Manager Interface
Asterisk SIP Settings
Extension Settings
Fax Configuration
Music on Hold Module
Pin Sets
Route Congestion Messages
Text to Speech Engines Module
Voicemail Admin
Third Party Addons
UCP
Installing OSS Endpoint Manager
If you have dozens of SIP phones to configure, then you'll appreciate Andrew Nagy's terrific OSS Endpoint Manager Module. Here's how to install it once your Incredible PBX 13-13 server is updated with the new modules above:

cd /
wget http://incrediblepbx.com/epm.tar.gz
tar zxvf epm.tar.gz
./install-epm.sh

You will also need to install and configure a TFTP server. Here's the CentOS procedure:

cd /root
wget http://incrediblepbx.com/setup-tftp
chmod +x setup-tftp
./setup-tftp

Pay particular attention to the firewall instructions which display at the end of the TFTP install procedure. Complete documentation for OSS Endpoint Manager is available here. Enjoy!
Originally published: Monday, February 18, 2019
---

Need help with Asterisk? Visit the VoIP-info Forum.

---
Special Thanks to Our Generous Sponsors

FULL DISCLOSURE: ClearlyIP, Skyetel, Vitelity, DigitalOcean, Vultr, VoIP.ms, 3CX, Sangoma, TelecomsXchange and VitalPBX have provided financial support to Nerd Vittles and our open source projects through advertising, referral revenue, and/or merchandise. As an Amazon Associate and Best Buy Affiliate, we also earn from qualifying purchases. We've chosen these providers not the other way around. Our decisions are based upon their corporate reputation and the quality of their offerings and pricing. Our recommendations regarding technology are reached without regard to financial compensation except in situations in which comparable products at comparable pricing are available from multiple sources. In this limited case, we support our sponsors because our sponsors support us.


BOGO Bonaza: Enjoy state-of-the-art VoIP service with a $10 credit and half-price SIP service on up to $500 of Skyetel trunking with free number porting when you fund your Skyetel account. No limits on number of simultaneous calls. Quadruple data center redundancy. $25 monthly minimum spend required. Tutorial and sign up details are here.


The lynchpin of Incredible PBX 2020 and beyond is ClearlyIP components which bring management of FreePBX modules and SIP phone integration to a level never before available with any other Asterisk distribution. And now you can configure and reconfigure your new Incredible PBX phones from the convenience of the Incredible PBX GUI.


VitalPBX is perhaps the fastest-growing PBX offering based upon Asterisk with an installed presence in more than 100 countries worldwide. VitalPBX has generously provided a customized White Label version of Incredible PBX tailored for use with all Incredible PBX and VitalPBX custom applications. Follow this link for a free test drive!



Special Thanks to Vitelity. Vitelity is now Voyant Communications and has halted new registrations for the time being. Our special thanks to Vitelity for their unwavering financial support over many years and to the many Nerd Vittles readers who continue to enjoy the benefits of their service offerings. We will keep everyone posted on further developments.

---
---