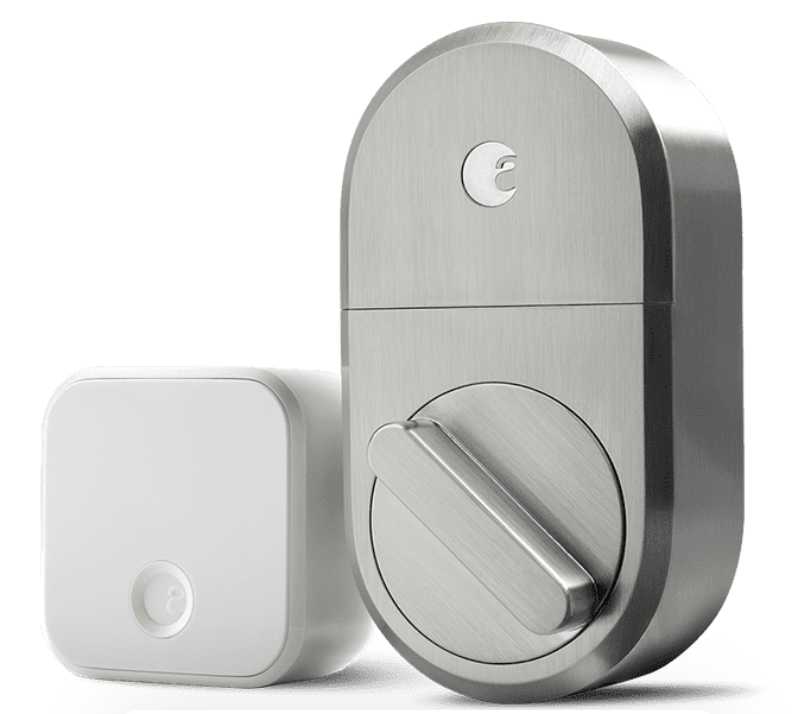 We do a considerable amount of traveling so electronic door locks are a must if you want the flexibility of sharing your home or letting a neighbor in when something comes unglued… or leaks. There's no shortage of options if you do a quick scan of
Amazon's offerings
. But, if you already have a deadbolt on your door, there's one that stands head and shoulders above the competition. The
August Smartlock + WiFi Bridge
checks all the must-have's. It's an easy
5-minute install
that leaves the outside of your door untouched. It supports Bluetooth and WiFi connectivity. It has automatic locking and unlocking, if desired. It talks to Alexa, and it has outstanding battery life thanks to a separate WiFi Bridge that plugs into the wall. With Black Friday just around the corner, you can bet the price will be even better than the
current 28% Amazon discount
which brings the current cost down from $200 to $144.48.
TIP: Using our Amazon referral links helps fund Nerd Vittles reviews.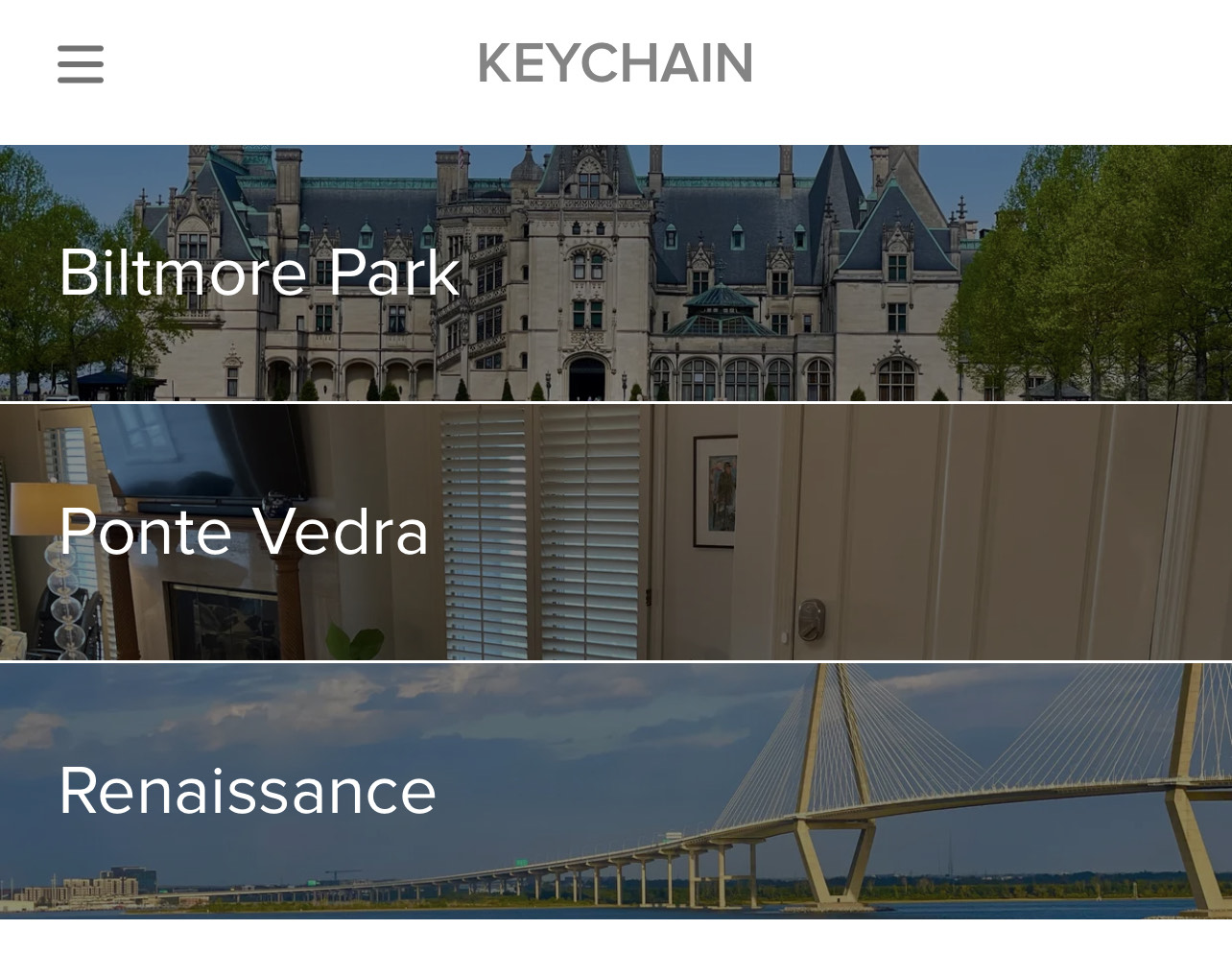 What we love about the August locks is the app for your smartphone which lets you create separate "homes" for multiple locks so it's simple to identify the one you wish to use. You can program the lock to unlock when you walk up to the door or, if you have an Alexa device near your door, you can even program the lock to unlock when you say "unlock the front door." Not to worry, you can set a PIN so every burglar in town can't walk into your house uninvited.
A word of caution. August makes a number of smart locks. We've tried two of them, one with integrated Bluetooth and WiFi and our favorite which has Bluetooth in the lock and a separate WiFi Bridge. Suffice it to say, WiFi drains batteries quickly. If you plan to be away from a site for more than a couple months, don't use the lock that includes WiFi. Also, the all-in-one lock uses harder-to-find batteries unlike the lock we prefer which uses four Alkaline AA's.
Finally, if you care about awards, August has won almost all of them: Voted CNET Editor's Choice two years in a row (2020/2021), Best Smart Lock by Good Housekeeping (2021), Best Smart Lock by Tom's Guide (2021).
Small Fish in a Big Pond: A Few Words About Twitter. We try to steer clear of political subjects on Nerd Vittles. That's what Twitter was for, with emphasis on the word "was." Since Elon's takeover, just about everything at Twitter has blown up in his face and ours . If you read nothing else about why this matters, read MIT's article on what the world would lose without Twitter.
What does this have to do with Nerd Vittles? Well, actually lots. You see we use Twitter almost exclusively to store ALL of the artwork for Nerd Vittles. In addition to photos, there are literally thousands of code screenshots. So a Twitter implosion would render huge portions of Nerd Vittles unusable. Anticipating that this was a distinct possibility when Elon first toyed with buying Twitter, we began archiving virtually all Nerd Vittles articles with their images on SourceForge. You'll find them in the Nerd Vittles Greatest Hits folder. So, if Twitter suddenly dies, rest assured that we've preserved most Nerd Vittles content in easy-to-read PDF documents. And, in the event that happens, we will rework the current index of articles (shown below) so that it reflects the SourceForge links rather than Nerd Vittles links. Here's hoping our worst fears never come to pass.
Follow us on Mastodon. Coming soon: The Incredible PBX Mastodon platform.
Originally published: Monday, November 14, 2022
---

Need help with Asterisk? Visit the VoIP-info Forum.

---
Special Thanks to Our Generous Sponsors

FULL DISCLOSURE: ClearlyIP, Skyetel, Vitelity, DigitalOcean, Vultr, VoIP.ms, 3CX, Sangoma, TelecomsXchange and VitalPBX have provided financial support to Nerd Vittles and our open source projects through advertising, referral revenue, and/or merchandise. As an Amazon Associate and Best Buy Affiliate, we also earn from qualifying purchases. We've chosen these providers not the other way around. Our decisions are based upon their corporate reputation and the quality of their offerings and pricing. Our recommendations regarding technology are reached without regard to financial compensation except in situations in which comparable products at comparable pricing are available from multiple sources. In this limited case, we support our sponsors because our sponsors support us.


BOGO Bonaza: Enjoy state-of-the-art VoIP service with a $10 credit and half-price SIP service on up to $500 of Skyetel trunking with free number porting when you fund your Skyetel account. No limits on number of simultaneous calls. Quadruple data center redundancy. $25 monthly minimum spend required. Tutorial and sign up details are here.


The lynchpin of Incredible PBX 2020 and beyond is ClearlyIP components which bring management of FreePBX modules and SIP phone integration to a level never before available with any other Asterisk distribution. And now you can configure and reconfigure your new Incredible PBX phones from the convenience of the Incredible PBX GUI.


VitalPBX is perhaps the fastest-growing PBX offering based upon Asterisk with an installed presence in more than 100 countries worldwide. VitalPBX has generously provided a customized White Label version of Incredible PBX tailored for use with all Incredible PBX and VitalPBX custom applications. Follow this link for a free test drive!



Special Thanks to Vitelity. Vitelity is now Voyant Communications and has halted new registrations for the time being. Our special thanks to Vitelity for their unwavering financial support over many years and to the many Nerd Vittles readers who continue to enjoy the benefits of their service offerings. We will keep everyone posted on further developments.

---
---