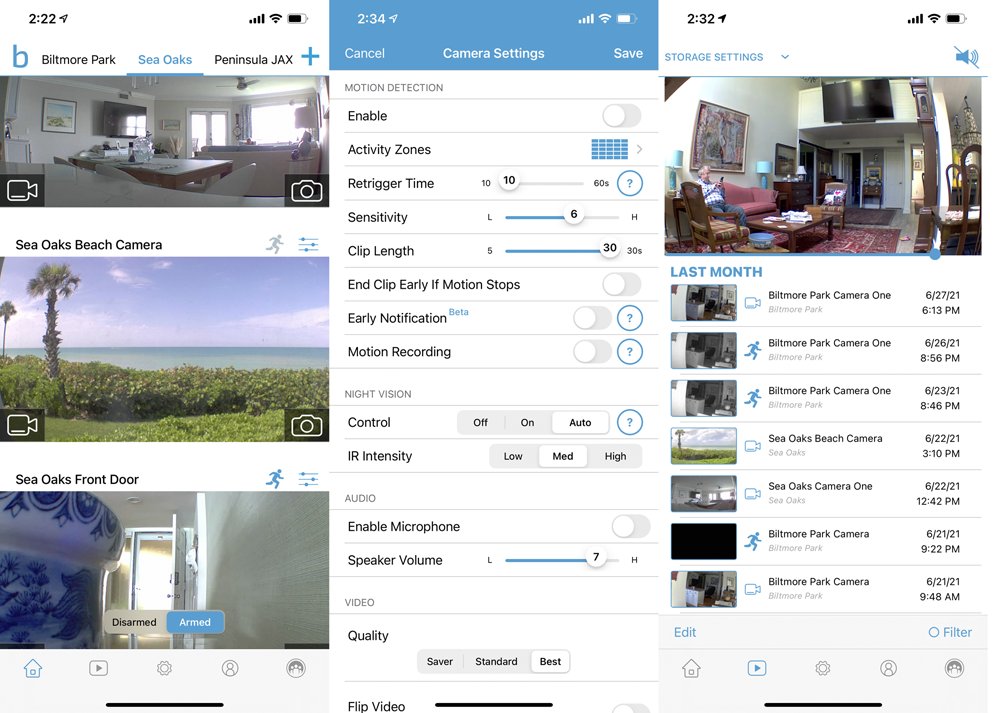 Okay, I'll admit it. Our family has morphed into a band of traveling gypsies. We're spreading our time between four cities and four "homes." Not many folks are that crazy, but many of you have vacation homes thanks to Covid. And one of the first things that pops up on your to-do list is how to secure your residences when you're not at home. Yes, you can pay a monitoring service in every location a hefty monthly fee to do little more than call the police if someone breaks in. We had a better idea, and it's also saved some of our neighbors and us a hefty monthly bill. Here's our hands-on review.
Some of you may know that Amazon bought a little company called Blink in 2017. They made some cute little WiFi cameras that do almost everything the cameras of the big security company's cameras do. They monitor for motion. They listen for noise and can let you communicate with the burglars. And, most importantly, they send you email alerts and record 30-second video clips with audio. The good news is the indoor Blink mini retails for $35, or you can buy 3 for $85. Setup on your iPhone or Android phone only takes a couple minutes. Plug in the camera using the included adapter, fire up the Blink app on your smartphone, point to the QR Code on the back of the camera, enter your WiFi credentials, and presto. Your camera goes live. Give it a name and a location. You can set up multiple locations, and each can have multiple camera types: indoor, outdoor, wired or battery-operated.
You get 30 days to try out the cloud-based repository for your video clips after which you can sign up for a year of 60-day revolving storage. It runs $30 a year for one camera or $100 a year for unlimited cameras. If you're a savvy shopper, try things out with a couple cameras and then load up when the cameras go on sale. We got 3 for $53 during the usual sale events.

You can monitor your cameras and recordings in a number of ways: use the smartphone apps, use any of the Echo Show devices with Alexa, use a FireTV-enabled Smart TV, or Fire TV Stick with your favorite television. HINT: Most of the Echo Show devices have an option to also purchase a Blink mini for almost nothing. If you look at our screenshot above, here's how we get a first-hand look at the weather conditions in Vero Beach using any Echo Show device in our account: "Alexa. Show me the Sea Oaks Beach Camera." On your Blink smartphone app, you'll note that the camera locations are listed at the top of the screen. You can tap on any location to reveal all of the cameras at that location, or you can scroll through the camera locations by dragging your finger across the locations. For each location, you can "arm" the cameras to enable motion detection and recording. And, with each individual camera, you can enable or disable motion detection. Whew!
Did we mention these cameras are amazing? Don't leave home without them!
Originally published: Monday, July 12, 2021
---

Need help with Asterisk? Visit the VoIP-info Forum.

---
---
Special Thanks to Our Generous Sponsors

FULL DISCLOSURE: ClearlyIP, Skyetel, Vitelity, DigitalOcean, Vultr, VoIP.ms, 3CX, Sangoma, TelecomsXchange and VitalPBX have provided financial support to Nerd Vittles and our open source projects through advertising, referral revenue, and/or merchandise. As an Amazon Associate and Best Buy Affiliate, we also earn from qualifying purchases. We've chosen these providers not the other way around. Our decisions are based upon their corporate reputation and the quality of their offerings and pricing. Our recommendations regarding technology are reached without regard to financial compensation except in situations in which comparable products at comparable pricing are available from multiple sources. In this limited case, we support our sponsors because our sponsors support us.


BOGO Bonaza: Enjoy state-of-the-art VoIP service with a $10 credit and half-price SIP service on up to $500 of Skyetel trunking with free number porting when you fund your Skyetel account. No limits on number of simultaneous calls. Quadruple data center redundancy. $25 monthly minimum spend required. Tutorial and sign up details are here.


The lynchpin of Incredible PBX 2020 and beyond is ClearlyIP components which bring management of FreePBX modules and SIP phone integration to a level never before available with any other Asterisk distribution. And now you can configure and reconfigure your new Incredible PBX phones from the convenience of the Incredible PBX GUI.


VitalPBX is perhaps the fastest-growing PBX offering based upon Asterisk with an installed presence in more than 100 countries worldwide. VitalPBX has generously provided a customized White Label version of Incredible PBX tailored for use with all Incredible PBX and VitalPBX custom applications. Follow this link for a free test drive!



Special Thanks to Vitelity. Vitelity is now Voyant Communications and has halted new registrations for the time being. Our special thanks to Vitelity for their unwavering financial support over many years and to the many Nerd Vittles readers who continue to enjoy the benefits of their service offerings. We will keep everyone posted on further developments.

---
---