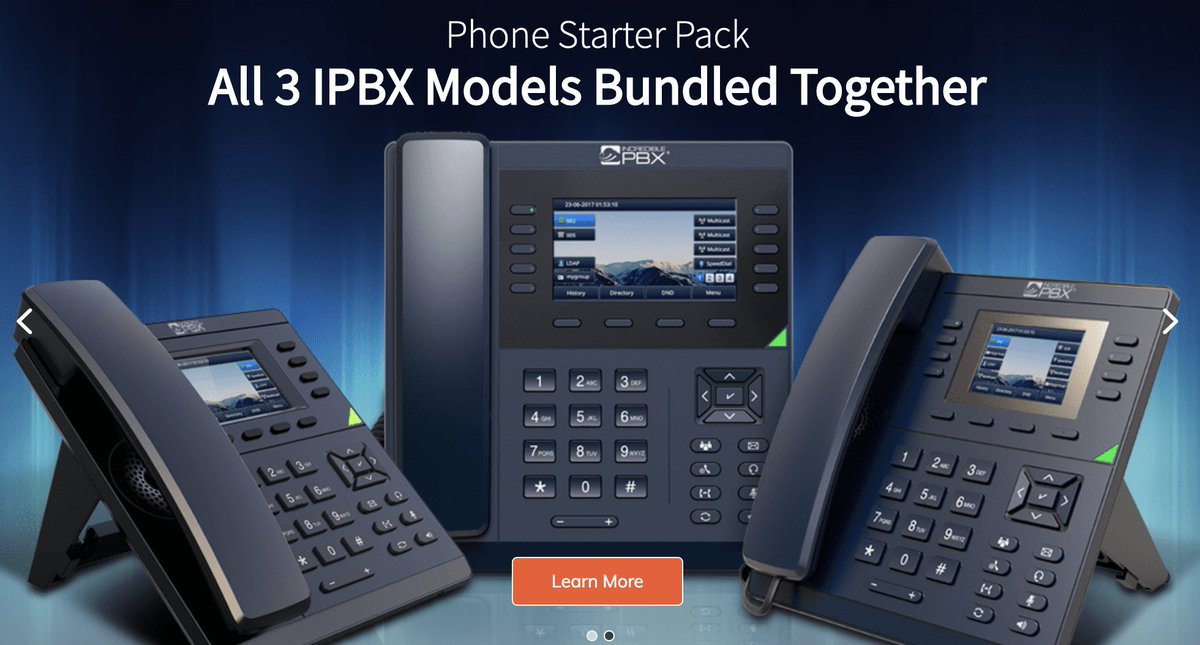 We're excited to announce a host of new features for the new Incredible PBX IP phones. For locations where dynamic IP addresses and NAT-based routers pose challenges, the Clearly Devices GUI now offers direct support for OpenVPN. For environments in which security is critically important such as banks and schools, a new Panic button provides unique protection for employees and workplaces. And, for those that have always wanted an "Answered Elsewhere" indication for business communications, your search is over.
Configuring Incredible PBX Phones with OpenVPN
To get started, log into the FreePBX GUI with your admin credentials and navigate to Admin -> Module Admin -> Check Online and update the Clearly Devices module, if necessary. Next, create an OpenVPN server and generate a client template using the MAC address of each of your Incredible PBX phones following the steps in our previous tutorial. Copy the new client templates to the tftpboot folder of your Incredible PBX server. Next, open this ClearlyIP tutorial in a separate window and follow the steps to set up each of your phones. NOTE: When you create a template in Clearly Devices, it will provide a default provision URL at the top of the template that should also be used as the Custom Client Location when you enable the VPN in the User Management template, e.g. http://abc:xyz@192.168.0.3:2580/%%MAC%%.ovpn
Adding a PANIC Button to Incredible PBX Phones
Adding 'Answered Elsewhere' As A Call Destination
One of the complaints of many administrators has been the destination entries made in call logs when a call to a ring group is answered on another extension. With the latest release, the "Answered Elsewhere" notation is included in the phone's firmware. Give these phones a careful look when you are in the market for new SIP phones. There's nothing quite like them for Asterisk® platforms. Enjoy!
Originally published: Tuesday, May 19, 2020
---

Need help with Asterisk? Visit the VoIP-info Forum.

---
Special Thanks to Our Generous Sponsors

FULL DISCLOSURE: ClearlyIP, Skyetel, Vitelity, DigitalOcean, Vultr, VoIP.ms, 3CX, Sangoma, TelecomsXchange and VitalPBX have provided financial support to Nerd Vittles and our open source projects through advertising, referral revenue, and/or merchandise. As an Amazon Associate and Best Buy Affiliate, we also earn from qualifying purchases. We've chosen these providers not the other way around. Our decisions are based upon their corporate reputation and the quality of their offerings and pricing. Our recommendations regarding technology are reached without regard to financial compensation except in situations in which comparable products at comparable pricing are available from multiple sources. In this limited case, we support our sponsors because our sponsors support us.


BOGO Bonaza: Enjoy state-of-the-art VoIP service with a $10 credit and half-price SIP service on up to $500 of Skyetel trunking with free number porting when you fund your Skyetel account. No limits on number of simultaneous calls. Quadruple data center redundancy. $25 monthly minimum spend required. Tutorial and sign up details are here.


The lynchpin of Incredible PBX 2020 and beyond is ClearlyIP components which bring management of FreePBX modules and SIP phone integration to a level never before available with any other Asterisk distribution. And now you can configure and reconfigure your new Incredible PBX phones from the convenience of the Incredible PBX GUI.


VitalPBX is perhaps the fastest-growing PBX offering based upon Asterisk with an installed presence in more than 100 countries worldwide. VitalPBX has generously provided a customized White Label version of Incredible PBX tailored for use with all Incredible PBX and VitalPBX custom applications. Follow this link for a free test drive!



Special Thanks to Vitelity. Vitelity is now Voyant Communications and has halted new registrations for the time being. Our special thanks to Vitelity for their unwavering financial support over many years and to the many Nerd Vittles readers who continue to enjoy the benefits of their service offerings. We will keep everyone posted on further developments.

---
---