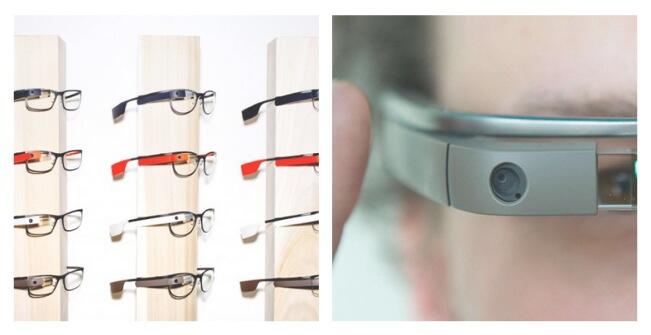 It's one thing to read about new technology, and quite another to actually try it out. We've been holding off on Google Glass awaiting support for prescription lenses. Well, it's finally here. And Nerd Uno was one of the first to receive the new Google Glass Frames. Having spent the better part of a week with the new technology, here's our review.
Let's start with the price tag. Ours came to $1,868.75. That's before you add the cost of prescription lenses, some of which are now subsidized by vision insurance plans. So the $2,000 question is whether you're ready for that type of investment in order to assume the mantle of PIONEER. And, make no mistake, Google Glass is a beta project in every sense of the word. We'll get to that in a minute.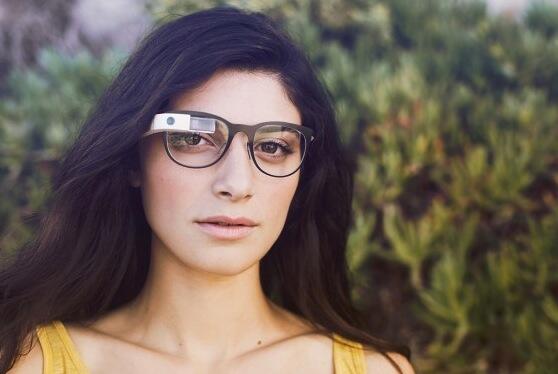 Pardon our morphing into a male chauvinist pig for a moment. Can you picture your significant other ever wearing a pair of these glasses? Seriously? If the answer is no, then put yourself in her shoes and ask the same question. Looks aside (and some of us need all the help we can get), much of the resistance to Google Glass boils down to the privacy issue. It's one thing to carry a hidden pen camera when nobody knows they're being recorded. It's quite another to advertise what you're up to. As Engadget put it:
It's a headset with a projected display, a camera and a data connection that could revolutionize the mobile device industry. It could also cause a public uproar over privacy concerns.

People can and should be a bit concerned about someone walking in a public restroom with Glass on and, since you can't fold them up and stick them in your pocket, finding something to do with them while you do your business is a challenge.
Take it from us. Your friends are going to disown you if you wear these things around them. Nobody (except people that work for Google or would like to) wants to be on camera all the time. And nobody except the Glass wearer knows whether the camera is on or off. Therein lies the problem. All it takes to send a photo to the Google Cloud is the wink of an eye. Ask yourself this question. Do you really want to live in a world like this? We haven't even gotten to the way you can expect to be treated by strangers. Consider, for example, the poor guy that got dragged out of the movie theater because of a claim that he was illegally recording the movie. He wasn't! But there was a parking lot full of police and FBI interrogators anyway. Then there are the restaurants and bars that will throw you out just for wearing a pair of wonder glasses. And finally we've got the Eager Beaver traffic cop that couldn't wait to make his first Google Glass bust. So let me repeat the question. Do you really want to live in a world like this? Perhaps the better question is this. Do you think other folks want to live in a world with people like you wearing Google Glass? You can probably guess our answer, but the world does not stand still. So… we will see what we see.
Google Glass Setup and Operation
If you've set up an iPhone or Android phone with Gmail using your Google credentials, then you already know the drill for setting up Google Glass. It's a breeze with the MyGlass app for your smartphone. In 5 minutes, you'll be ready to tilt your head up and take Google Glass for a spin. The magic word to activate Glass is "OK, Glass." So far, so good. In the default setup, you can make phone calls, check the weather, participate in Hangouts (you can see them but they can't see you), read emails, send dictated email messages, take photos and videos as well as perform Google searches and navigate to a destination with Google Maps. The ability to schedule reminders has been removed in the latest software release. Unfortunately, messages sent to Gmail accounts (with or without a photo) go to Hangouts, not to Gmail.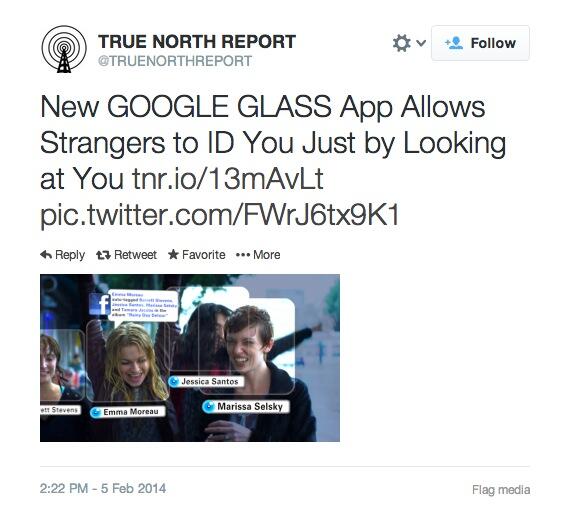 You can take photos by blinking your right eye after enabling the feature. The photos are immediately uploaded to your Google account in the sky. There also is an option to forward a photo to an email address. But choosing a recipient was problematic. If you have an extensive list of Contacts as we do, it's almost impossible to navigate through the list or to use it reliably with the Glass speech-to-text function. Oftentimes you will find yourself inadvertently sending something to the wrong person with no notification as to who that person was. And there's no quick way to cancel delivery. That is a major shortcoming of virtually all the Glass features presently. There is no "go back" or "never mind" or "hangup" voice command to cancel an activity. We often found ourselves tapping, swiping, and yelling at Glass in order to cancel some action. Painful is the kindest adjective we can muster. Do you have any idea how stupid you look tapping on the side of your head all the time? People really will think you've lost your marbles. Let's put it this way. If the Google self-driving car worked as well as Glass, you'd be in a ditch or dead in a matter of minutes.
There are a whole host of additional features you can add to Glass. Google calls them Glassware. The process is straight-forward, much like adding an app to a smartphone. Here's a partial list to give you some idea of what's already out there: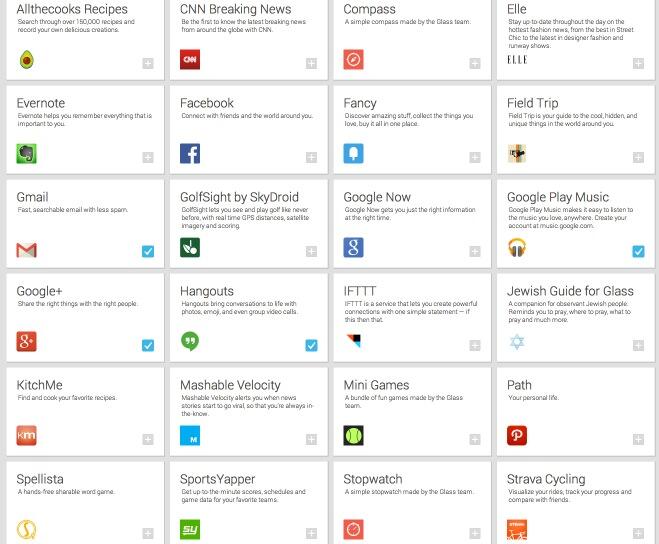 With all these potential applications, you're undoubtedly asking yourself about battery life. In a word, it's HORRIBLE. If you get a half day out of Glass even with minimal use, count yourself among the lucky ones. If the idea is that folks should wear Glass instead of glasses, you're not going to be a happy camper. While Google has taken steps to shut off Glass when you're not actively using it, this is an uphill battle. Glass depends upon Wi-Fi and Bluetooth and regularly communicates with your cellphone and the closest WiFi access point. That's a battery-consuming activity that is not going to be easily remedied without a bigger battery or better battery technology. As someone described it in the Google forum, "It's like watching the gas gauge on a Ford Expedition with a 454 engine going up a mountain." There's a reason that over half the inside of a smartphone is reserved as a battery compartment. Unfortunately, Glass doesn't have that luxury of space.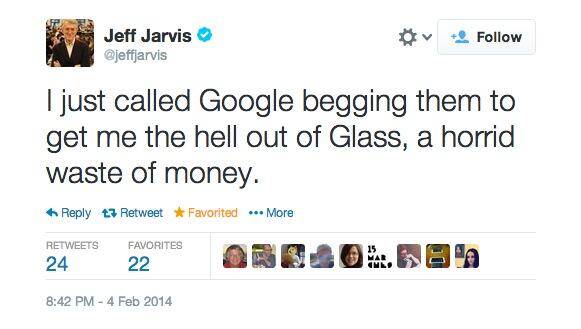 In conclusion, we were tempted to keep Glass only because of its novelty. Everybody likes to play with the latest toy. And we have a reputation to uphold. But the battery life and privacy issues are truly dealbreakers for us. Before it's over, we suspect there will be overwhelming public demand for a little red blinking light on Glass to tell others when you're doing something that might affect them. If you've seen the way people react when you point a movie camera at them with a blinking red light, you'll at least know what you have to look forward to. There has been no bigger Google Glass evangelist than Robert Scoble. Check out his comments on why Google Glass is doomed. Then read today's comments from Jeff Jarvis before you take the plunge. We're saving our money for the self-driving car. Here's hoping the people that make ours don't read this review.
Tweet
Originally published: Wednesday, February 5, 2014
---

Need help with Asterisk? Visit the PBX in a Flash Forum.

---
Special Thanks to Our Generous Sponsors

FULL DISCLOSURE: ClearlyIP, Skyetel, Vitelity, DigitalOcean, Vultr, VoIP.ms, 3CX, Sangoma, TelecomsXchange and VitalPBX have provided financial support to Nerd Vittles and our open source projects through advertising, referral revenue, and/or merchandise. As an Amazon Associate and Best Buy Affiliate, we also earn from qualifying purchases. We've chosen these providers not the other way around. Our decisions are based upon their corporate reputation and the quality of their offerings and pricing. Our recommendations regarding technology are reached without regard to financial compensation except in situations in which comparable products at comparable pricing are available from multiple sources. In this limited case, we support our sponsors because our sponsors support us.


BOGO Bonaza: Enjoy state-of-the-art VoIP service with a $10 credit and half-price SIP service on up to $500 of Skyetel trunking with free number porting when you fund your Skyetel account. No limits on number of simultaneous calls. Quadruple data center redundancy. $25 monthly minimum spend required. Tutorial and sign up details are here.


The lynchpin of Incredible PBX 2020 and beyond is ClearlyIP components which bring management of FreePBX modules and SIP phone integration to a level never before available with any other Asterisk distribution. And now you can configure and reconfigure your new Incredible PBX phones from the convenience of the Incredible PBX GUI.


VitalPBX is perhaps the fastest-growing PBX offering based upon Asterisk with an installed presence in more than 100 countries worldwide. VitalPBX has generously provided a customized White Label version of Incredible PBX tailored for use with all Incredible PBX and VitalPBX custom applications. Follow this link for a free test drive!



Special Thanks to Vitelity. Vitelity is now Voyant Communications and has halted new registrations for the time being. Our special thanks to Vitelity for their unwavering financial support over many years and to the many Nerd Vittles readers who continue to enjoy the benefits of their service offerings. We will keep everyone posted on further developments.

---
---
Some Recent Nerd Vittles Articles of Interest…