Meet the new Microsoft: It's Google! If you follow Nerd Vittles regularly, you'll recall that
five months ago
we warned you to start packing your bags if you were a Google Voice user with PBX in a Flash. And, as a special Halloween treat, Google gave the open source community the finger. As of May 15, 2014, there will be no more XMPP support for Google Voice. So much for embracing the open source community. And, for all of you that supported and fostered the Google Voice project and were part of Google's development community, F U. Welcome to Oligopoly World!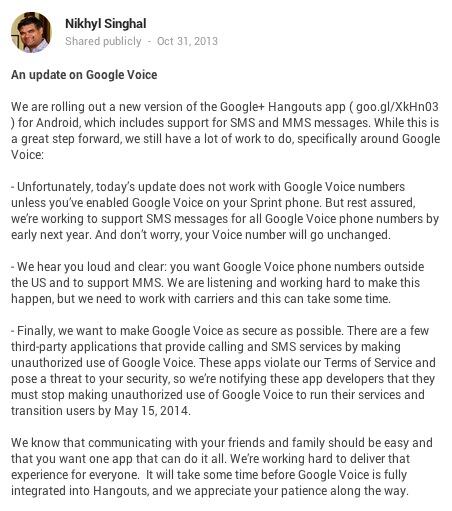 It's one thing for a company to shift gears and venture out in a new direction. It's quite another to knife your developers in the back on the way out the door. Here's an interesting background piece on the folks now driving the Google Voice Bus. Fundamentally, there's so much wrong with Mr. Singhal's posting that it's difficult to know where to begin. But let's start with "These [Google Voice] apps violate our terms of service."
So let's go to law school for a bit, shall we? One of the first things you'll learn is never take the factual basis for someone else's conclusions and insults at face value. Go read the material for yourself. And, when you do, what you'll discover is there's not even a hint that these Google Voice applications have ever violated Google's terms of service. Never mind that Google was and still is selling and profiting from the GrooveIP application which is marketed and sold in the Google Play Store.
We're reproducing the Terms of Service in all their glory so that you don't have to take our word for it either. Of course, the terms are sprinkled across multiple web pages so bear with us…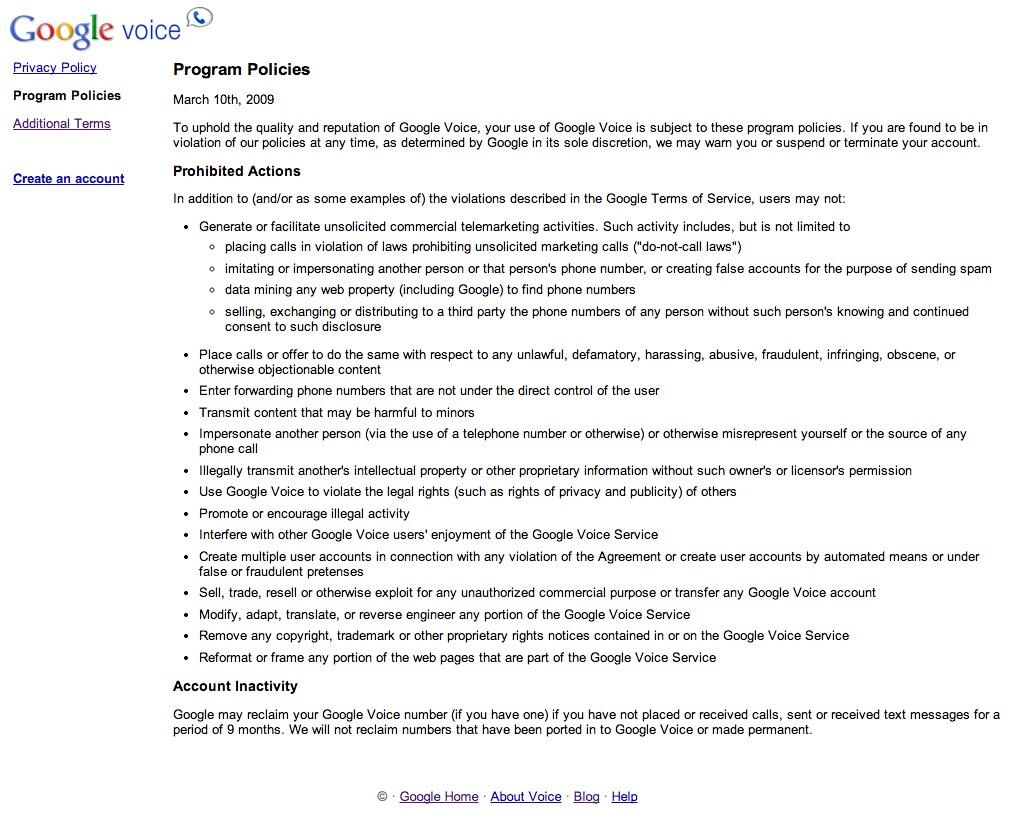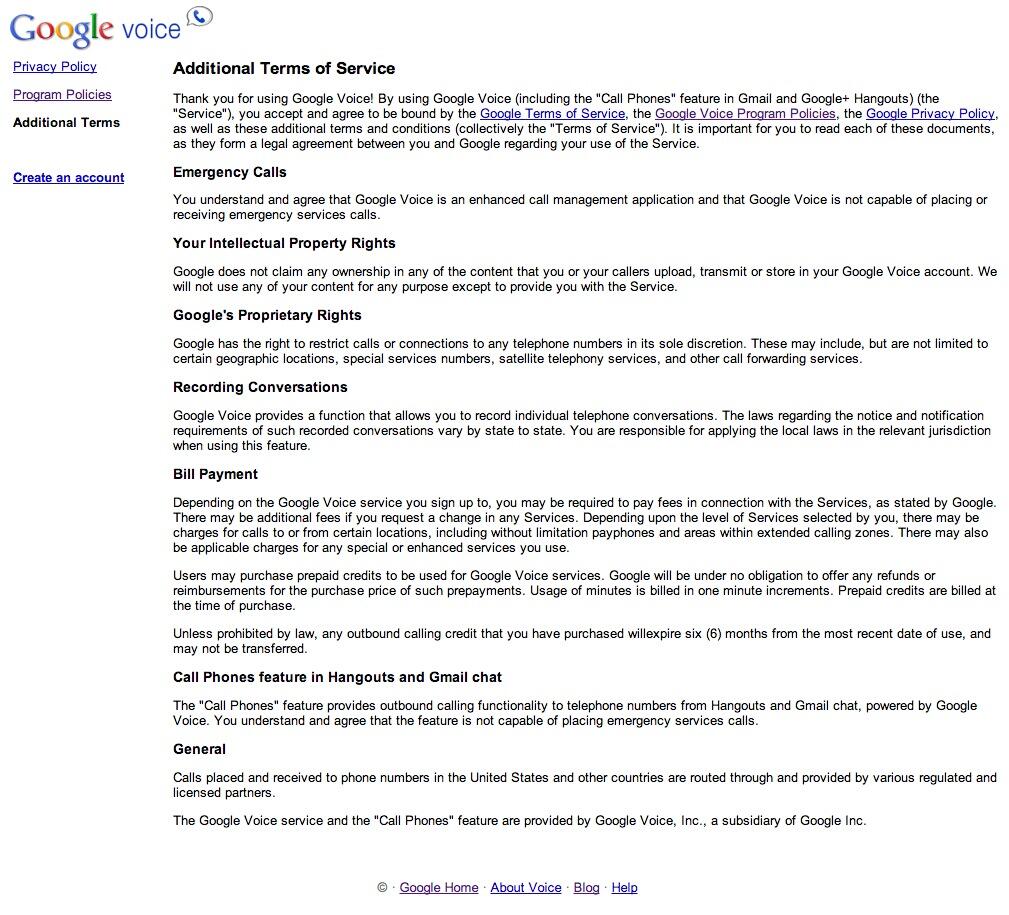 And finally, there's the Google catch-all which you will note changes regularly (and is about to change again). So, even if you didn't violate the Terms last week, next week may be a different story. Multiply that Catch-22 by five years in the case of Google Voice.

Google Terms of Service
This Terms of Service will be replaced by our new Google Terms of Service effective November 11, 2013. Please see our summary of changes for additional details.
Last modified: March 1, 2012 (view archived versions)
Welcome to Google!
Thanks for using our products and services ("Services"). The Services are provided by Google Inc. ("Google"), located at 1600 Amphitheatre Parkway, Mountain View, CA 94043, United States.
By using our Services, you are agreeing to these terms. Please read them carefully.
Our Services are very diverse, so sometimes additional terms or product requirements (including age requirements) may apply. Additional terms will be available with the relevant Services, and those additional terms become part of your agreement with us if you use those Services.
Using our Services
You must follow any policies made available to you within the Services.
Don't misuse our Services. For example, don't interfere with our Services or try to access them using a method other than the interface and the instructions that we provide. You may use our Services only as permitted by law, including applicable export and re-export control laws and regulations. We may suspend or stop providing our Services to you if you do not comply with our terms or policies or if we are investigating suspected misconduct.
Using our Services does not give you ownership of any intellectual property rights in our Services or the content you access. You may not use content from our Services unless you obtain permission from its owner or are otherwise permitted by law. These terms do not grant you the right to use any branding or logos used in our Services. Don't remove, obscure, or alter any legal notices displayed in or along with our Services.
Our Services display some content that is not Google's. This content is the sole responsibility of the entity that makes it available. We may review content to determine whether it is illegal or violates our policies, and we may remove or refuse to display content that we reasonably believe violates our policies or the law. But that does not necessarily mean that we review content, so please don't assume that we do.
In connection with your use of the Services, we may send you service announcements, administrative messages, and other information. You may opt out of some of those communications.
Your Google Account
You may need a Google Account in order to use some of our Services. You may create your own Google Account, or your Google Account may be assigned to you by an administrator, such as your employer or educational institution. If you are using a Google Account assigned to you by an administrator, different or additional terms may apply and your administrator may be able to access or disable your account.
If you learn of any unauthorized use of your password or account, follow these instructions.
Privacy and Copyright Protection
Google's privacy policies explain how we treat your personal data and protect your privacy when you use our Services. By using our Services, you agree that Google can use such data in accordance with our privacy policies.
We respond to notices of alleged copyright infringement and terminate accounts of repeat infringers according to the process set out in the U.S. Digital Millennium Copyright Act.
We provide information to help copyright holders manage their intellectual property online. If you think somebody is violating your copyrights and want to notify us, you can find information about submitting notices and Google's policy about responding to notices in our Help Center.
Your Content in our Services
Some of our Services allow you to submit content. You retain ownership of any intellectual property rights that you hold in that content. In short, what belongs to you stays yours.
When you upload or otherwise submit content to our Services, you give Google (and those we work with) a worldwide license to use, host, store, reproduce, modify, create derivative works (such as those resulting from translations, adaptations or other changes we make so that your content works better with our Services), communicate, publish, publicly perform, publicly display and distribute such content. The rights you grant in this license are for the limited purpose of operating, promoting, and improving our Services, and to develop new ones. This license continues even if you stop using our Services (for example, for a business listing you have added to Google Maps). Some Services may offer you ways to access and remove content that has been provided to that Service. Also, in some of our Services, there are terms or settings that narrow the scope of our use of the content submitted in those Services. Make sure you have the necessary rights to grant us this license for any content that you submit to our Services.
You can find more information about how Google uses and stores content in the privacy policy or additional terms for particular Services. If you submit feedback or suggestions about our Services, we may use your feedback or suggestions without obligation to you.
About Software in our Services
When a Service requires or includes downloadable software, this software may update automatically on your device once a new version or feature is available. Some Services may let you adjust your automatic update settings.
Google gives you a personal, worldwide, royalty-free, non-assignable and non-exclusive license to use the software provided to you by Google as part of the Services. This license is for the sole purpose of enabling you to use and enjoy the benefit of the Services as provided by Google, in the manner permitted by these terms. You may not copy, modify, distribute, sell, or lease any part of our Services or included software, nor may you reverse engineer or attempt to extract the source code of that software, unless laws prohibit those restrictions or you have our written permission.
Open source software is important to us. Some software used in our Services may be offered under an open source license that we will make available to you. There may be provisions in the open source license that expressly override some of these terms.
The other important thing you learn in law school is that CONTEXT MATTERS. For example, there's this generic warning buried in the terms which undoubtedly is the language Google is now using to claim that Asterisk, FreeSwitch, OBiHai, and GrooveIP implementations of Google Voice (among others) crossed the line:


Well, not so fast. It turns out that the "method" used for the Google Voice interface in all of these implementations happens to be the one that was documented, supported, and hosted on Google's own developer web site. Here's a snapshot of the site before it, too, disappears. Pay particular attention to the sentence we've highlighted: "[The Google Talk XMPP Extensions] are documented so that you can design a client that can take advantage of specific Google Talk features."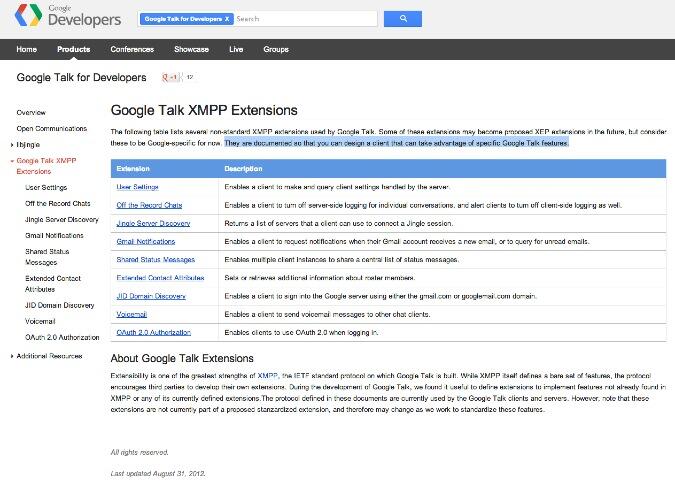 It's also worth recalling that Google Voice began as Craig Walker's Grand Central project and that Craig, while heading up the Google Voice team, had the following dialogue with me in June of 2009:
WM: Just hoping that you might reconsider providing a SIP interface to Google Voice. It really would make it the Whole Enchilada. Adding a password through the web interface would make it very secure. We've written several articles on Nerd Vittles about Google Voice, and it would be an incredible addition.

CW: Hey Ward. Thanks for your note and I share a lot of your sentiments. Let me get it out to the world as my first priority:)
Here's the Bottom Line: You can't have it both ways, Google. You can't encourage open source development with one hand and then use your other fist to slap down developers who do exactly what you encouraged them to do. Sorry to say it but this time Microsoft got it just about right:

For organizations considering a move to Google's platform, you might want to think twice and take an open-minded look at the carnage in the Google Graveyard. Remember
Google Buzz
? How about
Google Wave
? Then came
Google knol
. How about
Google Directory Assistance (GOOG-411)
? And then
Google Reader
followed by
iGoogle
. And now the open source edition of Google Voice. This is just the tip of
The Iceberg
. And most of the open source Google apps have also fallen by the wayside: sports scores, weather reports, news feeds, and the JavaScript Maps API is on the chopping block for later this month. Many of these weren't failed undertakings. Google simply decided they no longer wished to support them regardless of whether millions of people depended upon them. Ask yourself this simple question. Do you really want to stake the future of your company or your development efforts on this sort of corporate infrastructure? What can you do?
Start here
.
Where Do We Go From Here? Have no fear. The VoIP community is not going to wither away because of Google's shenanigans. We'll have a lot of great new approaches and solutions in coming weeks and months. In the meantime, make yourself a list of how you currently use Google Voice services. You'll need that as we move forward. A belated Happy Halloween! It took me 5 days to cool off sufficiently to even write this article.
Tweet
Originally published: Tuesday, November 5, 2013
---

Need help with Asterisk? Visit the PBX in a Flash Forum.

---
Special Thanks to Our Generous Sponsors

FULL DISCLOSURE: ClearlyIP, Skyetel, Vitelity, DigitalOcean, Vultr, VoIP.ms, 3CX, Sangoma, TelecomsXchange and VitalPBX have provided financial support to Nerd Vittles and our open source projects through advertising, referral revenue, and/or merchandise. As an Amazon Associate and Best Buy Affiliate, we also earn from qualifying purchases. We've chosen these providers not the other way around. Our decisions are based upon their corporate reputation and the quality of their offerings and pricing. Our recommendations regarding technology are reached without regard to financial compensation except in situations in which comparable products at comparable pricing are available from multiple sources. In this limited case, we support our sponsors because our sponsors support us.


BOGO Bonaza: Enjoy state-of-the-art VoIP service with a $10 credit and half-price SIP service on up to $500 of Skyetel trunking with free number porting when you fund your Skyetel account. No limits on number of simultaneous calls. Quadruple data center redundancy. $25 monthly minimum spend required. Tutorial and sign up details are here.


The lynchpin of Incredible PBX 2020 and beyond is ClearlyIP components which bring management of FreePBX modules and SIP phone integration to a level never before available with any other Asterisk distribution. And now you can configure and reconfigure your new Incredible PBX phones from the convenience of the Incredible PBX GUI.


VitalPBX is perhaps the fastest-growing PBX offering based upon Asterisk with an installed presence in more than 100 countries worldwide. VitalPBX has generously provided a customized White Label version of Incredible PBX tailored for use with all Incredible PBX and VitalPBX custom applications. Follow this link for a free test drive!



Special Thanks to Vitelity. Vitelity is now Voyant Communications and has halted new registrations for the time being. Our special thanks to Vitelity for their unwavering financial support over many years and to the many Nerd Vittles readers who continue to enjoy the benefits of their service offerings. We will keep everyone posted on further developments.

---
---
Some Recent Nerd Vittles Articles of Interest…