Self-inflicted wounds are nothing new in the technology business, but Google spent much of last week working hard to take top honors for what is clearly one of the most selfish and short-sighted moves ever in the telecommunications marketplace. Less than a week after extolling the values of open source technology during Google I/O 2013
1
, Google wasted little time performing a complete 180 by deep sixing further support of the open source XMPP protocol for messaging and VoIP communications. With one brief announcement, Google basically killed off years of Google Voice development and announced the upcoming demise of Google Voice, XMPP, and Jabber messaging as we know it. Never mind that literally millions of users have come to rely upon Google Voice and XMPP messaging as their primary sources of communications. Google now has declared XMPP too confining for their view of what the telecommunications world
really
needs. Instead, we get yet another proprietary communications protocol. So much for the
Do No Evil
ethos. With classic pot calling the kettle black ire,
one of Microsoft's leading cheerleaders
wasted little time condemning the move.
So why the sudden change of heart at Google? Well, it had nothing to do with the needs of Google customers obviously. In the old days, Google at least labeled projects as beta (for years) to warn you that something might happen down the road, good or bad. That era is over. Now the carnage happens almost randomly. Remember Google knols? It was perhaps the greatest collection of medical and technical literature of all time. Poof! All gone. We won't go through the entire litany. Suffice it to say, this is nothing new for Google. Every company is entitled to its New Coke moment. Google has had more than its fair share, and it should serve as a wakeup call to organizations and individuals that reliance upon Google infrastructure is a really bad idea.
The current train wreck turns out to be yet another turf war motivated by retribution against Microsoft's recent decision to support XMPP in its Outlook.com unified messaging product, something most companies would have greeted with jubilation. Instead, Google is miffed that Microsoft was now supporting its messaging protocol while continuing to keep its own protocol proprietary. That meant Microsoft cellphones could chat with Android phones but not the other way around. The moral of the story for consumers is pretty simple. Don't for a minute assume that any technology company has your best interests at heart. None of them do. It's all about money and industry domination. Google viewed this as a brazen attempt by Microsoft to create a messaging platform that could speak Android while continuing to restrict access to the Microsoft messaging installed base. And Google chose to pick up its marbles and go home rather than hand Microsoft easy access to hundreds of millions of Android cellphone users. So we're back to handing the Bell Sisters the unified messaging monopoly with SMS and MMS as the lowest common denominator. Welcome to Big Business!
What does all of this have to do with Google Voice? Well, it rides along on the same messaging platform as Google Talk, Microsoft Lync, and XMPP/Jabber-based solutions including Asterisk, FreeSwitch, Yate, Cisco Jabber, Openfire, and Avaya in addition to all of the Google Voice-compatible softphones and OBiHai devices. So expect a train wreck!
We're all about VoIP communications so we'll leave the cellphone messaging for others to sort out. The important question for those of us that depend upon Google Voice for VoIP communications is what can you do to insulate yourself from the upcoming disaster. You can bury your head in the sand and pretend this isn't going to happen, and you'd be dead wrong for the reasons we've outlined above. And, remember, Google has served clear notice that XMPP is over as far as they are concerned unless Microsoft, Apple, and now Facebook blink. Of course, Google could always redeploy SIP for Google Voice calling. If you think any of that is likely to happen, you also might want to buy a lottery ticket which affords you about the same chance of seeing any of your dreams come true.
To keep things simple, let's divide VoIP communications into four categories: inbound calling, outbound calling, messaging, and faxing. We'll leave video for another day only because it remains a niche product. With the demise of Google Voice, we recommend not putting all of your eggs in one basket (again). Inbound calling is the most critical. That's your phone number, and it's how folks get in touch with you. If there are numbers (DIDs) that you don't want to lose, now is the time to move them away from Google Voice before it's too late. If Google elects to shut down Google Voice, your ability to port your numbers elsewhere is OVER! So don't procrastinate on this one. Luckily, Vitelity (one of the primary supporters of Nerd Vittles and the PBX in a Flash projects) has provided an incredible deal to our fan club for many, many years. For $3.95 a month you get a DID with unlimited inbound calls. It's not free, but it's not expensive either. And the call quality and service reliability are as good or better than anyone else in the business. You can read all about the offer at the end of this article. Google charges $3 to port your number out of Google Voice to a new provider. The step-by-step tutorial is available in the PIAF Forum. Do it while you still can!
For outbound calling (terminations), the thought process is different. Unlike traditional analog telephony, there is no reason not to have multiple providers especially if you're using Asterisk, PBX in a Flash, or Incredible PBX as your communications server. If one outbound path fails, your server can automatically send the calls out through another call path. So continue to cling to your Google Voice dream for outbound calling if you're a Believer. But do a little advance planning while there's no crisis. There are numerous termination providers and generally you get what you're willing to pay for. If cheap is your primary objective and call quality is secondary, then Anveo Direct and VoIP.ms can't be beat. Both allow you to spoof your CallerID to match a DID that you own so they work well with a service such as Vitelity that is being used to handle your inbound calls. We've written about both of them, and we use both of them with excellent results. There are many, many others. Visit the PIAF Forum for lots of additional recommendations.
SMS messaging is an evolving technology in the VoIP marketplace. Expect to see some terrific new services before the summer is over. If you're in a hurry, the easiest current solution to implement is through Anveo Direct. Our recent article will walk you through the setup process to send and receive SMS messages with Asterisk.
Faxing remains a crap shoot using VoIP technology. If you want commercial quality, then choose one of Vitelity's dedicated fax circuits. If you want analog faxing that usually works, then Anveo Direct and VoIP.ms are about as good as you can do. All versions of Incredible PBX for PBX in a Flash include a free faxing solution using the HylaFax/ AvantFax platform. A similar solution is provided on the Raspberry Pi platform. As we said, it's not perfect but it usually works.
Continue reading Part II: Google Puts the Final Nail in the Google Voice Coffin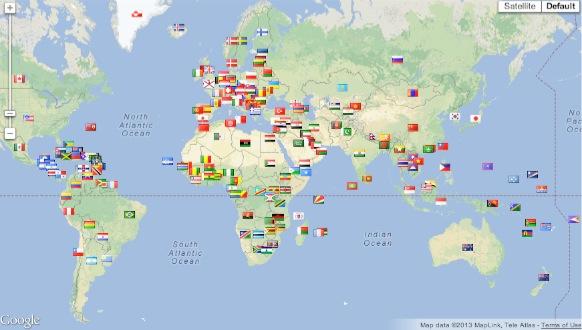 Tweet
Originally published: Monday, June 3, 2013
---

Need help with Asterisk? Visit the PBX in a Flash Forum.
Or Try the New, Free PBX in a Flash Conference Bridge.
---
whos.amung.us If you're wondering what your fellow man is reading on Nerd Vittles these days, wonder no more. Visit our new whos.amung.us statistical web site and check out what's happening. It's a terrific resource for all of us.
---
---
Special Thanks to Our Generous Sponsors

FULL DISCLOSURE: ClearlyIP, Skyetel, Vitelity, DigitalOcean, Vultr, VoIP.ms, 3CX, Sangoma, TelecomsXchange and VitalPBX have provided financial support to Nerd Vittles and our open source projects through advertising, referral revenue, and/or merchandise. As an Amazon Associate and Best Buy Affiliate, we also earn from qualifying purchases. We've chosen these providers not the other way around. Our decisions are based upon their corporate reputation and the quality of their offerings and pricing. Our recommendations regarding technology are reached without regard to financial compensation except in situations in which comparable products at comparable pricing are available from multiple sources. In this limited case, we support our sponsors because our sponsors support us.


BOGO Bonaza: Enjoy state-of-the-art VoIP service with a $10 credit and half-price SIP service on up to $500 of Skyetel trunking with free number porting when you fund your Skyetel account. No limits on number of simultaneous calls. Quadruple data center redundancy. $25 monthly minimum spend required. Tutorial and sign up details are here.


The lynchpin of Incredible PBX 2020 and beyond is ClearlyIP components which bring management of FreePBX modules and SIP phone integration to a level never before available with any other Asterisk distribution. And now you can configure and reconfigure your new Incredible PBX phones from the convenience of the Incredible PBX GUI.


VitalPBX is perhaps the fastest-growing PBX offering based upon Asterisk with an installed presence in more than 100 countries worldwide. VitalPBX has generously provided a customized White Label version of Incredible PBX tailored for use with all Incredible PBX and VitalPBX custom applications. Follow this link for a free test drive!



Special Thanks to Vitelity. Vitelity is now Voyant Communications and has halted new registrations for the time being. Our special thanks to Vitelity for their unwavering financial support over many years and to the many Nerd Vittles readers who continue to enjoy the benefits of their service offerings. We will keep everyone posted on further developments.

---
---
Some Recent Nerd Vittles Articles of Interest…
Larry Page reportedly commented as follows: "I've personally been quite sad at the industry's behavior around all these things. If you take something as simple as IM, we've had an open offer to interoperate forever. Just this week Microsoft took advantage of that by interoperating with us but not doing the reverse. Which is really sad and not the way to make progress. You can't have people milking off of just one company for their own benefit…" [↩]