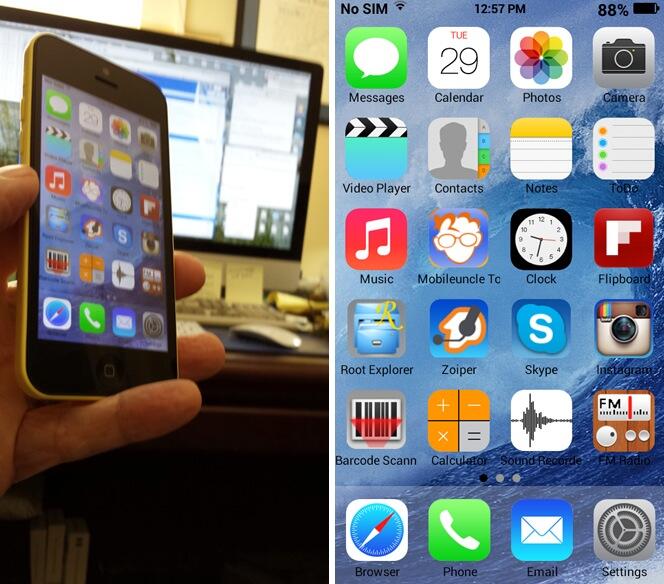 If you didn't cheat and hover over the images above, then you'd be wrong if you guessed that you now can buy Apple's shiny, new iPhone® 5c for less than $100. From first-hand experience, I can tell you that the price of the 32GB model without a contract remains $649. You can add another $50 for tax in most states. And you can add another $99 for AppleCare® and another $79 each time your daughter drops the phone on the pavement. No, my friends, this is not an iPhone 5c. It's the Goophone i5c from DHgate.com and many others brought to you by some enterprising neighbors of the fine folks that manufacture phones for Apple® and Samsung® (among others) in China. As the back of the phone says: "Designed by Goophone in California. Assembled in China." Sound familiar? Not sure Goophone spent much time in California, but the phones are most definitely "assembled" in China. Total delivered price from DHgate: $89.99. While we had little clue about the similarities when we ordered the phone, with the exception of the Goophone logo emblazoned on the back of the phone and the prominent Goophone boot logo, you'd be hard-pressed to distinguish one duck from the other. My daughter's iPhone 5c happens to be pink. So that helped with telling them apart.
What's wrong with this picture? Well, lots. Let's see. The potential patent, trademark, and copyright issues look like something a sadistic law professor might cook up for a bar exam. However, neither the International Trade Commission nor any American court has (yet) blocked the import of these phones so technically the manufacturer is entitled to the same presumptions as any other merchant. And proliferation of these phones in the United States is the least of Apple's problems. Remember, Apple has been counting on the huge Chinese market as the Second Coming for iPhone sales. Considering the i5c was available before the iPhone 5c ever shipped, it seems fairly likely that there also may be a technology leak somewhere in someone's pipeline. Let's guess where that might be. What should be equally troubling to Apple is that someone could look at your $700 phone and build a perfectly functioning replica for under $40. Did we mention the build quality? It's similar. Let's leave it at that. In short, the Goophone knock off appears to be much what Apple claimed in court that Samsung was doing. It just didn't happen to turn out that way in some of the Samsung litigation. But, as the old saying goes, be careful what you wish for. It turns out that the Goophone may actually be a better mousetrap than the iPhone especially when it comes to overall performance and battery life.

http://www.youtube.com/watch?v=F73sMmb6CS0
We're not going to get into the morality or legality of buying stuff like this especially with Festivus just around the corner. So sort that out for yourself.
Start with this New York Times article
and then do some reading on the
Freakonomics web site
if you're really curious. Suffice it to say there's a major
difference between a counterfeit and a knockoff
. Counterfeit goods are those with someone else's brand name splattered across the item. Think pocketbooks hidden in the blankets on the street corners around Times Square in New York. Most of these phones are clearly labeled with their own unique brand names. Examining the devices up close or after turning them on would explicitly tell any buyer that Goophones aren't made or designed by Apple. All of the hardware and most of the software on the inside of the phone is different as well. So we believe the phones rise to the level of a knockoff which keeps buyers out of hot water. Keep in mind we're talking about
buying
a phone, not
selling
one. Don't even think about reselling them!
To borrow an expression from NASA: "Cupertino. We've got a problem." Before you get too mad at the Chinese, keep in mind that there's plenty of blame to go around. Apple, for one, chose to make their phones in China to save money. While we were writing this article, Google® ads were popping up all over the place for these phones. And, of course, AT&T® and T-Mobile® are perfectly willing to sell you a nano SIM to use in your Goophone even though they could easily block the devices. The parcel delivery companies are more than happy to bring these phones into the U.S. by the boatload. And finally there's this little tidbit in the New York Times article referenced above: "Customs in the United States will allow travelers to bring [in] one counterfeit good per category." Think of it as the "One-Bite Rule" for humans. We're confident that Apple can muster adequate legal talent to attempt to shut down the import of these phones if they chose to do so. But, so far, that hasn't happened. There may be a reason. Ironically, Ubergizmo reports that Goophone actually owns the patent in China and is threatening to sue Apple if the iPhone 5 is released in that country. It seems Goophone beat Apple to the Chinese patent office. So this could get interesting.
We actually ordered the i5c and paid a little more to see if the entire operation was fraudulent. From the photos on the web site, the phone looked similar to both the iPhone and a number of Android® phones. But that could be said of hundreds of phones now on the market. A price point of under $100 was our primary consideration since performance and feature set now are fairly standard on many of the Android phones. This phone just happened to be the cheapest.
The good news is the merchant we chose was legitimate albeit a little slow on delivery (but this particular phone had just been released). Of course, you have no idea what is hidden under the covers, and that applies to the hardware and software. There is no guarantee that the phone won't explode from a sub-par battery. In fact, there is no guarantee, period. The New York Times reports that the typical manufacturing cost for one of these phones is under $40. If you like the NSA snooping on you, then consider the possibilities where all the software in these phones is produced in China. Our takeaway from the experiment was this. The Goophone certainly proves just how inexpensive it is to manufacture a high-quality phone in China when some of the design work appears to have been done elsewhere. 😉
Since we had the phone, a quick review of its capabilities seemed to be in order. Hardware-wise, it appears to be an excellent phone. We would hasten to add that we would never, ever put our trusted credentials for any account in a knockoff phone from China. Nor would we plug it in without being in the room to monitor its condition. At least on the unit we received, the phone easily lasted all day with moderate use, and it never displayed any signs of overheating. After 8 hours, the Goophone showed 85% battery remaining. As delivered, none of the Google apps were available. Nor could they be loaded. That included the Play Store®, Gmail®, and Google Maps®. There also was plenty of Chinese sprinkled throughout the menus just to keep things interesting. GizmoChina reported that a new ROM supporting Google apps and English has been released, and we'll get to that in a minute. But the screenshots of the phone above demonstrate what was possible even with the Chinese model and no Play Store.
As you can see below, the Goophone takes magnificent photos even in panorama mode. The side of our neighbor's home is one of my favorite places to test new cameras because of the difficult morning light situation. With a little cropping and applying a touch of saturation in Photoshop® Elements (about a 10-second task), the end result is pretty spectacular. The displayed image is roughly 20% of the original size of the photograph.
While the phone's icons may look familiar, this is a pure Android Jelly Bean OS running on a 1.2GHz dual-core MediaTek MT6572 processor with 512MB RAM, 4GB ROM (only about 1GB available), and an 8GB internal SD card. It has an 8 megapixel back camera and a 2 megapixel front camera and supports WiFi and 2G/3G GSM cellular connections. Bluetooth® worked reliably and paired easily with a Jambox®. Both AT&T/StraightTalk® and T-Mobile GSM SIMs were plug-and-play although StraightTalk would require modification of the proxy address just as it would on a standard iPhone or Android device. For experimenters, T-Mobile's $2/day pay-as-you-go plan was just about right. It provided unlimited calling, texting, and 2G web access which is more than ample for most of the things you'd want to do with a phone like this. For teenagers on a tight budget, it's pretty close to the best of all worlds. When coupled with a $45/month StraightTalk SIM on the AT&T network, you get a feature-packed phone that looks like a Mercedes® with a price tag like a Volkswagen®. And, for less than the cost of an AppleCare contract, you can buy a spare.

Rooting the device was easy. The YouTube® video above explains the procedure. And the necessary drivers for Windows® are included in the
Samsung USB Drivers Collection for Windows
. You also need the
MT6577 USB VCOM Drivers
to load new ROMs.
We apparently got an early release of the phone because much of the user interface was in Chinese and, as we noted, none of the Google apps worked. So the most difficult part for us was finding the .apk Android apps since Google's Play Store wasn't available. If you have another rooted Android phone, the simple solution is to grab them from a Titanium Backup. HINT: The filenames end in .apk. Be careful downloading .apk files from strange web sites. That's about as safe as loading your bank credentials into a Chinese knockoff. All of the apps pictured in the screenshot above work as you would expect. After all, it's an Android phone. POP3 and IMAP email accounts work fine. The cameras are great including movies and HDR. Skype® video works fine. Zoiper® IAX connections are terrific when linked back to an Asterisk® or VoIP.ms account. Music collections can be loaded using a USB connection to any Mac or Windows machine. Or plug in some earplugs and listen to your favorite FM radio station just like in the old days. For diehard music, sports, and talk radio fans, SiriusXM® Internet Radio works as well. The .apk is available in this thread.
As you might expect, communication with the manufacturer was difficult, but they were responsive. After considerable back and forth, we did manage to secure the newer ROM with Play Store support. Presumably, it is now shipping in phones destined for the United States. To actually load the new ROM, you need version 3.1312 of the Smart Phone Flash Tool. Once that's installed on your Windows desktop, you can follow along with this tutorial to get the new ROM loaded into the phone. The sequence of events in using SP_Flash_Tool matters. Unzip the new ROM into a new folder on your desktop. Turn off your i5c and unplug it from the USB cable if it is connected to your Windows machine. Then run Flash_tool.exe from the SP_Flash_Tool folder on your desktop. Choose File -> Open Scatter-loading File and select MT6572_Android_scatter.txt from the folder with the unzipped new ROM. Click the Download button. Now plug in your phone using a USB cable connected to your PC. Do NOT turn on the phone. If you've properly loaded the MT6577 USB VCOM Drivers from above, the update should proceed within a few seconds, and you'll see the progress bar changing colors in the flash tool application. It takes about 2 minutes to load the new ROM. Once you get the Download OK dialog box, unplug the phone and close the flash tool app. Before turning on the phone, be sure you've inserted a SIM card from either T-Mobile or AT&T/StraightTalk, or the phone will boot into Chinese (permanently) when you turn it on. Guess how we know? Now hold down the Power and Home buttons simultaneously for 10 seconds. Release the buttons and power on the phone in the usual way by pressing the Power button for a few seconds.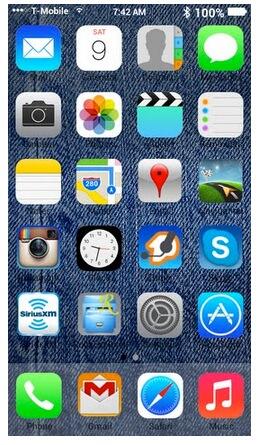 Just a couple more gotchas, and you should be good to go. First, DO NOT USE GOOGLE CREDENTIALS IN THIS PHONE THAT MATTER TO YOU! Based upon the performance of the browser using a very fast WiFi connection, our testing suggests that all browser activity and perhaps other activity (WiFi and GSM) may be routed through a proxy. Guess where? Second, do not use a Google account with two-factor authentication. It won't work. Third, we've had excellent results with Zoiper IAX connections to an Asterisk server, but the setup is problematic. The Zoiper keyboard for data entry doesn't have a period on it. Keyboards shown for other apps include the period so this is a Zoiper-specific problem, not an inherent limitation of the phone. To enter the IP address or FQDN of a host with Zoiper, you'll need to send an email to the phone with the information. Open Gmail or your other mail client and copy the text to the phone's clipboard. Then set up your Zoiper account. A long press on the host field will let you paste in the appropriate data. If you experience compatibility errors that prevent loading certain apps from the Play Store (Instagram is one example), then you'll need to root your phone and load App Override from the Play Store. Then tell the app to override Play Store install restrictions. Finally, wade through the notification settings for the apps and reset them. After that, notifications worked as expected. GPS still no worky.
We did a quick-and-dirty video on YouTube to show off our CallWho™ Speech-to-Text Dialer coupled with SMS messaging and GoIP to test the message capabilities of the iPhone 5c and the i5c. CallWho is included as a standard feature using Incredible PBX 11™ with PBX in a Flash™. Enjoy!

---
iGoogle Added to Google Graveyard. Google has added (yet another) corpse to the Google Graveyard. This time it's iGoogle, the need for which (according to Google) "has eroded over time." The iGoogle demise also means that Nerd Vittles TTS Google News Feed bit the dust. As much as we're troubled to admit it, it would appear that Microsoft got it just about right in their spoof:

For the complete list of Google carnage, see
last week's Nerd Vittles article
. Just in TTS applications for Asterisk, we've lost phone directories, sports scores, weather reports, and now news feeds. Can stock listings be far behind? And, coming next week, Google's JavaScript Maps API gets put out to pasture. Then, of course, there are the text-to-speech and speech-to-text tools themselves. Wouldn't make any long term plans using those platforms or any other Google platform for that matter. For those (formerly) enjoying the
Nerd Vittles text-to-speech Google apps
or Incredible PBX, this means that dialing 951 now returns "From, from, from" as the latest news headlines. There's a simple fix that now is available. We've replaced Google News with Yahoo News! To replace the news app, simply run this
update script
.
---
Banner Day at Nerd Vittles. Today we're delighted to announce that we've logged over 200,000 unique visitors from the United States this year alone! And we're especially pleased to now have fans visiting from 216 countries. Thank you!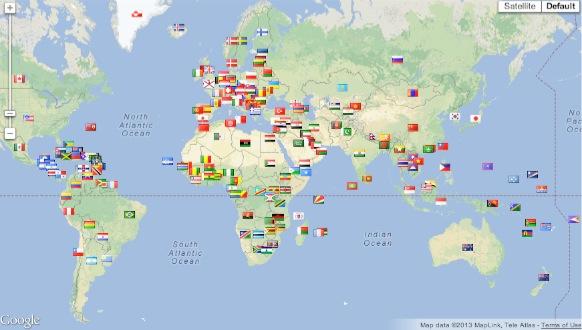 Tweet
Originally published: Monday, November 11, 2013
---

Need help with Asterisk? Visit the PBX in a Flash Forum.

---
Special Thanks to Our Generous Sponsors

FULL DISCLOSURE: ClearlyIP, Skyetel, Vitelity, DigitalOcean, Vultr, VoIP.ms, 3CX, Sangoma, TelecomsXchange and VitalPBX have provided financial support to Nerd Vittles and our open source projects through advertising, referral revenue, and/or merchandise. As an Amazon Associate and Best Buy Affiliate, we also earn from qualifying purchases. We've chosen these providers not the other way around. Our decisions are based upon their corporate reputation and the quality of their offerings and pricing. Our recommendations regarding technology are reached without regard to financial compensation except in situations in which comparable products at comparable pricing are available from multiple sources. In this limited case, we support our sponsors because our sponsors support us.


BOGO Bonaza: Enjoy state-of-the-art VoIP service with a $10 credit and half-price SIP service on up to $500 of Skyetel trunking with free number porting when you fund your Skyetel account. No limits on number of simultaneous calls. Quadruple data center redundancy. $25 monthly minimum spend required. Tutorial and sign up details are here.


The lynchpin of Incredible PBX 2020 and beyond is ClearlyIP components which bring management of FreePBX modules and SIP phone integration to a level never before available with any other Asterisk distribution. And now you can configure and reconfigure your new Incredible PBX phones from the convenience of the Incredible PBX GUI.


VitalPBX is perhaps the fastest-growing PBX offering based upon Asterisk with an installed presence in more than 100 countries worldwide. VitalPBX has generously provided a customized White Label version of Incredible PBX tailored for use with all Incredible PBX and VitalPBX custom applications. Follow this link for a free test drive!



Special Thanks to Vitelity. Vitelity is now Voyant Communications and has halted new registrations for the time being. Our special thanks to Vitelity for their unwavering financial support over many years and to the many Nerd Vittles readers who continue to enjoy the benefits of their service offerings. We will keep everyone posted on further developments.

---
---
Some Recent Nerd Vittles Articles of Interest…