Incredible Fax 2020 for the Raspberry Pi was the final missing piece in our 2020 rollout, and today we're pleased to introduce it. Incredible Fax 2020 provides fax detection on incoming calls, email deliveries of incoming faxes in PDF format, and the ability to send faxes with attachments from the convenience of your favorite web browser. And, as with every Incredible PBX 2020 platform, all of the software is FREE.
Installation of Incredible Fax 2020 on the Raspbian platform is pretty simple. Just issue the following commands to put all the pieces in place and run the HylaFax and AvantFax installers. Before faxes can actually be delivered in PDF format, you obviously need outbound emails working on your Raspberry Pi. We'll cover that in the next section. Before incoming faxes can be detected on Inbound Routes for your trunks, you'll need to set that up in FreePBX®. We'll cover that below as well.
Installing Incredible Fax 2020 for Raspbian 10
Let's begin by installing the Incredible Fax 2020 software. Log into the Linux command line interface as root using SSH or Putty. Then execute the following commands:

cd /root
rm -f incrediblefax*
wget http://incrediblepbx.com/incrediblefax2020-raspi.tar.gz
tar zxvf incrediblefax2020-raspi.tar.gz
rm -f incrediblefax2020-raspi.tar.gz
./incrediblefax2020-raspi.sh
fwconsole ma downloadinstall fax
fwconsole reload

Once the HylaFax/AvantFax install begins, press the ENTER key about a dozen times to accept all of the defaults during the install procedure. Then reboot your server.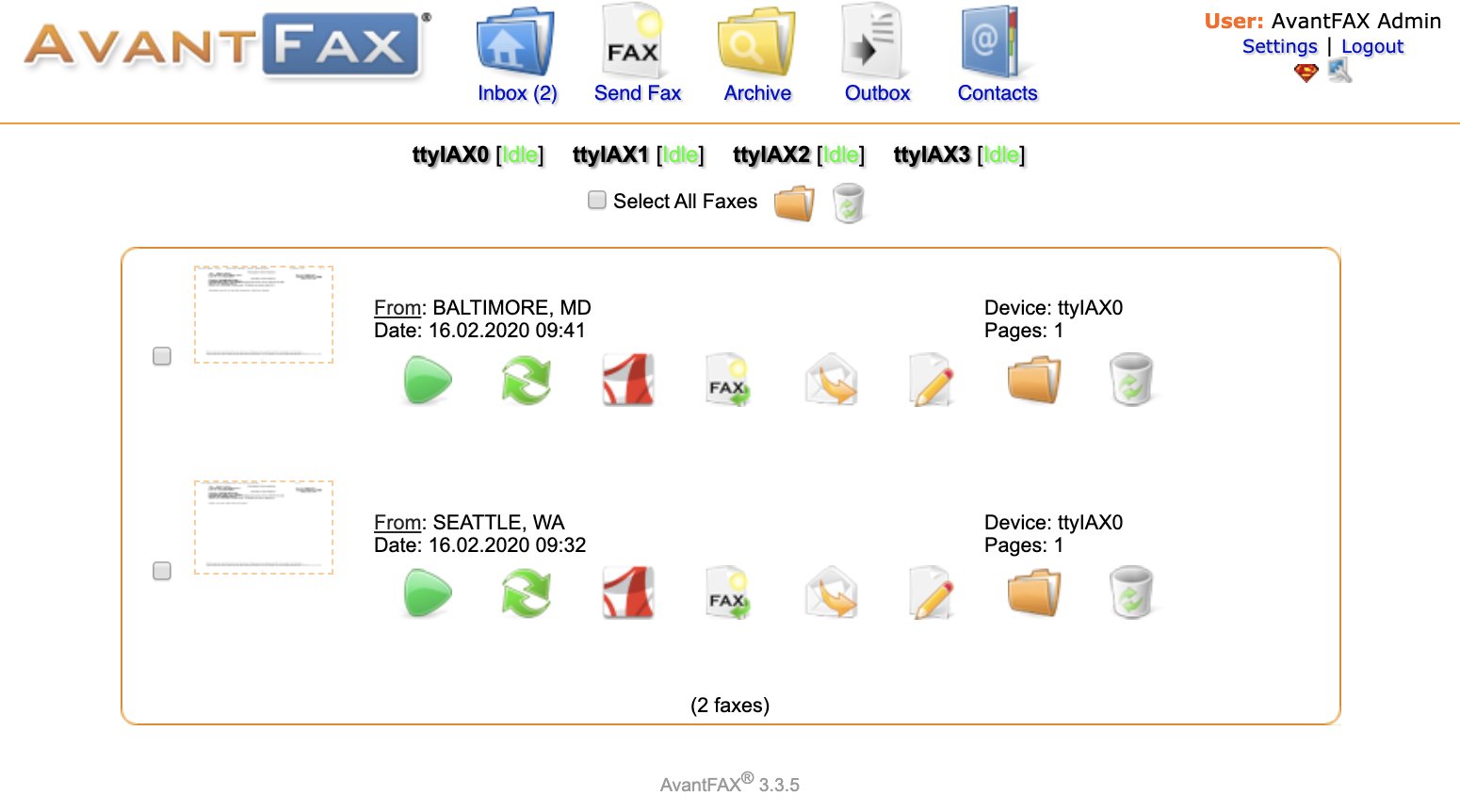 Configuring Gmail as Exim Smart Relay Host
Most Raspberry Pi implementations will be on networks managed by companies like Comcast, Spectrum, and AT&T that block downstream mail servers (that's you) from sending email. The solution is to use Gmail or your local ISP as a smart relay host to send mail from your server. You'll need this to deliver voicemails and faxes via email. Here's how to set it up using a Gmail account without two-step authentication. Log into your server as root and run dpkg-reconfigure exim4-config. Choose "mail sent by smarthost; received via SMTP or fetchmail." Accept all the defaults until you get to Outgoing Smarthost prompt. Enter: smtp.gmail.com::587. At the following prompts, choose NO, NO, mbox, and NO. When the setup completes, edit /etc/exim4/passwd.client and insert the following line using your Gmail AcctName and AcctPW. NOTE: If you are using a Gmail account with 2-step verification enabled, you MUST use a Gmail App Key instead of your Gmail account password. You also must enable Less Secure Apps access to your Gmail account.

smtp.gmail.com:AcctName@gmail.com:AcctPW

Save the file and then issue the following commands to complete the setup:

update-exim4.conf
systemctl restart exim4
exim4 -qff

Now send yourself a test email message to make sure things are working properly:

echo "test" | mail -s testmessage yourname@yourmailprovider.com

Configuring Inbound Routes for Fax Detection
Not all VoIP trunks support fax transmission, e.g. Vitelity. Assuming yours do and you'll only know by trial and error, here's how to configure FreePBX to automatically detect incoming faxes and process them for PDF delivery by email.
Edit each of your Inbound Routes. Under the Fax tab, enter the following settings:

Detect Faxes: YES
Fax Detection Type: SIP
Fax Ring: YES
Fax Detect Time: 4
Fax Destination: Custom Destinations -> Fax (Hylafax)

Managing Faxes with AvantFax
You can manage your incoming and outgoing faxes using AvantFax. Click on the AvantFax tab in FreePBX to access it. The default credentials are admin:password. When you first access AvantFax with a browser, you may get a missing page error. Just press the back arrow key in your browser and the AvantFax main page will appear.
If you want to change the admin password for AvantFax, log into your server as root with SSH/Putty and issue the command: /root/avantfax-pw-change.
Send yourself a fax at no cost in the United States from FaxZero. Enjoy!
Originally published: Tuesday, February 25, 2020
---

Need help with Asterisk? Visit the VoIP-info Forum.

---
Special Thanks to Our Generous Sponsors

FULL DISCLOSURE: ClearlyIP, Skyetel, Vitelity, DigitalOcean, Vultr, VoIP.ms, 3CX, Sangoma, TelecomsXchange and VitalPBX have provided financial support to Nerd Vittles and our open source projects through advertising, referral revenue, and/or merchandise. As an Amazon Associate and Best Buy Affiliate, we also earn from qualifying purchases. We've chosen these providers not the other way around. Our decisions are based upon their corporate reputation and the quality of their offerings and pricing. Our recommendations regarding technology are reached without regard to financial compensation except in situations in which comparable products at comparable pricing are available from multiple sources. In this limited case, we support our sponsors because our sponsors support us.


BOGO Bonaza: Enjoy state-of-the-art VoIP service with a $10 credit and half-price SIP service on up to $500 of Skyetel trunking with free number porting when you fund your Skyetel account. No limits on number of simultaneous calls. Quadruple data center redundancy. $25 monthly minimum spend required. Tutorial and sign up details are here.


The lynchpin of Incredible PBX 2020 and beyond is ClearlyIP components which bring management of FreePBX modules and SIP phone integration to a level never before available with any other Asterisk distribution. And now you can configure and reconfigure your new Incredible PBX phones from the convenience of the Incredible PBX GUI.


VitalPBX is perhaps the fastest-growing PBX offering based upon Asterisk with an installed presence in more than 100 countries worldwide. VitalPBX has generously provided a customized White Label version of Incredible PBX tailored for use with all Incredible PBX and VitalPBX custom applications. Follow this link for a free test drive!



Special Thanks to Vitelity. Vitelity is now Voyant Communications and has halted new registrations for the time being. Our special thanks to Vitelity for their unwavering financial support over many years and to the many Nerd Vittles readers who continue to enjoy the benefits of their service offerings. We will keep everyone posted on further developments.

---
---