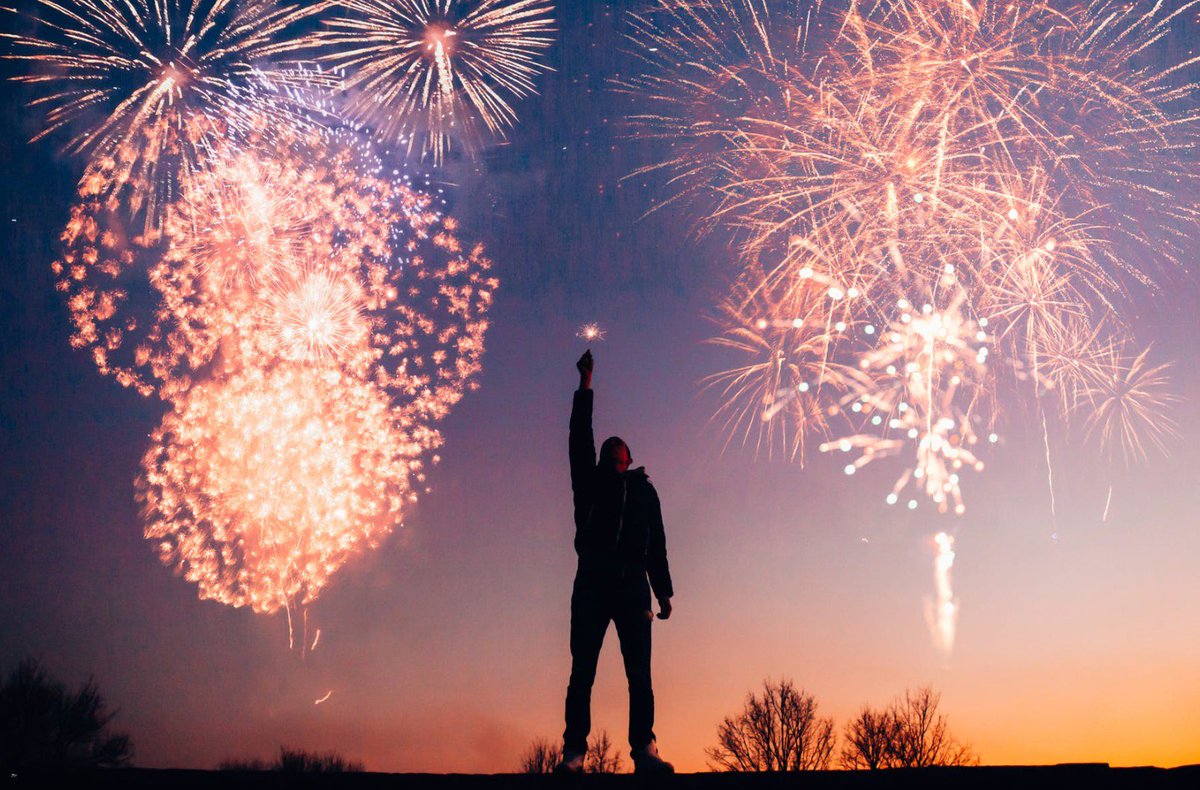 We had a banner week with the introduction of
Incredible PBX® LITE for Raspbian 10
. What we heard privately from many users was that they'd always wanted a turnkey PBX that was preconfigured to make and receive calls. The irony of offering this platform without the FreePBX® GUI to celebrate Independence Day was not lost on many of our savvy supporters. And, while the bells and whistles were icing on the cake, many simply wanted a flexible VoIP platform that didn't require going back to college. This week we're upping the ante by introducing a similar Incredible PBX LITE platform for CentOS® 7 with a few major enhancements. First, you get the new Asterisk® 16 LTS version which will keep you chugging along with bug fixes and security updates for the next 4+ years. Second, we've replaced FLITE with PicoTTS for a much improved (free) text-to-speech platform. And finally, we've added WebMin and all the other Incredible PBX components that make Incredible PBX incredible. Will there be a new release of Incredible PBX 16 with the FreePBX GUI modules? Absolutely. And there may be a few, new surprises along the way as well. Stay tuned!
What's Included? Despite its name, Incredible PBX LITE still serves up a VoIP powerhouse featuring Asterisk 16, an Apache web server, the latest MariaDB SQL server (formerly MySQL), SendMail, and most of the Incredible PBX feature set including SIP, SMS, Opus, voice recognition, PicoTTS Text-to-Speech VoIP applications plus fax support, Click-to-Dial, News, Weather, Reminders, and hundreds of features that typically are found in commercial PBXs: Conferencing, IVRs and AutoAttendants, Email Delivery of Voicemail, and much more.
What's Missing? We've removed the entire FreePBX GUI platform while retaining most of its design engineering and feature set. We've also eliminated the need to run a web server or database server although they're still there. And gone are the days of having to configure extensions and trunks as well as inbound and outbound routes before you can actually use your PBX to make your first call. The tradeoff is a noticeable performance improvement.
Choosing a SIP Provider. Incredible PBX LITE comes preconfigured to support five SIP extensions and four of the major SIP providers: Skyetel, VoIP.ms, V1VoIP, and Anveo Direct. We obviously hope you'll choose Skyetel not only because they financially support Nerd Vittles and our open source projects, but also because it is a clearly superior platform offering crystal-clear communications and triple-redundancy so you never miss a call. Skyetel also sets itself apart from the other providers in the support department. They actually respond to issues, and there's never a charge. As the old saying goes, they may not be the cheapest, but you get what you pay for. Even without taking advantage of Nerd Vittles half-price offer on up to $500 of Skyetel services, they're still dirt cheap compared to the Bell Sisters and cable companies. Traditional DIDs are $1 per month. Outbound conversational calls are $0.012 per minute. Incoming conversational calls are a penny a minute, and CallerID lookups are $0.004. With all four providers, you only pay for minutes you use. Using more than one is a good idea.
Choosing a Platform for Incredible PBX 16 LITE
As with our other open source offerings, the platform choice for Incredible PBX 16 LITE depends upon a number of factors. For most folks, you'd be crazy to go out and purchase hardware to use in your home or office when cloud-based platforms are available for about a dollar a month. Unless you plan to publicly expose your server on the Internet to facilitate remote SIP connections, the OpenVZ offerings below are perfectly adequate while in business with the cautionary note that you need off-site backups AND a tested backup plan. Three providers previously listed have closed their doors in 2019. You've been warned.
Installing Incredible PBX 16 LITE with CentOS 7
If you've installed previous iterations of Incredible PBX, today's drill is similar. Here is a thumbnail sketch of the install procedure for Incredible PBX 16 LITE. Begin by installing a minimal CentOS 7 (64-bit) platform or pick the CentOS 7 option with 1GB RAM and 20GB of storage from your cloud provider's menu of choices. Then log into your server as root and issue the following commands:

passwd
yum -y update
yum -y install net-tools nano wget tar
wget http://incrediblepbx.com/incrediblepbx-16-LITE.tar.gz
tar zxvf incrediblepbx-16-LITE.tar.gz
rm -f incrediblepbx-16-LITE.tar.gz
# to add swap file on non-OpenVZ cloud platforms with no swap file
./create-swapfile-DO
# kick off Phase I install
./IncrediblePBX16-LITE.sh
# after reboot, kick off Phase II install
./IncrediblePBX16-LITE.sh
# add HylaFax/AvantFax, if desired
./incrediblefax13.sh
# set desired timezone
./timezone-setup
# set new extension passwords
./reset-extension-passwords
# remember to enable TUN/TAP if using VPS Control Panel with OpenVZ
# reconfigure PortKnocker if installing on an OpenVZ platform
echo 'OPTIONS="-i venet0:0"' >> /etc/sysconfig/knockd
service knockd restart
# set up NeoRouter VPN client, if desired
nrclientcmd
# check network speed
wget -O speedtest-cli https://raw.githubusercontent.com/sivel/speedtest-cli/master/speedtest.py
chmod +x speedtest-cli
./speedtest-cli

Planning Ahead for That Rainy Day
If you haven't already learned the hard way, let us save you from a future shock. Hardware fails. All of it. So spend an extra hour now so that you'll be prepared when (not if) disaster strikes. First, once you have your new PBX configured the way you plan to use it, make a backup of your PBX by running the Incredible Backup script: /root/incrediblebackup13
Copy down the name of the backup file that was created. You'll need it in a few minutes.
Second, build yourself an identical VirtualBox platform on your desktop PC. It's the same steps as outlined above.
Next, create a /backup folder on your VirtualBox PBX and copy the backup file from your main server to your VirtualBox server and restore it after logging in to VirtualBox PBX as root:

mkdir /backup
scp root@main-pbx-ip-address:/backup/backup-file-name.tar.gz /backup/.
/root/incrediblerestore13 /backup/backup-file-name.tar.gz

Complaints that you "forgot" to make a backup and your hardware has failed or your provider has gone out of business are not welcomed. We're sorry for your loss. Case closed.
Completing the Incredible PBX Setup Procedure
Unless your desktop PC and server are both on the same private LAN, the install procedure should be performed from a desktop PC using SSH or Putty. This will insure that your desktop PC is also whitelisted in the Incredible PBX firewall. Using the console to perform the install is NOT recommended as your desktop PC will not be whitelisted in the firewall. This may result in your not being able to log in to your server. Once you have network connectivity, log in to your server as root from a desktop PC using your root password. Accept the license agreement by pressing ENTER.
Kick off the Phase I install. Once your server reboots and you log back in as root, start the Phase II install. All of your passwords will be randomly assigned with the exception of the root user Linux password. You can set it at any time by issuing the command: passwd. With the exception of your root user password, the remaining passwords can be displayed using the command: /root/show-passwords.
Finally, if your PBX is sitting behind a NAT-based router, you'll need to redirect incoming UDP 5060 and UDP 10000-20000 traffic to the private IP address of your PBX. This is required for all of the SIP providers included in the Incredible PBX LITE build. Otherwise, all inbound calls will fail.
Configuring Skyetel for Incredible PBX 16 LITE
If you've decided to go with Skyetel, here's the drill. Sign up for Skyetel service and take advantage of the Nerd Vittles BOGO special. First, complete the Prequalification Form here. You then will be provided a link to the Skyetel site to complete your registration. Once you have registered on the Skyetel site and your account has been activated, open a support ticket and request the BOGO credit for your account by referencing the Nerd Vittles special offer. Skyetel will match your deposit of up to $250 which gets you up to $500 of helf-price calling. Credit is limited to one per person/company/address/location. Effective 10/1/2023, $25/month minimum spend required.
Skyetel does not use SIP registrations to make connections to your PBX. Instead, Skyetel utilizes Endpoint Groups to identify which servers can communicate with the Skyetel service. An Endpoint Group consists of a Name, an IP address, a UDP or TCP port for the connection, and a numerical Priority for the group. For incoming calls destined to your PBX, DIDs are associated with an Endpoint Group to route the calls to your PBX. For outgoing calls from your PBX, a matching Endpoint Group is required to authorize outbound calls through the Skyetel network. Thus, the first step in configuring the Skyetel side for use with your PBX is to set up an Endpoint Group. Here's a typical setup for Incredible PBX LITE:
Name: MyPBX
Priority: 1
IP Address: PBX-Public-IP-Address
Port: 5060
Protocol: UDP
Description: lite1.incrediblepbx.com
To receive incoming PSTN calls, you'll need at least one DID. On the Skyetel site, you acquire DIDs under the Phone Numbers tab. You have the option of Porting in Existing Numbers (free for the first 60 days after you sign up for service) or purchasing new ones under the Buy Phone Numbers menu option.
Once you have acquired one or more DIDs, navigate to the Local Numbers or Toll Free Numbers tab and specify the desired SIP Format and Endpoint Group for each DID. Add SMS/MMS and E911 support, if desired. Call Forwarding and Failover are also supported. That completes the VoIP setup on the Skyetel side. System Status is always available here.
Configuring VoIP.ms for Incredible PBX LITE
To sign up for VoIP.ms service, may we suggest you use our signup link so that Nerd Vittles gets a referral credit for your signup. Once your account is set up, you'll need to set up a SIP SubAccount and, for Authentication Type, choose Static IP Authentication and enter your Incredible PBX LITE server's public IP address. For Transport, choose UDP. For Device Type, choose Asterisk, IP PBX, Gateway or VoIP Switch. Order a DID in their web panel, and then point the DID to the SubAccount you just created. Be sure to specify atlanta1.voip.ms as the POP from which to receive incoming calls.
Configuring V1VoIP for Incredible PBX LITE
To sign up for V1VoIP service, sign up on their web site. Then login to your account and order a DID under the DIDs tab. Once the DID has been assigned, choose View DIDs and click on the Forwarding button beside your DID. For Option #1, choose Forward to IP Address/PBX. For the Fowarding Address, enter the public IP address of your server. For the T/O (timeout) value, set it to 2o seconds. Then click the Update button. Under the Termination tab, create a new Endpoint with the public IP address of your server so that you can place outbound calls through V1VoIP.
Configuring Anveo Direct for Incredible PBX LITE
To sign up for Anveo Direct service, sign up on their web site and then login. After adding funds to your account, purchase a DID under Inbound Service -> Order DID. Next, choose Configure Destination SIP Trunk. Give the Trunk a name. For the Primary SIP URI, enter $[E164]$@server-IP-address. For Call Options, select your new DID from the list. You also must whitelist your public IP address under Outbound Service -> Configure. Create a new Call Termination Trunk and name it to match your server. For Dialing Prefix, choose six alphanumeric characters beginning with a zero. In Authorized IP Addresses, enter the public IP address of your server. Set an appropriate rate cap. We like $0.01 per minute to be safe. Set a concurrent calls limit. We like 2. For the Call Routing Method, choose Least Cost unless you're feeling extravagant. For Routes/Carriers, choose Standard Routes. Write down your Dialing Prefix and then click the Save button.
Before you can make outbound calls through Anveo Direct from your PBX, you first must configure the Dialing Prefix that you wrote down in the previous step. Newer downloads include an add-anveo-pin script to update your PIN in Incredible PBX. If you don't have the script, login to your server as root and use nano to edit extensions_additional.conf in the /etc/asterisk directory. Search (Ctl-W) for anveo-pin and replace anveo-pin with the 6-digit alphanumeric PIN for your account. Press Ctrl-X, Y, then Enter to save your settings. Reload your dialplan with the command: asterisk -rx "dialplan reload"
Configuring a Softphone for Incredible PBX LITE
We're in the home stretch now. You can connect virtually any kind of telephone to your new PBX. Plain Old Phones require an analog telephone adapter (ATA) which can be a separate board in your computer from a company such as Digium. Or it can be a standalone SIP device such as ObiHai's OBi100 or OBi110 (if you have a phone line from Ma Bell to hook up as well). SIP phones can be connected directly so long as they have an IP address. These could be hardware devices or software devices such as the YateClient softphone. We'll start with a free one today so you can begin making calls. You can find dozens of recommendations for hardware-based SIP phones both on Nerd Vittles and the PIAF Forum when you're ready to get serious about VoIP telephony.
We recommend YateClient which is free. Download it from here. Run YateClient once you've installed it and enter the credentials for the 701 extension on Incredible PBX. You can find them by running /root/show-passwords. You'll need the IP address of your server plus your extension 701 password. In the YateClient, fill in the blanks using the IP address of your Server, 701 for your Username, and whatever Password was assigned to the extension when you installed Incredible PBX. Click OK to save your entries.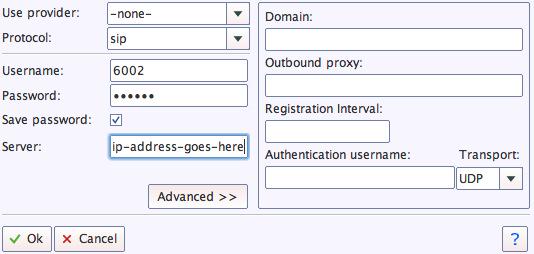 Once you are registered to extension 701, close the Account window. Then click on YATE's Telephony Tab and place some test calls to the numerous apps that are preconfigured on Incredible PBX. Dial a few of these to get started:
DEMO - Apps Demo
123 - Reminders
947 - Weather by ZIP Code
951 - Yahoo News
TODAY - Today in History
LENNY - The Telemarketer's Worst Nightmare

If you are a Mac user, another great no-frills softphone is Telephone. Just download and install it from the Mac App Store.
Audio Issues with Incredible PBX LITE
Only if you experience one-way or no audio on some calls, add your external IP address and LAN subnet in /etc/asterisk/sip_general_custom.conf like the following example:

nat=force_rport,comedia
externip=xxx.xxx.xxx.xxx
localnet=192.168.0.0/255.255.0.0 

Then issue the following commands:

sed -i 's|nat=no|nat=force_rport,comedia|' /etc/asterisk/sip_additional.conf
systemctl restart asterisk

Displaying Formatted CDR Data
By default, web access is limited to whitelisted IP addresses so it's safe to access your Call Detail Report (CDR) using a browser. Unfortunately, the only browser that currently handles this with automatic formatting is Firefox. To begin, install the FireCSV extension in Firefox. Next, log in to your server as root and change to the /var/www/html folder. Issue the command ln -s /var/log/asterisk/cdr-csv/Master.csv mycdr.csv to create a symlink to your CSV data. Now you can access your CDR data with Firefox by navigating to http://server-ip/mycdr.csv.
There's also a simple way to display CSV files from the Linux command line using this tip from StackOverflow:

column -s, -t < /var/log/asterisk/cdr-csv/Master.csv | less -#2 -N -S

Incredible PBX LITE Administration
We've eased the pain of administering your new PBX with a collection of scripts which you will find in the /root folder after logging in with SSH or Putty. Here's a quick summary of what each of the scripts does.
add-fqdn is used to whitelist a fully-qualified domain name in the firewall. Because Incredible PBX LITE blocks all traffic from IP addresses that are not whitelisted, this is what you use to authorize an external user for your PBX. The advantage of an FQDN is that you can use a dynamic DNS service to automatically update the IP address associated with an FQDN so that you never lose connectivity.
add-ip is used to whitelist a public IP address in the firewall. See the add-fqdn explanation as to why this matters.
del-acct is used to remove an IP address or FQDN from the firewall's whitelist.
add-anveo-pin is used to add or update your Anveo Direct outbound calling PIN.
reset-conference-pins is a script that automatically and randomly resets the user and admin pins for access to the preconfigured conferencing application. Dial C-O-N-F from any registered SIP phone to connect to the conference.
reset-extension-passwords is a script that automatically and randomly resets ALL of the SIP passwords for extensions 701-705. Be careful using this one, or you may disable existing registered phones and cause Fail2Ban to blacklist the IP addresses of those users. HINT: You can place a call to the Ring Group associated with all five extensions by dialing 777.
reset-reminders-pin is a script that automatically and randomly resets the pin required to access the Telephone Reminders application by dialing 123. It's important to protect this application because a nefarious user could set up a reminder to call a number anywhere in the world assuming your SIP provider's account was configured to allow such calls.
show-feature-codes is a cheat sheet for all of the feature codes which can be dialed from any registered SIP phone. It documents how powerful a platform Incredible PBX 16 LITE actually is.
show-passwords is a script that displays ALL of the passwords associated with Incredible PBX 16 LITE. This includes SIP extension passwords, voicemail pins, conference pins, telephone reminders pin, and your Anveo Direct outbound calling pin (if configured). Note that voicemail pins are configured by the user of a SIP extension the first time the user accesses the voicemail system by dialing *97.
update-IncrediblePBX is the Automatic Update Utility which checks for server updates from incrediblepbx.com every time you log into your server as root using SSH or Putty. Do NOT disable it as it is used to load important fixes and security updates when necessary. We recommend logging into your server at least once a week.
pbxstatus (shown above) displays status of all major components of Incredible PBX 16 LITE.
Call Detail Records available in spreadsheet format at /var/log/asterisk/cdr-csv/Master.csv.
Forwarding Calls to Your Cellphone. Keep in mind that inbound calls to your DIDs automatically ring all five SIP extensions, 701-705. The easiest way to also ring your cellphone is to set one of these five extensions to forward incoming calls to your cellphone. After logging into your PBX as root, issue the following command to forward calls from extension 705 to your cellphone: asterisk -rx "database put CF 705 6781234567"
To remove call forwarding: asterisk -rx "database del CF 705"
Originally published: Monday, July 8, 2019
---

Need help with Asterisk? Visit the VoIP-info Forum.

---
Special Thanks to Our Generous Sponsors

FULL DISCLOSURE: ClearlyIP, Skyetel, Vitelity, DigitalOcean, Vultr, VoIP.ms, 3CX, Sangoma, TelecomsXchange and VitalPBX have provided financial support to Nerd Vittles and our open source projects through advertising, referral revenue, and/or merchandise. As an Amazon Associate and Best Buy Affiliate, we also earn from qualifying purchases. We've chosen these providers not the other way around. Our decisions are based upon their corporate reputation and the quality of their offerings and pricing. Our recommendations regarding technology are reached without regard to financial compensation except in situations in which comparable products at comparable pricing are available from multiple sources. In this limited case, we support our sponsors because our sponsors support us.


BOGO Bonaza: Enjoy state-of-the-art VoIP service with a $10 credit and half-price SIP service on up to $500 of Skyetel trunking with free number porting when you fund your Skyetel account. No limits on number of simultaneous calls. Quadruple data center redundancy. $25 monthly minimum spend required. Tutorial and sign up details are here.


The lynchpin of Incredible PBX 2020 and beyond is ClearlyIP components which bring management of FreePBX modules and SIP phone integration to a level never before available with any other Asterisk distribution. And now you can configure and reconfigure your new Incredible PBX phones from the convenience of the Incredible PBX GUI.


VitalPBX is perhaps the fastest-growing PBX offering based upon Asterisk with an installed presence in more than 100 countries worldwide. VitalPBX has generously provided a customized White Label version of Incredible PBX tailored for use with all Incredible PBX and VitalPBX custom applications. Follow this link for a free test drive!



Special Thanks to Vitelity. Vitelity is now Voyant Communications and has halted new registrations for the time being. Our special thanks to Vitelity for their unwavering financial support over many years and to the many Nerd Vittles readers who continue to enjoy the benefits of their service offerings. We will keep everyone posted on further developments.

---
---