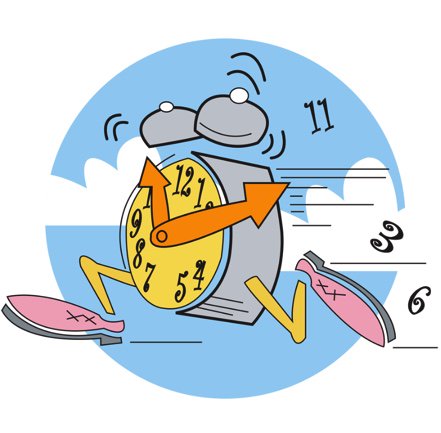 So you're in a hurry and need a quick way to remind yourself of an upcoming appointment. With Siri or your Apple Watch, you can say "Hey Siri, set an alarm for 9 a.m." On an Android phone, just say "OK Google, set an alarm for 9 a.m." And with the Amazon Echo, shout out "Alexa, set an alarm for 9 a.m." But, hey, everyone doesn't have a fancy smartphone or an Echo. Besides that, they're not always convenient.
If you have Incredible PBX™ for Asterisk® or XiVO® running in your home or office, it's even easier. Just pick up any phone and dial *88 plus the time for the alarm using "military time." Dialing *880900 will set an alarm for 9 a.m. and *882100 will set an alarm for 9 p.m. If it's already later than 9 a.m. when you dial *880900, then the alarm will be set for the following morning at 9 a.m. Doesn't get any easier than that.
As we mentioned, this new application is primarily for Incredible PBX users, but it will work with any Asterisk server if you have previously installed Telephone Reminders. The Telephone Reminders app is included in all previous releases of Incredible PBX for XiVO, PBX in a Flash, Elastix, CentOS, Scientific Linux, Ubuntu, Debian, and even the Raspberry Pi.
Installing Incredible PBX Alarm Clock on the XiVO Platform
If you're already using our latest Incredible PBX creation for the XiVO platform, then installation of the Alarm Clock application is a one-minute procedure. If you downloaded Incredible PBX for XiVO after July 13, the Alarm Clock application already is included. Otherwise, log into your server as root and issue the following commands:

cd /root
wget http://incrediblepbx.com/alarms-xivo.sh
chmod +x alarms-xivo.sh
./alarms-xivo.sh

Installing Incredible PBX Alarm Clock on the Other Platforms
As we mentioned, the Alarm Clock application requires an existing setup of Incredible PBX with Telephone Reminders on any of the following platforms: PBX in a Flash, Elastix, CentOS, Scientific Linux, Ubuntu, Debian, or Raspbian for the Raspberry Pi. If you're using any of these Incredible PBX platforms, simply log into your server as root and issue the following commands to get the Alarm Clock application installed and configured:

cd /
wget http://incrediblepbx.com/alarms4incredible.tar.gz
tar zxvf alarms4incredible.tar.gz
rm -f alarms4incredible.tar.gz
cd /root
./alarms4incredible.sh

A Quick Introduction to Military Time for All of Our Civilian Friends
"Military time" means the day begins at 0001 for 12:01 a.m. The morning ends at 1159 for 11:59 a.m. For P.M. times, they start at 1200 for noon and end at 2359 for 11:59 p.m. Now's your chance to play soldier in case you missed the draft. Enjoy!
Taking the Incredible PBX Alarm Clock for a Spin
Once you've got the Alarm Clock application in place, it's time for a test drive. Check your watch for the current time and add 2 minutes. Convert the time to military time. Then pick up any phone connected to your PBX and dial *88 plus the four-digit number for the alarm time you calculated. Remember, if you choose a time that has already come and gone for today, your alarm will be scheduled for the corresponding time tomorrow so don't cut it too close if your watch doesn't keep perfect time.
For those wanting to learn how to write Asterisk dialplan code, now is a perfect time. The Alarm Clock application was written without a single line of code from any high-level language including PHP. On the XiVO platform, you'll find the code at the bottom of /etc/asterisk/extensions_extra.d/xivo-extrafeatures.conf.
On the other Incredible PBX platforms, you'll find the code at the top of /etc/asterisk/extensions_custom.conf. Just search for *88 in the dialplan.
Reviewing Scheduled Alarms with a Web Browser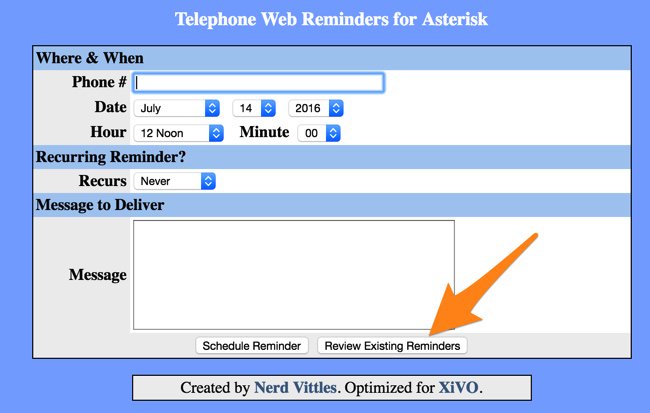 You can use the Telephone Reminders web application at http://IPaddress/reminders to review alarms which you have scheduled using *88. With Incredible PBX, they look just like other Telephone Reminders which you may have scheduled either using a phone by dialing 123 or using the Telephone Reminders web application.
Originally published: Monday, July 18, 2016
---
9 Countries Have Never Visited Nerd Vittles. Got a Friend in Any of Them https://t.co/wMfmlhiQ9y #asterisk #freepbx pic.twitter.com/TPFGZbqWB6

— Ward Mundy (@NerdUno) April 22, 2016
---

Need help with Asterisk? Visit the PBX in a Flash Forum.

---
Special Thanks to Our Generous Sponsors

FULL DISCLOSURE: ClearlyIP, Skyetel, Vitelity, DigitalOcean, Vultr, VoIP.ms, 3CX, Sangoma, TelecomsXchange and VitalPBX have provided financial support to Nerd Vittles and our open source projects through advertising, referral revenue, and/or merchandise. As an Amazon Associate and Best Buy Affiliate, we also earn from qualifying purchases. We've chosen these providers not the other way around. Our decisions are based upon their corporate reputation and the quality of their offerings and pricing. Our recommendations regarding technology are reached without regard to financial compensation except in situations in which comparable products at comparable pricing are available from multiple sources. In this limited case, we support our sponsors because our sponsors support us.


BOGO Bonaza: Enjoy state-of-the-art VoIP service with a $10 credit and half-price SIP service on up to $500 of Skyetel trunking with free number porting when you fund your Skyetel account. No limits on number of simultaneous calls. Quadruple data center redundancy. $25 monthly minimum spend required. Tutorial and sign up details are here.


The lynchpin of Incredible PBX 2020 and beyond is ClearlyIP components which bring management of FreePBX modules and SIP phone integration to a level never before available with any other Asterisk distribution. And now you can configure and reconfigure your new Incredible PBX phones from the convenience of the Incredible PBX GUI.


VitalPBX is perhaps the fastest-growing PBX offering based upon Asterisk with an installed presence in more than 100 countries worldwide. VitalPBX has generously provided a customized White Label version of Incredible PBX tailored for use with all Incredible PBX and VitalPBX custom applications. Follow this link for a free test drive!



Special Thanks to Vitelity. Vitelity is now Voyant Communications and has halted new registrations for the time being. Our special thanks to Vitelity for their unwavering financial support over many years and to the many Nerd Vittles readers who continue to enjoy the benefits of their service offerings. We will keep everyone posted on further developments.

---
---
Some Recent Nerd Vittles Articles of Interest…