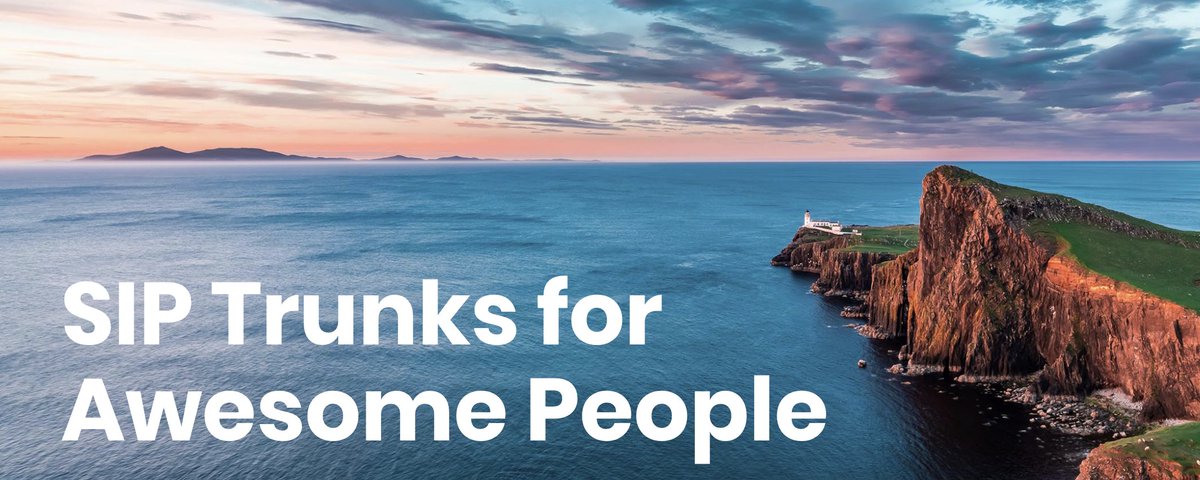 Having been around the block more times than we can remember, suffice it to say it takes a lot to get us excited about a VoIP provider. Let us tick off some criteria to even get our attention: terrific pricing, failsafe reliability, and first class performance. So just imagine our excitement to discover that an early follower of Nerd Vittles now provides one of the most compelling VoIP services we've ever tested with triple redundancy in multiple data centers. And Skyetel now has added what, for some, was the most important piece: support for VoIP servers with dynamic IP addresses. While it's still beta code, it's easy to use and reliable. There's yet another hidden benefit. Incredible PBX coupled with Skyetel makes a perfect platform for redundant servers. We'll cover it in a future article, but here's the basic design.
Let's sweeten the pot a bit more. We were looking for a service provider that could offer a compelling price for the hobbyist and home user while also having the depth to provide millions of minutes to organizations and resellers that actually have such a need. Skyetel now offers Nerd Vittles readers two special offers. First, you can claim a $10 credit for your new account simply by opening a ticket once you sign up. Once you have kicked the tires and are satisfied with the service, you won't want to miss the Nerd Vittles BOGO offer. Skyetel will match your original deposit up to $250. Deposit $50 and Skyetel will double it. Or plan ahead with a $250 deposit and Skyetel will still double it. That translates into $500 of half-price VoIP service! Once you have funded your account with your money, Skyetel will provide free porting of your DIDs for the first 60 days after you open your account plus a 10% reduction in your current origination rate and DID costs by presenting your last month's bill.1 Effective 10/1/2023, $25/month minimum spend required. For resellers and high volume users, document your requirements on your Nerd Vittles signup form and let us put you in touch with someone at Skyetel that will make you a deal you can't refuse. And what does Nerd Vittles get out of this? Glad you asked. We're delighted to have Skyetel as a platinum sponsor to keep the lights burning and the deals flowing for another decade of articles and open source offerings for our dedicated followers.
| Original Skyetel Deposit | Skyetel Deposit Match | Available SIP Service $'s |
| --- | --- | --- |
| $20 | $20 | $40 |
| $50 | $50 | $100 |
| $100 | $100 | $200 |
| $200 | $200 | $400 |
| $250 | $250 | $500 |
We want to also address the elephant in the room. Some have asked about our relationship with Vitelity, a long time sponsor of Nerd Vittles and our open source projects. They're alive and well. However, the company has gone through several acquisitions in the past few years, and their focus now has shifted more to the reseller and wholesale market. ALL EXISTING VITELITY CUSTOMERS ARE UNAFFECTED BY THIS CHANGE IN DIRECTION. And we are more than happy to put new resellers and wholesalers in touch with someone at Vitelity that can address your requirements. The good news is that you'll now have two companies to compare while new home users and small businesses have a viable alternative moving forward.
Skyetel's State-of-the-Art Network Design
Because Skyetel's system architecture is radically different from most other VoIP providers, we wanted to spend a minute documenting their setup. Typically, a VoIP provider may offer a failover server in case their primary server fails. But all calls flow through the primary server unless there is a system failure. As we noted previously, Skyetel's current setup includes three redundant data centers, all of which receive incoming calls while being firewalled from each other. Once you place or receive a call from the Skyetel network, their data center is completely removed from the audio path of the call which flows directly between your server and the outside party. Thus, even if the data center experienced a total system failure in the middle of your call, neither you nor the other party would ever know it. This design also eliminates the potential of a man-in-the-middle attack from your VoIP provider's server.
Skyetel Pricing Overview
This summary is not intended to be an exhaustive listing of all Skyetel services. Follow this link for a complete summary of fees and services. Traditional DIDs are $1 per month. Toll free numbers an additional 20¢ per month. Outbound conversational calls are $0.012 per minute. DIDs can be SMS/MMS enabled for 10¢ per month. E911 service is $1.50 per month. Incoming conversational calls are a penny a minute. CallerID lookups are $0.004 per call. Voicemail transcription is available for 10¢ per message.
Signing Up for Skyetel Service
So here's the drill to sign up for Skyetel service and take advantage of the Nerd Vittles specials. First, complete the Prequalification Form here. You then will be provided a link to the Skyetel site to complete your registration. Once you have registered on the Skyetel site and your account has been activated, open a support ticket and request your free $10 credit to kick the tires. You cannot port in numbers at no cost until you actually fund your account out of your own pocket. Once you have funded your account, open another ticket for the BOGO credit for your account by referencing the Nerd Vittles special offer. You then can initiate your free number porting requests on the portal and request a credit for the porting fees. BOGO credit is limited to one per person/company/address/location. If you want to take advantage of the 10% discount on your current service, attach a copy of your last month's bill. See footnote 1 for the fine print. If you have high call volume requirements, document these in your Prequalification Form, and we will be in touch. Easy Peasy!
For those that may be concerned that one day, after your credit expires, you could be paying a penny a minute for phone calls, let me provide a little Ma Bell history lesson for you. When my roommate and I were in law school, our typical phone bill often exceeded $200 a month because we both had girlfriends a couple hundred miles up the road. In today's dollars, that phone bill translates into roughly $1,200 a month. That would have been 120,000 minutes a month at a penny a minute in today's dollars. So, yes, VoIP is having a profound influence on the AT&T and Verizon Bell Sisters.
Skyetel Endpoint Group Configuration
Unlike many VoIP providers, Skyetel does not use SIP registrations to make connections to your PBX. Instead, Skyetel utilizes Endpoint Groups to identify which servers can communicate with the Skyetel service. An Endpoint Group consists of a Name, an IP address, a UDP or TCP port for the connection, and a numerical Priority for the group. For incoming calls destined to your PBX, DIDs are associated with an Endpoint Group to route the calls to your PBX. For outgoing calls from your PBX, a matching Endpoint Group is required to authorize outbound calls through the Skyetel network. Thus, the first step in configuring the Skyetel side for use with your PBX is to set up an Endpoint Group. A typical setup for use with Incredible PBX®, Asterisk®, or FreePBX® would look like the following:
Name: MyPBX
Priority: 1
IP Address: PBX-Public-IP-Address
Port: 5060
Protocol: UDP
Description: server1.incrediblepbx.com
Skyetel DID Configuration
To receive incoming PSTN calls, you'll need at least one DID. On the Skyetel site, you acquire DIDs under the Phone Numbers tab. You have the option of Porting in Existing Numbers (free for the first 60 days after you sign up for service) or purchasing new ones under the Buy Phone Numbers menu option.
Once you have acquired one or more DIDs, navigate to the Local Numbers or Toll Free Numbers tab and specify the desired SIP Format and Endpoint Group for each DID. Add SMS/MMS and E911 support, if desired. Call Forwarding and Failover are also supported. That completes the VoIP setup on the Skyetel side. System Status is always available here.
Incredible PBX Firewall Setup for Skyetel
The Travelin' Man 3 firewall included with all Incredible PBX platforms limits access to your server based upon whitelisted IP addresses of outside providers and users. In order to receive calls from the multiple Skyetel data centers, the following entries need to be included in the whitelist of your PBX. For new installs of Incredible PBX 13-13 for CentOS, the entries already are included. Otherwise, issue the following commands from the Linux CLI and choose the 0 option using the add-ip utility in /root:
/root/add-ip Skyetel-NW 52.41.52.34
/root/add-ip Skyetel-SW 52.8.201.128
/root/add-ip Skyetel-NE 52.60.138.31
/root/add-ip Skyetel-SE 50.17.48.216
/root/add-ip Skyetel-EU 35.156.192.164
NOTE: If your PBX is sitting behind a NAT-based router, then you will also need to forward UDP port 5060 from your router to the internal IP address of your PBX. Otherwise, incoming calls from Skyetel will fail. You also may need to add a NAT=yes entry to each of the Skyetel trunk configurations using the GUI. The telltale sign that the NAT entry is required will be incoming calls with one-way or no audio.
Incredible PBX Trunk Setups for Skyetel
Because Skyetel uses multiple data centers without trunk registrations, you'll actually need to configure 6 separate Skyetel trunks in the Incredible PBX GUI. The same setup applies for those using generic FreePBX aggregations. We've created a script to create all of the trunks for you. Just issue the following commands. The last command assures that you don't accidentally run the script a second time which would cause all sorts of issues. Feel free to review the code if you want to learn how to create trunks in FreePBX from the command line.

cd /root
wget http://incrediblepbx.com/add-skyetel
chmod +x add-skyetel
# uncomment next line if your incoming calls all have 10-digit numbers
# sed -i 's|from-trunk|from-pstn-e164-us|' add-skyetel
./add-skyetel
chmod -x add-skyetel

Incredible PBX Inbound Routing for Skyetel
Next we need to tell your PBX how to route incoming calls from Skyetel. Using a browser, log into the IP address of your PBX using your admin credentials. Because there is no trunk registration with Skyetel trunks, you will need to create an Inbound Route for every Skyetel DID. You cannot rely upon a Default inbound route because FreePBX treats the calls as blocked anonymous calls without an Inbound Route pointing to the 11-digit number of each Skyetel DID. From the GUI, choose Connectivity -> Inbound Routes -> Add Inbound Route. For both the Description and DID fields, enter the 11-digit phone number beginning with a 1. Set the Destination for the incoming DID as desired and click Submit. Reload the Dialplan when prompted. Place a test call to each of your DIDs after configuring the Inbound Routes.
Incredible PBX Outbound Routing to Skyetel
If Skyetel will be your primary provider, you can use both 10-digit and 11-digit dialing to process outbound calls through your Skyetel account. From the GUI, choose Connectivity -> Outbound Routes -> Add Outbound Route. For the setup, we recommend the following using the CallerID Number you wish to associate with your outbound calls through Skyetel: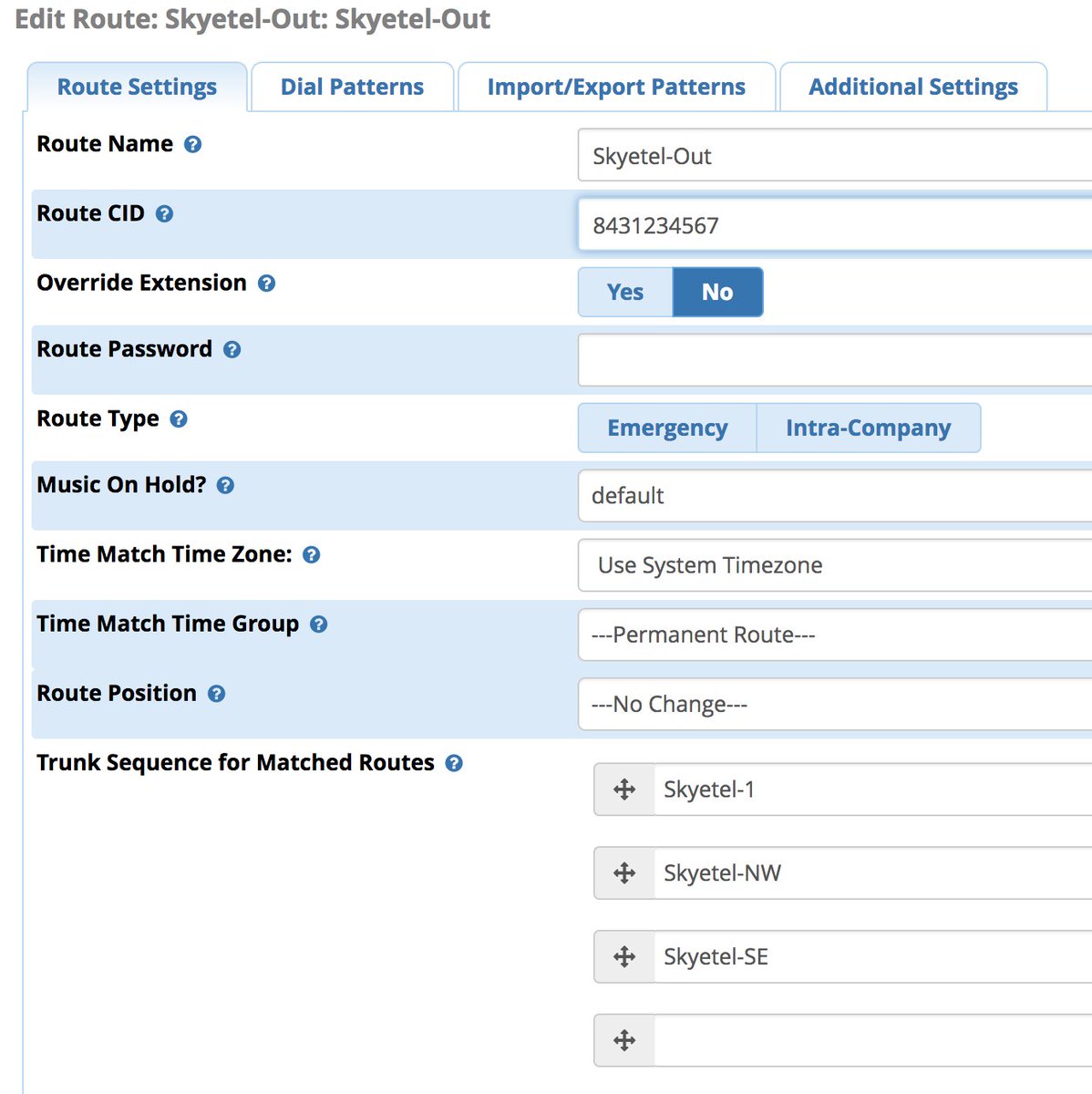 Enter the Dial Patterns under the Dial Patterns tab before saving your outbound route. Here's what you would enter for 10-digit and 11-digit dialing. If you want to require a dialing prefix to use the Skyetel Outbound Route, enter it in the Prefix field for both dial strings.

Audio Issues with Skyetel
If you experience one-way or no audio on some calls, make sure you have filled in the NAT Settings section in the GUI under Settings -> Asterisk SIP Settings -> General. In addition to adding your external and internal IP addresses there, be sure to add your external IP address in /etc/asterisk/sip_general_custom.conf like the following example and restart Asterisk:

externip=xxx.xxx.xxx.xxx

If you're using PJSIP trunks or extensions on your PBX, implement this fix as well.
Receiving SMS Messages Through Skyetel
Most Skyetel DIDs support SMS messaging. Once you have purchased one or more DIDs, you can edit each number and, under the SMS &MMS tab, you can redirect incoming SMS messages to an email or SMS destination of your choice using the following example: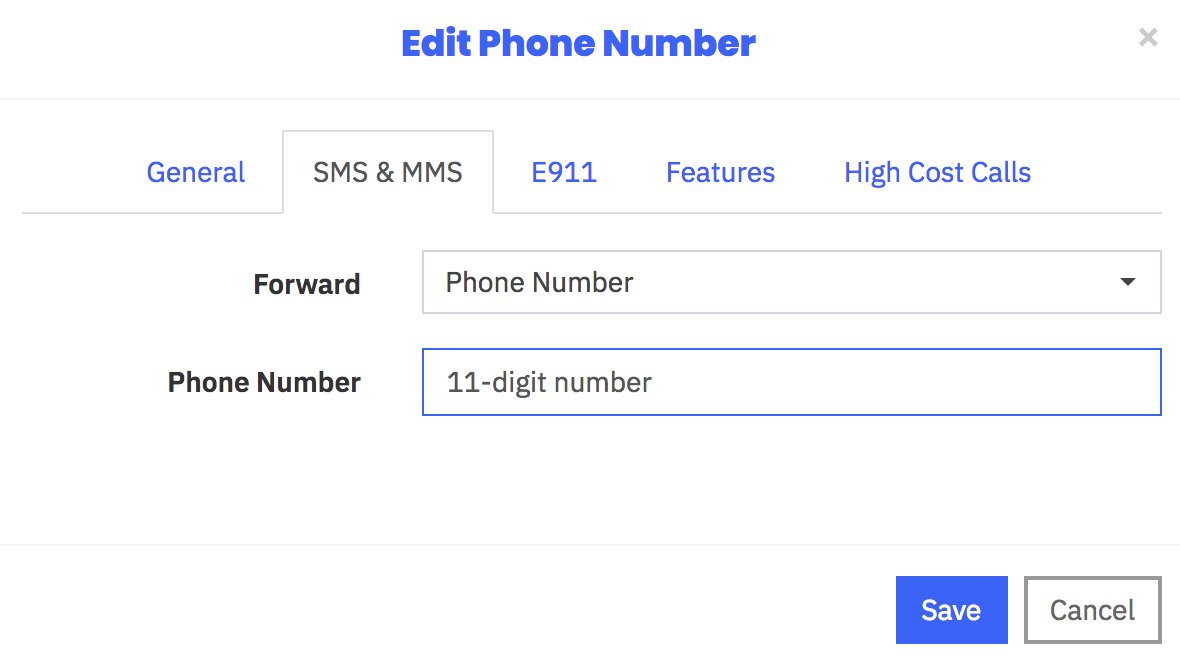 Sending SMS Messages Through Skyetel
We've created a simple script that will let you send SMS messages from the Linux CLI using your Skyetel DIDs. In order to send SMS messages, you first will need to create a SID key and password in the Skyetel portal. From the Settings icon, choose API Keys -> Create. Once the credentials appear, copy both your SID and Password. Then click SAVE.
Next, from the Linux CLI, issue the following commands to download the sms-skyetel script into in your /root folder. Then edit the file and insert your SID, secret, and DID credentials in the fields at the top of the script. Save the file, and you're all set.

cd /root
wget http://incrediblepbx.com/sms-skyetel
chmod +x sms-skyetel
nano -w sms-skyetel

To send an SMS message, use the following syntax where 18005551212 is the 11-digit SMS destination: sms-skyetel 18005551212 "Some message"
SMS and MMS Messaging with Postcards
Skyetel now has released a terrific, open source Docker app, Postcards, that lets you build an SMS and MMS messaging platform for your entire organization. Suffice it to say, anything you ever wanted to do with SMS and MMS messaging, you can do with Postcards. We won't repeat Skyetel's excellent tutorial, but you certainly need to visit their site and take Postcards for a spin.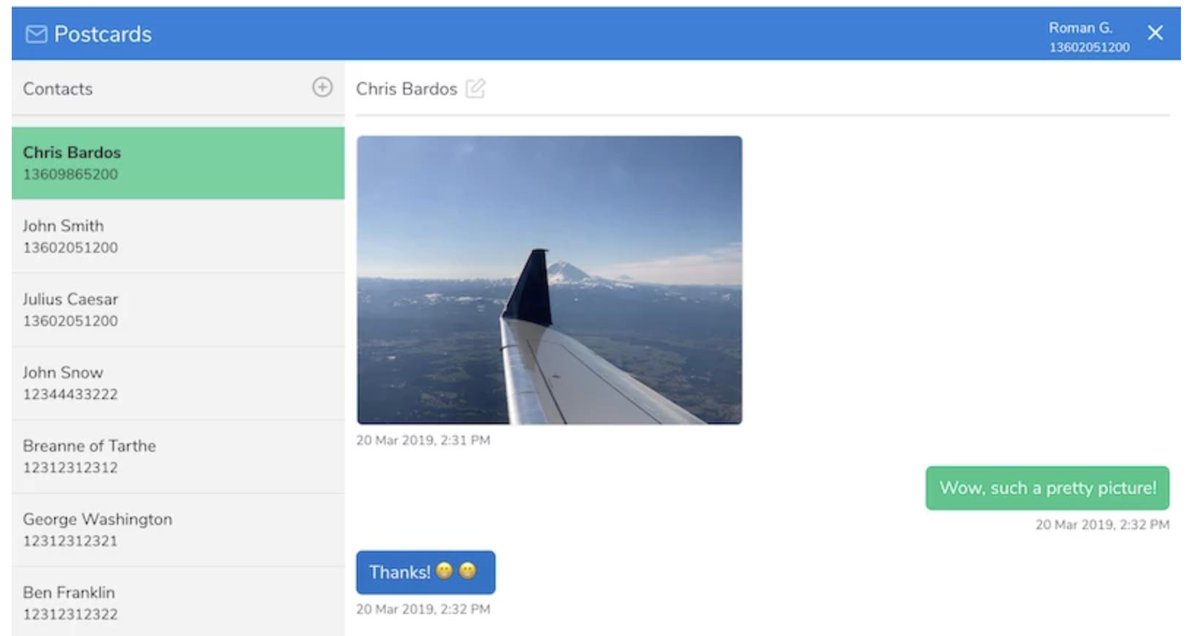 NEW: Skyetel Support for Dynamic IP Addresses
You asked for it, and Skyetel has delivered. For Nerd Vittles users running servers with dynamic IP addresses, Skyetel now provides support for your platform. Log into your server as root and cd /usr/src. Then review this tutorial which describes the steps to put the pieces in place. Be advised that this is beta software at this juncture. If you run into issues, please post your questions on the PIAF Forum. Here are the actual steps:
(1) Log in to your Skyetel portal and Add a New Endpoint Group for your server giving it the name and current public IP address of your server.
(2) While still logged in, tap the Gear icon to open Settings dialog and choose API Keys tab.
(3) Add a new API key and write down your new SID and SID password.
(4) If your server is behind a router or firewall, log into that device and map UDP 5060 and UDP 10000-20000 to the private LAN address of your server.
NOTE: If your server is on the Debian, Ubuntu, or Raspbian platform, substitute the following command for the first two yum commands in step #5 below:

apt-get -y install coreutils curl git jq

(5) Log into your server and issue the following commands to install the EndPoint Updater:

yum -y install coreutils curl git epel-release
yum -y --enablerepo=epel install jq
cd /usr/src
git clone https://bitbucket.org/skyetel/ip-endpoint-group-update.git
cd ip-endpoint-group-update
./ip-update-endpointgroup.sh

(6) Fill in your credentials when prompted, and the cron script will be installed to keep your server's dynamic IP address registered with Skyetel.
Introducing Skyetel's New Fax Platform
Every time we read an article predicting the demise of fax technology, we have to chuckle. We've been reading the articles for about 30 years now, and fax still is the goto solution for many organizations. Can you spell HIPPA? Finally, Skyetel has dipped its toes in the fax waters by offering an easy-to-use fax solution for receipt of traditional and T.38 faxes. Simply purchase a Skyetel DID and configure it for vFax routing. Enter an email address for delivery of the faxes, and you're done.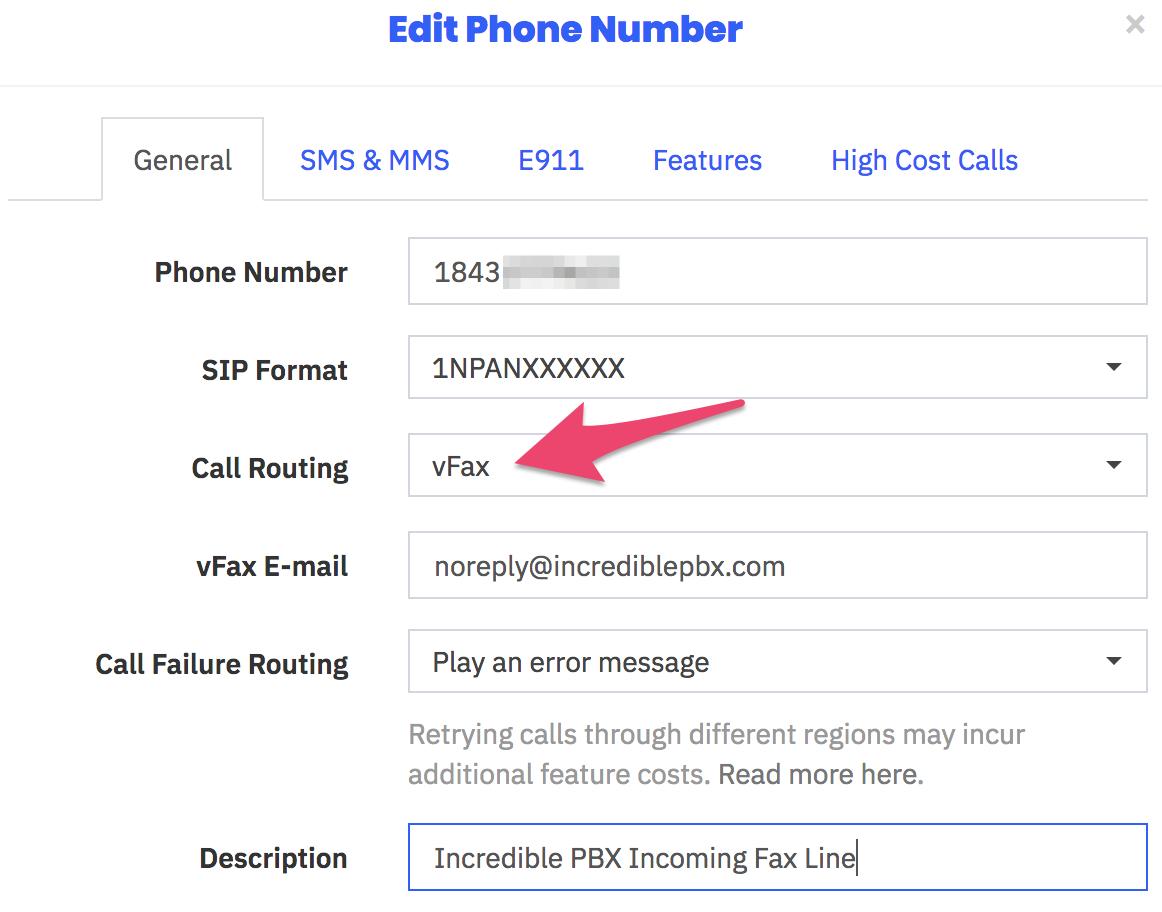 Sending faxes from the Skyetel portal still is on the drawing boards, but it's coming. In the meantime, Incredible Fax™ which is bundled with all Incredible PBX® platforms will let you send faxes 'til the cows come home with our easy-to-use Hylafax/AvantFax implementation.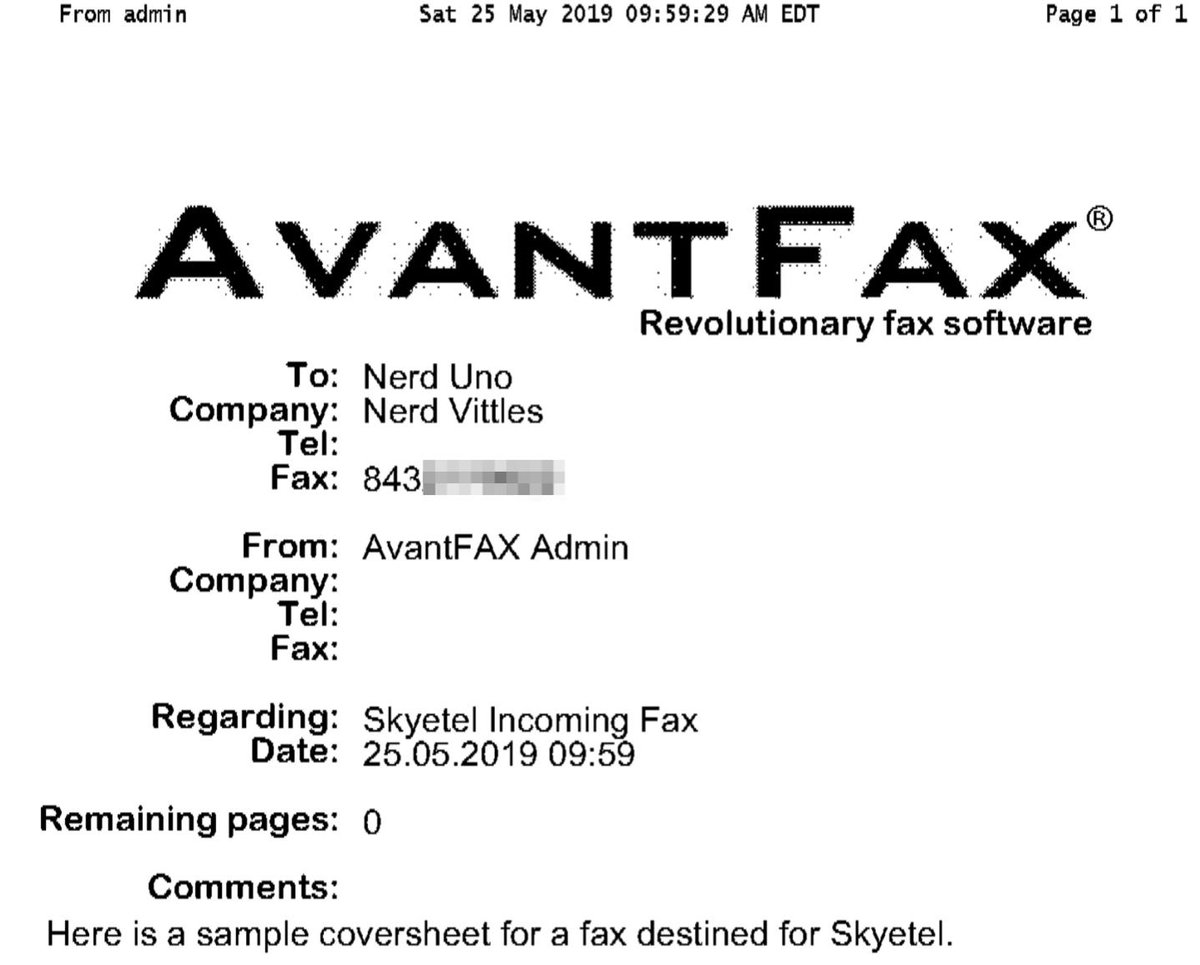 Implementing the New Spam Call Filter
One of the most often requested features for any PBX is spam call filtering. Skyetel takes it to the next level by dealing with the spammers before the calls ever reach your PBX. For each of your Skyetel phone numbers, click on the Features tab and set the Spam Call Filter as desired.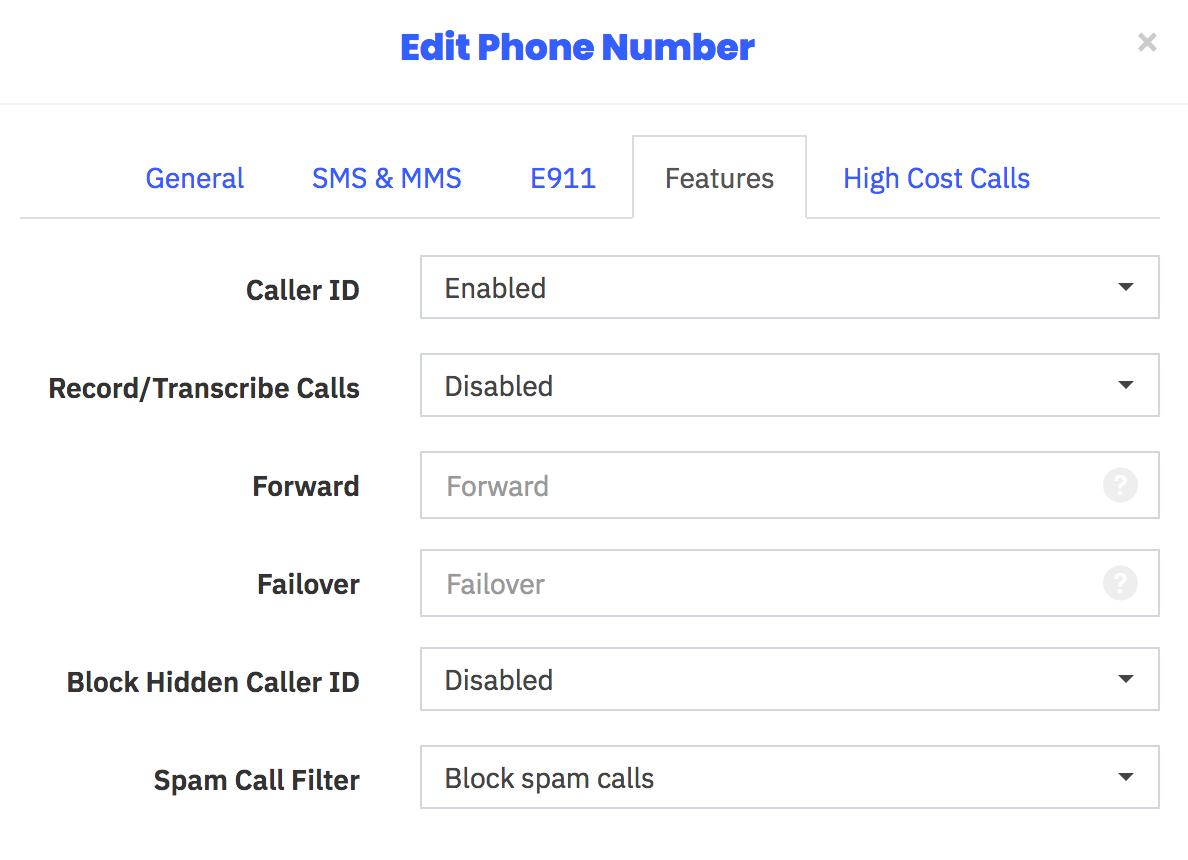 Recording and Transcribing Skyetel Calls
As with spam call filtering, recording and/or transcribing Skyetel calls is only a click away. For each of your Skyetel phone numbers, click on the Features tab and set the option desired for Recording and/or Transcribing calls. Recordings and Transcriptions can be managed from your Skyetel Dashboard. Storage is free for up to 30 days, after which they are deleted.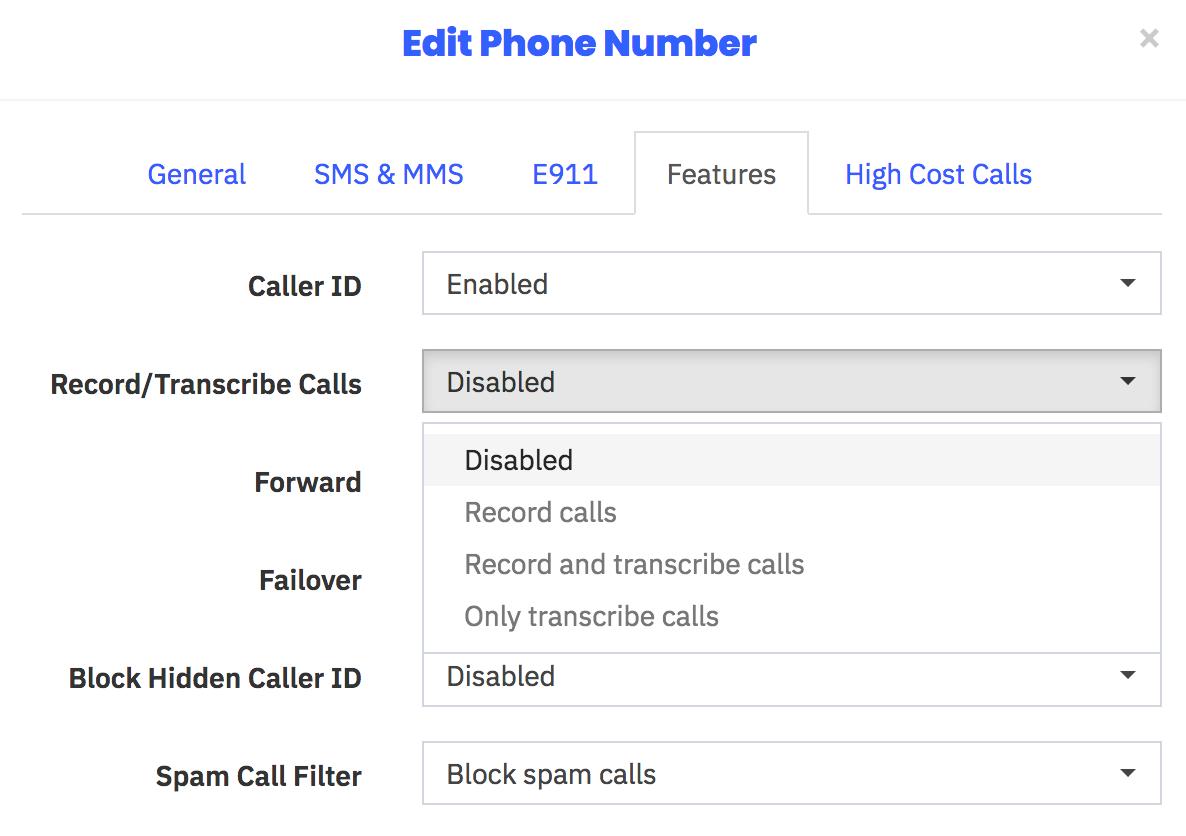 Skyetel Monitoring of Endpoint Health
In addition to monitoring and reporting the health of all Skyetel services in your web portal, this latest addition allows you to configure Skyetel to not only monitor the State of every registered endpoint but also its Health with realtime metrics of the Latency, Packet Loss, and Jitter of each of your endpoints. Simply check the Network QOS options desired.

Skyetel Expansion for Canadian Users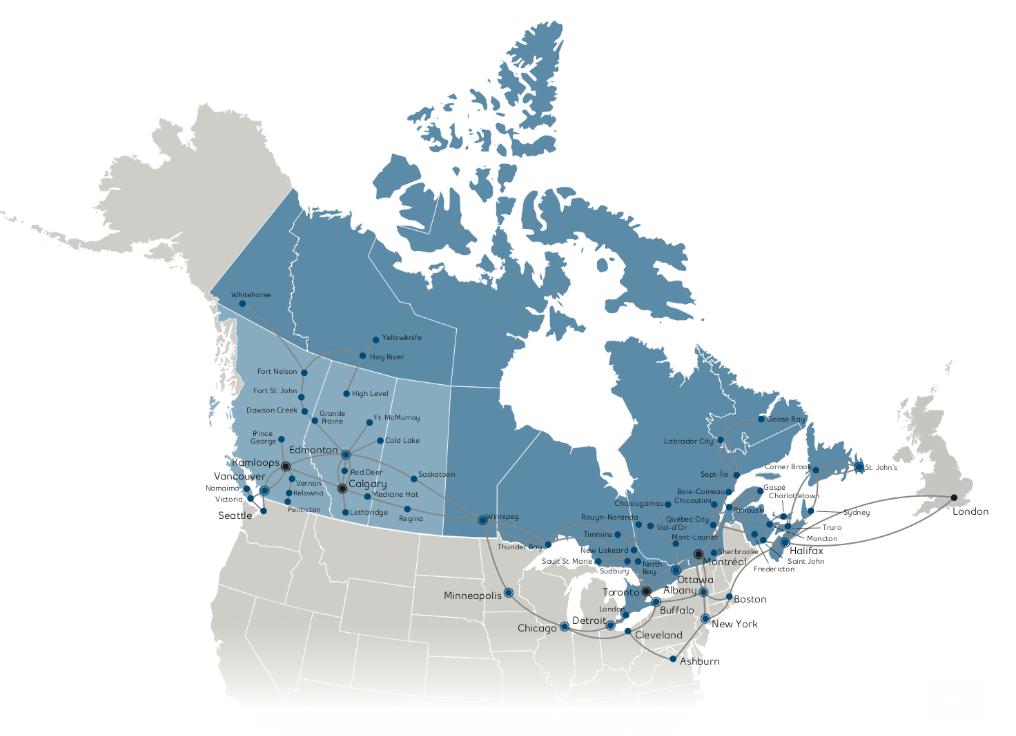 Here's some great news for our Canadian friends. Skyetel has been listening!
Porting to Skyetel in Canada now is significantly easier and faster
Awesome reductions in audio round trip times
Epic reductions in time-to-deliver
Faster response times to technical issues (and fewer of them!)
Audio for Canadian calls will now originate from Canadian data centers
SMS and MMS available on Canadian ported numbers
Originally published: Thursday, November 1, 2018 Updated: Wednesday, June 12, 2019
---
Support Issues. With any application as sophisticated as this one, you're bound to have questions. Blog comments are a difficult place to address support issues although we welcome general comments about our articles and software. If you have particular support issues, we encourage you to get actively involved in the PBX in a Flash Forum. It's the best Asterisk tech support site in the business, and it's all free! Please have a look and post your support questions there. Unlike some forums, the PIAF Forum is extremely friendly and is supported by literally hundreds of Asterisk gurus and thousands of users just like you. You won't have to wait long for an answer to your question.
---

Need help with Asterisk? Visit the VoIP-info Forum.

---
Special Thanks to Our Generous Sponsors

FULL DISCLOSURE: ClearlyIP, Skyetel, Vitelity, DigitalOcean, Vultr, VoIP.ms, 3CX, Sangoma, TelecomsXchange and VitalPBX have provided financial support to Nerd Vittles and our open source projects through advertising, referral revenue, and/or merchandise. As an Amazon Associate and Best Buy Affiliate, we also earn from qualifying purchases. We've chosen these providers not the other way around. Our decisions are based upon their corporate reputation and the quality of their offerings and pricing. Our recommendations regarding technology are reached without regard to financial compensation except in situations in which comparable products at comparable pricing are available from multiple sources. In this limited case, we support our sponsors because our sponsors support us.


BOGO Bonaza: Enjoy state-of-the-art VoIP service with a $10 credit and half-price SIP service on up to $500 of Skyetel trunking with free number porting when you fund your Skyetel account. No limits on number of simultaneous calls. Quadruple data center redundancy. $25 monthly minimum spend required. Tutorial and sign up details are here.


The lynchpin of Incredible PBX 2020 and beyond is ClearlyIP components which bring management of FreePBX modules and SIP phone integration to a level never before available with any other Asterisk distribution. And now you can configure and reconfigure your new Incredible PBX phones from the convenience of the Incredible PBX GUI.


VitalPBX is perhaps the fastest-growing PBX offering based upon Asterisk with an installed presence in more than 100 countries worldwide. VitalPBX has generously provided a customized White Label version of Incredible PBX tailored for use with all Incredible PBX and VitalPBX custom applications. Follow this link for a free test drive!



Special Thanks to Vitelity. Vitelity is now Voyant Communications and has halted new registrations for the time being. Our special thanks to Vitelity for their unwavering financial support over many years and to the many Nerd Vittles readers who continue to enjoy the benefits of their service offerings. We will keep everyone posted on further developments.

---
---
In the unlikely event that Skyetel cannot provide a 10% reduction in your current origination rate and/or DID costs, Skyetel will give you an additional $50 credit to use with the Skyetel service. [↩]