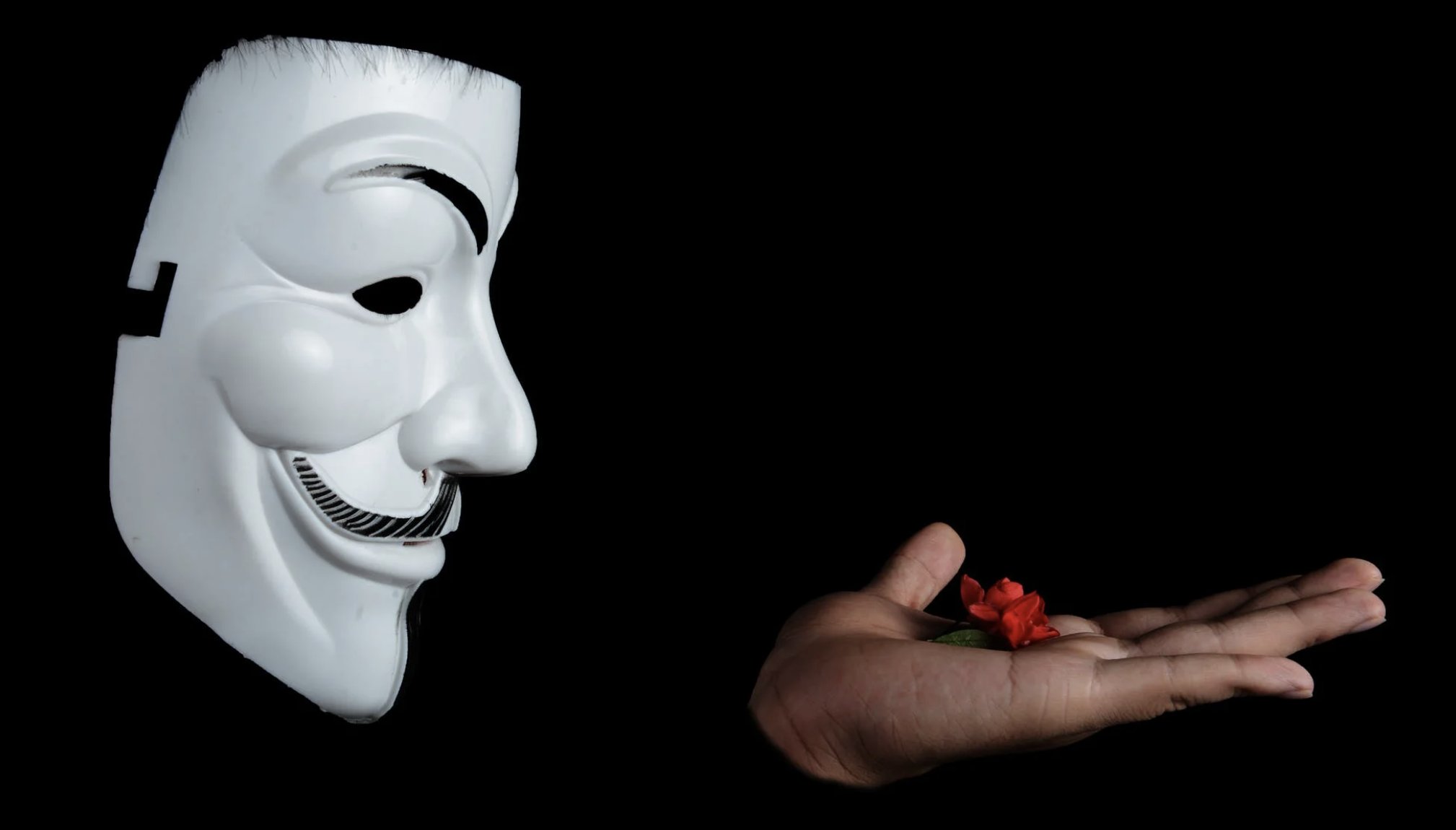 Since last Thursday when VoIP.ms suffered (and continues to suffer) one of the worst Distributed Denial of Service (DDOS) attacks in the VoIP era, we've been asked a thousand times whether any SIP trunking provider can provide a safe and reliable platform under circumstances similar to the VoIP.ms outage. We obviously cannot vouch for every trunking provider but, based upon our discussions with two of the major carriers that support Incredible PBX, we are confident that either of them could withstand a similar attack and your phones would still ring. Keep in mind that one of the hidden beauties of VoIP is the ability to configure your PBX to use multiple carriers for failover in making outbound calls, something we have always recommended. Unfortunately, inbound calls are tied to registration of each DID with one and only one carrier. Thus, if that carrier goes off line, incoming calls to DIDs registered with that carrier will fail.
To restate the obvious, no provider is going to publicly document their DDOS remediation methodology thereby providing attackers with a blueprint to their network design and remediation strategy. However, under non-disclosure agreements, we have spoken at length with the owners of our two major Incredible PBX providers: Skyetel and Clearly IP. Based upon our NDA discussions over the past few days, we are satisfied that the SIP trunking offerings of our two primary carriers are sufficiently robust to withstand a VoIP.ms-like DDOS attack. Having said that, we are optimistic that the VoIP.ms outage has placed a renewed spotlight on the seriousness of these DDOS attacks with the FBI and the U.S. Department of Homeland Security.
So what's missing from the VoIP.ms design that has made their infrastructure so vulnerable? Lots. For openers, VoIP.ms apparently does not rely upon SIP proxies or firewalls using industry-standard network management procedures. In fact, until several days ago, VoIP.ms reportedly was hosting its own DNS servers exclusively. While that has been addressed by moving to Cloudflare, other design vulnerabilities have been more difficult to ameliorate. For example, SIP trunking with VoIP.ms by design requires registration to one of several dozen POPs on both your PBX and on their public-facing portal. An inability to access their public portal means an administrator cannot redirect traffic to another POP in case of an outage. And, if an individual POP is overwhelmed with a DDOS attack, that POP can no longer redirect its incoming calls to a failover location. And apparently it is the only server from which this redirection can be initiated. As the current five-day outage makes clear, reengineering this design would be a Herculean task. So an important lesson learned should be that FORWARDING DIDS TO ANOTHER NUMBER OR SIP ADDRESS SHOULD BE COMPLETELY INDEPENDENT OF YOUR PUBLIC-FACING ARCHITECTURE.
What can you do at this juncture to lessen your vulnerability to a future DDOS attack? First, don't put all of your eggs in one carrier's basket. This is especially true with your main phone numbers (DIDs). Second, if you are a major organization, move your most important DIDs to one of our preferred providers, Skyetel or ClearlyIP. And, if money is no object, consider an AT&T, Verizon, T-Mobile, or Google Voice trunk. With multi-path forwarding, simultaneous incoming calls can be redirected to other DIDs hosted with SIP trunking providers. These paths can easily be adjusted in the event of a DDOS attack. Many of these providers offer heavily discounted rates for forwarding calls to other SIP destinations which need not be publicly disclosed.
Latest VoIP.ms Update: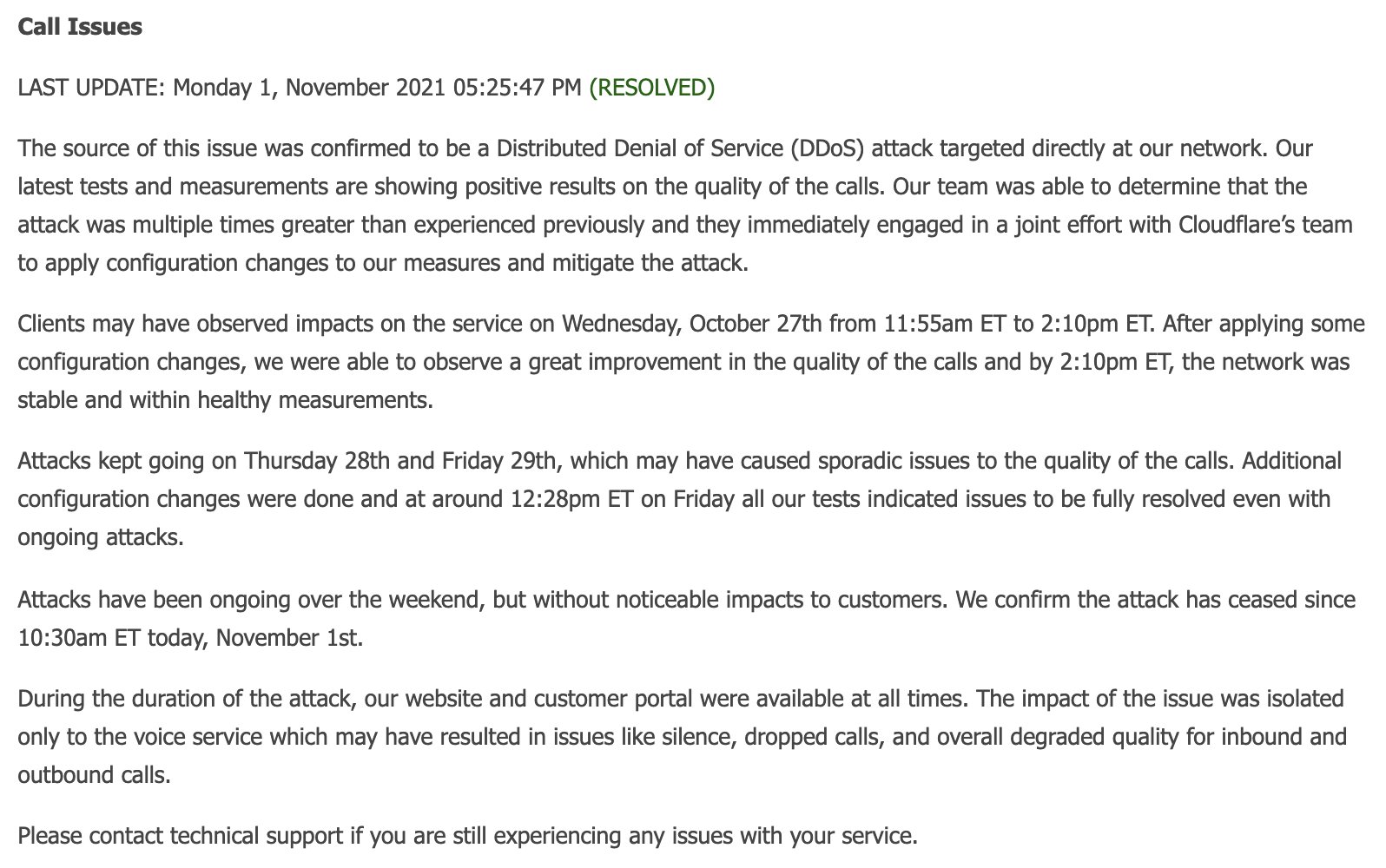 Originally published: Monday, September 20, 2021

---

Need help with Asterisk? Visit the VoIP-info Forum.

---
Special Thanks to Our Generous Sponsors

FULL DISCLOSURE: ClearlyIP, Skyetel, Vitelity, DigitalOcean, Vultr, VoIP.ms, 3CX, Sangoma, TelecomsXchange and VitalPBX have provided financial support to Nerd Vittles and our open source projects through advertising, referral revenue, and/or merchandise. As an Amazon Associate and Best Buy Affiliate, we also earn from qualifying purchases. We've chosen these providers not the other way around. Our decisions are based upon their corporate reputation and the quality of their offerings and pricing. Our recommendations regarding technology are reached without regard to financial compensation except in situations in which comparable products at comparable pricing are available from multiple sources. In this limited case, we support our sponsors because our sponsors support us.


BOGO Bonaza: Enjoy state-of-the-art VoIP service with a $10 credit and half-price SIP service on up to $500 of Skyetel trunking with free number porting when you fund your Skyetel account. No limits on number of simultaneous calls. Quadruple data center redundancy. $25 monthly minimum spend required. Tutorial and sign up details are here.


The lynchpin of Incredible PBX 2020 and beyond is ClearlyIP components which bring management of FreePBX modules and SIP phone integration to a level never before available with any other Asterisk distribution. And now you can configure and reconfigure your new Incredible PBX phones from the convenience of the Incredible PBX GUI.


VitalPBX is perhaps the fastest-growing PBX offering based upon Asterisk with an installed presence in more than 100 countries worldwide. VitalPBX has generously provided a customized White Label version of Incredible PBX tailored for use with all Incredible PBX and VitalPBX custom applications. Follow this link for a free test drive!



Special Thanks to Vitelity. Vitelity is now Voyant Communications and has halted new registrations for the time being. Our special thanks to Vitelity for their unwavering financial support over many years and to the many Nerd Vittles readers who continue to enjoy the benefits of their service offerings. We will keep everyone posted on further developments.

---
---