As more and more Asterisk® platforms enter the open source community, it seems as if we spend a lot of energy covering the basics of getting those new systems into place, and there's little time left for tutorials that really make the difference in a great telephony system and one that just makes calls. So our New Year's Resolution is to try to devote a column every month to smelling the roses and pushing out some information that actually helps newbies in the VoIP community learn something while getting them up to speed on creating important pieces of a PBX themselves.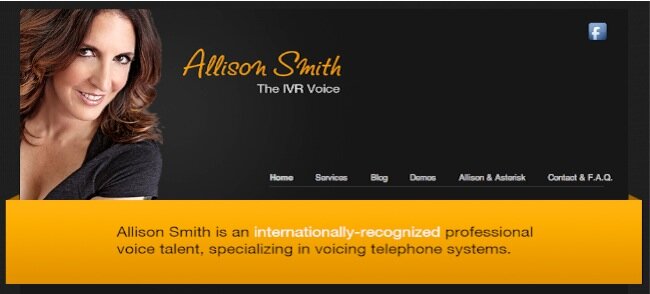 For today, IVR 101 tackles Interactive Voice Response systems (IVRs) and AutoAttendants. These are the tools that let callers interact with a PBX without assistance from a receptionist. What's the difference in an IVR and AutoAttendant? Both offer unattended call processing, but an IVR is more sophisticated typically offering much more than a menu tree of connection options to the caller. For example, some of the options in today's demo IVR let the caller interact directly with the computer to retrieve customized responses. Call by Name lets the caller speak the name of a person or company to dial, Weather by City lets the caller choose the City and State, Province, or Country of a weather forecast to retrieve, and Wolfram Alpha lets the caller ask about almost anything you'd find in your favorite almanac. Twenty years ago, companies were spending $100,000+ to get this functionality from the Bell Sisters and companies like Nortel. Today you can do it with a Raspberry Pi or BeagleBone Black running Incredible PBX for less than $50. Much has been written about IVR Hell and how to build effective IVRs that don't drive callers crazy. We'll leave that one for you to explore on your own. But we can't stress enough how important this really is. It can make or break a company! If you're unwilling to invest the time in the IVR design, there are companies such as CallFire that will do it for you. For do-it-yourselfers, you'll want to start with Allison's 15 Commandments (for ease of reference, we have linked to the individual articles on Digium's site below) and then do a little Googling on your own. There's a wealth of information on the topic.
Allison's 15 Commandments of IVR

1. Don't Overestimate Your Listener's Attention Span
2. Thou Shalt Not Create Fake Mailboxes
3. Keep Things Simple
4. Always Give Callers an Opt-"In"
5. Front-Load Important Information
6. Understand What Constitutes a "Prompt"
7. Understand The Effects of Proper Punctuation in Concatenation
8. Thou Shalt Not Give Directions To Your Office/Facility
9. Give a Pronunciation Guide for Proper Names and Place Names
10. Name Your Company Something That Needs No Special Instruction
11 Don't Go Overboard with Niceties
12. Read The Copy Out Loud
13. Be Clear on Your Company's Vision/Image — And Be Able To Explain That To Me
14. Don't Front-Load Too Much Information in The Opening Greeting
15. Write in a Conversational Tone
Step #1: Documenting What You Want Your IVR to Do
Our task today is to cover the mechanics of building an effective IVR. That, of course, starts with a pencil and paper. Before you can build anything, you need a blueprint for what you're trying to accomplish and how we go about getting there. What choices do you want to give callers that dial into your PBX? Do you want all of these options announced to every caller, or should some of them be left hidden (perhaps behind passwords) that let certain users interact with your PBX in ways that casual callers won't know about. Keep in mind that the bad guys have telephones, too. So, even though an IVR option may not be mentioned, that doesn't mean that the curious caller won't push buttons you didn't describe as available. Unless you have deep pockets, for example, you probably wouldn't want to make a DISA call-out option available, whether hidden or otherwise, without protecting it with a very secure password. Similarly, an IVR option that lets anybody schedule a reminder to any phone number of their choice is not too smart.
Rule #1: The very first question you need to ask yourself with every IVR option is "Can this function end up costing me money?" If the answer is "yes" then you need a very secure password before any caller can access that feature.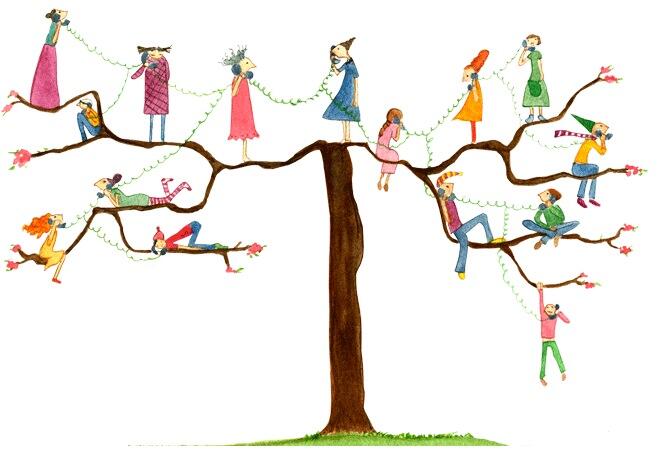 For today, we're going to build a call tree that shows off some of the features included in Incredible PBX. When a caller dials into a certain number on your PBX, we'll play a message that describes the available options. Then we'll let the caller play with the Incredible PBX feature set. You probably would want to set this system up on a phone number that supports unlimited inbound calls at no additional cost. In short, ask yourself: "Do thousands of 30-minute calls to my demo IVR end up costing me money?" If the answer is "yes" then don't build a non-essential IVR without first securing a DID that doesn't cost you by the minute. There are lots of choices including Google Voice which happens to still be free and available until May 15, 2014. There's also IPkall that still gives out free DIDs in the Seattle area to anyone with a SIP URI. If you haven't already guessed, we're trying to get you in the mindset of always assuming the worst case from every potential caller. After all, it's your phone bill.
We started with our pencil and paper and sketched out what we wanted to include in our Demo IVR. And, by the way, you would never want to position "speak to a real person" as the last option in a real IVR unless you just love pissing off your customers. Today's IVR wasn't designed to let you speak to a real person… other than Lenny. 😉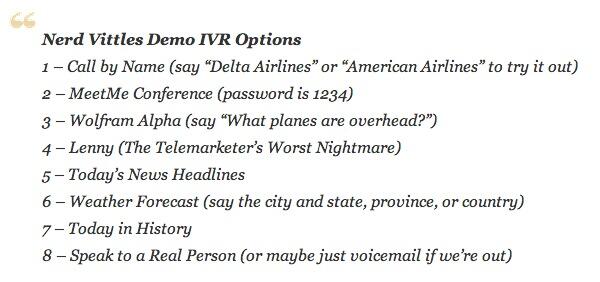 Test Drive: Demo IVR with Incredible PBX on the $45 BeagleBone Black RasPBX
Step #2: Recording the Voice Prompt for the Demo IVR
When people call your phone number, they expect someone to answer the call. In the case of an IVR or AutoAttendant, you'll need a voice prompt to tell callers what options are available. The options need to be concise keeping in mind that the average attention span of callers is about 30 seconds. You don't want callers hanging up before they've even reached the end of your schpeel. You also don't want callers to have to listen to a dozen options when the option they wanted was #1. We're going to be using FreePBX® to create the IVR so it will automatically permit callers to interrupt the talking head by pressing a button. If you're doing this with Asterisk dialplan code, make sure you use the Background function to play your voice prompt rather than Playback which forces callers to listen to the entire recording before making a choice.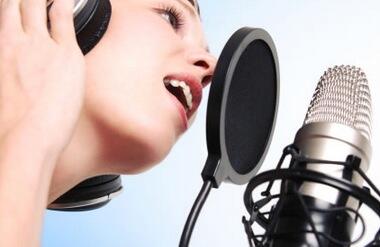 In recording voice prompts, you have a number of options. The most professional is to hire Allison to record the prompts for you. Then it matches all of the other prompts on your Asterisk system. You can do this through Digium's web site, and the cost is quite reasonable. For bigger projects, contact Allison directly through her web site. Another alternative is to record the prompt yourself. This can be done with professional recording equipment or using an ordinary phone with FreePBX: Admin -> System Recordings -> Extension Number. Who knows? You may want to break into the voice-over business yourself.
The other alternatives involve use of a text-to-speech engine to create the voice prompts. A synthesized "Allison voice" is available from Cepstral®; however, due to a change in licensing, you now will need three different licenses in order to record voice prompts. If you want on-the-fly prompts using Cepstral, you also will need additional licenses for each simultaneous caller. Other than in the corporate environment, we can no longer recommend Cepstral. And, even for business use, Allison's custom recordings are far superior to the TTS renditions in our opinion.
Two free text-to-speech alternatives are available on Incredible PBX platforms. Flite sounds much like Herman Munster. You can understand him. That's about it. GoogleTTS is a female voice that actually does a good job. For demo projects, we typically use GoogleTTS although you won't have to today. GoogleTTS voice prompts can be created from the command line by logging in as root. The following command would build an ivr.wav voice prompt for this demo IVR that is suitable for use on all Asterisk-based systems:
googletts-cli.pl -t "Hi: Thank you for calling. To call by name, press 1: To join the conference, press 2: For Wool From Alpha: press three: To speak to Lenny: press four: For today's news headlines, press 5: For today's weather forecast, press 6. For today in history, press 7. Or press 8 for the house phones and speak to a real person." -r 8000 -o ivr.wav

As a Christmas present to all of us, Allison has actually recorded the voice prompt for this demo IVR, and you are more than welcome to download it and use it in building a Demo IVR for your own computer. It provides a great example of the quality of Allison's recordings. Night and day pretty much sums up the difference between Allison's recording and the GoogleTTS version, but you can judge that for yourself. Here's the download link for the ivr-Allison.wav prompt. And here's the download link for the GoogleTTS ivr.wav prompt. Just import the files into FreePBX as outlined below.
Step #3: Importing the Voice Prompt into FreePBX
Before we actually create our IVR application in FreePBX, we first need to get our two voice prompts from Allison and GoogleTTS imported so that they can be used as part of the FreePBX system. There are two ways to do this. The first is to import a file from your desktop PC using the FreePBX GUI. We'll use this to grab the Allison prompt you downloaded to your desktop above. Choose Admin -> System Recordings. Then Choose File -> ivr-Allison.wav -> Upload. Now Name the file: ivr-Allison and click Save.
The second option is to create a dummy IVR voice prompt in FreePBX and then replace the dummy ivr.wav file with your actual recording. Let's create a dummy recording just to show you the procedure to use for GoogleTTS prompts. Choose Admin -> System Recordings. Enter an extension number that is connected to your PBX: 701 then click Go button. Using extension 701, dial *77 and record a few words of gibberish. Press # and hang up. Give the recording the same name as the file we wish to upload (without the extension): ivr. Click the Save button. Finally, from the directory on your Incredible PBX server where you recorded your GoogleTTS ivr.wav file in Step #2 above, move the ivr.wav file to its permanent location: mv ivr.wav /var/lib/asterisk/sounds/custom
Step #4: Creating the IVR in FreePBX
To create the IVR in FreePBX on the Raspberry Pi or BeagleBone Black platform, choose Applications -> IVR -> Add IVR and then fill in the blanks to match this template clicking the + button to add the necessary number of IVR options, SUBMIT your entries, and APPLY CONFIG to reload FreePBX. You will note that, for each of the applications, we already have created a Misc Destination within FreePBX so that it can be used as part of a FreePBX-generated IVR. If you've created your own dialplan or AGI applications, you would need to complete this step before creating your IVR. To use Allison's prompt instead of the GoogleTTS prompt, simply change the top Announcement entry below from ivr to ivr-Allison. Then, Allison's prompt will play when a call is first answered, and the GoogleTTS version will play for invalid, timeout, and repeat announcements. That makes it easy for you to compare the two alternatives.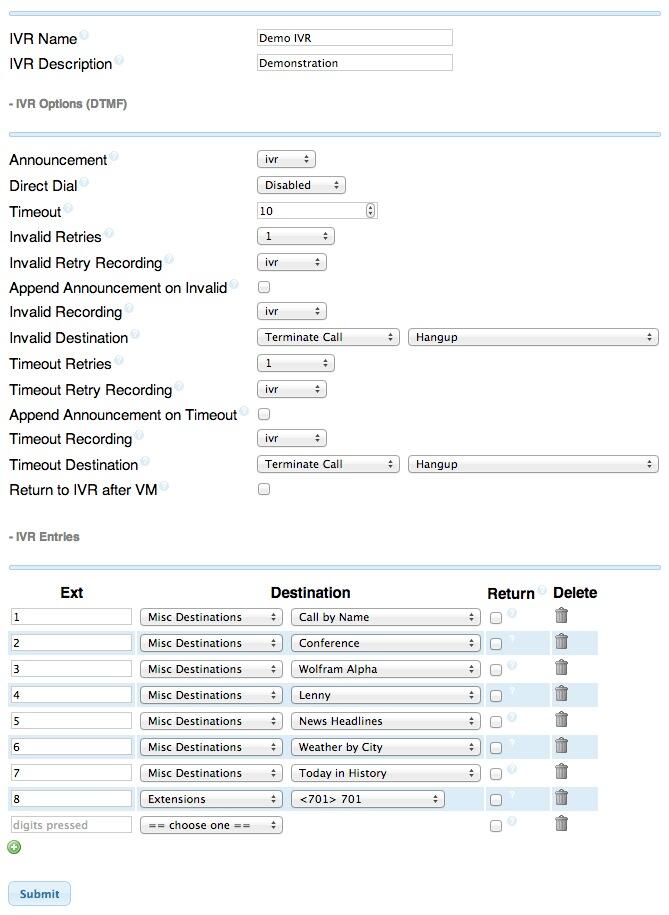 Step #5: Linking the IVR to an Incoming DID in FreePBX
Finally, you'll need a DID that folks can call to reach your IVR. We'll assume you've already set that up on your PBX so all we need to do in FreePBX is create an Inbound Route to pass incoming calls to that phone number. Choose Connectivity -> Inbound Routes -> Add Incoming Route and fill in the blanks using the template below and the actual number of your DID. Click Submit and Apply Config to complete the process.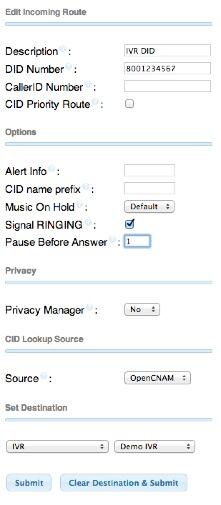 Step #6: Taking the Demo IVR for a Test Drive
This is a really important final step. ALWAYS try out every option on your IVR immediately after creating it. Be sure you call the IVR twelve times and press every button on your phone to make certain the results match what you expected to create. If not, edit the IVR in FreePBX and then try your calls again. As obvious as this sounds, you probably already know that many "professionally-built" IVR creations seem to have forgotten this step. We couldn't begin to tell you the number of IVRs we have encountered with dead links, looping menus, and on and on. Do your callers a favor. Test your stuff before you put it in production.
Test Drive: Demo IVR with Incredible PBX on the $45 BeagleBone Black RasPBX
---
Another Banner Year at Nerd Vittles. As 2013 comes to a close, we want to thank our 500,000+ unique and very special visitors this year from 218 countries around the globe! With an average 5 million page views every month, it's heartening to see the VoIP story spreading like wildfire. Are you listening VoIP merchants? We wish all of you a very Happy and Prosperous New Year and hope you will join us again in 2014 as the VoIP revolution marches on.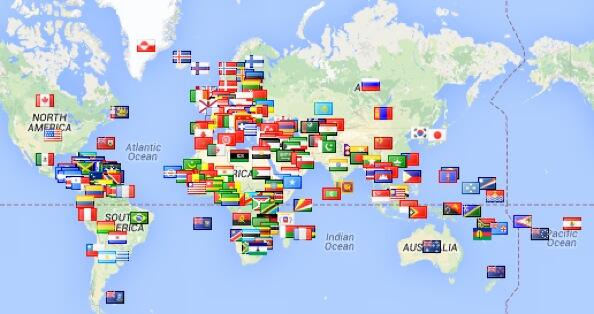 Tweet
Originally published: Monday, December 30, 2013
---

Need help with Asterisk? Visit the PBX in a Flash Forum.

---
whos.amung.us If you're wondering what your fellow man is reading on Nerd Vittles these days, wonder no more. Visit our whos.amung.us statistical web site and check out what's happening. It's a terrific resource both for all of us.
---
Special Thanks to Our Generous Sponsors

FULL DISCLOSURE: ClearlyIP, Skyetel, Vitelity, DigitalOcean, Vultr, VoIP.ms, 3CX, Sangoma, TelecomsXchange and VitalPBX have provided financial support to Nerd Vittles and our open source projects through advertising, referral revenue, and/or merchandise. As an Amazon Associate and Best Buy Affiliate, we also earn from qualifying purchases. We've chosen these providers not the other way around. Our decisions are based upon their corporate reputation and the quality of their offerings and pricing. Our recommendations regarding technology are reached without regard to financial compensation except in situations in which comparable products at comparable pricing are available from multiple sources. In this limited case, we support our sponsors because our sponsors support us.


BOGO Bonaza: Enjoy state-of-the-art VoIP service with a $10 credit and half-price SIP service on up to $500 of Skyetel trunking with free number porting when you fund your Skyetel account. No limits on number of simultaneous calls. Quadruple data center redundancy. $25 monthly minimum spend required. Tutorial and sign up details are here.


The lynchpin of Incredible PBX 2020 and beyond is ClearlyIP components which bring management of FreePBX modules and SIP phone integration to a level never before available with any other Asterisk distribution. And now you can configure and reconfigure your new Incredible PBX phones from the convenience of the Incredible PBX GUI.


VitalPBX is perhaps the fastest-growing PBX offering based upon Asterisk with an installed presence in more than 100 countries worldwide. VitalPBX has generously provided a customized White Label version of Incredible PBX tailored for use with all Incredible PBX and VitalPBX custom applications. Follow this link for a free test drive!



Special Thanks to Vitelity. Vitelity is now Voyant Communications and has halted new registrations for the time being. Our special thanks to Vitelity for their unwavering financial support over many years and to the many Nerd Vittles readers who continue to enjoy the benefits of their service offerings. We will keep everyone posted on further developments.

---
---
Some Recent Nerd Vittles Articles of Interest…