What a difference a week makes! When we wrote last week's article about netTALK and their terrific pricing, we were pleased to report that at least one company could offer a drop-in replacement for Google Voice without breaking the bank. But, alas, all is not well in netTALK Land. For openers, the Better Business Bureau revoked their accreditation last June because of failure to respond to or resolve technical complaints. And a recent SEC Filing paints a fairly bleak picture of the company's financial condition. Special thanks to Gershom1624 for his sleuthing efforts. This merely reinforces the difficulty of providing reliable, unlimited VoIP service at the $2.50 a month price point. But we firmly believe $2.50 is the magic price point, and it is achievable with some safeguards for the provider, i.e. residential service, no call centers, no 10,000 minutes-a-month customers. My mom loved the telephone, but she never spent 5 hours a day on the telephone. There also has to be some tradeoff in the level of support customers can expect. If customers tie up expensive support reps with multiple calls, the pricing matrix falls apart very quickly. And that brings us to this week.

Let's review the Wish List for those that missed last week's article. We want a drop-in replacement for Google Voice on both the OBi110 (stand-alone with any POTS telephone) and Asterisk® (PBX) platforms. It needs to provide unlimited (within reason) calling in the U.S. and Canada. It needs a feature set that is fairly comparable to Google Voice. It needs to include E911 service because the federal government says so. We don't care much about support as long as the setup process is well-documented, the service is reliable, and calls sound great. Charging for support requests to resolve issues that aren't the company's fault is perfectly fine with us. But the price point for unlimited calling needs to be $2.50 a month, i.e. $30 a year or $60 every two years for the math-challenged. We'd prefer no tips, taxes, or fees. We want to keep our existing number. And, lest we forget, the company must promise to stay in business and never raise prices… forever.
Suppose we could find you a company that, with a 2-year commitment, could provide all of the above (minus the last sentence) plus fax support including a web page to send outgoing faxes from attachments, free calling and a mobile app for your iOS and Android devices, Visual Voicemail with voicemail transcription as well as email delivery of voicemail messages, call forwarding, call waiting, CallerID spoofing for any number you own, and unbelievable customer service. Not sure about the service? How about a 30-day free trial with 60 free minutes?
Let us introduce you to Obivoice. Don't be alarmed by the one-year price of $40. The two-year price is just $60. But it doesn't cost you a nickel to sign up and try the service. Obivoice is a pure SIP provider so the setup with PBX in a Flash™ or an OBi110™ takes only a couple minutes. Here's the SIP trunk setup for PBX in a Flash using FreePBX®. All you need is your SIP credentials and phone number once you've signed up for an account. Plug in your 10-digit phone number in the Outbound CallerID and Register String, replace 1234 with your Account Number in the username, fromuser, and Register String, and replace yourpassword with your real Password in the secret and Register String.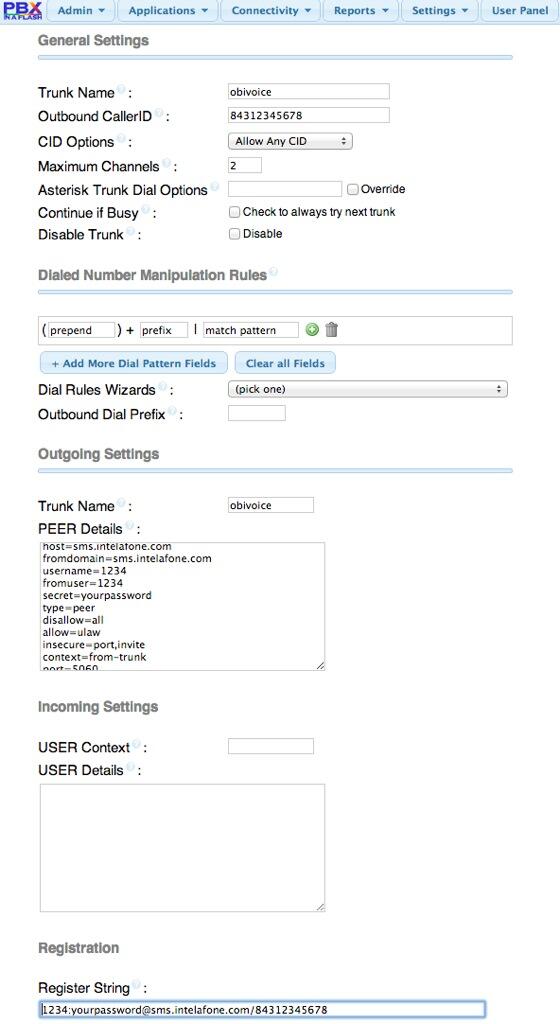 Next, build yourself an Inbound Route with your 10-digit DID ↑ and point it to your favorite PBX destination. Finally, create an Outbound Route using obivoice as the Trunk Sequence, and you're all set. It doesn't get any easier than that.
We don't think you will but, if you need assistance setting this up, head over to the PIAF Forum where there's a lively discussion about Obivoice already.
The OBi110 setup is just as easy. Plug in sms.intelafone.com as the ProxyServer and OutboundProxy in your ITSP Profile, add your SIP credentials in the SP1 Voice Services dialog, and forward (or transfer) your existing Google Voice number to Obivoice. Done! Obivoice's complete tutorial is available here.
Let us close with our own customer service story. We were so excited about this new service when it was announced yesterday that we actually clicked the wrong button and signed up for the wrong plan. Of course, it only takes a minute to get that sinking feeling in your stomach when you know you've screwed up. So late yesterday (Sunday night!) I opened a support ticket and asked to either cancel the wrong plan so that I could reenlist or to transfer to the $60 two-year plan. At 1:30 a.m. this morning, I got an email back from customer service indicating that the plan had been adjusted and that I had been billed for the price difference. WOW!
Run, don't walk, to sign up for Obivoice. It's that great!
p.s. The Obivoice jingle in their YouTube video is as good as their calls. We want it for our Music on Hold!
Tweet
Originally published: Monday, January 13, 2014
---

Need help with Asterisk? Visit the PBX in a Flash Forum.

---
whos.amung.us If you're wondering what your fellow man is reading on Nerd Vittles these days, wonder no more. Visit our whos.amung.us statistical web site and check out what's happening. It's a terrific resource both for all of us.
---
Special Thanks to Our Generous Sponsors

FULL DISCLOSURE: ClearlyIP, Skyetel, Vitelity, DigitalOcean, Vultr, VoIP.ms, 3CX, Sangoma, TelecomsXchange and VitalPBX have provided financial support to Nerd Vittles and our open source projects through advertising, referral revenue, and/or merchandise. As an Amazon Associate and Best Buy Affiliate, we also earn from qualifying purchases. We've chosen these providers not the other way around. Our decisions are based upon their corporate reputation and the quality of their offerings and pricing. Our recommendations regarding technology are reached without regard to financial compensation except in situations in which comparable products at comparable pricing are available from multiple sources. In this limited case, we support our sponsors because our sponsors support us.


BOGO Bonaza: Enjoy state-of-the-art VoIP service with a $10 credit and half-price SIP service on up to $500 of Skyetel trunking with free number porting when you fund your Skyetel account. No limits on number of simultaneous calls. Quadruple data center redundancy. $25 monthly minimum spend required. Tutorial and sign up details are here.


The lynchpin of Incredible PBX 2020 and beyond is ClearlyIP components which bring management of FreePBX modules and SIP phone integration to a level never before available with any other Asterisk distribution. And now you can configure and reconfigure your new Incredible PBX phones from the convenience of the Incredible PBX GUI.


VitalPBX is perhaps the fastest-growing PBX offering based upon Asterisk with an installed presence in more than 100 countries worldwide. VitalPBX has generously provided a customized White Label version of Incredible PBX tailored for use with all Incredible PBX and VitalPBX custom applications. Follow this link for a free test drive!



Special Thanks to Vitelity. Vitelity is now Voyant Communications and has halted new registrations for the time being. Our special thanks to Vitelity for their unwavering financial support over many years and to the many Nerd Vittles readers who continue to enjoy the benefits of their service offerings. We will keep everyone posted on further developments.

---
---
Some Recent Nerd Vittles Articles of Interest…