Much has been written about the quest for Unified Communications where all real-time communications services are transparently accessible by phone, by email, or via the web using multiple devices and various media types. But the Holy Grail of Business Communications is a bit different from our perspective. For the modern business person, business telecommunications comes down to a 3-way time slice between a home or home office, a real office with a real phone, and a cellphone whenever the person morphs into a road warrior or telecommuter. What the business person really wants is transparent integration of his or her smartphone into existing home and office phone setups. In other words, when we're at home with a cell phone, we want to answer incoming cell phone calls on a house phone rather than scrambling to find a ringing cellphone on the other side of the house. And when we're at the office, we want incoming cellphone calls to either ring on our desktop phone or be redirected to the office PBX when we're unavailable. For many businesses, the only phone number that a customer ever has is the business person's smartphone number. So, when we place outbound calls from home, or the office, or the cellphone, we want the customer to always see the cellphone number in the CallerID display. For accounting purposes, we'd also like all of the calls to be recorded in the cellphone log so that we can actually track call activity without reviewing logs in three different places. Well, we've finally got it!
Google Voice™ solved some of this cellphone integration with its new service. You can actually have calls ring on multiple devices simultaneously including your cellphone, your office phone, and your home phone. But there are several limitations. First, it's only available in the United States. Second, some folks just don't want Google knowing everything about your call history. Third, there's a flexibility issue when using Google Voice to forward calls to your home or office. Without a lot of hands-on daily management, the incoming calls get forwarded to your alternate numbers whether you're there or not. So, for example, if you're on the road, you probably don't want incoming business calls to your cellphone picked up by either your spouse or the office switchboard because there's no way to easily route the calls back to you.
[purehtml id=6] [purehtml id=7]
And that brings us to a pair of terrific new products from ObiHai. Last year we were provided a prerelease version of the OBi202™ at no cost, but frankly we hadn't had time to play with it until a business opportunity presented the perfect case for the OBi202. In addition to being a terrific standalone VoIP phone system, the OBi202 also supports an analog fax machine using Google Voice as well as T.38 digital faxing with a CallCentric trunk. And then we discovered the OBiBT™ Bluetooth® Adapter which we actually purchased. Lo and behold, for under $100, the Holy Grail of Mobile Phone Communications was staring us in the face. So let's begin with a quick summary of how all of this works, and then we'll show you how to do it yourself. As with all of our Amazon links, you are obviously free to buy products wherever you like. Where prices are competitive or availability is a factor, we often recommend Amazon because Amazon provides financial support to Nerd Vittles through its referral links. That really does help keep the lights on so thanks in advance for your understanding.
The way The Holy Grail works in our SOHO setup goes something like this. I carry a Bluetooth-enabled, Galaxy Note II smartphone. While away from the house, the smartphone works like any other cellphone. I can make and receive calls as well as email and SMS messages. The only difference is that I have the phone connected through a Google Voice number so that incoming SMS messages are also delivered as Gmail messages. When I return home, the OBi202 with the OBiBT adapter senses that a smartphone is within range. You can pair and prioritize up to 10 of them. Incoming calls still ring on the cellphone, but they also ring on some POTS cordless phones scattered around the office. The POTS phones are connected to the first of two phone connections on the OBi202. CallerID actually shows the same thing as the cellphone CallerID. And incoming SMS messages also appear in the CallerID display of the cordless phones. If an incoming call is not answered in two rings, the OBi202 transfers the call to our Incredible PBX™ running on a Raspberry Pi®. It then processes the call through an AutoAttendant and delivers the call either to all of the house phones or to the desired person in the house. If there's no answer, the call is handled by the voicemail system in Incredible PBX, and the message is also emailed to the desired recipient.
While at home base, outbound calls from the POTS phones in the office are always placed through my cellphone using the Bluetooth connection in the OBi202. Depending upon how you set up your Google Voice interaction with your cellphone, outbound calls will show either your cell phone number or Google Voice number as the CallerID. When we leave the office, the office phones no longer ring, just the Galaxy Note II. And outbound calls from the SOHO cordless phones are handled using a preconfigured SIP provider or Google Voice trunk in the OBi202 instead of via Bluetooth and the smartphone.
This may sound trivial to some of you. Suffice it to say, it's not. You won't find any commercial PBX that can do it. And the Asterisk Dev Team has been working on a Bluetooth connector called chan_mobile for as long as we can remember. It still doesn't work reliably. You can follow the progress of our half dozen chan_mobile pioneers here.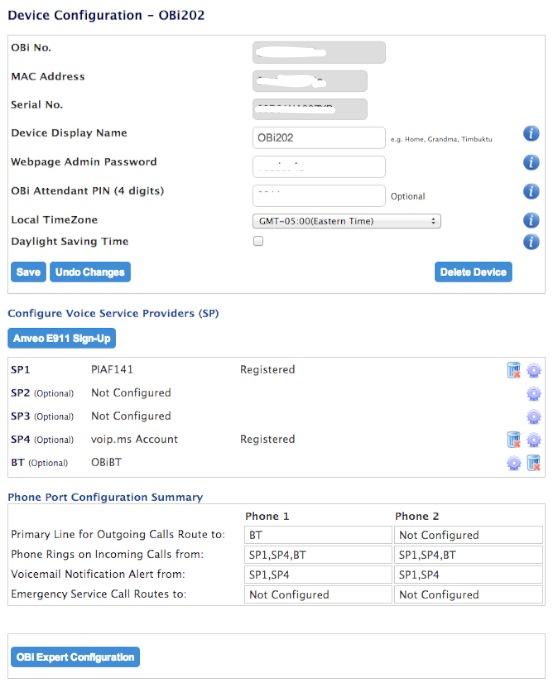 Getting Started with the OBi202. Before you can tackle Bluetooth, you need to get a perfectly functioning OBi202. Plug it in with a network cable behind your router which must provide a DHCP address to the device. Plug a POTS phone into PHONE 1. Now make a test call to OBiTALK by dialing **9 222 222 222. Next, decipher the IP address of your device by dialing ***1. Make sure your device is running the latest software by dialing ***6. Using a browser, go to http://www.obitalk.com. Create an account and then log in. Choose Add Device and follow the prompts to get your new device registered. If you want to use Google Voice, now is the time to set up your account. Choose Configure Voice Service Providers, choose your provider, and specify what phone port to use for the service. By default, both phone ports will work with whatever service provider you first configure. If you want to register your OBi202 as an extension on your Asterisk® server, now's the time to do that as well. We also recommend you create an account with VoIP.ms and obtain a free INUM trunk. You can read how to set this up and why in this Nerd Vittles article. The advantage of having this trunk is that you can use it to route calls between your OBi202 and your Asterisk server at no cost. Just create and then register separate subaccounts on VoIP.ms for both your Asterisk server and your OBi202. Build a trunk and an inbound route on your Asterisk server to route calls from your INUM DID to wherever you'd like incoming INUM calls to go, e.g. an extension, a ring group, or an IVR. INUM DIDs look like this: 88351000XXXXXXX where the last seven digits are your personal number. Use SP4 on your OBi202 to set up your VoIP.ms subaccount. Be sure all of the accounts you create get properly registered.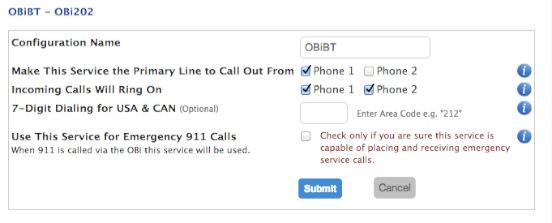 Configuring Bluetooth on the OBi202. Setting up the Bluetooth functionality is straightforward. Plug in the OBiBT. Dial *28 from a phone connected to the OBi202. Within two minutes, open the Bluetooth network settings menu on your smartphone and pair it with the OBi202. If prompted for a passcode, it's 0000. Refresh your OBi Dashboard, and click on Edit BT icon in the Voice Service Providers frame. Set the device up as shown above. Click the Submit button.
At this point, incoming calls on your cellphone will also ring on the POTS phones connected to your OBi202. And calls that you place using a phone connected to the OBi202 will be routed out through your cellphone. This may be sufficient for many of you. We wanted the added functionality of routing inbound calls to our PBX when there was no answer on the OBi202-connected phones. At least with AT&T and StraightTalk, two rings is about the most you can allow without risking a voicemail pickup through your cellphone provider. Here's how to set it up.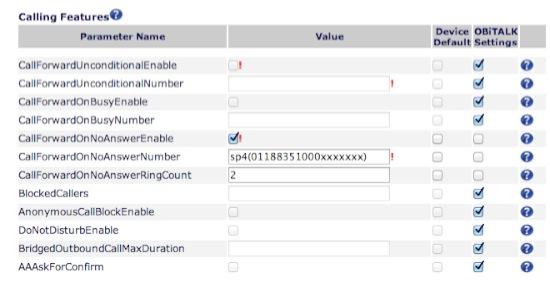 From the OBi202 Device Configuration Menu, click on the blue OBi Expert Configuration button. Acknowledge that you know what you're doing and then click on the blue Enter OBi Expert button. In the left column under Voice Service, click OBiBlueTooth. Edit the Calling Features section and make it look like what's shown above, replacing xxxxxxx with your personal INUM DID assigned from VoIP.ms. Click the Submit button when you're finished. Now incoming calls will ring twice on your OBi202-connected phones and then be transferred to the INUM DID configured in Asterisk.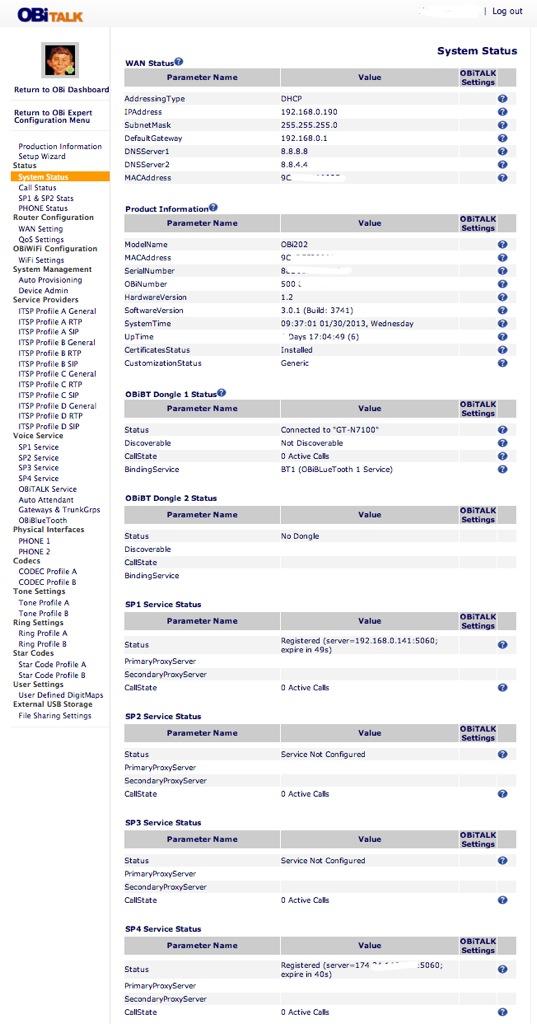 You can check the status of your OBi202 at any time by launching OBi Expert and clicking System Status. Enjoy!
Tweet
Originally published: Monday, February 4, 2013
---
Support Issues. With any application as sophisticated as this one, you're bound to have questions. Blog comments are a terrible place to handle support issues although we welcome general comments about our articles and software. If you have particular support issues, we encourage you to get actively involved in the PBX in a Flash Forum. It's the best Asterisk tech support site in the business, and it's all free! Unlike some forums, ours is extremely friendly and is supported by literally hundreds of Asterisk gurus and thousands of users just like you.

Need help with Asterisk? Visit the PBX in a Flash Forum.

---
whos.amung.us If you're wondering what your fellow man is reading on Nerd Vittles these days, wonder no more. Visit our new whos.amung.us statistical web site and check out what's happening. It's a terrific resource both for us and for you.
---
Special Thanks to Our Generous Sponsors

FULL DISCLOSURE: ClearlyIP, Skyetel, Vitelity, DigitalOcean, Vultr, VoIP.ms, 3CX, Sangoma, TelecomsXchange and VitalPBX have provided financial support to Nerd Vittles and our open source projects through advertising, referral revenue, and/or merchandise. As an Amazon Associate and Best Buy Affiliate, we also earn from qualifying purchases. We've chosen these providers not the other way around. Our decisions are based upon their corporate reputation and the quality of their offerings and pricing. Our recommendations regarding technology are reached without regard to financial compensation except in situations in which comparable products at comparable pricing are available from multiple sources. In this limited case, we support our sponsors because our sponsors support us.


BOGO Bonaza: Enjoy state-of-the-art VoIP service with a $10 credit and half-price SIP service on up to $500 of Skyetel trunking with free number porting when you fund your Skyetel account. No limits on number of simultaneous calls. Quadruple data center redundancy. $25 monthly minimum spend required. Tutorial and sign up details are here.


The lynchpin of Incredible PBX 2020 and beyond is ClearlyIP components which bring management of FreePBX modules and SIP phone integration to a level never before available with any other Asterisk distribution. And now you can configure and reconfigure your new Incredible PBX phones from the convenience of the Incredible PBX GUI.


VitalPBX is perhaps the fastest-growing PBX offering based upon Asterisk with an installed presence in more than 100 countries worldwide. VitalPBX has generously provided a customized White Label version of Incredible PBX tailored for use with all Incredible PBX and VitalPBX custom applications. Follow this link for a free test drive!



Special Thanks to Vitelity. Vitelity is now Voyant Communications and has halted new registrations for the time being. Our special thanks to Vitelity for their unwavering financial support over many years and to the many Nerd Vittles readers who continue to enjoy the benefits of their service offerings. We will keep everyone posted on further developments.

---
---
Some Recent Nerd Vittles Articles of Interest…