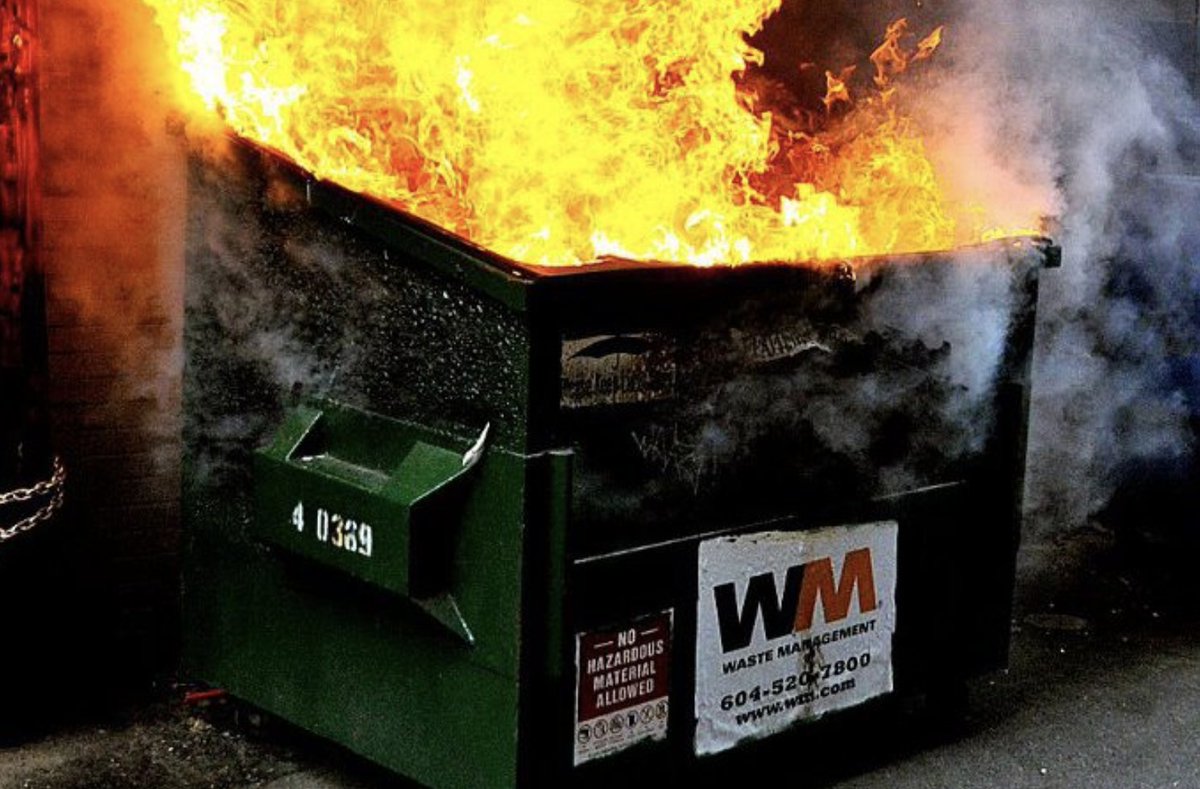 On Friday evening, Sangoma announced that they would be revoking the FreePBX® signing key of Clearly IP. The key was independently developed and copyrighted by Rob Thomas, who was the original developer of FreePBX. As we indicated in a
previous article
, we suspect that this is merely the first step in a process to replace Rob Thomas's GPG key with a Sangoma-proprietary key. Indeed,
tired_runner on the DSL Reports forum
has reported that he "installed Framework 15.0.16.38 which apparently refreshes GPG keys before reading this thread. Dashboard kept complaining that version 15.0.16.30 I was running was vulnerable." Further surprises may be in store for FreePBX users tomorrow which is the day Sangoma indicated on Friday that they would be revoking the Clearly IP signing key. You can read all sides of the dispute in this
thread on the FreePBX Forum
. You should also review
Rob Thomas' comments on the PIAF Forum
.
Unfortunately, this is an outcome we predicted about five years ago when Rob was first developing the signature checking module. While Rob intended it to be nothing more than an integrity check, it has been transformed into a commercial weapon just as we predicted. It's the primary reason that Incredible PBX servers have always been shipped with module signature checking disabled. Pretty sad day for the open source community and a company that professed to care deeply for its users.
For those who already have deployed Incredible PBX 2020, you should immediately log into your server as root and allow the Automatic Update Utility to load the necessary patches to assure that your server still will be operational tomorrow on February 17. There are serious legal penalties, both state and federal, for anyone that tampers with the operation of a computer system which they do not own. Should this happen to you, please let us know, and we will assemble the necessary information to provide to any future legal counsel that may be retained to represent the class of affected users.
For those considering a new PBX and for your own peace of mind, we would encourage you to choose one of the Incredible PBX 2020 platforms, all of which have now been patched to provide a smooth transition to the ClearlyIP mirror servers for FreePBX module updates. Versions are available for CentOS 7, Raspbian 10, and VirtualBox.
We want to take a moment to express our sincere thanks to the Clearly IP development team which worked around the clock this weekend to assure that nobody would be needlessly harmed by Sangoma's conduct. THANK YOU!
We will provide further details in coming days. So stay tuned for updates.

7 p.m. Sunday UPDATE:
Sangoma reportedly has granted a one-week reprieve
. Generous.
Valentine's Day UPDATE: Without addressing whether revocation of the FreePBX Master Key was under consideration, Sangoma now denies any plan to revoke the FreePBX Master Key: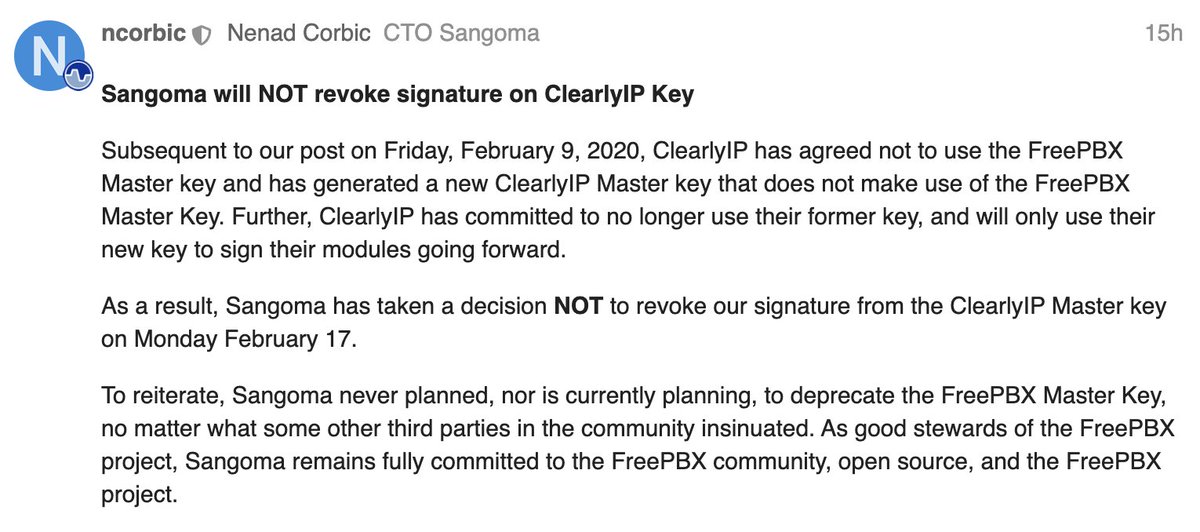 Continue reading: Future-Proofing FreePBX Distro with Incredible PBX Skin
Originally published: Sunday, February 9, 2020
---

Need help with Asterisk? Visit the VoIP-info Forum.

---
Special Thanks to Our Generous Sponsors

FULL DISCLOSURE: ClearlyIP, Skyetel, Vitelity, DigitalOcean, Vultr, VoIP.ms, 3CX, Sangoma, TelecomsXchange and VitalPBX have provided financial support to Nerd Vittles and our open source projects through advertising, referral revenue, and/or merchandise. As an Amazon Associate and Best Buy Affiliate, we also earn from qualifying purchases. We've chosen these providers not the other way around. Our decisions are based upon their corporate reputation and the quality of their offerings and pricing. Our recommendations regarding technology are reached without regard to financial compensation except in situations in which comparable products at comparable pricing are available from multiple sources. In this limited case, we support our sponsors because our sponsors support us.


BOGO Bonaza: Enjoy state-of-the-art VoIP service with a $10 credit and half-price SIP service on up to $500 of Skyetel trunking with free number porting when you fund your Skyetel account. No limits on number of simultaneous calls. Quadruple data center redundancy. $25 monthly minimum spend required. Tutorial and sign up details are here.


The lynchpin of Incredible PBX 2020 and beyond is ClearlyIP components which bring management of FreePBX modules and SIP phone integration to a level never before available with any other Asterisk distribution. And now you can configure and reconfigure your new Incredible PBX phones from the convenience of the Incredible PBX GUI.


VitalPBX is perhaps the fastest-growing PBX offering based upon Asterisk with an installed presence in more than 100 countries worldwide. VitalPBX has generously provided a customized White Label version of Incredible PBX tailored for use with all Incredible PBX and VitalPBX custom applications. Follow this link for a free test drive!



Special Thanks to Vitelity. Vitelity is now Voyant Communications and has halted new registrations for the time being. Our special thanks to Vitelity for their unwavering financial support over many years and to the many Nerd Vittles readers who continue to enjoy the benefits of their service offerings. We will keep everyone posted on further developments.

---
---