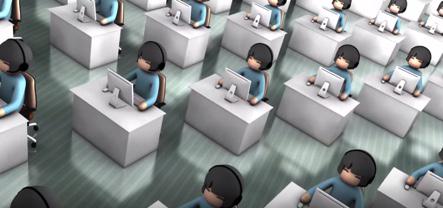 We confess that Call Centers have never been on our telephony radar primarily because we deal in the open source market, and Telephone Answering Service (TAS) technology always has been at the opposite end of the cost spectrum. Typical call center setups can cost upwards of $1,000 per seat… until now. In addition to its revolutionary
AGPLv3 license
, two additional things caught our attention with
OpenAnswer
.
The company behind OpenAnswer,
VoiceNation
, has been in the Internet telephony and call center business for more than 15 years and is a
well-respected industry leader
. Their clients read like Who's Who:

The second facet of OpenAnswer that caught our eye was its GPL platform. If you already have a PBX in a Flash™, Incredible PBX™, or FreePBX® Distro server in production, then you've got everything you need to get started. The recommended server should have at least a 2 GHz processor with a minimum 8GB of RAM. At least a 1.5 Mb (T-1 or equivalent) Internet connection is recommended to avoid call quality issues. The software mix will be familiar: Asterisk® 11 (recommended) or 13, FreePBX or Incredible GUI, MySQL, Apache, Linux, PF Sense, PHP, and jQuery. The operator screens run directly in any of the leading web browsers. The operator screens are highly configurable using OpenAnswer's call types admin screen. Operators can be provided as little or as much information as desired, and reporting is tightly integrated into the software platform. Additional features such as "minders" and messages to each agent can be configured as needed. Particularly impressive were the drag-and-drop agent setup scripts and time-sensitive agent scripts that let you configure different agent scripts based upon date/time ranges. In short, this is not teaser software or crippleware designed to hook you into a paid platform. It is a full-featured Call Center out of the GPL box. The beauty of open source software, of course, is you can try it for yourself. And it doesn't cost you a dime.

We don't have to tell most of you that the shortcoming of many open source projects is the lack of documentation. With OpenAnswer, you're in for a pleasant surprise. A detailed online tutorial walks you through all the steps: installation, configuration, taking calls, outbound calls, dispatcher/minders panel setup, message review, reports, and OpenQview for realtime monitoring. It's the best open source documentation we've seen in a very long time. There's even a step-by-step tutorial to walk you through installation on the FreePBX Distro platform.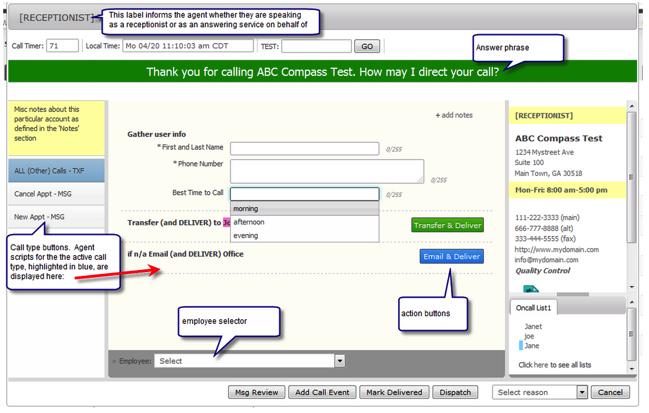 If you are contemplating getting into the Call Center business or if your current Call Center is prohibitively expensive, then you owe it to yourself and your wallet to take a careful look at OpenAnswer. Our special tip of the hat goes to Rick Friesen at DSS Consortium for his terrific discovery.
Tweet
Originally published: Wednesday, September 23, 2015
---

Need help with Asterisk? Visit the PBX in a Flash Forum.

---
Special Thanks to Our Generous Sponsors

FULL DISCLOSURE: ClearlyIP, Skyetel, Vitelity, DigitalOcean, Vultr, VoIP.ms, 3CX, Sangoma, TelecomsXchange and VitalPBX have provided financial support to Nerd Vittles and our open source projects through advertising, referral revenue, and/or merchandise. As an Amazon Associate and Best Buy Affiliate, we also earn from qualifying purchases. We've chosen these providers not the other way around. Our decisions are based upon their corporate reputation and the quality of their offerings and pricing. Our recommendations regarding technology are reached without regard to financial compensation except in situations in which comparable products at comparable pricing are available from multiple sources. In this limited case, we support our sponsors because our sponsors support us.


BOGO Bonaza: Enjoy state-of-the-art VoIP service with a $10 credit and half-price SIP service on up to $500 of Skyetel trunking with free number porting when you fund your Skyetel account. No limits on number of simultaneous calls. Quadruple data center redundancy. $25 monthly minimum spend required. Tutorial and sign up details are here.


The lynchpin of Incredible PBX 2020 and beyond is ClearlyIP components which bring management of FreePBX modules and SIP phone integration to a level never before available with any other Asterisk distribution. And now you can configure and reconfigure your new Incredible PBX phones from the convenience of the Incredible PBX GUI.


VitalPBX is perhaps the fastest-growing PBX offering based upon Asterisk with an installed presence in more than 100 countries worldwide. VitalPBX has generously provided a customized White Label version of Incredible PBX tailored for use with all Incredible PBX and VitalPBX custom applications. Follow this link for a free test drive!



Special Thanks to Vitelity. Vitelity is now Voyant Communications and has halted new registrations for the time being. Our special thanks to Vitelity for their unwavering financial support over many years and to the many Nerd Vittles readers who continue to enjoy the benefits of their service offerings. We will keep everyone posted on further developments.

---
---
Some Recent Nerd Vittles Articles of Interest…