As some of you know, we use computers to do Real Work™ so we're pretty much agnostic when it comes to operating systems and hardware. We have Windows machines and Macs and Linux servers from quad-core systems that will heat your house to Raspberry Pi's and BeagleBone Blacks that can run full-featured phone systems. We also take full advantage of cloud-based solutions from Amazon to RentPBX to Copy.com when it is cost-effective to do so. And we give equal time to iPads and Android tablets as well as iPhones and Android phones of many flavors.
When Microsoft moved into copy protection for Windows, we began transitioning to Mac OS X and Linux to handle stuff that mattered to us, but we always kept a foot in the door with Microsoft hoping things might turn around. They haven't, and Microsoft frankly has no one to blame but itself for the demise of the PC. It's become almost impossible for mere mortals to maintain, and we'll get to that story in a minute.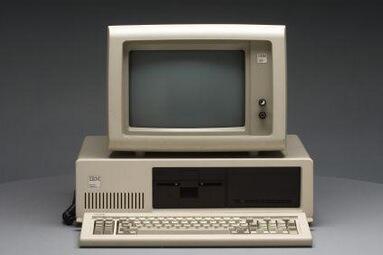 For those that would write us off as yet another Apple fanboy, you obviously haven't been reading Nerd Vittles for long. We started in the PC business with the third IBM PC sold in Atlanta in the early 1980's. DOS 1.0 came with a beautiful hard-bound binder that included all of the source code for the operating system. With dual 160K floppies, the price tag was about $4,500, and that's 1980 dollars when Cokes were still a nickel in Atlanta.
When the IBM AT was introduced, we championed the deployment of what would become 30,000+ systems in the federal courts with accompanying HP LaserJet printers. When DOS 3.1 was introduced, we deployed networks in hundreds of courthouses by clipping network cables to the ceiling tiles in the offices to avoid the risks associated with asbestos in many of the old federal courthouses in the United States. When Dell introduced servers, #6 and #7 arrived in Atlanta the next week to run our new Novell NetWare systems. We thought we had died and gone to heaven.
But something happened along the way. Windows was introduced with much fanfare but suffered growing pains for nearly a decade. Despite the fact that Windows bore striking similarities to the work of Apple and Xerox, Microsoft wasted little time engineering the demise of WordPerfect and Lotus 1-2-3 through "software anomalies." And then came copy protection to make sure others couldn't do what Microsoft had turned into an art form. And that brings us to yesterday at the new Nerd Vittles headquarters. We've been moving this month, and my office transition was low on the totem pole in the family priorities as only those of you with families can appreciate.
We had set up a few desks and a state-of-the-art Dell XPS One for temporary use during the transition. As we previously have written in our touchscreen roundup, the XPS One is truly an engineering marvel in a league of its own. If you haven't seen an XPS One, it is close to the perfect, touch-screen All-in-One hardware platform that we've all dreamed about… except it runs Windows 8. Our "real work" still gets done at a stand-up desk in another room using an iMac with redundant drives.
After writing a couple letters on the XPS One, it suddenly started locking up in the grandest Windows tradition. No notice, but no mouse or keyboard functionality either. Reboot and all is well for a couple minutes, and then more of the same. Within an hour, nothing worked and the dreaded "No boot device" error appeared on reboot. Reaching for the Windows 8 DVD provided by Dell didn't help either. It complained that there were no drivers for the hardware. Nice touch, Dell dudes! Since the machine was less than a year old, it was time to call Dell. To their credit, the call was answered promptly. And our 90-minute support call begins.
After a 15-minute registration process, we finally were handed off to India. With excruciating clarity, Noah walked us through F2 and F12 Hell attempting to identify what had failed. All of Dell's diagnostics reported that we had a perfectly functioning computer except for the minor detail that it wouldn't boot. In the end, the resolution was to ship a new motherboard and hard disk for installation by a local service tech. Noah then asked, "Do you have a backup." My response was easy. "I don't need one. We don't do anything on this machine that isn't saved elsewhere." The reason is simple. It's almost impossible to make a useful backup of a Windows machine. You still have to restore the operating system first and navigate the copy protection minefield before you ever get to your backup. Yes, we know there are alternatives, but cumbersome doesn't begin to describe that process. And, if you are one of the poor souls that relies upon Comcast and their "free" Norton backup, then you have another Chinese fire drill to endure getting all of that installed before you ever can restore your actual backup files. In short, it's a multi-day ordeal even assuming nothing goes wrong in the laborious process.
As Noah was wading through the weeds trying to make Windows 8 come back to life, I couldn't help contrasting the Microsoft/Dell situation to what I have experienced in the Mac world with a similar catastrophic failure. You simply turn off the Mac and then restart it while holding down the Option key. When the list of hard drives appears, choose your USB-connected backup drive and wait for the system to boot and all of your data to reappear. When you finish what you're doing, shut down the computer, carry it to the Apple store, and pick it up in a couple hours with its new hard disk. Restore the external drive with the click of a button, and you're back in business.
With all due respect to Noah, what I keep asking myself is why anyone or any organization would endure this kind of misery just to use Microsoft's copy-protected crapola. Tedious doesn't begin to describe the 90-minute ordeal which is merely Phase I of a week-long process. Multiply that by thousands of PCs in an organization, and you'd be visiting the closest gun dealer begging anyone to put you out of your misery.
When I see every kid with zero interest in a desktop computer of any kind, I think we all have Microsoft to thank for the rise of the tablet and cellphone. If an iPhone or Android phone dies, you move your SIM card to a new one and reboot. All of your stuff reappears without touching anything. Who would want anything else?
Michael Dell is a smart guy with lots of money and a (once again) private company. If he wants to stay in business, he needs to figure out a way to kiss India goodbye and develop a functional backup and restore methodology that's as easy as what you find on a tablet or cellphone. Short of that, our love affair with Dell will end when our 3-year extended warranty comes to a close. I can't say it's always been fun, but it has been a Wild Ride!
Epilogue: After completion of our call to Dell, it took 21 hours for the local service tech to receive the parts from Dell, arrive at our doorstep, and complete the motherboard and hard drive replacement. Very impressive! Unfortunately, the kudos end there. And that's exactly the point of this article. The replacement drive was shipped blank with two DVDs and a Windows 8 product key. The process to get back to the functioning system we previously had involved reloading Windows 8 plus all of the software updates plus the free Windows 8.1 upgrade. Total time: a whopping 21 hours! And this was before we ever restored the first backup! It's a procedure with good imaging technology that could have been completed in about 15 minutes. So our conclusion remains the same. Absent some focus by Dell in addressing the restore shortcomings with hardware failures, the best hardware in the world isn't going to keep Dell or the Microsoft desktop empire afloat. Painful doesn't begin to describe this ordeal for the average consumer.
Tweet
Originally published: Thursday, March 27, 2014
---

Need help with Asterisk? Visit the PBX in a Flash Forum.

---
Special Thanks to Our Generous Sponsors

FULL DISCLOSURE: ClearlyIP, Skyetel, Vitelity, DigitalOcean, Vultr, VoIP.ms, 3CX, Sangoma, TelecomsXchange and VitalPBX have provided financial support to Nerd Vittles and our open source projects through advertising, referral revenue, and/or merchandise. As an Amazon Associate and Best Buy Affiliate, we also earn from qualifying purchases. We've chosen these providers not the other way around. Our decisions are based upon their corporate reputation and the quality of their offerings and pricing. Our recommendations regarding technology are reached without regard to financial compensation except in situations in which comparable products at comparable pricing are available from multiple sources. In this limited case, we support our sponsors because our sponsors support us.


BOGO Bonaza: Enjoy state-of-the-art VoIP service with a $10 credit and half-price SIP service on up to $500 of Skyetel trunking with free number porting when you fund your Skyetel account. No limits on number of simultaneous calls. Quadruple data center redundancy. $25 monthly minimum spend required. Tutorial and sign up details are here.


The lynchpin of Incredible PBX 2020 and beyond is ClearlyIP components which bring management of FreePBX modules and SIP phone integration to a level never before available with any other Asterisk distribution. And now you can configure and reconfigure your new Incredible PBX phones from the convenience of the Incredible PBX GUI.


VitalPBX is perhaps the fastest-growing PBX offering based upon Asterisk with an installed presence in more than 100 countries worldwide. VitalPBX has generously provided a customized White Label version of Incredible PBX tailored for use with all Incredible PBX and VitalPBX custom applications. Follow this link for a free test drive!



Special Thanks to Vitelity. Vitelity is now Voyant Communications and has halted new registrations for the time being. Our special thanks to Vitelity for their unwavering financial support over many years and to the many Nerd Vittles readers who continue to enjoy the benefits of their service offerings. We will keep everyone posted on further developments.

---
---
Some Recent Nerd Vittles Articles of Interest…