If you don't think there's a telephony revolution underway, then take a look at this year's crop of new VoIP telephones. No doubt that Alexander Graham Bell would be a happy camper. We've picked three of our favorites to take for a spin this week. Pictured above (left to right) are the Mocet Communicator, Grandstream's GXP2200, and Yealink's T46G. These three devices offer three dramatically different, but equally effective, approaches to the future of VoIP telephony.

The
Mocet Communicator
is what we'd call a BYOI (bring-your-own-iPad) device. With it, you get a full-featured HD telephony platform plus all the feature comforts of a full-fledged iPad including
Skype
, a variety of free messaging apps such as
iMessage
and
FaceTime
, Google Voice featuring
GV Connect
, and any other app of any type you choose to install on your iPad. After installing the free
IP Commander app from the App Store
, the phone interconnects with iOS and your iPad seamlessly. It's a one-minute operation to set up a SIP connection with PBX in a Flash™, Incredible PBX™, and Asterisk®. For the ultimate in ease of use, the
FreePBX™ (commercial) EndPoint Manager
fully supports all the Mocet devices. EPM is the best $25 you could ever spend on your server. The phone itself worked flawlessly inside a private LAN as well as from a remote site with either a direct IP connection or VPN connection to home base. For the ultimate in flexibility, you can add an
inexpensive WiFi adapter
. HD Voice quality with even an entry level DSL connection was spectacular. And, if the wow factor of causing your nerdy friends to wet their pants is a consideration, then this is the hands-down winner. Click this
link for a rundown of the impressive feature set
. Incidentally, you can still receive calls and make emergency calls even without the iPad connected.
Now let's turn to what PBX in a Flash, Incredible PBX, and Nerd Vittles bring to the table with this new phone. We actually configured the "Red Hotline Button" a little differently than President Obama. Ours dials the Nerd Vittles CallWho™ application. The app is included in all Incredible PBX bundles as well. CallWho lets you place hands-free calls from your AsteriDex phonebook using simple voice commands. You can click on the YouTube video above for a one-minute demo.
If the Mocet Communicator has a drawback, it's probably price, but hopefully that will improve in the next few months. The device itself retails for $229.95 with free 2-day Prime shipping using our Amazon link.1 Adding an iPad will set you back another $300+, but we love this phone. Its novel approach to hybrid VoIP technology is clearly the future direction of VoIP telephony, and the Mocet software will only get better with time.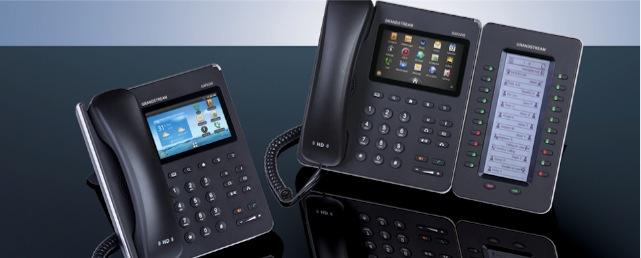 Grandstream's GXP2200 is proof positive that these hybrid VoIP phones are the wave of the future. Nerd Vittles reviewed this phone last November, and the feature set continues to improve. The GXP2200 is another approach to hybrid VoIP technology with Android serving as the base operating system for the phone itself. This brings you the best of all worlds for under $200 with no additional tablet to purchase. And you still get a terrific HD Voice platform with all the comforts of Android under the hood. See the Amazon link in our sidebar for the latest pricing. As with the Mocet Communicator's iOS integration, Android brings a wealth of applications to the GXP2200 desktop including Skype, Facebook and Facebook Messenger, GrooVe IP for Google Voice, OBiON for free calling through any OBi device, dozens of additional messaging apps, and your choice of literally thousands of apps from the Google Play Store and Grandstream's GS Market which features applications specifically tailored for the GXP2200. Since our original article appeared, Grandstream has released the expansion module for this phone. The addition of the 40-button sidecar with full BLF support for under $100 makes this a near perfect desktop phone for use with Asterisk. It's one of a select few phones that we personally use all day, every day. It supports six SIP connections, and we use it to connect to several PBX in a Flash, RentPBX, and Incredible Pi servers scattered across the U.S. as well as a few SIP subaccounts hosted at Vitelity, VoIP.ms, and les.net. Performance is nearly flawless!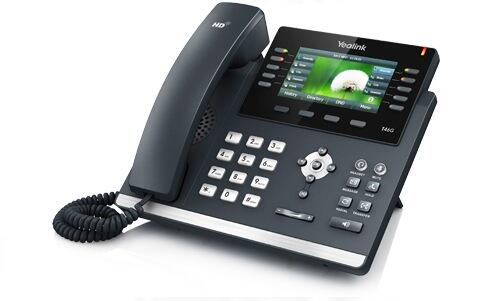 Yealink's T46G Executive IP Phone may still be our top pick even with the new generation of hybrid phones. See the Nerd Vittles sidebar for an incredible deal on this phone with a show-stopping feature set: HD Voice, dual-port gigabit Ethernet connections, USB support for Bluetooth and WiFi (soon), integrated POE support plus included power adapter, multiple phonebook options with up to 1,000 entries, VLAN and OpenVPN integration, 10 line keys with 27 programmable buttons, SRTP encrypted communications, and a stunning color display. Two years ago this would have been a $500 phone, and now it's a lunch tab away from the price of Digium's entry-level SIP phone. Pretty amazing. For the latest tips and tricks in getting the T46G properly configured, come join the PIAF Forum discussion.
UPDATE: Having now used the T46G for a few days, our first impression is that this phone is an industrial-grade, feature-rich, state-of-the-art SIP device with all of the feature comforts a large organization would want in rolling out a new company-wide phone system. Sophisticated server redundancy is built into the phones to support automatic failover to a backup VoIP server in the event of a catastrophic system failure. Encrypted SRTP communications as well as OpenVPN support is integrated into each phone. The T46G also includes the XML programming functionality available in the Aastra and Digium phones. You can try out our demo XML apps by visiting the PIAF Forum. In addition, basic web server interaction is provided through event triggers on the phone that can generate Action URIs to receive and process HTTP GET requests and Action URLs to send HTTP GET requests when a specified telephone event occurs.
The phonebook implementation is exactly what a large organization would want: three phone numbers plus a phone, ring tone, and group entry per person plus customizable accounts and groups. Import and export of XML or CSV data through a web interface is a snap. In fact, the CSV format even supports export of images linked to every phonebook entry. For a large organization, it means the HR department could maintain a single phonebook database of up to 1,000 records with photos of every employee. That database then could be pushed to every phone in the organization by one HR employee using a web browser without ever touching or rebooting a single telephone. LDAP directories are also supported for the purists. Enjoy!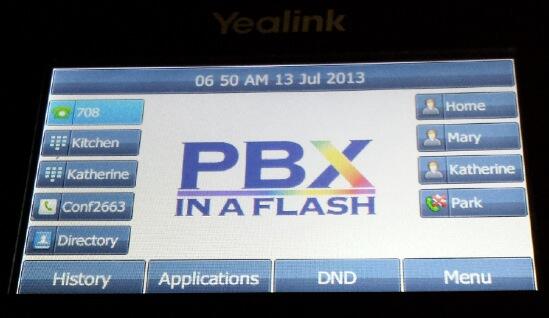 ---
Deals of the Week. There are a couple of amazing deals still on the street, but you'd better hurry. First, for new customers, Sangoma is offering a board of your choice from a very impressive list at 75% off. For details, see this thread on the PIAF Forum. Second, a new company called Copy.com is offering 20GB of free cloud storage with no restrictions on file size uploads (which are all too common with other free offers). Copy.com has free sync apps for Windows, Macs, and Linux systems. To take advantage of the offer, just click on our referral link here. We get 5GB of extra storage, too, which will help avoid another PIAF Forum disaster.
Tweet
Originally published: Tuesday, July 9, 2013
---

Need help with Asterisk? Visit the PBX in a Flash Forum.

---
Don't miss the first-ever FreePBX World on August 27-28 at the Mandalay Bay in Las Vegas. For complete details, see this post on the FreePBX blog.
---

We are pleased to once again be able to offer Nerd Vittles' readers a 20% discount on registration to attend this year's
10th Anniversary AstriCon
in Atlanta. And, if you hurry, you also can take advantage of the early bird registration discount. Here's the Nerd Vittles Discount Code:
AC13NERD
.
---
Special Thanks to Our Generous Sponsors

FULL DISCLOSURE: ClearlyIP, Skyetel, Vitelity, DigitalOcean, Vultr, VoIP.ms, 3CX, Sangoma, TelecomsXchange and VitalPBX have provided financial support to Nerd Vittles and our open source projects through advertising, referral revenue, and/or merchandise. As an Amazon Associate and Best Buy Affiliate, we also earn from qualifying purchases. We've chosen these providers not the other way around. Our decisions are based upon their corporate reputation and the quality of their offerings and pricing. Our recommendations regarding technology are reached without regard to financial compensation except in situations in which comparable products at comparable pricing are available from multiple sources. In this limited case, we support our sponsors because our sponsors support us.


BOGO Bonaza: Enjoy state-of-the-art VoIP service with a $10 credit and half-price SIP service on up to $500 of Skyetel trunking with free number porting when you fund your Skyetel account. No limits on number of simultaneous calls. Quadruple data center redundancy. $25 monthly minimum spend required. Tutorial and sign up details are here.


The lynchpin of Incredible PBX 2020 and beyond is ClearlyIP components which bring management of FreePBX modules and SIP phone integration to a level never before available with any other Asterisk distribution. And now you can configure and reconfigure your new Incredible PBX phones from the convenience of the Incredible PBX GUI.


VitalPBX is perhaps the fastest-growing PBX offering based upon Asterisk with an installed presence in more than 100 countries worldwide. VitalPBX has generously provided a customized White Label version of Incredible PBX tailored for use with all Incredible PBX and VitalPBX custom applications. Follow this link for a free test drive!



Special Thanks to Vitelity. Vitelity is now Voyant Communications and has halted new registrations for the time being. Our special thanks to Vitelity for their unwavering financial support over many years and to the many Nerd Vittles readers who continue to enjoy the benefits of their service offerings. We will keep everyone posted on further developments.

---
---
Some Recent Nerd Vittles Articles of Interest…
Many of our purchase links refer users to Amazon when we find their prices are competitive for the recommended products. Nerd Vittles receives a small referral fee from Amazon to help cover the costs of our blog. We never recommend particular products solely to generate Amazon commissions. However, when pricing is comparable or availability is favorable, we support Amazon because Amazon supports us. [↩]