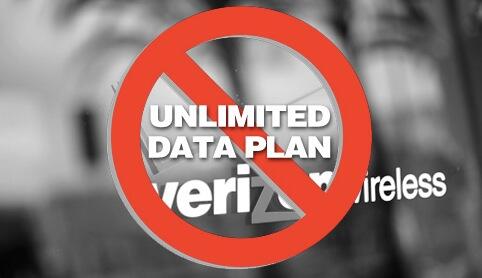 Every year or so we like to take a fresh look at the cell phone landscape and reassess what makes the most sense for business, personal, and family use in terms of cost, functionality, and performance. Last year's favorite based upon both cost and feature set was StraightTalk which offered unlimited talk, text, and data (sort of) on either the AT&T or T-Mobile network for $45 a month. Since that article was released, StraightTalk has quietly dropped the AT&T offering reportedly at AT&T's request due to reported changes in the phone unlocking law. To date, existing StraightTalk users of the AT&T service have not been affected. Whether that will continue, of course, is anybody's guess. Suffice it to say, when you could get identical or better functionality from StraightTalk for less than half the cost of buying directly from AT&T, customers were leaving AT&T in droves. So this may be nothing more than an attempt to stop the hemorrhaging. For those that may be interested, you still can buy an AT&T StraightTalk SIM on eBay for $30-$100.
What has also changed in the last year is the data plan landscape. Both of the Bell Sisters, AT&T and Verizon, have moved to shared data plans with unlimited talk and text. In the U.S. market, there are no more unlimited data plans except from the second tier providers, Sprint and T-Mobile. You basically pay a base fee for a bucket of data and then a per device fee for each cellphone or tablet you wish to use. It should come as no surprise that the costs are nearly identical whether you choose AT&T or Verizon. See this Engadget article for the details. If you're a heavy consumer of data services or if you have kids that frequently stream music or movies, the pay-as-you-go shared data plans are bad news. Similarly, StraightTalk advertises unlimited data on their monthly plans but, in the fine print, bars use of any phone for tethering or any streaming services. We'll leave it to you to decide whether this is deceptive advertising. Suffice it say, it hasn't bothered the Federal Trade Commission thus far.
So what is a heavy cellphone data user to do? For the moment, there is a solution, but who knows what the future holds. Verizon has grandfathered in those customers who previously had $29.95 unlimited data plans, and this applies to 3G and 4G data services. For $30 more a month, you also can add tethering with unlimited data. For the record, if this sounds expensive to you, keep in mind that Verizon's latest MiFi JetPack pricing for 10GB of data per month is a whopping $90. The only condition (thus far) for keeping an unlimited data plan is that customers cannot take advantage of new phone subsidies when renewing or extending a contract. But customers are free to purchase a new phone at full price and transfer an existing unlimited data plan account to the new phone. More importantly, for those of us not on a Verizon unlimited data plan, there is no restriction on transferring an existing account to someone else. It should come as no surprise that clever, long-time Verizon customers quickly started selling their unlimited data plan accounts on eBay. And we bought one to determine whether the transfer process actually works. It does!
Before we get to the details, we've got to share our latest Best Buy adventure to purchase the new Samsung Galaxy S4 which we will review in a few weeks. As with previous episodes, we continue to swear we'll never again set foot in a Best Buy store. Here's why. Thinking we'd save a little time, we ordered the GS4 on line at bestbuy.com with delivery to our local store. The site showed the store had the units in stock. Within minutes, we got an email confirmation that the order had been received. The original email noted that we would receive another email when the phone was ready for pickup but also included a link to actually schedule a pickup time. Certain times were blocked out, and we picked an available time slot which was roughly four hours after the phone had been purchased. So far, so good.
Silly us, we thought scheduling a pickup time might actually bear some relationship to the ordering procedure. It didn't. When we arrived at the store, the customer service rep indignantly insisted that we had arrived too soon. The approval process had not been completed despite the fact that PayPal already had approved the transaction. The Best Buy web site actually showed that the order was awaiting confirmation (from the store) that the phone was in stock. The store employees claimed no knowledge of such a request. When would the process be completed? We were told it usually happened almost instantly, but this was "an expensive phone." Who knows? Four hours later, there still was no confirmation email. Because we were leaving town, the on line order was cancelled, and we returned to the Best Buy store to purchase the phone directly. The Verizon SIM card was an additional $20. The salesperson slipped it into the bag with the phone. Hours later, we discovered that Best Buy had taped a different SIM chip onto the credit-card sized card that usually contains both the SIM chip and the SIM card device ID. Because they didn't match, we suspected that someone had returned a defective SIM card, and Best Buy had swapped out the bad SIM chip for the original one on the card. Guess where the bad one went? We'll never know because we didn't want to take a chance since we needed a working SIM card to complete the Verizon transfer procedure. Trip #3 to Best Buy plus an online order and a cancelled online order minus $823 for a phone, $290 to eBay, and $10 for gasoline, and we finally had all the pieces. Never again. Honest! In her usual sympathetic voice, my wife inquired, "How does Best Buy stay in business?" I responded that the stores were convenient. She reminded me that the process recounted above was anything but convenient. Amen.
If you decide you want a Galaxy S4, do yourself and Nerd Vittles a favor. Use the link in the right column to head over to Amazon. You'll not only avoid the Best Buy aggravation, but you'll save over $170 in the process while providing a little financial support to the Nerd Vittles project. If you're a Prime member, you even get free 2-day shipping. Don't forget to purchase a Verizon 4G SIM card. They're $4 at Amazon instead of $20 at Best Buy. 🙄

When we purchased the grandfathered data plan on eBay, the seller had indicated that the plan would not be available for transfer for a couple of days. What we were told we needed was the IMEI of the phone plus the SIM card ID. Actually, you need a few more things unless you have an existing Verizon account. Remember, you have to pass a credit check to get Verizon service. And this requires your name, social security number, date of birth, home address, and phone number. In short, it's everything anybody would want that was interested in identity theft. We have credit monitoring services so we weren't too worried. If you don't, you probably shouldn't repeat the procedure we used since you'll be on the phone with both the eBay seller AND the Verizon rep that's handling the account transfer. Ideally, a seller should be able to provide you the cellphone number associated with the account, and you could provide the IMEI and SIM card ID to the seller for relaying to Verizon. Then you could call Verizon directly, plug in the cell phone number, and complete the transfer and credit check. This avoids the potential man-in-the-middle problem. In any case, the process was effortless. Changing the phone device and phone number on the account was a breeze. We chose a Calling Plan and Messaging Plan to go with the Unlimited Data Plan, and we were off to the races. Available plan pricing is shown above.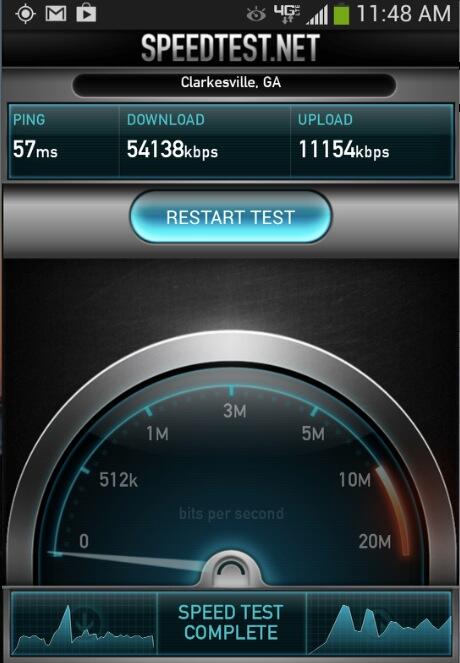 Still wondering why unlimited data with 4G LTE service matters? Take a gander at the performance numbers above from one of the most remote areas in the Smoky Mountains of North Carolina, and the answer should be obvious. Waynesville is a town with a population of under 10,000 people. Impressive indeed, Verizon!
Pioneer Alert. We're pleased to announce the release of the new PIAF-Green Virtual Machine with PBX in a Flash 2.0.6.4.4, Asterisk 11, and FreePBX 2.11. This version incorporates important security updates including a new Linux kernel and patches to protect against the Apache SSL attacks plus the latest Google Voice Motif additions for Asterisk and FreePBX. Grab a copy to play with on your Windows, Mac, or Linux desktop. You can download it now from SourceForge and provide feedback in the PIAF Forum. Documentation is provided both in the SourceForge readme and in the Nerd Vittles article covering the previous release. We'll have a new tutorial available next week on Nerd Vittles.
Deals of the Week. There are a couple of amazing deals still on the street, but you'd better hurry. First, for new customers, Sangoma is offering a board of your choice from a very impressive list at 75% off. For details, see this thread on the PIAF Forum. Second, a new company called Copy.com is offering 20GB of free cloud storage with no restrictions on file size uploads (which are all too common with other free offers). Copy.com has free sync apps for Windows, Macs, and Linux systems. To take advantage of the offer, just click on our referral link here. We get 5GB of extra storage, too, which will help avoid another PIAF Forum disaster.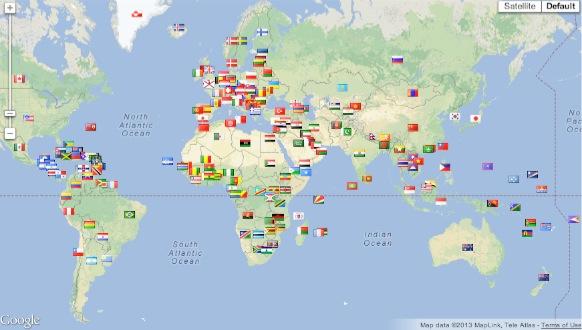 Tweet
Originally published: Thursday, June 6, 2013
---

Need help with Asterisk? Visit the PBX in a Flash Forum.
Or Try the New, Free PBX in a Flash Conference Bridge.
---
whos.amung.us If you're wondering what your fellow man is reading on Nerd Vittles these days, wonder no more. Visit our new whos.amung.us statistical web site and check out what's happening. It's a terrific resource for all of us.
---
---
Special Thanks to Our Generous Sponsors

FULL DISCLOSURE: ClearlyIP, Skyetel, Vitelity, DigitalOcean, Vultr, VoIP.ms, 3CX, Sangoma, TelecomsXchange and VitalPBX have provided financial support to Nerd Vittles and our open source projects through advertising, referral revenue, and/or merchandise. As an Amazon Associate and Best Buy Affiliate, we also earn from qualifying purchases. We've chosen these providers not the other way around. Our decisions are based upon their corporate reputation and the quality of their offerings and pricing. Our recommendations regarding technology are reached without regard to financial compensation except in situations in which comparable products at comparable pricing are available from multiple sources. In this limited case, we support our sponsors because our sponsors support us.


BOGO Bonaza: Enjoy state-of-the-art VoIP service with a $10 credit and half-price SIP service on up to $500 of Skyetel trunking with free number porting when you fund your Skyetel account. No limits on number of simultaneous calls. Quadruple data center redundancy. $25 monthly minimum spend required. Tutorial and sign up details are here.


The lynchpin of Incredible PBX 2020 and beyond is ClearlyIP components which bring management of FreePBX modules and SIP phone integration to a level never before available with any other Asterisk distribution. And now you can configure and reconfigure your new Incredible PBX phones from the convenience of the Incredible PBX GUI.


VitalPBX is perhaps the fastest-growing PBX offering based upon Asterisk with an installed presence in more than 100 countries worldwide. VitalPBX has generously provided a customized White Label version of Incredible PBX tailored for use with all Incredible PBX and VitalPBX custom applications. Follow this link for a free test drive!



Special Thanks to Vitelity. Vitelity is now Voyant Communications and has halted new registrations for the time being. Our special thanks to Vitelity for their unwavering financial support over many years and to the many Nerd Vittles readers who continue to enjoy the benefits of their service offerings. We will keep everyone posted on further developments.

---
---
Some Recent Nerd Vittles Articles of Interest…