We began our Windows 8 adventure a few weeks ago with a look at Microsoft's promising Surface Pro. As much as we liked the concept, there were a few too many compromises for us, and we ended up returning the machine. The deal breaker really was figuring out what to do with the awkward keyboard when you wanted to use the Surface Pro as a tablet. The connector sticks out of the end of the keyboard so there would always be a concern that it was going to somehow get damaged. There was also intermittent confusion between the Surface Pro and Windows 8 as to whether the external keyboard was plugged in or not. This sometimes left you with a tablet and no popup keyboard. We couldn't even log in. The solution seemed to be making sure you always removed or added the keyboard only when the machine was completely turned off. So much for hot swappable. We're sure that these shortcomings will get sorted out over the next few months, but we weren't that interested in being a paying pioneer.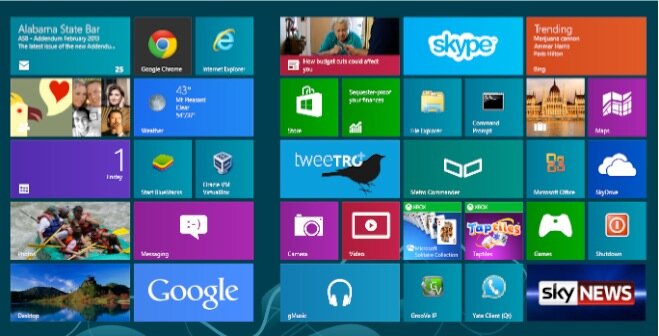 We still needed a good Windows 8 machine on which to test and run our telephony applications. As much as we love our 27″ iMac and MacBook Air, we never like to get too far away from the Microsoft tent especially when Apple is showing signs of returning to their old proprietary ways. Hope springs eternal that the great M$FT comeback is just around the next corner. So what to do?
Portability was a key consideration because we spend considerable time away from home base during the summer. For us, the choice came down to either a good UltraBook or a desktop machine that was easy to move from place to place. As mentioned in our Surface Pro review, the machine also had to be capable of running the BlueStacks Android emulator as well as Oracle's VirtualBox to host our Linux development platform.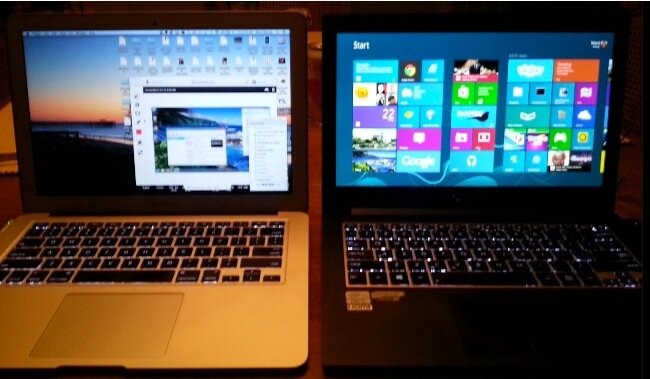 Let's begin with The Good. For our UltraBook selection, we chose the new Asus Ultrabook UX31A Touch. What a mouthful. The specs were nothing out of the ordinary: 13.3″ Full HD (1920×1080), Intel Core i5 (1.7Ghz) processor, 4GB DDR3 RAM, Intel HD Graphics, WiFi, Bluetooth, and a 128GB SSD with Windows 7 Home Premium. But what a surprise. This machine is a MacBook Air killer. Close your eyes and imagine a MacBook Air with Windows 8 and a touchscreen. Quiet. Excellent performance. Stunning display. Awesome lighted keyboard. Terrific battery life. Ultra lightweight (under 3 pounds). 8 seconds to boot up. And thin (.7″ to be exact). We love this machine. If you're looking for a portable Windows 8 computer, look no further. Nobody is going to top this one unless the same unit is offered by another retailer with a price tag below Best Buy's current sale price of $1100.
And Now: The Bad and The Ugly. Sony is the hands-down winner of both awards on the same machine. When you look at the spec sheet, Sony's new VAIO Tap 20 Mobile Desktop should be the ultimate Dream Machine with its Core i7 processor and 8 gigs of RAM. Add a battery and a semi-portable, but beautiful, 20-inch screen, and it had all the makings of a perfect desktop replacement. And then we turned it on. 45 seconds to boot. A 5400 RPM drive that performs more like a floppy drive when matched against the Asus Ultrabook. "Unbelievably poor performance when loading and running applications" is being kind. For example, taking a screenshot with the Asus Ultrabook is a split-second operation with the image instantly available in the Metro Photos app. Repeating the drill on the Tap 20 took a good 20 seconds for the screenshot to even appear in the Photos collection. We intentionally held off ordering one of these machines until the i7 processor was available because the reviews of the i5 model were so bad. And to think Best Buy actually sells an i3 version of this machine. Hopefully, they leave it on overnight with a large cache enabled.
What's sad about this is we've been a huge fan of Sony products for over 40 years. They always represented best of breed and usually were years ahead of the competition in features. Little wonder that Steve Jobs copied everything he could from Sony when he returned to Apple. Sony made awesome tape recorders including reel-to-reel, 8-track, cassette, and even BetaMax. Their computers and televisions always stood out from the crowd. The Walkman was over 21 years old when the iPod finally hit the market! So what happened?
This machine is a a bit of an embarrassment. 1600×900 resolution on a 20-inch display. Seriously? It means you can't even watch an HD movie. Putting a 5400 RPM drive in a Core i7 machine is just plain silly. To save five bucks? The computer is so slow that Windows 8 repeatedly locked up just handling trivial tasks. Alerts from Norton routinely popped up warning of impending doom from the poorly performing drive. It's the only Windows 8 machine that we've ever seen hang shutting down when no applications were even running on the desktop. Sorry, Sony, you really blew it. This one's coming back.
Serenity Now. Just when we had all but given up hope of finding the perfect Windows 8 touchscreen desktop, we decided to forego portability and settle for anything that could truly match the 27″ iMac in performance and features. And, yes, we wanted a great price as well. We've always been a big fan of refurbished machines because you know that someone has actually tested the unit to make sure it works. Well, guess what $1,200 will buy? The Dell XPS One 2710T is finally available as an almost half-price, refurbished machine sporting a 3.10 GHz Quad-core i7 processor, 8GB RAM, NVIDIA GeForce GT 640M 2GB GDDR5 Graphics card, 2TB 7200 RPM and DVD+/-RW drives, magnificent 27″ touchscreen display, and a one-year Dell warranty. Add a $50 Crucial m4 32GB mSATA SSD accelerator,1 and you've got a gen-u-wine rocketship! It was the well-deserved PCMag Editor's Choice for 2012. This one's not going back!
We quickly downloaded our favorite Android VoIP app, Groove IP, from Google's Play Store using BlueStacks. Then we performed a couple of quick calls using a Google Voice account. The calls were flawless even with our shaky DSL connection on a very snowy day in the mountains. Adding BlueStack's Cloud Connect will let you push existing apps from your Android phone or tablet to your Windows 8 desktop.
SAMBA connections work fine after the usual tweaks to the Windows Registry and a reboot. NeoRouter as a VPN client or server functions just as you would expect after telling Windows 8 to run the main programs as Administrator. Windows 8 is a bit more picky about this even when you're logged in as an Administrator. Oracle's VirtualBox as a virtual machine platform for Linux appliances works swimmingly, and performance is AMAZING. We built an Incredible PBX server using the latest .ova template in under 5 minutes, and we were making free calls and sending out faxes through Google Voice in under 10 minutes.
---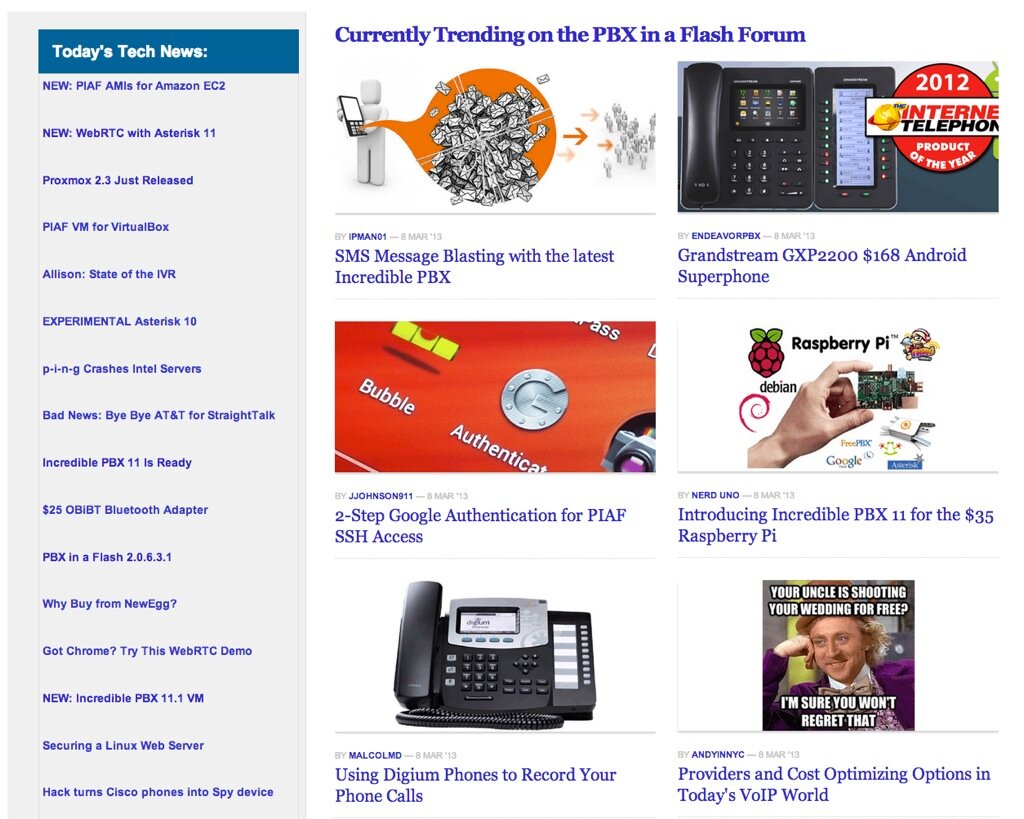 PBX in a Flash News. If you don't subscribe to the PBX in a Flash Forum, you probably should. We've added a spiffy What's New Web Portal that will tell you everything you need to know about what's going on in the Asterisk World. The most important items this week include the release of CentOS 6.4 this past weekend which broke new PBX in a Flash installs briefly. Unlike the other distros, PIAF compiles from source and always gives you the latest updates to CentOS. Sometimes that bites us. But all is well today. The other big news is a major bug in Asterisk 11.2.1 which caused Google Voice to stop working after a period of time until Asterisk was restarted. This has been addressed in Asterisk 11.3 RC1, and we'll have updates available shortly. In the meantime, you can discover the real beauty of a source-based distribution like PIAF, and upgrade yourself. It's easy! Here's how:

amportal stop
cd /usr/src
wget http://downloads.asterisk.org/pub/telephony/asterisk/releases/asterisk-11.3.0-rc1.tar.gz
tar zxvf asterisk-11.3.0-rc1.tar.gz
mv asterisk asterisk-last
mv asterisk-11.3.0-rc1 asterisk
cd asterisk
make clean
./configure
contrib/scripts/get_mp3_source.sh
make menuselect
make
make install
cd ..
cd asterisk-flite
make clean
make
make install
ldconfig
amportal start
echo "Check whether Flite is functioning..."
asterisk -rx "core show application flite"
echo "Check whether CDR reporting is functioning..."
asterisk -rx "module show like mysql"
cd /root
status

The only tricky part is when the menuselect screen appears. Here's your cheat sheet for the proper settings with PBX in a Flash. Use the cursor keys to move around. Use the Enter key to select/deselect entries. If no section is listed below, leave the default settings. Tab to Save & Exit when you're finished and press Enter. That's it.
Add-ons – Select top 4 entries in –extended–
Channel Drivers – Deselect chan_gtalk and chan_jingle
Extra Sound Packages – Select EXTRA-SOUNDS-EN-GSM
Fail2Ban Fails After Midnight. We're adding this update because of a serious bug discovered on computers running CentOS 6.3 and below. When your logs are automatically rotated, Fail2Ban ceases to function. So, while you're sleeping like a baby, SO IS Fail2Ban! There's a simple fix that you'll find on the PBX in a Flash Forum. Basically, you need to restart Fail2Ban just after your logs are rotated. The bug has been partially addressed in the CentOS 6.4 release.
Tweet
Originally published: Monday, March 11, 2013 Last Updated: Thursday, March 14, 2013
---

Need help with Asterisk? Visit the PBX in a Flash Forum.

---
Special Thanks to Our Generous Sponsors

FULL DISCLOSURE: ClearlyIP, Skyetel, Vitelity, DigitalOcean, Vultr, VoIP.ms, 3CX, Sangoma, TelecomsXchange and VitalPBX have provided financial support to Nerd Vittles and our open source projects through advertising, referral revenue, and/or merchandise. As an Amazon Associate and Best Buy Affiliate, we also earn from qualifying purchases. We've chosen these providers not the other way around. Our decisions are based upon their corporate reputation and the quality of their offerings and pricing. Our recommendations regarding technology are reached without regard to financial compensation except in situations in which comparable products at comparable pricing are available from multiple sources. In this limited case, we support our sponsors because our sponsors support us.


BOGO Bonaza: Enjoy state-of-the-art VoIP service with a $10 credit and half-price SIP service on up to $500 of Skyetel trunking with free number porting when you fund your Skyetel account. No limits on number of simultaneous calls. Quadruple data center redundancy. $25 monthly minimum spend required. Tutorial and sign up details are here.


The lynchpin of Incredible PBX 2020 and beyond is ClearlyIP components which bring management of FreePBX modules and SIP phone integration to a level never before available with any other Asterisk distribution. And now you can configure and reconfigure your new Incredible PBX phones from the convenience of the Incredible PBX GUI.


VitalPBX is perhaps the fastest-growing PBX offering based upon Asterisk with an installed presence in more than 100 countries worldwide. VitalPBX has generously provided a customized White Label version of Incredible PBX tailored for use with all Incredible PBX and VitalPBX custom applications. Follow this link for a free test drive!



Special Thanks to Vitelity. Vitelity is now Voyant Communications and has halted new registrations for the time being. Our special thanks to Vitelity for their unwavering financial support over many years and to the many Nerd Vittles readers who continue to enjoy the benefits of their service offerings. We will keep everyone posted on further developments.

---
---
Some Recent Nerd Vittles Articles of Interest…
There are conflicting reports on how to add an after-market mSATA SSD to the Dell XPS One and get it functioning as a fast cache for your computer. Here's what worked for us. Lay the computer monitor-side-down on a blanket with the top of the machine facing away from you. With a small Phillips head screwdriver, loosen the two screws on each end of the bottom of the panel, and then slide the back cover towards the top of the machine and remove it. The large metal plate covering the motherboard has to be removed. It's held in place by 8 screws. Once it's out of the way, you'll see two openings for an mSATA card. Gently insert the SSD card in the right one at a 45 degree angle. Then press it down and secure it with the two screws included with the card. Reassemble the computer. Turn it on and press F2 when the Dell logo appears. Go into the Advanced settings, Onboard Device Configuration, SATA Mode. Change the primary drive to RAID. Save your changes with F10 and reboot. When Windows 8 appears, access Control Panel and choose Intel Rapid Storage Technology. Choose the Accelerate option and accept the defaults. Reboot and you're good to go. [↩]