We promised you that free Google Voice calling in the U.S. and Canada would soon be available on every Asterisk® platform whether the platform supported Asterisk Motif or not. And this week we're covering the second SIP gateway offering for Google Voice. We introduced Bill Simon's first Google Voice gateway back in June of 2012. This time around the latest iteration features secure OAUTH authentication so there's no need to divulge your Google Voice credentials. Once you've set up your account on the Simonics Google Voice Gateway site,1 you simply create a standard SIP trunk on your Asterisk server or SIP device of choice, and PRESTO! You get secure authentication to Google Voice without worrying whether Google will drop support for insecure authentication methods such as Asterisk Motif down the road. And you can set all of it up for a one-time setup fee. For Nerd Vittles readers, you get $1 off the current $5.99 fee by using this link. Unlike last week's GVsip offering, the new Simonics service includes free CallerID name lookups plus the ability to connect multiple devices at multiple sites and communicate between the devices using some clever SIP magic. You also can map incoming calls to any SIP URI rather than just the destination from which you register a Google Voice account. This new gateway is a real winner!
Why do this? There are several reasons aside from the free calls and free phone number. First, Google has warned for years that insecure authentication to Google Voice is going away. It hasn't yet which is the reason Asterisk Motif logins still work. When Google finally pulls the plug (and they will), your Google Voice days are over using the Asterisk platform. Second, some of the Asterisk aggregations such as Elastix® never supported Google Motif. Hence, free Google Voice calling wasn't available at all to those using the Elastix platform. That limitation is now a thing of the past. You can create a simple SIP trunk and begin enjoying free Google Voice calling in the U.S. and Canada just like some of the rest of us have been doing for years. Third, Google Voice support was the sole reason that many have stuck with the FreePBX® GUI despite the gotchas. Now you have a choice. Any Incredible PBX™ or Asterisk-GUI™ server now supports Google Voice without your having to worry about constant changes to the Asterisk Motif driver to support refinements at the Google Voice end. Now it's a pure SIP trunk using pure SIP technology as far as Asterisk is concerned. The only limitation is the one imposed by Google. You need to reside in the United States to use Google Voice even though free calling is available to the U.S. and Canada.
If you have difficulty finding the Google Chat option after setting up a new Google Voice account, follow this tutorial.
1. Using your favorite browser, log in to the Google Voice account you wish to associate with the Simonics SIP gateway. Be sure that you've enabled Google Chat in your Google Voice setup.
2. Using a separate tab of your browser, connect to the Simonics Google Voice Gateway site.
3. Go through the steps to register your Google Voice account with the Simonics Google Voice gateway and obtain your credentials.

4a. For those using FreePBX or Elastix, use another tab of your browser to open the GUI interface and create a new SIP trunk using your new SIP login credentials. Replace 8005551212 with your actual Google Voice number and YOUR-SIP-PW with your actual Simonics SIP password in BOTH the PEER Details and Registration String. Add your Google Voice number to the end of the Registration String like this: GV18005551212:YOUR-SIP-PW@gvgw.simonics.com/8005551212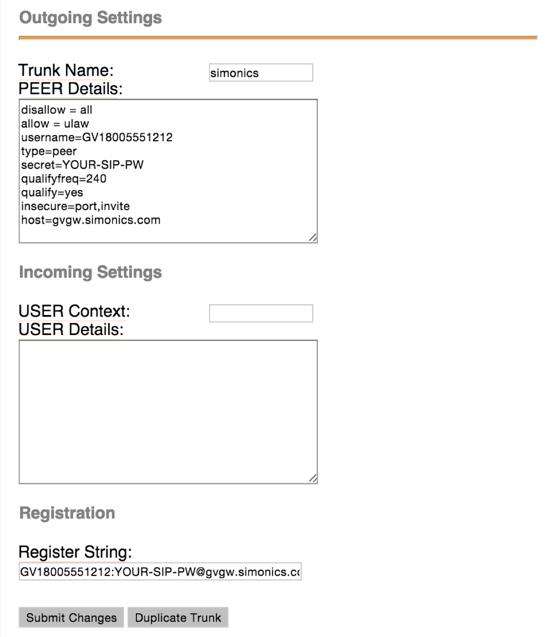 4b. For those using Incredible PBX for Asterisk-GUI, simply download and run our One-Click Installer. You'll need your Simonics SIP account name and password plus a two-digit dialing prefix to use for outbound calls. It's that simple!

cd /root
wget http://incrediblepbx.com/simonics-addon.tar.gz
tar zxvf simonics-addon.tar.gz
rm -f simonics-addon.tar.gz
./simonics-addon.sh

Once you've finished running the script, your trunk will be up and running. There's no requirement for steps #5 and #6 with Asterisk-GUI. If desired, jump to Step #7 to set up a SIP URI for your incoming calls.
5. Create an Inbound Route for your incoming calls using the 10-digit number you entered at the end of the Registration String in step #4a.
6. Create an Outbound Route for outgoing calls that should be handled by your Google Voice trunk. The CallerID number will be your Google Voice number. You cannot change it.
7. If you'd prefer to send incoming calls to a designated SIP URI instead of the server that registered with the Simonics gateway, enter the address in the format: pbx@myserver.xyz. For additional details, read our previous article on SIP URIs.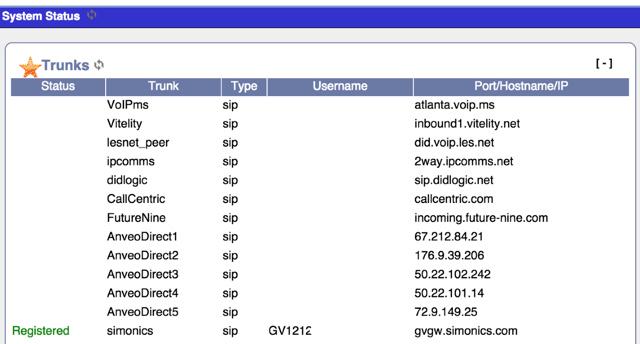 8. Repeat this setup procedure for as many Google Voice accounts as you wish to activate using the steps above. If you're using Incredible PBX for Asterisk-GUI, remember to edit the script and change the TRUNK=simonics entry to something like TRUNK=simonics2. Also use a unique two-digit dialing prefix for each trunk. Be sure to logout of your previous Google account before repeating the drill. Enjoy!
---
Don't forget to List Yourself in Directory Assistance with your new IPkall PSTN number so everyone can find you by dialing 411. And be sure to add your new number to the Do Not Call Registry to block telemarketing calls.
Tweet
Originally published: Monday, April 13, 2015
---
Support Issues. With any application as sophisticated as this one, you're bound to have questions. Blog comments are a terrible place to handle support issues although we welcome general comments about our articles and software. If you have particular support issues, we encourage you to get actively involved in the PBX in a Flash Forums. It's the best Asterisk tech support site in the business, and it's all free! Please have a look and post your support questions there. Unlike some forums, ours is extremely friendly and is supported by literally hundreds of Asterisk gurus and thousands of users just like you. You won't have to wait long for an answer to your question.
---

Need help with Asterisk? Visit the PBX in a Flash Forum.

---
Special Thanks to Our Generous Sponsors

FULL DISCLOSURE: ClearlyIP, Skyetel, Vitelity, DigitalOcean, Vultr, VoIP.ms, 3CX, Sangoma, TelecomsXchange and VitalPBX have provided financial support to Nerd Vittles and our open source projects through advertising, referral revenue, and/or merchandise. As an Amazon Associate and Best Buy Affiliate, we also earn from qualifying purchases. We've chosen these providers not the other way around. Our decisions are based upon their corporate reputation and the quality of their offerings and pricing. Our recommendations regarding technology are reached without regard to financial compensation except in situations in which comparable products at comparable pricing are available from multiple sources. In this limited case, we support our sponsors because our sponsors support us.


BOGO Bonaza: Enjoy state-of-the-art VoIP service with a $10 credit and half-price SIP service on up to $500 of Skyetel trunking with free number porting when you fund your Skyetel account. No limits on number of simultaneous calls. Quadruple data center redundancy. $25 monthly minimum spend required. Tutorial and sign up details are here.


The lynchpin of Incredible PBX 2020 and beyond is ClearlyIP components which bring management of FreePBX modules and SIP phone integration to a level never before available with any other Asterisk distribution. And now you can configure and reconfigure your new Incredible PBX phones from the convenience of the Incredible PBX GUI.


VitalPBX is perhaps the fastest-growing PBX offering based upon Asterisk with an installed presence in more than 100 countries worldwide. VitalPBX has generously provided a customized White Label version of Incredible PBX tailored for use with all Incredible PBX and VitalPBX custom applications. Follow this link for a free test drive!



Special Thanks to Vitelity. Vitelity is now Voyant Communications and has halted new registrations for the time being. Our special thanks to Vitelity for their unwavering financial support over many years and to the many Nerd Vittles readers who continue to enjoy the benefits of their service offerings. We will keep everyone posted on further developments.

---
---
Some Recent Nerd Vittles Articles of Interest…
In addition to substantial technical assistance, Simon Telephonics is also a financial contributor to the Nerd Vittles project. [↩]