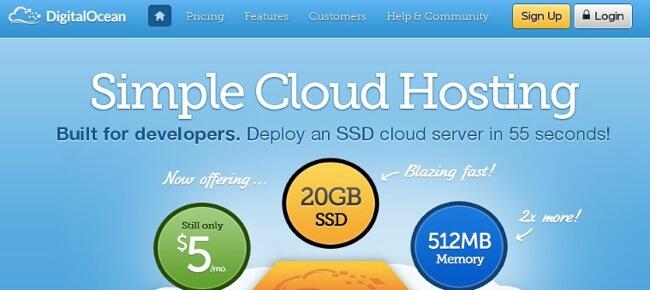 After a week of testing, we're taking a second look at Digital Ocean, a terrific cloud platform for experimenting with VoIP. Our initial testing was performed during a week that many folks were on Spring Break. After Easter weekend, our own testing suggested a very different level of performance. That warranted a more sober reevaluation in our judgment. Before we get to the specifics, let us emphatically stress that we do not recommend Digital Ocean as a long-term, cloud-based VoIP solution because of some mixed reviews on overall service reliability. Go here for details. Our own testing confirms that performance can be problematic because of what looks to be server capacity issues. To their credit, Digital Ocean provides bleeding edge technology which is regularly updated. But, if rock-solid platform stability and reliable performance are your primary requirements, there is no finer service than RentPBX, a long-time supporter and contributor to the PBX in a Flash project. With the PIAF2012 coupon code, your first turnkey PBX in the cloud is still $15 a month with server locations throughout the world. The cost difference is negligible if the quality of your phone calls actually matter to you. RentPBX has a proven record as an extremely reliable provider. And, if your business depends upon reliable VoIP technology, RentPBX remains one of the best bargains on the planet.
For today, we're exploring Digital Ocean which we believe offers a good platform for learning about Asterisk® and VoIP because of its flexibility in creating and deleting virtual machines in the cloud environment. As you can see from the screenshot above, the base Digital Ocean offering appears to be ideal as a cloud-based Asterisk server. The 512MB memory option with 20GB of SSD storage and a terabyte of monthly bandwidth costs $5 a month. You actually pay $0.007 an hour until you reach the $5 monthly cap. Unfortunately, depending upon server load, performance can be hit and miss.
Digital Ocean calls their images droplets, and you'll have to pardon us for using the terms interchangeably. The bottom line is we were able to create a PBX in a Flash server with Incredible PBX 11 running atop CentOS 6.5 in less than an hour. And we played with it for another hour. See below for the total cost. Note that the meter continues to run with your droplets until you physically Destroy them from the Digital Ocean Control Panel. What our initial testing did not reveal was that at busy times of the day the droplet creation process can vary from almost instantaneous to a couple of hours.

Getting Started. Let's walk through the entire process of creating a PBX in a Flash server and adding Incredible PBX 11 using a Digital Ocean droplet, and we'll assume you hit a Digital Ocean server on a good day. First, you'll need an account. You can sign up with our referral code and provide a little financial support to the Nerd Vittles project. That doesn't cost you a dime. Here's the link. As part of the sign up procedure, you'll be prompted to enter a coupon code. SSDMAY10 will get you a $10 credit if you hurry. You still need to add at least $5 to your account either using a credit card or PayPal. We strongly recommend that you start with a minimal investment to make certain that Digital Ocean's performance will meet your requirements. Test it regularly during your free trial period.
Once you're registered, you can create your first Droplet by clicking on Droplets in the Digital Ocean Control Panel and then clicking the Create Droplet button. You'll be prompted for a Hostname, the size Droplet you wish to create, the Region for your cloud-based server, and the Image Type for your server. We used PIAF512 for the hostname. The 512MB memory droplet will work just fine for experimentation. Choose a region that's close to the provider you wish to use for VoIP calls. For the image type, choose a CentOS 6.5 32-bit server. In the Settings, leave Enable VirtIO checked and skip the Private Networking and Enable Backups options for the time being. Click Create Droplet to initiate the droplet build process which takes under a minute. Your new Droplet credentials will be emailed to you when the procedure is complete.
Installing PBX in a Flash. At this point, you have the option of logging into the Droplet from the Digital Ocean Control Panel, or you can use SSH to log in as root using the IP address provided in your Droplet creation email. Once you've logged in, issue the following command to set up your new server for the PIAF3 installer:
yum -y install wget nano
Now you're ready to kick off the PBX in a Flash 3 installation. Here are the commands:
cd /root
wget http://pbxinaflash.com/piaf3-install.tar.gz
tar zxvf piaf3-install.tar.gz
./piaf3-install

The server will whir away for about 5 minutes (on a good day) configuring a CentOS superset of over 500 additional RPMs to support PBX in a Flash 3. When the setup is complete, your droplet will reboot. Count to 30 and then log back in as root and choose option A to install PBX in a Flash. Then choose PIAF from the menu of choices. Accept the license agreement and select PIAF-Green as your desired flavor. This gets you the latest Asterisk 11 release. When the Configuration Wizard loads, choose N to avoid loading Make MenuConfig for customization of Asterisk. Confirm your choice. At Step 2, choose your Time Zone and confirm your choice. At Step 3, choose FreePBX® 2.11 as your GUI and confirm your choice. At Step 4, create a master password for GUI and utility access. Tap Enter to confirm all of your selections one final time. Then take a coffee break. Depending upon server load, you'll have a shiny new PBX in a Flash 3 server with CentOS 6.5, Asterisk 11, and FreePBX 2.11 in either 30 minutes (on a good day) or a couple of hours (on a not-so-good time of day).
Installing Incredible PBX 11. Once your server has rebooted following completion of the PIAF install, you're ready to install Incredible PBX 11. This gets you dozens of preconfigured applications for Asterisk as well as a base configuration of FreePBX. You'll still need to add a VoIP trunk to handle incoming and outgoing calls as well as configuring a phone to use your extension 701 credentials. Log back into your server and issue the following commands to install Incredible PBX 11:
wget http://incrediblepbx.com/incrediblepbx11.gz
gunzip incrediblepbx11.gz
chmod +x incrediblepbx11
./incrediblepbx11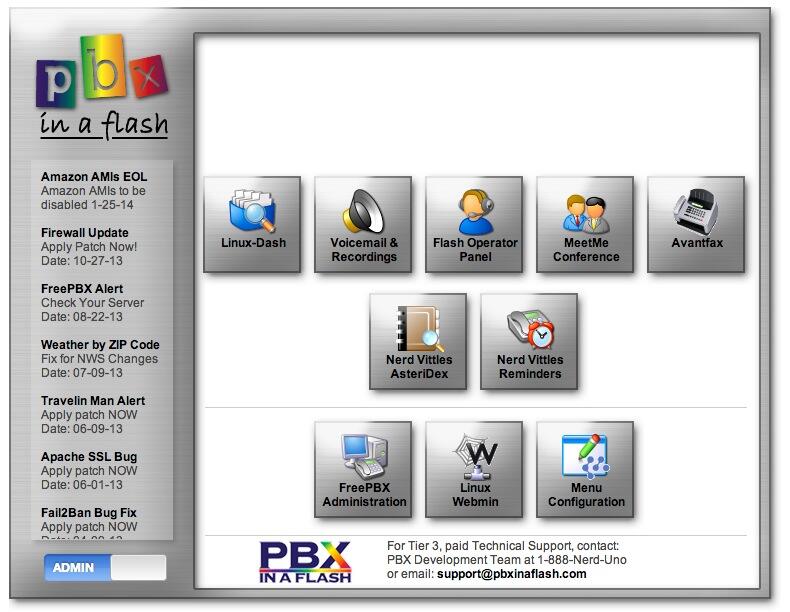 You can complete the configuration of your server using the FreePBX GUI. Using a browser, visit the IP address of your server. Click the Users button to display the PIAF Admin Control Panel. Then click the FreePBX option. Log in with username maint and the maint password you created above. Sign up for VoIP service with your favorite VoIP provider. Then create a trunk for that provider or edit and enable one of the preconfigured trunks that's included in Incredible PBX. Download a softphone to your desktop and configure it using the credentials provided for the 701 extension in FreePBX. Then you're ready to make your first call. See last week's Nerd Vittles article for complete details.
Tweet
Originally published: Thursday, April 17, 2014 Second Look: Wednesday, April 23, 2014
---

Need help with Asterisk? Visit the PBX in a Flash Forum.

---
Special Thanks to Our Generous Sponsors

FULL DISCLOSURE: ClearlyIP, Skyetel, Vitelity, DigitalOcean, Vultr, VoIP.ms, 3CX, Sangoma, TelecomsXchange and VitalPBX have provided financial support to Nerd Vittles and our open source projects through advertising, referral revenue, and/or merchandise. As an Amazon Associate and Best Buy Affiliate, we also earn from qualifying purchases. We've chosen these providers not the other way around. Our decisions are based upon their corporate reputation and the quality of their offerings and pricing. Our recommendations regarding technology are reached without regard to financial compensation except in situations in which comparable products at comparable pricing are available from multiple sources. In this limited case, we support our sponsors because our sponsors support us.


BOGO Bonaza: Enjoy state-of-the-art VoIP service with a $10 credit and half-price SIP service on up to $500 of Skyetel trunking with free number porting when you fund your Skyetel account. No limits on number of simultaneous calls. Quadruple data center redundancy. $25 monthly minimum spend required. Tutorial and sign up details are here.


The lynchpin of Incredible PBX 2020 and beyond is ClearlyIP components which bring management of FreePBX modules and SIP phone integration to a level never before available with any other Asterisk distribution. And now you can configure and reconfigure your new Incredible PBX phones from the convenience of the Incredible PBX GUI.


VitalPBX is perhaps the fastest-growing PBX offering based upon Asterisk with an installed presence in more than 100 countries worldwide. VitalPBX has generously provided a customized White Label version of Incredible PBX tailored for use with all Incredible PBX and VitalPBX custom applications. Follow this link for a free test drive!



Special Thanks to Vitelity. Vitelity is now Voyant Communications and has halted new registrations for the time being. Our special thanks to Vitelity for their unwavering financial support over many years and to the many Nerd Vittles readers who continue to enjoy the benefits of their service offerings. We will keep everyone posted on further developments.

---
---
Some Recent Nerd Vittles Articles of Interest…