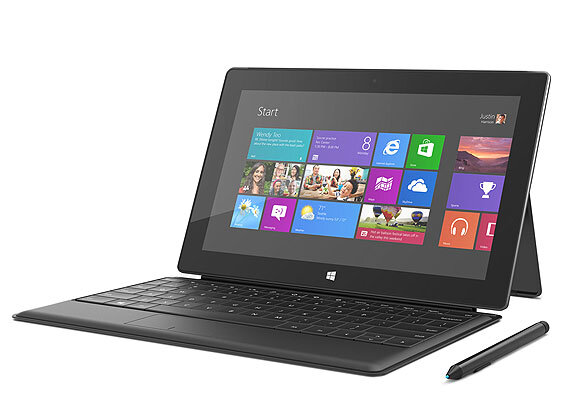 We were fully prepared to hate the Microsoft Surface Pro. After all, it was designed and produced by Microsoft, and we haven't seen many flashes of brilliance from Redmond since the XBox. That was more than eleven years ago! Yes, Microsoft has new smartphones, but they're too little, too late in our opinion. So why is the Surface Pro different? For openers, it runs pure Windows 8, not the Windows RT crippleware. While we're not much of a Windows cheerleader any more (we were for the first 25 years), it is worth noting that Apple has one operating system for desktops and notebooks and a different (crippled) one for smartphones and tablets. And Google has one operating system for its notebooks and a very different one for its smartphones and tablets. Microsoft, on the other hand, had a better idea. The same operating system runs on both its desktop computers, its notebooks, and its latest tablet, the Surface Pro. What that means is the same application that runs on your desktop computer can now perform equally well on a tablet. And it can do it with or without the Surface's revolutionary, portable keyboard. Application portability is huge especially if your company happens to still be a pure Microsoft shop. And it's especially important if you or your employees happen to travel for a living.

It Just Works. So much for the theory. The bottom line for us was whether our existing PBX in a Flash, Incredible PBX, and Android platforms could live and breathe on the Surface Pro. The short answer is a resounding YES. This is not the crippled, proprietary Windows RT platform found in the original (klunky) Surface. This is a fully functional Windows 8 machine with an Intel processor, blazing performance, and both microSD and USB 3.0 slots, nice additions that you won't find on a lot of tablets. If an app will run with Windows 7 or Windows XP, it works just as well or better on the Surface Pro. And with BlueStacks, you can run 750,000 Android apps on your Surface Pro as well. We quickly downloaded our favorite Android VoIP app, Groove IP, from Google's Play Store using BlueStacks. Then we performed a couple of quick calls using a Google Voice account. The calls were flawless even with our shaky DSL connection on a very snowy day in the mountains. Adding BlueStack's Cloud Connect will let you push existing apps from your Android phone or tablet to your Surface Pro. Pretty cool.
For a complete technical review of the Surface Pro, visit ZDnet or TechRadar. Just pray you never need repairs.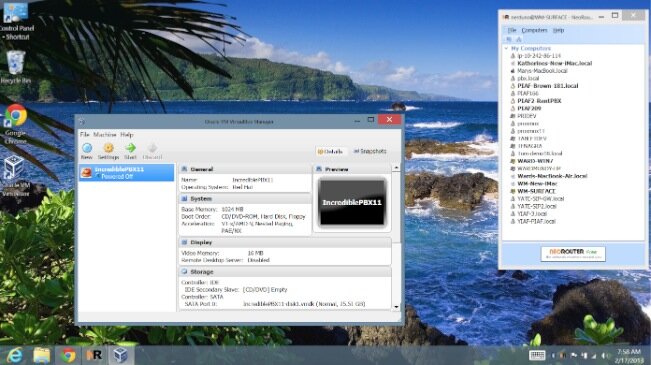 The only thing we've found missing hardware-wise on the Surface Pro is a PrintScreen key on the awesome keyboard which is a must-have, by the way. To print screens, you'll need to use the tablet trick: VolDown + Home. But, as you can see from the screenshot above, it works fine. Because of the high resolution screen however, you lose something shrinking the images down to 650 pixels. On the software front, there were few surprises. WiFi is rock solid, and links to MiFi devices make the Surface Pro truly portable. If ass-backwards scrolling with the touchpad drives you crazy, use RegEdit and search for the mouse entry for FlipFlopHScroll. Change the decimal value from 0 to 1. The Chrome browser works fine with the keyboard and mousepad, but you'll be using Internet Explorer to work with the touchscreen in tablet mode. Hopefully, that will get fixed shortly.
SAMBA connections work fine after the usual tweaks to the Windows Registry and a reboot. NeoRouter as a VPN client or server functions just as you would expect after telling Windows 8 to run the main programs as Administrator. Windows 8 is a bit more picky about this even when you're logged in as an Administrator. Oracle's VirtualBox as a virtual machine platform for Linux appliances works swimmingly, and performance is AMAZING. We built an Incredible PBX server using the latest .ova template in under 5 minutes, and we were making free calls and sending out faxes through Google Voice in under 10 minutes. Amazing!
Family Feud. There's only one major shortcoming worth noting. Microsoft has taken their feud with Google to a whole new level with Windows 8. It's not so much the Bingification of every Windows utility that bothers us. It's what appears to be a conscious effort to banish Google from the Windows platform entirely. Think Apple! Those using two-step authentication for Google services are S.O.L. when it comes to Gmail. You're left having to deploy Gmail as an IMAP mail service to get your mail at all. Giving Microsoft the benefit of the doubt, you could give them a pass on this if it had just been the initial Windows 8 release. But there have been plenty of patches and updates since Day One, and two-step authentication for Google services remains MIA. If the United States is going to retain its lead in the software development arena, Microsoft and Google and Apple had best bury the hatchet and learn how to work together to make their offerings complimentary. Consumers aren't going to tolerate this kind of seventh grader nonsense in this day and age. So, wake up, Microsoft. Ruining an otherwise promising platform while trying to shaft Google is a lousy business decision, and it's going to backfire. Consumers will simply move exclusively to their platform of choice, and guess what? That platform isn't going to be Microsoft. More importantly, this article is a testament to what actually can be accomplished in Googlifying a Surface Pro with a little Yankee ingenuity. For all practical purposes, our Surface Pro is the best Android tablet we've ever owned, and we've owned a few. So here's a little tip for Microsoft: Remember what made Windows a hit! Ubiquity, not exclusivity!
Tweet
Originally published: Monday, February 18, 2013
---

Need help with Asterisk? Visit the PBX in a Flash Forum.

---
whos.amung.us If you're wondering what your fellow man is reading on Nerd Vittles these days, wonder no more. Visit our new whos.amung.us statistical web site and check out what's happening. It's a terrific resource both for us and for you.
---
Special Thanks to Our Generous Sponsors

FULL DISCLOSURE: ClearlyIP, Skyetel, Vitelity, DigitalOcean, Vultr, VoIP.ms, 3CX, Sangoma, TelecomsXchange and VitalPBX have provided financial support to Nerd Vittles and our open source projects through advertising, referral revenue, and/or merchandise. As an Amazon Associate and Best Buy Affiliate, we also earn from qualifying purchases. We've chosen these providers not the other way around. Our decisions are based upon their corporate reputation and the quality of their offerings and pricing. Our recommendations regarding technology are reached without regard to financial compensation except in situations in which comparable products at comparable pricing are available from multiple sources. In this limited case, we support our sponsors because our sponsors support us.


BOGO Bonaza: Enjoy state-of-the-art VoIP service with a $10 credit and half-price SIP service on up to $500 of Skyetel trunking with free number porting when you fund your Skyetel account. No limits on number of simultaneous calls. Quadruple data center redundancy. $25 monthly minimum spend required. Tutorial and sign up details are here.


The lynchpin of Incredible PBX 2020 and beyond is ClearlyIP components which bring management of FreePBX modules and SIP phone integration to a level never before available with any other Asterisk distribution. And now you can configure and reconfigure your new Incredible PBX phones from the convenience of the Incredible PBX GUI.


VitalPBX is perhaps the fastest-growing PBX offering based upon Asterisk with an installed presence in more than 100 countries worldwide. VitalPBX has generously provided a customized White Label version of Incredible PBX tailored for use with all Incredible PBX and VitalPBX custom applications. Follow this link for a free test drive!



Special Thanks to Vitelity. Vitelity is now Voyant Communications and has halted new registrations for the time being. Our special thanks to Vitelity for their unwavering financial support over many years and to the many Nerd Vittles readers who continue to enjoy the benefits of their service offerings. We will keep everyone posted on further developments.

---
---
Some Recent Nerd Vittles Articles of Interest…