The automobile manufacturers had the right idea years ago. Make it easy to change the temperature in your vehicle. Just say "cooler" or "warmer." That project went about as well as their GPS interfaces are progressing today. So let's give credit where credit is due. Apple's Siri revolutionized voice recognition by making it something really useful on the smartphone. If you've wondered who Siri actually is, wonder no more. You're in for a pleasant surprise. Meet Siri from Australia. And Siri U.S.A.:

Google, of course, is not one to be left behind. There was a reason they were offering to transcribe your voicemails for free all those years. They were putting in place the building blocks for a similar system on Android-based phones. Hey, Siri. Meet "OK, Google." And the competition has transformed both products into incredibly useful additions to every smartphone.
Then the latest Silicon Valley Wannabe got into the picture. Let me introduce Alexa for your kitchen or living room masquerading as Amazon's Echo, a fascinating new half-baked product. If the Echo weren't so transfixed with selling you music and other stuff from Amazon, it could be a terrific product. Not to be outdone, Google wasted little time introducing their look-alike, OnHub, which makes half-baked look really useful. OnHub does absolutely nothing but serve as a home router with more antennas than the Mars Rover. And now both Apple and Google are circling back to the automobile promising to revolutionize the way in which you talk to or even drive your car. Stay tuned. It's going to get interesting. And, on the living room front, you're probably going to need to buy another round of hardware. Even though many building blocks were in place with OnHub, Google left out a microphone… unless they use the one on your smartphone or watch. 😉
So what does all of this have to do with Asterisk® and VoIP telephony? Well, nothing actually… until today. Most of the cool things you can do with your smartphone or sitting in your living room simply weren't available using a Plain Old telephone. We decided to fix that.
For the tinkerers and experimenters of the world, Google has generously offered free access to their voice recognition software. And today we'll show you how to put it to good use. In the time it takes to drink your morning coffee, you'll have a platform on your PBX that's every bit as capable as Siri. And it's all free!
Meet Star! When we're finished today, you'll be able to pick up any telephone and dial * to obtain the latest weather, news, stock prices, sports scores, time of day, and anything else that an almanac at your fingertips provides. In addition, you'll be able to call anyone by saying their name or phone number. Not bad for free, huh? Down the road, we'll work on adding text messaging, email, and scheduling reminders. But today's release should whet your appetite for what's possible.
Putting in Place the Star Platform
We don't own or control most of the components that actually make Star work! That means you'll need to sign up (for free) for a couple key pieces before the puzzle actually takes shape. Here's the three-step process.
First, install one of the Certified Incredible PBX builds on either a dedicated server, a virtual machine, or in the Cloud. This tutorial will walk you through the easiest 20-minute installation procedure.
Second, you'll need to obtain and set up the credentials for two of the third-party components that will bring Star to life. You'll need
a Google Speech Recognition key and
a Wolfram Alpha App-ID. Then add an AsteriDex entry to tell Star the zip code of your hometown, and you're ready to go.
Third, you'll spend less than a minute installing the Star software on your server.
1. Adding Speech Recognition Support to Incredible PBX
To support many of the Star features, we rely upon Google's speech recognition service and Lefteris Zafiris' terrific speech-recog AGI script. Unfortunately (for some), Google now has tightened up the terms of use for their free speech recognition service. Now you can only use it for "personal and development use." If you meet those criteria, keep reading. Here's how to activate speech recognition on Incredible PBX. Don't skip any steps!
Finally, let's be sure you have all the necessary packages in place to support text-to-speech and speech recognition:

yum -y install perl-XML-Simple libesd.so.0 sox perl-libwww-perl

If you're not on the Incredible PBX platform: yum -y install mpg123
2. Adding Wolfram Alpha Support to Incredible PBX
To use Wolfram Alpha by phone, you first must obtain a free Wolfram Alpha APP-ID. Then issue the following command replacing APP-ID with your actual ID. Do NOT change the yourID portion of the command:

sed -i "s|yourID|APP-ID|" /var/lib/asterisk/agi-bin/4747

3. Adding Your Hometown ZIP Code to AsteriDex
1. Using a browser, visit the IP address of your server.
2. Click on the Nerd Vittles AsteriDex button in the Kennonsoft GUI.
3. Click on the Admin tab in AsteriDex.
4. In the Add Entry column, enter the following data using your hometown ZIP code:
Contact Name: Weather
Contact Phone: 947
Dial Code: your local 5-digit ZIP code

5. Click the Add New Record button to save your entry.
Installing or Upgrading Star
We've designed the Star install so that you also can easily update the application by simply running the install-star command again. After logging into your server as root, here are the commands to install or upgrade your Star application:

cd /root
wget http://incrediblepbx.com/install-star.tar.gz
tar zxvf install-star.tar.gz
rm -f install-star.tar.gz
./install-star

10/10 UPDATE: Star apparently was too popular for Google to absorb, and they've imposed new limits on TTS playback. So, for the time being, we've switched Star back to FLITE for text-to-speech. To update your server, just run the installer again: /root/install-star
Taking Star for a Spin
Here's a quick summary of the available commands that Star currently supports: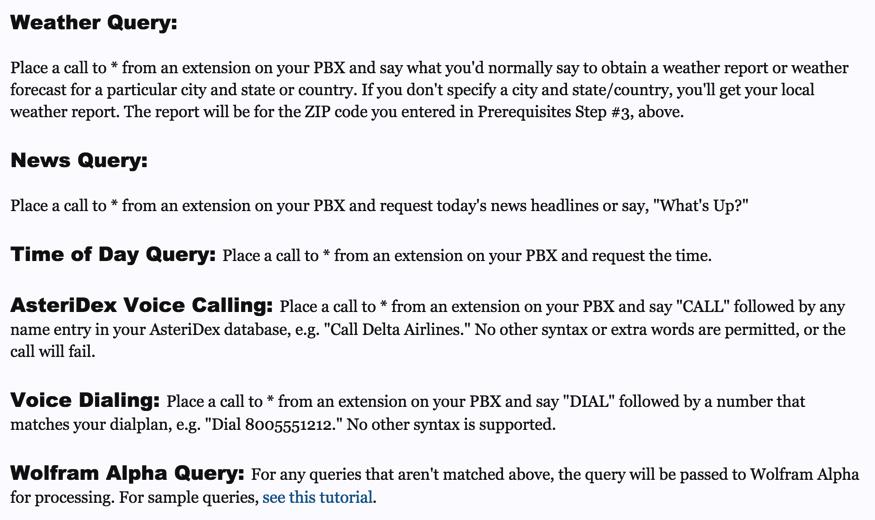 And here are some sample Wolfram Alpha queries to get you started:

Weather in Charleston South Carolina
Weather forecast for Washington D.C.
Next solar eclipse
Otis Redding
Define politician
Who won the 1969 Superbowl? (Broadway Joe)
What planes are overhead? (flying over your server's location)
Ham and cheese sandwich (nutritional information)
Holidays 2015 (summary of all holidays for 2015 with dates and DOW)
Medical University of South Carolina (history of MUSC)
Star Trek (show history, air dates, number of episodes, and more)
Apollo 11 (everything you ever wanted to know)
Cheapest Toaster (brand and price)
Battle of Gettysburg (sad day 🙂 )
Daylight Savings Time 2015 (date ranges and how to set your clocks)
Tablets by Samsung (pricing, models, and specs)
Doughnut (you don't wanna know)
Snickers bar (ditto)
Weather (local weather at your server's location)
For late-breaking updates and news about the Star platform, visit this thread on the PIAF Forum. Enjoy!
Originally published: Tuesday, October 6, 2015
---

Need help with Asterisk? Visit the PBX in a Flash Forum.

---
Special Thanks to Our Generous Sponsors

FULL DISCLOSURE: ClearlyIP, Skyetel, Vitelity, DigitalOcean, Vultr, VoIP.ms, 3CX, Sangoma, TelecomsXchange and VitalPBX have provided financial support to Nerd Vittles and our open source projects through advertising, referral revenue, and/or merchandise. As an Amazon Associate and Best Buy Affiliate, we also earn from qualifying purchases. We've chosen these providers not the other way around. Our decisions are based upon their corporate reputation and the quality of their offerings and pricing. Our recommendations regarding technology are reached without regard to financial compensation except in situations in which comparable products at comparable pricing are available from multiple sources. In this limited case, we support our sponsors because our sponsors support us.


BOGO Bonaza: Enjoy state-of-the-art VoIP service with a $10 credit and half-price SIP service on up to $500 of Skyetel trunking with free number porting when you fund your Skyetel account. No limits on number of simultaneous calls. Quadruple data center redundancy. $25 monthly minimum spend required. Tutorial and sign up details are here.


The lynchpin of Incredible PBX 2020 and beyond is ClearlyIP components which bring management of FreePBX modules and SIP phone integration to a level never before available with any other Asterisk distribution. And now you can configure and reconfigure your new Incredible PBX phones from the convenience of the Incredible PBX GUI.


VitalPBX is perhaps the fastest-growing PBX offering based upon Asterisk with an installed presence in more than 100 countries worldwide. VitalPBX has generously provided a customized White Label version of Incredible PBX tailored for use with all Incredible PBX and VitalPBX custom applications. Follow this link for a free test drive!



Special Thanks to Vitelity. Vitelity is now Voyant Communications and has halted new registrations for the time being. Our special thanks to Vitelity for their unwavering financial support over many years and to the many Nerd Vittles readers who continue to enjoy the benefits of their service offerings. We will keep everyone posted on further developments.

---
---
Some Recent Nerd Vittles Articles of Interest…