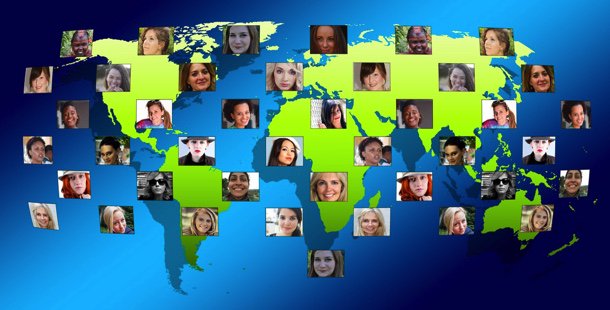 In
our last article
, we documented how to implement free, safe SIP URI worldwide calling with an almost-free Issabel™ server in the Cloud. Today we'll add another free worldwide calling option using iNum™. As with SIP URIs, iNum provides a way for anyone in the world to reach you by phone without paying a nickel. And iNum adds the same functionality for Issabel PBX users to reach anyone else in the world with an iNum phone number. The iNum project was started almost a decade ago by
Voxbone
to create a free global phone network for IP communications. The International Telecommunication Union allocated a portion of its non-geographic country code +883 to the initiative. iNums are 15-digit telephone numbers in the +883 5100 area code. You can keep yours for life at no cost.

Let's begin by obtaining an iNum telephone number for your Issabel PBX. Every PBX should have at least one. There are a number of iNum providers throughout the world that will give you an iNum telephone number at no cost. For our purposes today, we'll document the procedure for CallCentric. Assuming you have 911 service with another provider, it won't cost you anything to set up a CallCentric account and obtain a working iNum telephone number. Other providers (e.g.
LocalPhone
) typically require a modest deposit just to set up an account which is perfectly understandable. However, CallCentric doesn't require a credit card up front. If you already have a VoIP.ms account from our tutorial last week, they also offer free iNum phone numbers:
Order DIDs:iNum
(limited to one per account).
Obtaining an iNum Phone Number from CallCentric
Navigate to the CallCentric web site and click Sign Up. Once your account is activated, login using your new credentials. Jot down your Username, CallCentric #, and Password for future access to the web site. From the main Dashboard, click View/Modify Extensions. Extension 100 should already be set up. Just create a SIP password and jot it down with your SIP username which is the same as your CallCentric #. Click Apply and then SAVE.
Next, let's order the CallCentric freebies which include BOTH an iNum phone number and a traditional DID. Neither one costs you money, but you do have to use the DID once a month to keep it. The iNum phone number never expires. Under Products, click Order. Under Make Calls, choose the IP Freedom Plan unless you want to use CallCentric to make commercial calls. Under Receive Calls, choose Free Phone Number and Get a Number. Write down your 10-digit number. To obtain an iNum phone number, click here and then click Order an iNum Number. Write down your iNum phone number. UPDATE: CallCentric now will let you order multiple iNum phone numbers at no cost. Each supports two simultaneous calls and unlimited incoming minutes.
With CallCentric, you have two options in routing incoming calls. You can use the Default routing setup which will send the calls to your CallCentric registered trunk (which we will set up below) on your Issabel PBX. Or you can customize the routing and forward the calls for each DID and iNum number to a SIP URI. From the Dashboard, choose Phone Number Forwarding. If you simply want to forward both your DID and iNum numbers to the SIP URI that you set up last week with VoIP.ms, then no trunk registration (below) is required at all. However, you would lose the ability to use CallCentric to place outbound iNum calls from your Issabel extensions.
Integrating iNum Support into Your Issabel PBX
In the Issabel web GUI, we need to configure the trunk for CallCentric. The template already is included with Incredible PBX® for Issabel. Then we need to set up an Inbound Route for CallCentric as well as an outbound route to process iNum calls originating from Issabel extensions.
To configure the CallCentric trunk, navigate to PBX:PBX Config:Trunks:CallCentric. First, uncheck the Disable Trunk field. In Outgoing Settings, insert your SIP username (1777XXXXXXX) in the fromuser and defaultuser fields as well as in the initial field (before colon) and last field (after /) of the Registration String. Insert your SIP password in the secret field and the second field (after the colon) in the Registration String. Submit Changes and Reload Dialplan when prompted.
Next create an Outbound Route for iNum calls using your CallCentric trunk. Navigate to PBX:PBX Config:Outbound Routes. Click Add Route. For Route Name, use Out-CallCentric-iNum. For Dial Pattern, insert 008835100 in the Prepend field and XXXXXXXX in the Match Pattern field. For Trunk Sequence, choose CallCentric. Click Submit Changes and Reload Dialplan when prompted.
Next create an Inbound Route for calls coming from your CallCentric trunk. This will include BOTH your iNum calls and calls from your free CallCentric DID. Navigate to PBX:PBX Config:Inbound Routes. Click Add Incoming Route. For Description, use CallCentric-Incoming. For DID Number, use your SIP username (1777XXXXXXX). For CID Lookup Source, choose OpenCNAM. Then pick a Destination for the incoming calls, e.g. an extension, ring group, or IVR. Click Submit Changes and Reload Dialplan when prompted.
Placing iNum Calls from Issabel Extensions
With our simplified outbound route, users of Issabel extensions can dial iNum phone numbers by simply dialing the last 8 digits of the number, i.e. all of the numbers following 8835100. Most abbreviated numbers start with a zero. For example, to reach Lenny, simply dial 01198938.
Placing iNum Calls from SIP Phones
If you want to reach an iNum number and only have a SIP phone, you can dial any iNum phone number in SIP URI format. Use this syntax: sip:8835100xxxxxxxx@sip.inum.net. Note that the full iNum phone number is required.
Placing iNum Calls from Standard Phones
As part of the iNum initiative, local access numbers have been established in more than 50 countries around the globe. By placing a local call from any telephone to one of these local access numbers, any individual with an iNum phone number anywhere in the world can be reached without further cost. Here is a current list of the local access numbers. Once your call is answered, simply enter the 15-digit iNum phone number you wish to reach, and you will be connected.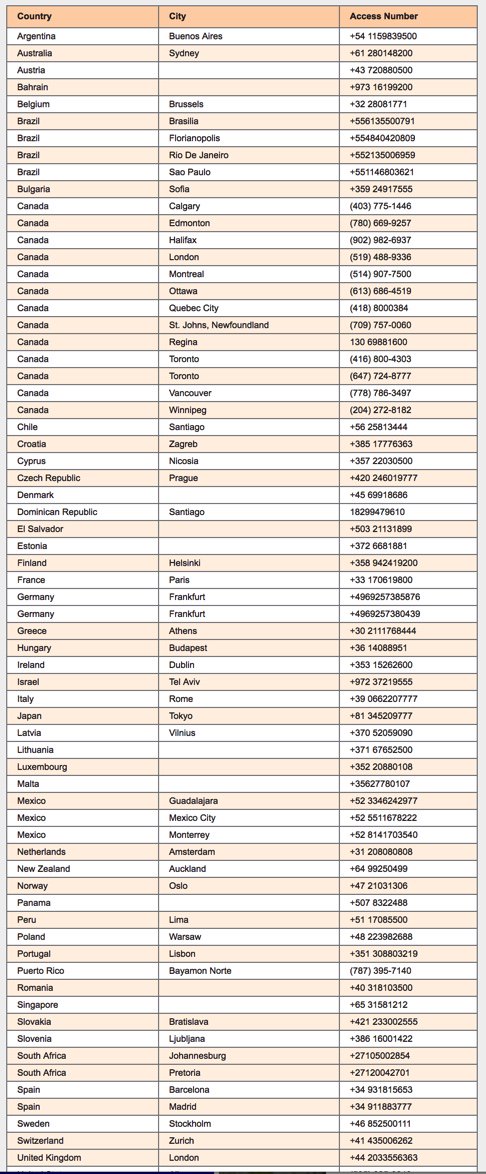 ---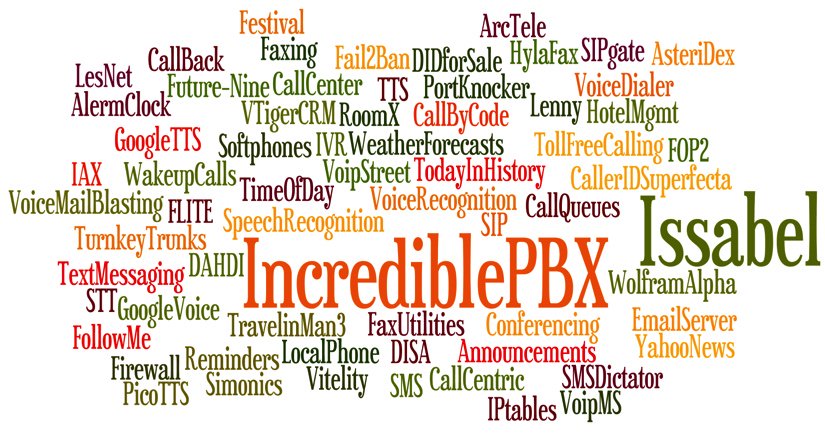 We've barely scratched the surface of what you can do with Incredible PBX for Issabel. Head over to our introductory article where we've documented dozens of Asterisk® applications that await your exploration. Enjoy!
Published: Tuesday, August 29, 2017
---

Need help with Asterisk? Visit the PBX in a Flash Forum.

---
Special Thanks to Our Generous Sponsors
FULL DISCLOSURE: RentPBX, Amazon, Vitelity, DigitalOcean, Vultr, Digium, Sangoma, 3CX, TelecomsXchange and others have provided financial support to Nerd Vittles and our open source projects through advertising, referral revenue, and/or merchandise. We've chosen these providers not the other way around. Our decisions are based upon their corporate reputation and the quality of their offerings and their pricing. Our recommendations regarding technology are reached without regard to financial compensation except in situations in which comparable products at comparable pricing are available from multiple sources. In this limited case, we support our sponsors because our sponsors support us.


Awesome Vitelity Special. Vitelity has generously offered a terrific discount for Nerd Vittles readers. You now can get an almost half-price DID from our special Vitelity sign-up link. If you're seeking the best flexibility in choosing an area code and phone number plus the lowest entry level pricing plus high quality calls, then Vitelity is the hands-down winner. Vitelity provides Tier A DID inbound service in over 3,000 rate centers throughout the US and Canada. When you use our special link to sign up, Nerd Vittles gets a few shekels down the road to support our open source development efforts while you get an incredible signup deal as well. The going rate for Vitelity's DID service is $7.95 a month which includes up to 4,000 incoming minutes on two simultaneous channels with terminations priced at 1.45¢ per minute. Not any more! For our users, here's a deal you can't (and shouldn't) refuse! Sign up now, and you can purchase a Tier A DID with unlimited incoming calls and four simultaneous channels for just $3.99 a month. To check availability of local numbers and tiers of service from Vitelity, click here. NOTE: You can only use the Nerd Vittles sign-up link to order your DIDs, or you won't get the special pricing! Vitelity's rate is just 1.44¢ per minute for outbound calls in the U.S. There is a $35 prepay when you sign up. This covers future usage. Any balance is refundable if you decide to discontinue service with Vitelity.
---
RentPBX, a long-time partner and supporter of PIAF project, is offering generous discounts for Nerd Vittles readers. For all of your Incredible PBX hosting needs, sign up at www.RentPBX.com and use code NOGOTCHAS to get the special pricing. The code will lower the price to $14.99/month, originally $24.99/month. It's less than 50¢/day.
---
Some Recent Nerd Vittles Articles of Interest…