We've just returned from AstriCon 2012 in Atlanta. What a show! Not only were the exhibits plentiful and eye-opening for the breadth of coverage that Asterisk® has garnered, but the dozens of sessions on virtually every facet of Asterisk were first-class. If you haven't been, I would encourage you to clear your calendar for a few days next October. Mark Spencer was a proud papa as, indeed, he should be.
There's been a good bit of turnover at Digium® in the past year, and it was great to finally put names with faces. The new blood is a welcome addition. To a person, they were professional, personable, and all about making Asterisk a better product. They fully appreciate that Asterisk's future success hinges on broader community participation. David Duffett became the Community Director last June and wasted little time mending fences. Not only did he reach out to those of us that package Asterisk distributions (PBX in a Flash, Elastix, and FreePBX® Distro to name a few), but he also put together the first (ever) face-to-face meeting between the distribution players and the Asterisk developers. It was time well spent and provided all of us a better appreciation for the challenges in managing a project as complex as Asterisk. Matt Jordan, who now heads up the open source development group, has broad experience from the commercial sector, and it showed. It was crystal clear that the days of the core development train wrecks that blew everyone's Asterisk dialplans out of the water were little more than a historical footnote.
While there is a core development team that extends beyond Digium, make no mistake. Where Digium goes, so goes Asterisk. When you peel away the management, marketing, and support layers at Digium, what struck me was how thin these folks really are spread. While there are upwards of 100 employees at Digium, the staff is fairly evenly split between two organizational units, Asterisk and Switchvox. The staff is also divided geographically with the Switchvox team still operating out of California while the Digium headquarters remains in Huntsville, Alabama. Our educated guess is about 10% of that staff is actually dedicated to software development. You may recall driving down the highway and seeing a road construction crew of 10 people where only one guy had a shovel. Digium clearly isn't that model. Management, sales, and support really matter in the software and hardware development business. It's the way every successful technology business operates… if you want to survive. Infrastructure matters! Insofar as Asterisk is concerned, it reinforces the critical necessity of focus and prioritizing objectives.
With that in mind, Digium has made what we believe was a wise decision in scrapping the Asterisk SCF project. You may recall this was the engineering effort to build a fully-redundant Asterisk platform so that, when one server failed, another took over without missing a beat. Out of a million Asterisk production servers, the question becomes how many sites really need this level of redundancy if a spare server is sitting in the rack. Suffice it to say, SCF was consuming enormous programming resources for a project with must-have appeal to an infinitesimally small segment of Asterisk's installed base. The good news is that it frees more programmers to work directly on Asterisk 11 and 12 while bringing some of the SCF technology into the main Asterisk project. Think SIP!
And, speaking of Asterisk 11 and 12, Asterisk 11 is officially on the street. As with Asterisk 1.8, it's another release with long-term support. The good news for us is that Jingle, Jabber, and Gtalk have been reworked into a new, integrated channel driver: chan_motif. And it works! Full support for Google Voice in FreePBX will be available very, very soon. In fact, Andrew Nagy had it humming along while we were at AstriCon.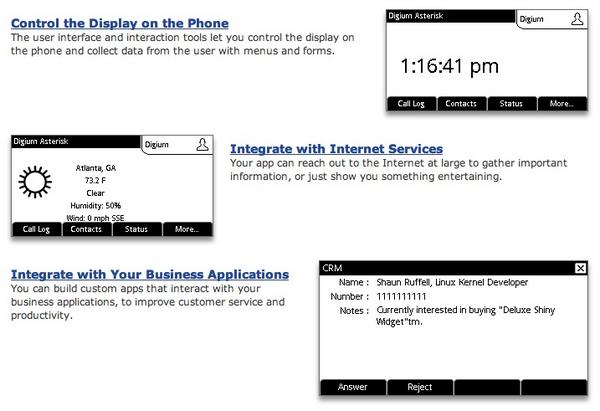 More good news from AstriCon 2012 was the arrival of Digium's Application Development Toolkit for Digium Phones. As promised, this new firmware lets developers build customized JavaScript applications to run on the Digium Phones themselves. Digium has even built several samples to get everyone started. We were lucky enough to snag one of the new phones during the random drawing so we'll build you a couple of additional apps in coming weeks just for fun.
Last, but not least, on the hardware front… Raspberry Pi's were everywhere. The recent addition of a 512MB Raspberry Pi at the same $35 price point is going to make this device a real contender in the SOHO Asterisk market. We actually had ours running with a Verizon MiFi device during the show. You could make calls, play an IVR, and get a weather report in the basement of a hotel in downtown Atlanta. Impressive! So get yours ordered and come join the party.
Finally, a word about the AstriCon audience. It looked to us to be a crowd of close to 1,000 people. We spoke to dozens and dozens of in-house developers both from large corporations as well as Asterisk support organizations that maintain thousands of Asterisk servers throughout the world. We were impressed by the scope and sheer magnitude of this untapped expertise with a treasure trove of Asterisk code. If it were somehow made available to the community, it instantly could propel Asterisk to the next plateau without Digium having to lift a finger. Now all we need to do is figure out how to harness that talent pool and their code for the benefit of everyone that depends upon Asterisk to meet their communications needs. Happy Halloween!
Tweet
Originally published: Wednesday, October 31, 2012
---

Need help with Asterisk? Visit the PBX in a Flash Forum.

---
whos.amung.us If you're wondering what your fellow man is reading on Nerd Vittles these days, wonder no more. Visit our new whos.amung.us statistical web site and check out what's happening. It's a terrific resource both for us and for you.
---
Special Thanks to Our Generous Sponsors

FULL DISCLOSURE: ClearlyIP, Skyetel, Vitelity, DigitalOcean, Vultr, VoIP.ms, 3CX, Sangoma, TelecomsXchange and VitalPBX have provided financial support to Nerd Vittles and our open source projects through advertising, referral revenue, and/or merchandise. As an Amazon Associate and Best Buy Affiliate, we also earn from qualifying purchases. We've chosen these providers not the other way around. Our decisions are based upon their corporate reputation and the quality of their offerings and pricing. Our recommendations regarding technology are reached without regard to financial compensation except in situations in which comparable products at comparable pricing are available from multiple sources. In this limited case, we support our sponsors because our sponsors support us.


BOGO Bonaza: Enjoy state-of-the-art VoIP service with a $10 credit and half-price SIP service on up to $500 of Skyetel trunking with free number porting when you fund your Skyetel account. No limits on number of simultaneous calls. Quadruple data center redundancy. $25 monthly minimum spend required. Tutorial and sign up details are here.


The lynchpin of Incredible PBX 2020 and beyond is ClearlyIP components which bring management of FreePBX modules and SIP phone integration to a level never before available with any other Asterisk distribution. And now you can configure and reconfigure your new Incredible PBX phones from the convenience of the Incredible PBX GUI.


VitalPBX is perhaps the fastest-growing PBX offering based upon Asterisk with an installed presence in more than 100 countries worldwide. VitalPBX has generously provided a customized White Label version of Incredible PBX tailored for use with all Incredible PBX and VitalPBX custom applications. Follow this link for a free test drive!



Special Thanks to Vitelity. Vitelity is now Voyant Communications and has halted new registrations for the time being. Our special thanks to Vitelity for their unwavering financial support over many years and to the many Nerd Vittles readers who continue to enjoy the benefits of their service offerings. We will keep everyone posted on further developments.

---
---
Some Recent Nerd Vittles Articles of Interest…