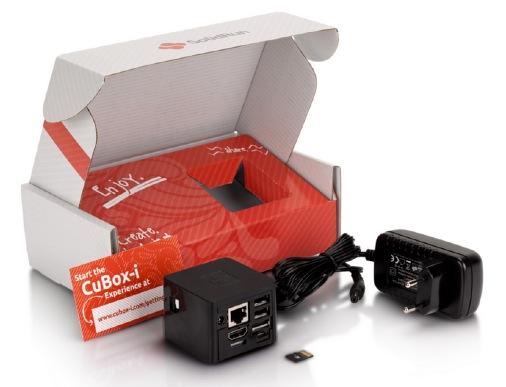 In our never-ending quest for better, faster, and cooler VoIP technology, we bit the bullet last week and purchased the $130 top-of-the line CuBox-i4Pro, a state-of-the-art Quad-Core, all-in-one computer that's 2x2x2 inches small. If you hurry, NewEggFlash has the i4PRO on sale for $119 with free shipping until Tuesday, August 26. If you're not feeling especially wealthy this week, the $85 Dual-Core CuBoX-i2 should work just well minus WiFi and Bluetooth. And there are a few other specs worth writing home about: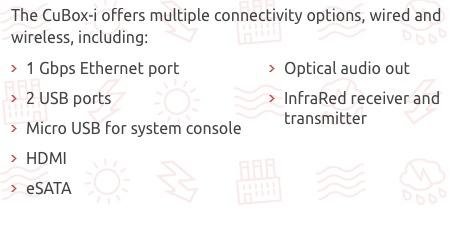 Did we mention it's based on Ubuntu® 14? And runs Asterisk® 11? And FreePBX® 2.11? And Incredible PBX™ 11? Well, it's all true. And we've got the preview production-ready edition of this rocket ship ready and waiting for you on SourceForge. We owe an extra special thanks to @zhando from the PIAF Forum for his initial work in getting Ubuntu 14 ported to the CuBox-i and also for the many hours he invested getting the basic components of Incredible PBX loaded. We spent a few more. 😉
There's some good news and some bad news. Let's start with the bad news. This is prerelease software, and a few things are still works in progress. It's a short list and the top item is GoogleTTS which you may recall was also broken on the BeagleBone Black platform originally. We're hopeful that Lefteris Zafiris will again work his magic, but it's not soup yet. Also on the dead list is WiFi. The top-of-the-line CuBox-i comes with a WiFi adapter built in, but it's not working with the current kernel, and it now works perfectly. We had to use a very new kernel to get IPtables and Fail2Ban functioning, and that caused some initial issues with WiFi, but that's all history now. Because this is new technology, there always is a chance that some other gotcha is lurking under the covers. We'll post updates below as new discoveries and fixes are made.
FYI #1: Ubuntu can be a little finicky with shutdowns and reboots. We've added our own scripts which should eliminate the (frequent) system hangs. Use halt and reboot to shutdown and restart your server, and these issues should be a thing of the past.
FYI #2: Thanks to @zhando, wireless networking is now available for the CuBox-i4PRO. Just log in as root to get the automatic update. Then run one of the /root/enable-wifi-* scripts with your SSID and password, and you're all set.
FYI #3: The August 20 build and the August 21 patch from Lefteris Zafiris resolve the GoogleTTS problem with MPG123. Thanks as always to our selfless TTS hero. Applications such as Yahoo News (dial 951) work flawlessly. With some microSD cards, there remains a minor wrinkle with reboots during the initial install procedure. If your monitor shows "restarting" and it doesn't after you count to 10, just remove the power cord and plug it back in. This issue resolves itself once you've run /root/resize-partition to expand the image to fill all the space on your chosen microSD card.
FYI #4: The August 24 build now supports Bluetooth calling with a smartphone and Bluetooth proximity detection. See this PIAF Forum thread for setup instructions.
FYI #5: Add a beefy eSATA hard drive to run Incredible PBX with your CuBox-i4PRO. Here's how.
FYI #6: And now Incredible PBX for CuBox includes Incredible Fax, the ultimate fax machine with HylaFax and AvantFax. Two-minute setup instructions available here.
The really good news is that Asterisk 11 and FreePBX 2.11 and virtually all of the Incredible PBX stable of applications run swimmingly… and FAST! This is NOT a Raspberry Pi when it comes to performance. The installation drill is almost identical to the Raspberry Pi platform. Download and untar the latest image from SourceForge. Then burn it to a microSD card1 of your favorite size (at least 8GB recommended). Boot up the CuBox-i with your new card after connecting to a network with a DHCP server. That gets you to the Internet. Log into your new server as root with the password: cubox. The initial setup is automatic but requires a reboot. Once it finishes, change the password by running passwd. Change the FreePBX password by running /root/admin-pw-change. Set your correct timezone by running /root/timezone-setup. Expand the image on your SD card to match the size of the card by running /root/resize-partition. After you've completed these initial steps, you're all set. If Incredible PBX is new territory for you, read the latest Raspberry Pi tutorial. It'll walk you through the basics of configuring your server. Other than what's been mentioned, all remaining commands and apps are the same on the CuBox-i platform. To restore the functionality of Google's speech recognition service for many of the Incredible PBX apps, follow the steps in the tutorial posted here.
Anyone looking for a perfectly-sized, perfectly-priced Asterisk server platform for a small to medium-sized business, This Bud's for You. For the latest tips & tricks for the CuBox-i, see this thread on the PIAF Forum. Enjoy!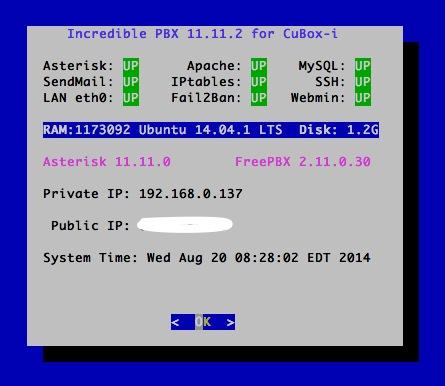 Performance. We've received some inquiries about the performance of a QuadCore ARM chip compared to one of the Foxconn dual-core Atom machines that have been our long-time favorite for small business VoIP implementations. See this thread on the PIAF Forum for a quick comparison.
Tweet
Originally published: Monday, August 18, 2014
---
Support Issues. With any application as sophisticated as Incredible PBX, you're bound to have questions. Blog comments are a terrible place to handle support issues although we welcome general comments about our articles and software. If you have particular support issues, we encourage you to get actively involved in the PBX in a Flash Forums. It's the best Asterisk tech support site in the business, and it's all free! Please have a look and post your support questions there. Unlike some forums, ours is extremely friendly and is supported by literally hundreds of Asterisk gurus and thousands of ordinary users just like you. You won't have to wait long for an answer to your question.
---

Need help with Asterisk? Visit the PBX in a Flash Forum.

---
Special Thanks to Our Generous Sponsors

FULL DISCLOSURE: ClearlyIP, Skyetel, Vitelity, DigitalOcean, Vultr, VoIP.ms, 3CX, Sangoma, TelecomsXchange and VitalPBX have provided financial support to Nerd Vittles and our open source projects through advertising, referral revenue, and/or merchandise. As an Amazon Associate and Best Buy Affiliate, we also earn from qualifying purchases. We've chosen these providers not the other way around. Our decisions are based upon their corporate reputation and the quality of their offerings and pricing. Our recommendations regarding technology are reached without regard to financial compensation except in situations in which comparable products at comparable pricing are available from multiple sources. In this limited case, we support our sponsors because our sponsors support us.


BOGO Bonaza: Enjoy state-of-the-art VoIP service with a $10 credit and half-price SIP service on up to $500 of Skyetel trunking with free number porting when you fund your Skyetel account. No limits on number of simultaneous calls. Quadruple data center redundancy. $25 monthly minimum spend required. Tutorial and sign up details are here.


The lynchpin of Incredible PBX 2020 and beyond is ClearlyIP components which bring management of FreePBX modules and SIP phone integration to a level never before available with any other Asterisk distribution. And now you can configure and reconfigure your new Incredible PBX phones from the convenience of the Incredible PBX GUI.


VitalPBX is perhaps the fastest-growing PBX offering based upon Asterisk with an installed presence in more than 100 countries worldwide. VitalPBX has generously provided a customized White Label version of Incredible PBX tailored for use with all Incredible PBX and VitalPBX custom applications. Follow this link for a free test drive!



Special Thanks to Vitelity. Vitelity is now Voyant Communications and has halted new registrations for the time being. Our special thanks to Vitelity for their unwavering financial support over many years and to the many Nerd Vittles readers who continue to enjoy the benefits of their service offerings. We will keep everyone posted on further developments.

---
---
Some Recent Nerd Vittles Articles of Interest…
SanDisk, Kingston, and Transcend Class 10 microSD cards all worked for us. [↩]