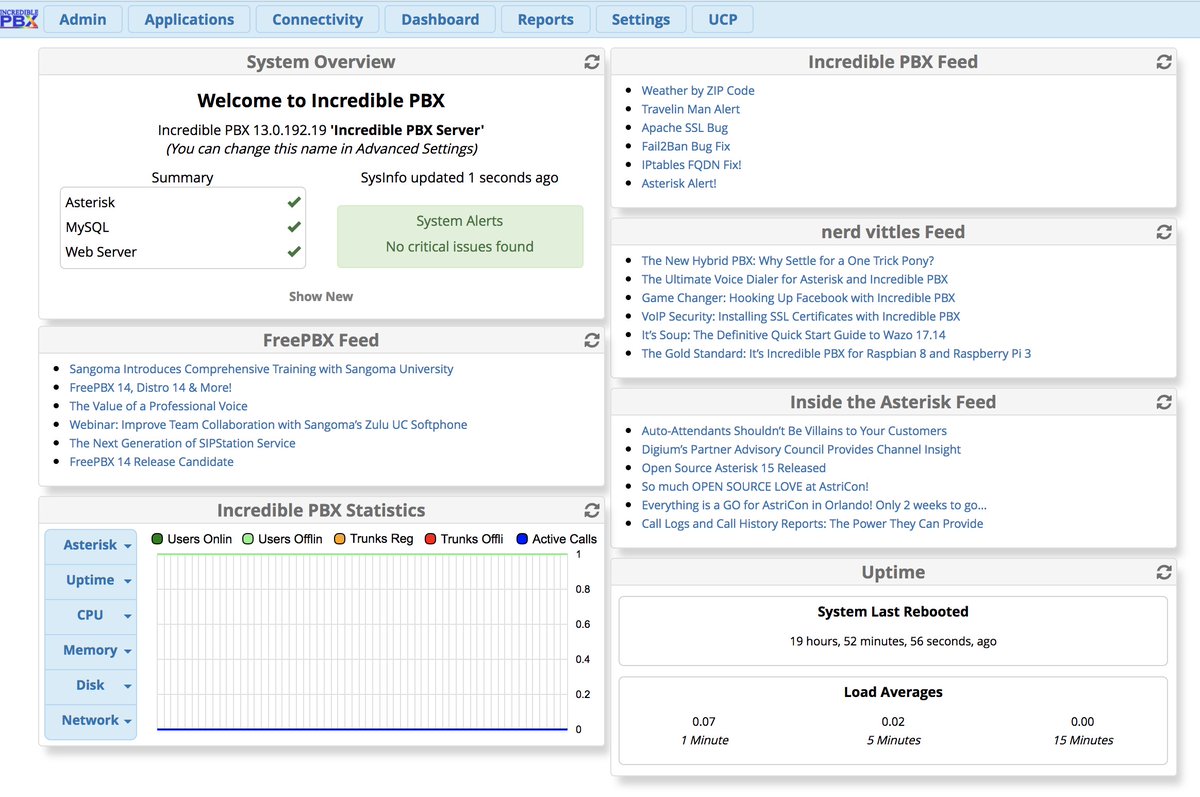 [iframe-popup id="4″]
As many of you know, the Asterisk® 13.16 and 13.17 releases caused serious breakage with FreePBX® 12 GPL deployments. These have been resolved in the new Asterisk 13.18 release candidate, but it prompted us to do a little exploring for alternatives while many of you were partying at AstriCon in Orlando last week. To give credit where credit is due, the Sangoma developers have made some impressive improvements with their FreePBX 13 release. And now we're pleased to introduce a preview of the new Incredible PBX 13-13 platform featuring almost all of the FreePBX 13 GPL modules. For those that prefer lean and mean implementations of Asterisk, this preview edition is for you. You get the latest version of Asterisk compiled from source, and you get a base install of the FreePBX 13 GPL modules. The only preconfigured component in the build is the Travelin' Man 3 firewall which locks down your server to trusted providers and IP addresses which you authorize.
We would hasten to add that Incredible PBX 13-13 is still a work in progress. Changes and improvements are released almost daily. If you don't have that pioneering spirit, then you may wish to hold off for a few more weeks until all of the kinks have been worked out. Having said that, part of the fun of participating in the open source community is rolling up your sleeves and trying out new things. Offering your suggestions as we move along almost always yields a better end product both for you and the rest of the open source community. While we don't ordinarily recommend deployment of preview editions for production systems, it's worth noting that both Asterisk 13 and FreePBX 13 have a lot of miles on them and are generally regarded as the production-ready platforms for serious deployments.
So let's get started. You can install Incredible PBX 13-13 Lean on a dedicated server, on a virtual machine platform such as VirtualBox, or a Cloud-based server such as Vultr. We recommend a minimum 1GB of RAM although you can get away with 512MB of RAM if you also create a swapfile. We've provided a script to do it for you. Depending upon the number of users your server will be supporting, we recommend a disk capacity of 10-30 GB. Last but not least, you need a reliable Internet connection.
Before you can install Incredible PBX 13-13 Lean, you'll need a basic Linux platform. For this build, you can start by deploying a minimal install of CentOS 6 or 7. The Incredible PBX installer will load all of the necessary components to support Asterisk and FreePBX as well as future Incredible PBX applications.
Installing a Base CentOS Operating System
Let's begin by installing 64-bit CentOS 6.9 or 7 on your favorite hardware or Desktop. Or you may prefer to use a Cloud provider1 that already offers a preconfigured CentOS image. Two reasons we prefer Vultr are (1) Incredible PBX runs fine on their least costly $2.50/mo. platform and (2) for an extra 50 cents a month, you can add automatic backups to your server platform. In you're using a Cloud platform, you can skip the rest of this section. Just choose CentOS 6 or 7 as the default operating system for your cloud-based server.
For those using a dedicated hardware platform or wishing to install CentOS as a virtual machine, the drill is the same. Start by downloading the 64-bit CentOS 6.9 minimal ISO or the CentOS 7 minimal ISO. Burn the ISO to a DVD unless you'll be booting from the ISO on a virtual machine platform such as VirtualBox. On virtual platforms, we recommend at least 1GB RAM and a 20GB dedicated drive. For VirtualBox, here are the settings:
Type: Linux
Version: RedHat 64-bit
RAM: 1024MB
Default Drive Options with 10GB+ space
Create
Settings->System: Enable IO APIC and Disable HW Clock (leave rest alone)
Settings->Audio: Enable
Settings->Network: Enable, Bridged
Settings->Storage: Far right CD icon (choose your ISO)
Start
Boot your server with the ISO, and start the CentOS install. Here are the simplest installation steps:
Choose Language and Click Continue
Click: Install Destination (do not change anything!)
Click: Done
Click: Network & Hostname
Click: ON
Click: Done
Click: Begin Installation
Click: Root Password: password, password, Click Done twice
Wait for Minimal Software Install and Setup to finish
Click: Reboot
Installing Incredible PBX 13-13 Lean Preview
Once you have CentOS up and running, log into your server as root and issue the following commands to kick off the Incredible PBX install. It's a two-step process. First, the installer will bring your version of CentOS up to current specs and load the necessary packages to support Asterisk and FreePBX. The first stage setup takes about 10-15 minutes.

cd /root
yum -y install net-tools nano wget tar
wget http://incrediblepbx.com/incrediblepbx-13-13-LEAN.tar.gz
tar zxvf incrediblepbx-13-13-LEAN.tar.gz
rm -f incrediblepbx-13-13-LEAN.tar.gz
./create-swapfile-DO
./IncrediblePBX-13-13.sh

When the base install finishes, your server will reboot. Simply log back in as root and run the installer a second time using an SSH terminal or Putty. You'll be prompted whether to implement Google Voice plain text or OAuth 2 passwords. OAuth is strongly recommended. Make your selection, and the installer will work its magic. Come back in 15 minutes.

./IncrediblePBX-13-13.sh

Reboot one final time when the installer finishes the setup, and your server should be ready to go. Log back in as root. This will kick off the Automatic Update Utility to load any last minute additions, bug fixes, and security patches. After the status menu displays, run the following apps to set a very secure admin password for web access to the GUI and to choose your default time zone:

/root/admin-pw-change
/root/timezone-setup

WebMin is also installed and configured as part of the base install. The root password for access is the same as your Linux root password. We strongly recommend that you not use WebMin to make configuration changes to your server. You may inadvertently damage the operation of your server beyond repair. WebMin is an excellent tool to LOOK at how your server is configured. When used for that purpose, we highly recommend WebMin as a way to become familiar with your Linux configuration.
Using the Incredible PBX 13-13 Web GUI
Most of the configuration of your PBX will be performed using the web-based Incredible PBX GUI with its FreePBX 13 GPL modules. Use a browser pointed to the IP address of your server and choose Incredible PBX Admin. Log in as admin with the password you configured in the previous step. HINT: You can always change it if you happen to forget it.

To get a basic system set up so that you can make and receive calls, you'll need to add a VoIP trunk, create one or more extensions, set up an inbound route to send incoming calls to an extension, and set up an outbound route to send calls placed from your extension to a VoIP trunk that connects to telephones in the real world. You'll also need a SIP phone or softphone to use as an extension on your PBX. Our previous tutorial will walk you through this setup procedure. Over the years, we've built a number of command line utilities including a script to preconfigure SIP trunks for more than a dozen providers in seconds. You'll find links to all of them here. Come join the discussion on the PIAF Forum and enjoy the ride!
Now Serving: The Incredible PBX 13-13 Whole Enchilada Upgrade
Continue Reading: Configuring Extensions, Trunks & Routes
Published: Monday, October 23, 2017
---

Need help with Asterisk? Visit the PBX in a Flash Forum.

---
Special Thanks to Our Generous Sponsors

FULL DISCLOSURE: ClearlyIP, Skyetel, Vitelity, DigitalOcean, Vultr, VoIP.ms, 3CX, Sangoma, TelecomsXchange and VitalPBX have provided financial support to Nerd Vittles and our open source projects through advertising, referral revenue, and/or merchandise. As an Amazon Associate and Best Buy Affiliate, we also earn from qualifying purchases. We've chosen these providers not the other way around. Our decisions are based upon their corporate reputation and the quality of their offerings and pricing. Our recommendations regarding technology are reached without regard to financial compensation except in situations in which comparable products at comparable pricing are available from multiple sources. In this limited case, we support our sponsors because our sponsors support us.


BOGO Bonaza: Enjoy state-of-the-art VoIP service with a $10 credit and half-price SIP service on up to $500 of Skyetel trunking with free number porting when you fund your Skyetel account. No limits on number of simultaneous calls. Quadruple data center redundancy. $25 monthly minimum spend required. Tutorial and sign up details are here.


The lynchpin of Incredible PBX 2020 and beyond is ClearlyIP components which bring management of FreePBX modules and SIP phone integration to a level never before available with any other Asterisk distribution. And now you can configure and reconfigure your new Incredible PBX phones from the convenience of the Incredible PBX GUI.


VitalPBX is perhaps the fastest-growing PBX offering based upon Asterisk with an installed presence in more than 100 countries worldwide. VitalPBX has generously provided a customized White Label version of Incredible PBX tailored for use with all Incredible PBX and VitalPBX custom applications. Follow this link for a free test drive!



Special Thanks to Vitelity. Vitelity is now Voyant Communications and has halted new registrations for the time being. Our special thanks to Vitelity for their unwavering financial support over many years and to the many Nerd Vittles readers who continue to enjoy the benefits of their service offerings. We will keep everyone posted on further developments.

---
---
Some Recent Nerd Vittles Articles of Interest…
Some of our links refer users to Amazon or other service providers when we find their prices are competitive for the recommended products. Nerd Vittles receives a small referral fee from these providers to help cover the costs of our blog. We never recommend particular products solely to generate commissions. However, when pricing is comparable or availability is favorable, we support these providers because they support us. [↩]