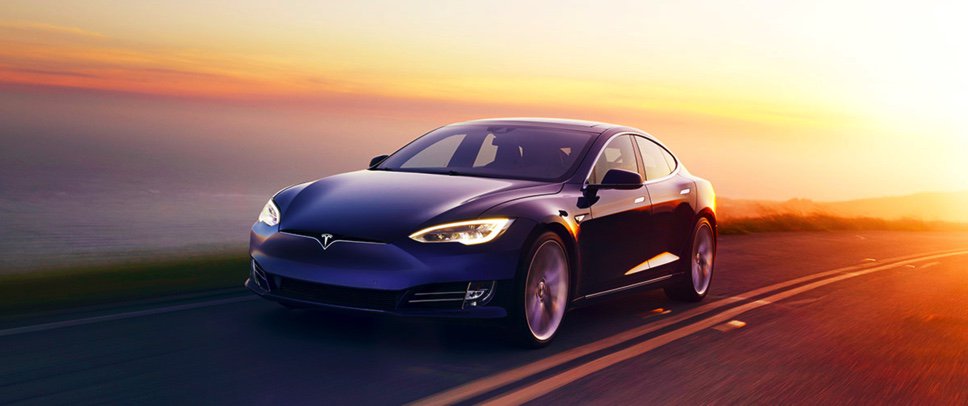 It's been about a month since we took delivery of a new, second-generation Tesla lovingly referred to as an HW2 vehicle.1 During that time, Tesla has provided an over-the-air map update and four firmware updates. The latest one this past weekend enabled Traffic-Aware Cruise Control (TACC) and limited AutoSteer capabilities for the entire fleet of next-generation HW2 Tesla vehicles. This includes all cars manufactured since October 19, 2016 that feature a new state-of-the-art supercomputer (pictured below) capable of 8 trillion deep learning operations per second plus eight cameras, radar, and loads of sonar sensors.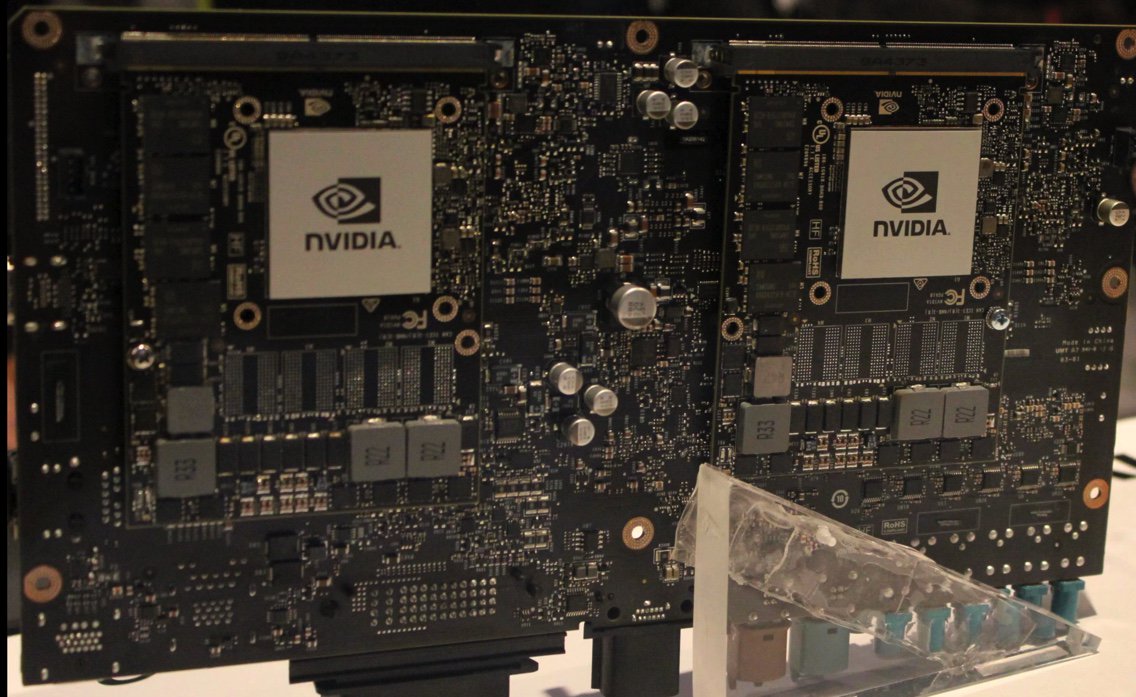 The latest software update follows
last week's vindication of Tesla
in the fatal crash of a Tesla vehicle with an 18-wheeler and a fluff piece published two weeks ago by
The Verge
extolling the virtues of a yet-to-be-seen Mercedes S-Class. It was hailed as a better self-driving vehicle when compared with Tesla's 3-year-old first generation model. As one infamous commenter observed: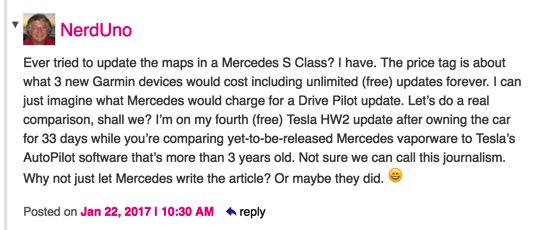 The fact is that every car manufacturer is working on autonomous vehicles now. The difference is that nobody except Tesla delivers over-the-air software updates to their vehicles and nobody comes close to Tesla's billion+ miles of real-world autonomous driving data. So ask yourself this simple question. If your life and that of your family depended upon the reliability of self-driving software, where would you prefer to ride and how would you prefer to see mission-critical vehicle updates distributed? Make no mistake. This isn't just about self-driving software. It's also about propping up an automobile dealer network that sees Tesla threatening its entire business model including both sales and service. It's also about companies like Uber that see Tesla encroaching quickly on its turf and its autonomous vehicle future. But we digress. Here's what really matters: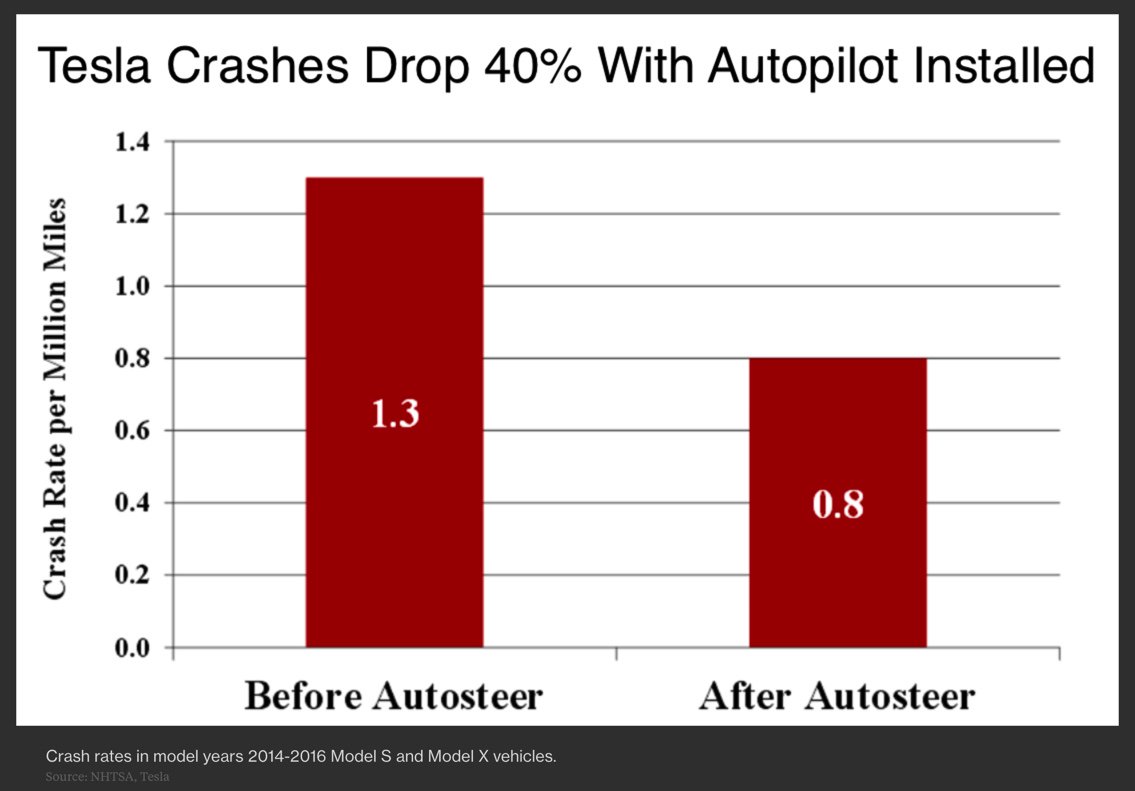 @TOCHOTE Our target is a 90% reduction with HW2 as the software matures

— Elon Musk (@elonmusk) January 19, 2017
So back to our story. Yesterday at 5 a.m. a message arrived on the Tesla dashboard indicating that the long-awaited self-driving update was ready for installation. By 6 a.m. we were on the road in a torrential thunderstorm (yes, it's January in Charleston) headed to the closest interstate, I-526, a circumferential freeway that goes about halfway around the Charleston metropolitan area and includes one of only two bridges in and out of Charleston County. Why an Interstate? Because this first release of AutoPilot requires a freeway which, on the east coast of the United States, means an interstate highway.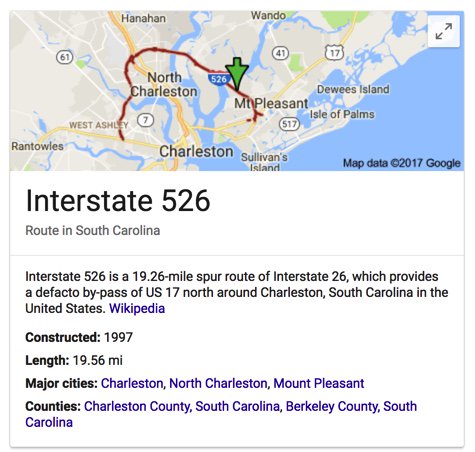 The only additional wrinkle with this first software iteration is that self-driving speed is limited to 45 miles per hour, a 10 MPH improvement from the original version released only to California vehicles. Whooda thunk we'd be wishing for rush hour traffic just so we could try out AutoPilot. As it turned out, with the heavy rainstorm, 45 MPH was just about right. And we wanted to test AutoSteer in bad weather and darkness anyway. The good news is we're still among the living. The great news is the software performed almost flawlessly. The only wrinkle was approaching exits in the right lane. Tesla currently gives precedence to the solid line on the right side of your vehicle rather than the dotted line marker on the left. If you're driving in the right lane, it means your car tries to take every exit rather than continuing straight. Disabling and reenabling AutoSteer at every exit would become tedious quickly in a busy metropolitan area. This version also requires that you keep your hands on the wheel and too little pressure prompted alarms and flashing lights within 15 seconds alerting the driver to grab the steering wheel immediately or face banishment from AutoPilot until the car is restarted. This is in sharp contrast to the 4+ minute interval shown in the HW1 AutoPilot demo below. We grabbed harder and soon learned the correct pressure that our Tesla overlords expected. Like all terrific first dates, it had us wishing for more, and Elon promises that the speed and freeway limitations will be relaxed gradually. Having had a taste of the Kool-Aid®, we're believers now and are looking forward to the next release. Stay tuned!

Feb. 24 Update:

@adrianvolts Minor improvements update this weekend. High speed autosteer in about two weeks.

— Elon Musk (@elonmusk) February 24, 2017
To celebrate our maiden voyage, we are pleased to introduce for fellow Tesla owners our first of several new products using the Tesla API. This one offers a command-line interface to the entire Tesla API using PHP on any LAMP (Linux+Apache+MySQL+PHP) server. If you don't have a LAMP server, our previous tutorial will walk you through setting one up in the cloud for a one-time cost of less than $20. Once your LAMP server is in place, log into the server as root and issue the following commands to install the Tesla Management Portal:

cd /root
git clone https://github.com/wardmundy/php-api-tesla.git
chmod 775 /root
cd php-api-tesla
chmod +x *.php
nano -w config.php
# set install directory, Tesla credentials and desired valet and web PINs
# plus the desired temperature settings for your Tesla
# save your changes: Ctrl-X, y, then press ENTER key
./token.php
./vehicle.php

Now you're ready to explore the Tesla API by running the various scripts for three months. After that, you'll need to refresh the OAuth tokens by running the token.php and vehicle.php scripts again. Six of the remaining scripts extract all the various settings in your vehicle:

charge_state.php
climate_state.php
drive_state.php
gui_settings.php
vehicle.php
vehicle_state.php

The remaining "set" scripts allow you to make changes to various settings in your Tesla. These include locking and unlocking car doors, setting and controlling the HVAC in your vehicle, setting and configuring valet mode, setting the charge limit for your vehicle, and waking your car from sleep mode.
Coming Soon: The Tesla Management Portal web interface…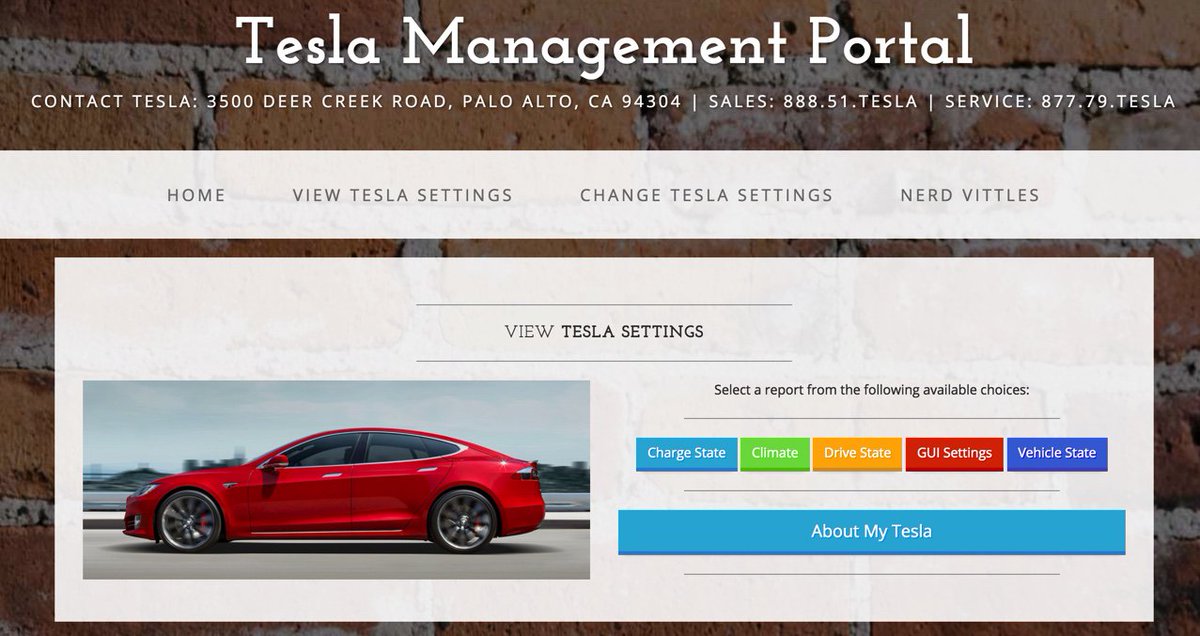 Published: Monday, January 23, 2017
---
Special Thanks to Our Generous Sponsors

FULL DISCLOSURE: ClearlyIP, Skyetel, Vitelity, DigitalOcean, Vultr, VoIP.ms, 3CX, Sangoma, TelecomsXchange and VitalPBX have provided financial support to Nerd Vittles and our open source projects through advertising, referral revenue, and/or merchandise. As an Amazon Associate and Best Buy Affiliate, we also earn from qualifying purchases. We've chosen these providers not the other way around. Our decisions are based upon their corporate reputation and the quality of their offerings and pricing. Our recommendations regarding technology are reached without regard to financial compensation except in situations in which comparable products at comparable pricing are available from multiple sources. In this limited case, we support our sponsors because our sponsors support us.


BOGO Bonaza: Enjoy state-of-the-art VoIP service with a $10 credit and half-price SIP service on up to $500 of Skyetel trunking with free number porting when you fund your Skyetel account. No limits on number of simultaneous calls. Quadruple data center redundancy. $25 monthly minimum spend required. Tutorial and sign up details are here.


The lynchpin of Incredible PBX 2020 and beyond is ClearlyIP components which bring management of FreePBX modules and SIP phone integration to a level never before available with any other Asterisk distribution. And now you can configure and reconfigure your new Incredible PBX phones from the convenience of the Incredible PBX GUI.


VitalPBX is perhaps the fastest-growing PBX offering based upon Asterisk with an installed presence in more than 100 countries worldwide. VitalPBX has generously provided a customized White Label version of Incredible PBX tailored for use with all Incredible PBX and VitalPBX custom applications. Follow this link for a free test drive!



Special Thanks to Vitelity. Vitelity is now Voyant Communications and has halted new registrations for the time being. Our special thanks to Vitelity for their unwavering financial support over many years and to the many Nerd Vittles readers who continue to enjoy the benefits of their service offerings. We will keep everyone posted on further developments.

---
---
Some Recent Nerd Vittles Articles of Interest…
In Tesla lingo, a P90D Model S signifies a Performance model with a 90kWh battery and all-wheel Drive. According to Wikipedia, the P90D has dual motors with a front axle power of 259 horsepower (193 kW) and rear axle power of 503 horsepower (375 kW) for a total of 762 horsepower (568 kW) and a 0–60 MPH time of 2.8 sec. The acceleration of the P90D can reach 1.1g, described by Tesla as "faster than falling". [↩]