Home » Posts tagged 'autonomous car'
Tag Archives:
autonomous car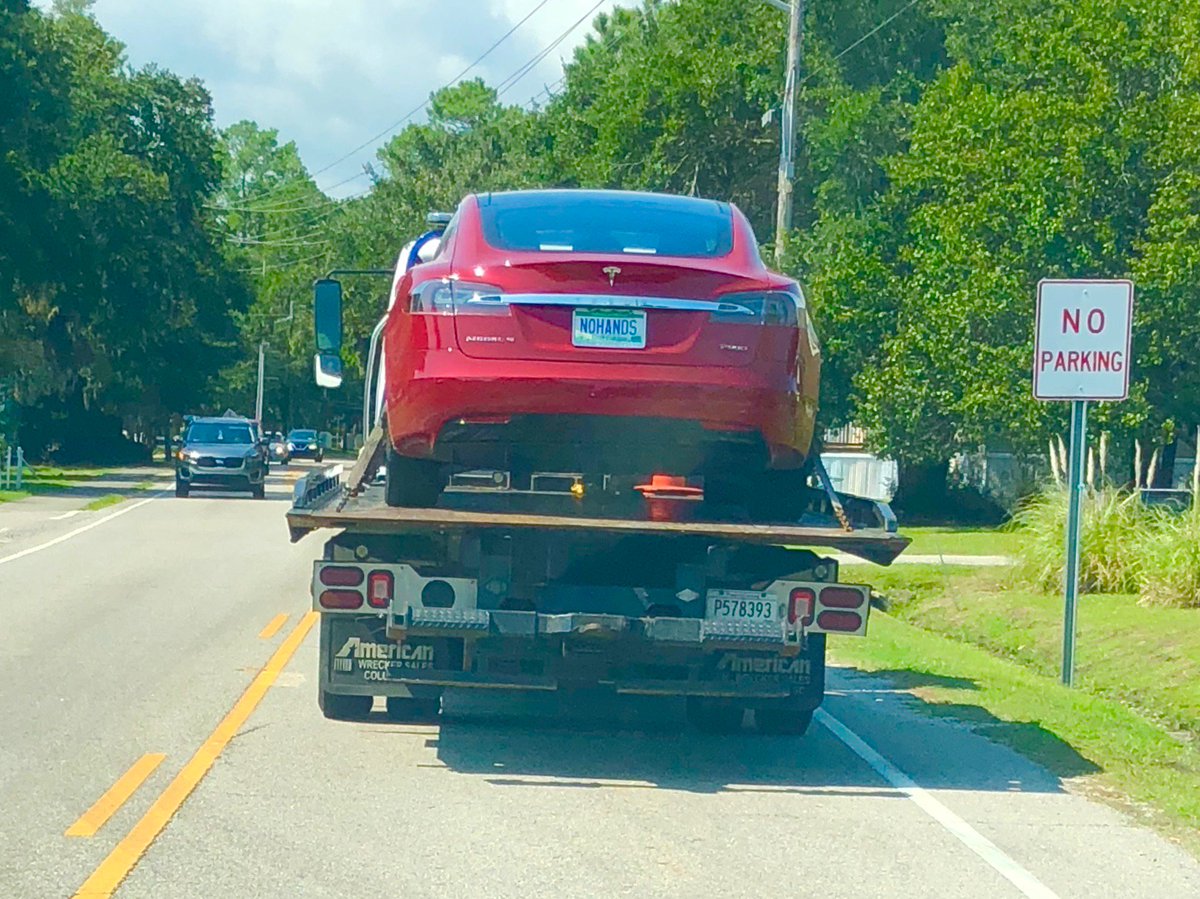 They say a picture is worth a thousand words, but we also have a thousand final words to share about our two-year Tesla experience. Let me preface this by saying that overall our Tesla adventure was fun, but we've always enjoyed being a pioneer. If you don't, look elsewhere. We got our Tesla just after Elon Musk released his full self-driving (FSD) video in late 2016. While Elon is certainly a visionary, he's also a snake oil salesman and the FSD video was as close to pure fiction as you can come without turning production over to DreamWorks. For those that don't know the background, Elon had touted his AutoPilot software for a couple previous years relying almost exclusively on Mobileye, an Israeli firm with almost ten years of self-driving development under its belt. It now is a subsidiary of Intel Corporation. As Elon is wont to do, he touted self-driving capabilities that far exceeded Mobileye's capabilities, and the two companies parted ways shortly after a Tesla driver was blind-sided and killed by an 18-wheeler. That left Tesla with virtually no autonomous driving hardware or software in late 2016 when we bought one of the first AutoPilot 2 (AP2) vehicles. The next year was as close to a train wreck as any company could come without going out of business. Thanks largely to an enthusiastic fan base (with AP1 vehicles) and Elon's promises about the future including pipe dreams of Tesla owners sending their autonomous vehicles out on Uber-like FSD drives during the day while owners sat back cashing checks, Tesla survived.

After tremendous turnover in the Tesla development staff, year two of AP2 software development finally looked promising. AP2 vehicles finally could match what AP1 vehicles could do. On a straight road with good lane markings, a Tesla could drive from point A to point B without swerving into a ditch or hitting a vehicle in an adjacent lane. You still needed both hands on the wheel, and I often remarked that driving a Tesla with AP2 required the same attention and driving skills as venturing down the highway with a toddler positioned in your lap pretending to drive your car. Safe, not at all. Fun, absolutely. My wife coined the phrase "Lane Darts" because of the Tesla's propensity to swerve into another lane without any sort of warning. And then there were the slammed on brakes when Tesla spotted an overhead tree or road sign that it couldn't distinguish from an actual hazard sitting in the road. Curiously, despite the unwelcome braking events from these false positives, Teslas seemed to have a blind spot when it came to rear ending fire trucks. These were all part of the daily adventure for Tesla AP2 drivers. Having said that, we made several trips of hundreds of miles on well-marked interstate highways in the southeast where the car performed admirably and handled 99% of the driving drudgery without incident. Buyer Beware: YMMV!
There's a certain amount of naiveté that accompanies almost anything that you really enjoy doing. And we're as guilty as the next person of ignoring some of the risks. So let me tick off a few of them before you set out in your Tesla on a cross country adventure. First, range anxiety in an all-electric vehicle is real. Before you begin any trip, make sure there is a reliable fast charging site at least every 125 miles or so. That assures that, even if your next stop is out of order, you can make it to the next one without worrying about being stranded on the side of the road. Second, Tesla vehicles have no spare tire. You are well advised to acquire a jack, a tire plugging kit, and an air pump to get you through emergencies. Cars do get flat tires, and many towing companies are reluctant to deal with Teslas on site because of the risk of fire from a punctured battery. Third, Teslas also break down. While you're figuring out your charging station scenario, you also better plot out the nearest Tesla service centers since Tesla doesn't have a local dealer network. If you typically have a car full of passengers and pets, here's our advice. Don't ever take a Tesla on a trip out of town. If you really must, then invest in the AAA Premier Plan that includes a free 200-mile tow each year and plan for the possibility of spending a few cozy nights in a motel enjoying your family and furry friends.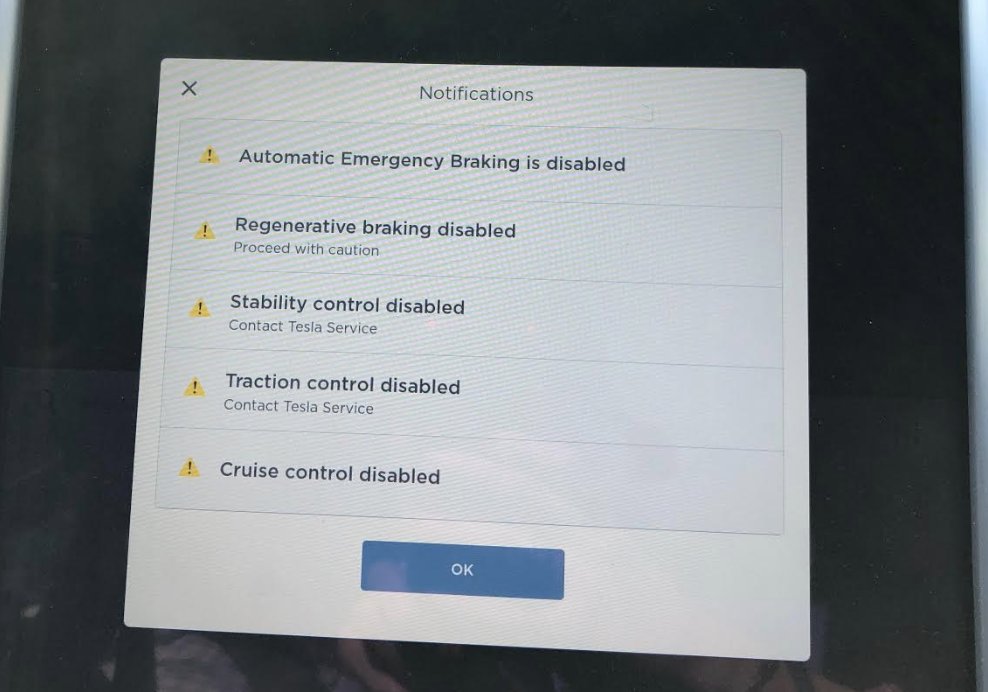 And that brings us to the tow truck photo at the top of the article. We were near Myrtle Beach and decided to try an early bird special at one of our favorite (and very busy) restaurants. The restaurant sits on Murrells Inlet with a narrow road behind it with perpendicular parking spots. As we pulled into the driveway and positioned the car to back into a parking space, we got alarms that over a dozen systems in the vehicle had failed. In addition to the notifications shown above on the main console, the Tesla's dashboard lights looked like you'd hit the million dollar jackpot: flat tire light, brake failure, parking brake locked, and many more. Worse yet, we were sitting in the middle of the road with a vehicle stuck in reverse that wouldn't move. To add insult to injury, a little old lady driving her car with a handicap sign is shaking her fist complaining that we're blocking the road. Fun times. We got out of the car to call Tesla thinking that exiting the vehicle might shut down the vehicle. Wrong again. It locked all of the doors and even Tesla's whiz kids in California couldn't unlock them. Luckily, within about 10 minutes, the car magically unlocked, and we were able to pull into a parking spot and place the car in park. To its credit, Tesla paid to tow the car 200+ miles to Charlotte, paid for an Uber ride back to our house, and paid for a rental car… for the next three weeks that it took to diagnose the problem with the car. It turned out to be a bent pin on the master control unit that had been replaced several months before. Will that happen to you and your Tesla? Probably not. But it reinforces how precarious the maintenance situation is with Tesla vehicles. We sold the car with a clean bill of health the same day it was available for pickup from the Charlotte Service Center. The buyer actually met us at the service center and got to hear the repair story first hand. What we found most troubling was the lack of adequate diagnostic tools to identify a problem of this severity on a $140,000 vehicle. While it turned out to be a simple fix, it didn't make you want to buy a round-trip ticket on one of Elon's adventures to Mars. Would we buy another Tesla? Not without a local service center.
So What's Next? Here's a Sneak Peek…

Continue reading the Tesla saga…
The Autonomous Car: Tesla & The Winding Road (January 9, 2017)
The Autonomous Car: A Hands-Free Drive with Tesla's HW2 (January 23, 2017)
The Autonomous Car: Navigating Tesla's Slippery Slope to the Promised Land (3/13/2017)
The Autonomous Car: Move Over Tesla, Here Comes Cadillac (April 17, 2017)
The Autonomous Car: Move Over Tesla, Here Comes Everybody (April 28, 2018)
Originally published: Thursday, November 8, 2018
---
Special Thanks to Our Generous Sponsors

FULL DISCLOSURE: ClearlyIP, Skyetel, Vitelity, DigitalOcean, Vultr, VoIP.ms, 3CX, Sangoma, TelecomsXchange and VitalPBX have provided financial support to Nerd Vittles and our open source projects through advertising, referral revenue, and/or merchandise. As an Amazon Associate and Best Buy Affiliate, we also earn from qualifying purchases. We've chosen these providers not the other way around. Our decisions are based upon their corporate reputation and the quality of their offerings and pricing. Our recommendations regarding technology are reached without regard to financial compensation except in situations in which comparable products at comparable pricing are available from multiple sources. In this limited case, we support our sponsors because our sponsors support us.


BOGO Bonaza: Enjoy state-of-the-art VoIP service with a $10 credit and half-price SIP service on up to $500 of Skyetel trunking with free number porting when you fund your Skyetel account. No limits on number of simultaneous calls. Quadruple data center redundancy. $25 monthly minimum spend required. Tutorial and sign up details are here.


The lynchpin of Incredible PBX 2020 and beyond is ClearlyIP components which bring management of FreePBX modules and SIP phone integration to a level never before available with any other Asterisk distribution. And now you can configure and reconfigure your new Incredible PBX phones from the convenience of the Incredible PBX GUI.


VitalPBX is perhaps the fastest-growing PBX offering based upon Asterisk with an installed presence in more than 100 countries worldwide. VitalPBX has generously provided a customized White Label version of Incredible PBX tailored for use with all Incredible PBX and VitalPBX custom applications. Follow this link for a free test drive!



Special Thanks to Vitelity. Vitelity is now Voyant Communications and has halted new registrations for the time being. Our special thanks to Vitelity for their unwavering financial support over many years and to the many Nerd Vittles readers who continue to enjoy the benefits of their service offerings. We will keep everyone posted on further developments.

---
---