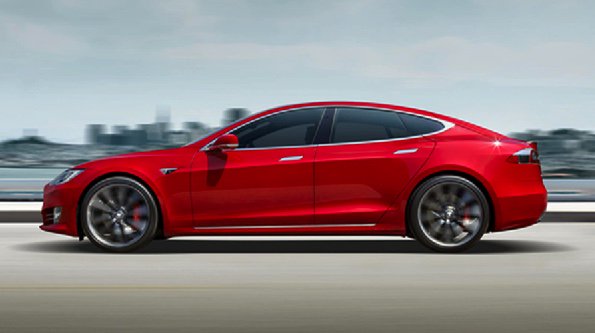 We kick off 2017 with a new series on autonomous vehicles and, for the short term at least, the focus will be on Tesla simply because they've moved the needle the quickest and have a billion+ driver-tested miles under their belt already. I'm reminded of a quip from a pilot friend who said, "Anybody can fly a plane at 30,000 feet with autopilot. What separates the living from the dead is what you do when something goes wrong." A recent example here.
A few of you may be reading about autonomous cars for the first time so let's start with the basics. We're talking about vehicles that can drive themselves without user intervention. The latest Tesla vehicles are basically Linux computers on wheels with one or more 500 horsepower electric motors. This Tesla magic is performed using lots of state-of-the-art hardware including a supercomputer capable of 8 trillion deep learning operations per second, 8 cameras, radar, and ultrasonic sensors plus loads of software. The car must have current maps, must know the rules of the road, must obey speed limits and stop signs, and hopefully won't run over pedestrians or bicyclists. It also must learn in realtime from driver interactions and make adjustments on the fly. The design must work on sunny days in the Arizona desert and frigid days with two feet of snow in Buffalo and rainy days in Seattle.
The hard part comes when a child runs into the street from behind parked cars and the only two choices are killing the child or swerving into another lane of traffic where an 18-wheeler is barreling towards you at an excessive rate of speed. What would you do? Do you know what your autonomous car would do? Will the manufacturer tell you? With that introduction, let's begin with this Tesla video and the Elon Musk sales pitch from Twitter:

Longer version of self-driving demo with Paint It Black soundtrack https://t.co/YuUmyEaCgR

— Elon Musk (@elonmusk) November 19, 2016
With the expiration of our lease last month on a surprisingly good Cadillac ELR, we swapped vehicles. So you'll be following the Tesla adventure in realtime from behind the wheel of a second-generation Tesla Model S P90D. This Tesla has all the latest and greatest autopilot and self-driving hardware that money can buy. What Tesla barely mentioned was that none of it works. It gets worse. The windshield wipers don't turn on when it rains, and the lights don't turn on in the dark. In short, as delivered last month and putting aside the electric motors, it had about the same technology advancements as my 1968 Pontiac GTO.
HW2 Autopilot now downloading to all HW2 cars, but in non-actuating mode to assess reliability. If looks good, actuation by end of week.

— Elon Musk (@elonmusk) January 16, 2017
The good news is Tesla pushes updates to the cars regularly using AT&T's 4G/LTE network or even WiFi if you happen to have it in your garage. That's the primary reason we bought a Tesla. And, by the way, the Tesla phones home regularly with a detailed report about your whereabouts and your car's status. Divorce lawyers will have a field day with Tesla data.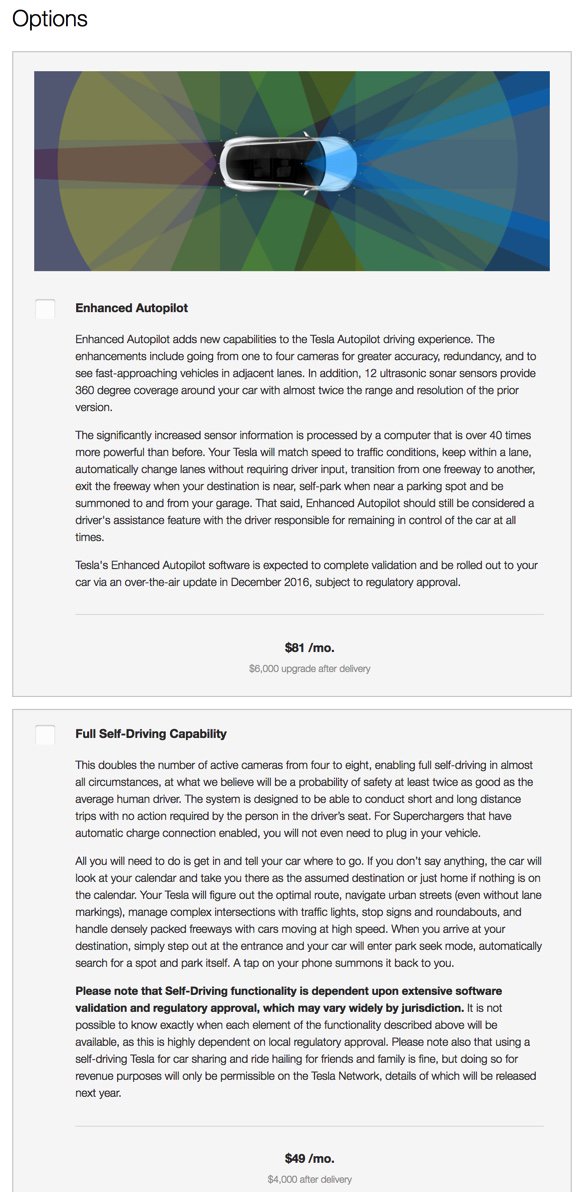 The other thing Tesla didn't mention was that, with the second generation Tesla's (also known as AP2 or HW2), Tesla engineers are basically starting over even with the autopilot software. Minutes before the 2017 New Year, Tesla released a firmware update to 1,000 vehicles (all in California) that enabled minimal self-driving functionality between speeds of 17 and 35 miles per hour on highways only. If you were one of the lucky ones and happen to live near a nursing home with nothing but elderly drivers on the freeway, this was great news. For a sobering experience, read the early feedback posted on the Tesla Forum. Scary!
I think it would be fair to say that 2017 is starting off a little bumpy for Tesla. Not only are some owners that shelled out over $100,000 fuming over misrepresentations from Tesla sales staff, but there also are about a half million people that forked over $1,000 deposits on the so-called affordable Tesla, the Model 3. As you can see from the Self-Driving and Autopilot software price tags above, nobody is going to get a Tesla Model 3 for $35,000. If that was your plan, apply for your refund now. We, of course, expected a fun ride as a Tesla pioneer, and Tesla is giving every indication that it will be a very wild and sometimes frustrating adventure. The great news is that a Tesla API already is available and has an enthusiastic group of developers and fellow Tesla owners. The API will tell you almost anything you want to know about your car including its location. You can even control your Tesla using an Amazon Echo. Start reading and stay tuned. 2017 is going to be fun! In our next chapter, we'll walk you through using the impressive API feature set with PHP. Enjoy!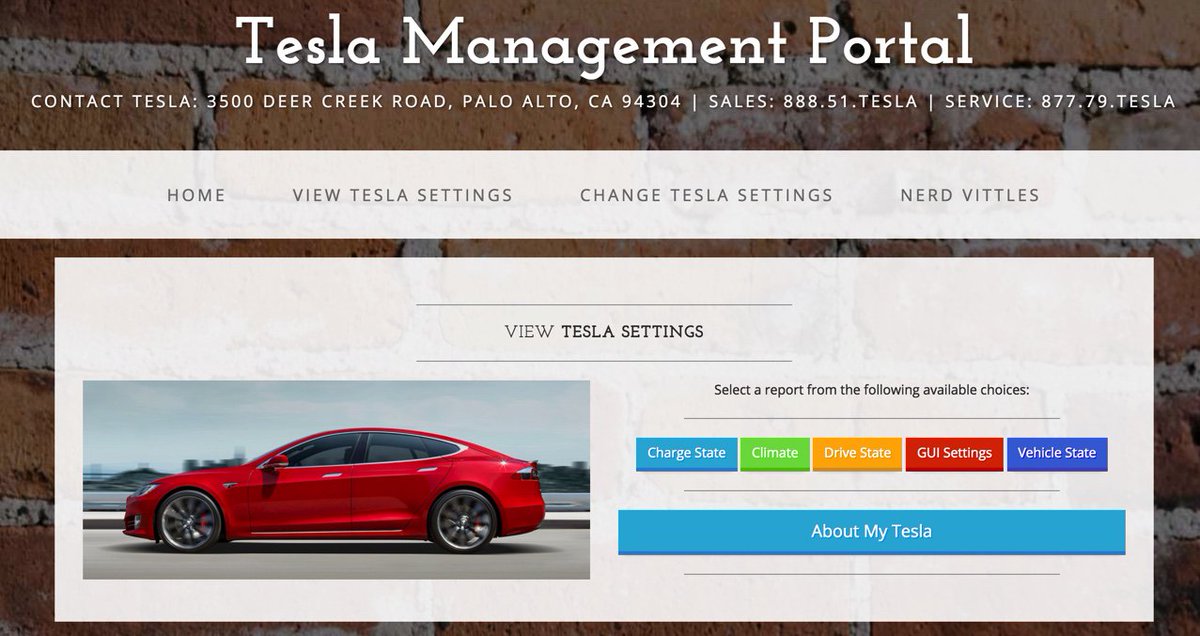 Published: Monday, January 9, 2017
---

Need help with Asterisk? Visit the PBX in a Flash Forum.

---
Special Thanks to Our Generous Sponsors

FULL DISCLOSURE: ClearlyIP, Skyetel, Vitelity, DigitalOcean, Vultr, VoIP.ms, 3CX, Sangoma, TelecomsXchange and VitalPBX have provided financial support to Nerd Vittles and our open source projects through advertising, referral revenue, and/or merchandise. As an Amazon Associate and Best Buy Affiliate, we also earn from qualifying purchases. We've chosen these providers not the other way around. Our decisions are based upon their corporate reputation and the quality of their offerings and pricing. Our recommendations regarding technology are reached without regard to financial compensation except in situations in which comparable products at comparable pricing are available from multiple sources. In this limited case, we support our sponsors because our sponsors support us.


BOGO Bonaza: Enjoy state-of-the-art VoIP service with a $10 credit and half-price SIP service on up to $500 of Skyetel trunking with free number porting when you fund your Skyetel account. No limits on number of simultaneous calls. Quadruple data center redundancy. $25 monthly minimum spend required. Tutorial and sign up details are here.


The lynchpin of Incredible PBX 2020 and beyond is ClearlyIP components which bring management of FreePBX modules and SIP phone integration to a level never before available with any other Asterisk distribution. And now you can configure and reconfigure your new Incredible PBX phones from the convenience of the Incredible PBX GUI.


VitalPBX is perhaps the fastest-growing PBX offering based upon Asterisk with an installed presence in more than 100 countries worldwide. VitalPBX has generously provided a customized White Label version of Incredible PBX tailored for use with all Incredible PBX and VitalPBX custom applications. Follow this link for a free test drive!



Special Thanks to Vitelity. Vitelity is now Voyant Communications and has halted new registrations for the time being. Our special thanks to Vitelity for their unwavering financial support over many years and to the many Nerd Vittles readers who continue to enjoy the benefits of their service offerings. We will keep everyone posted on further developments.

---
---
Some Recent Nerd Vittles Articles of Interest…